In the history of professional wrestling, there are thousands of competitors who came to the squared circle from other athletic backgrounds. For example, Kevin Nash and The Undertaker both played basketball before stepping between the ropes. Macho Man Randy Savage and Sycho Sid had promising careers in baseball. Jim Neidhart, Goldberg, and Roman Reigns were professional football players. When you look at all the stories of pro wrestlers from different sports backgrounds, they tend to carry a common trait. They all failed to impress at the highest level of their sport. Ernie Ladd, however, is a different story.
__________________
Ernie Ladd was born in Rayville, Louisiana, and raised in Orange, Texas. Growing up, Ladd displayed great athletic prowess, especially in basketball and football. In his teenage years, he attended Emma H. Wallace high school in Orange, Texas. Naturally, he joined the football team as soon as he could. There, the naturally gifted Ladd found guidance through his coach, Willie Ray Smith, father of Bubba Smith. By the time Ernie was graduating high school, he had several sports scholarships to pick from. He settled on a basketball scholarship at Grambling State University in Louisiana. There, he met coach Eddie Robinson, who got Ernie to join the football team as well. His athleticism impressed several football scouts, and in 1961 he was drafted by the Chicago Bears of the NFL and the San Diego Chargers of the AFL.
Professional Football
When Ernie Ladd signed with the Chargers, he became the biggest man in professional football. At 6'9″ and 315 lbs, he dwarfed everybody else in pro football at the time. But as big as he was, he moved at an incredible pace, earning him the nickname "Big Cat." He played for the Chargers from 1961 to 1965, bringing the team to the AFL championships on four occasions and winning it all in 1963. As a defensive tackle, he was part of the original "Fearsome Foursome" with fellow DT Bill Hudson, and Defensive Ends Ron Nery and Earl Faison. In 1965, he helped organize a walkout among black players at the 1965 AFL All-Star Game due to the racism they experienced in the hosting city of New Orleans. This began a contentious period between Ladd and AFL top brass.
At the start of the following season, Chargers GM Sid Gillman suspended Ladd indefinitely. When he eventually returned, he and Earl Faison decided to take a 10% salary cut in exchange for their release at the end of the season. They had planned to go to the Houston Oilers, but AFL commissioner Joe Foss ruled that Oilers owner Bud Adams had tampered with the deal. As part of the ruling, he declared Ladd and Faison free agents. The duo refused to re-sign with the Chargers, eventually reaching a deal with Houston in 1966. The following year, the Oilers traded him to the Kansas City Chiefs, where he would play until 1968. As he got older, Ladd's knees became a problem, and he chose to leave the AFL in 1969.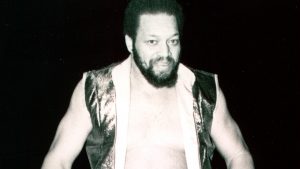 Ernie Ladd
Early Pro Wrestling Career
In 1961, shortly after signing with the Chargers, Ernie Ladd caught the attention of some local professional wrestlers. As a publicity stunt, the wrestlers offered to train the biggest man in professional football in the sport of professional wrestling. Ernie took to wrestling much as he did any other sport he tried. By 1963 he was making regular appearances in Southern California during the AFL offseason. When he started wrestling full-time in 1968, he started as a babyface, but his size made things difficult. As a former AFL defensive tackle, fans couldn't take him seriously when smaller competitors would beat him up. So in 1970, he made the bold decision to turn heel.
Before and during the civil rights movement, there were almost no black wrestlers who were heel by design. In certain territories, black wrestlers were de facto heels, drawing heat from audiences solely because they were black. In these times, actively pursuing heel heat was a dangerous proposition. However, it made the Big Cat a bigger star than he was in Football.
"After a few years, I was making so much money wrestling in the off-season that I figured I could make a lot more by giving up football and wrestling full time," he said in a New York Times interview. "I quit football at 28 and still had several good years left. That first year wrestling, I made $98,000, and after that never made less than a hundred grand a year."
Ernie Ladd on his transition to becoming a wrestler
Photo / Whatculture
Ernie Ladd
A Style and Persona
Ernie Ladd was primarily a brawling wrestler, often beginning matches in a boxing stance. However, he also often made use of a big boot, or a hip toss, or even a dropkick. These bursts of unexpected agility made sure his "Big Cat" moniker followed him into professional wrestling. Fans from the 70s will remember Ladd's "often injured" right thumb, which he kept taped up at all times. The tape kept his thumb rigid, allowing him to perform a vicious thumb spike when things were looking dire. However, what everyone remembers, arguably more than his in-ring work, was his personality.
Ladd was always a loud and boisterous interview, but when he turned heel, he turned it up to eleven. He spoke a mile a minute, and every word was seemingly dedicated to trash talk. The Big Cat often had nicknames for his rivals. He called Mr. Wrestling "The Masked Varmint," insisting he was a criminal on the run.  When facing Andre, the Giant, he referred to him as "Andre the Dummy" and "Big Fat French Fry." Ladd also often came across as bigoted in his interviews, talking about Wahoo McDaniel as a drunkard and saying he would send Tony Atlas "back to Africa." Often times, when things looked dire for him in the ring, he would just walk out, choosing to take the count-out loss. Today, this is known as "Pulling an Ernie Ladd."
Ernie Ladd
A Storied Career
During his career, Ladd was an itinerant wrestler, never settling for long in any promotion. This meant that he worked for just about every promotion he could. He wrestled for almost every NWA-affiliated promotion against the likes of Dusty Rhodes and Harley Race. In the mid-70s, he worked for the then-WWWF against Andre the Giant and world champions Bruno Sammartino and Bob Backlund. He even wrestled in Japan, facing all-time greats like Giant Baba and Antonio Inoki. The Big Cat often teamed with other black wrestlers like Leroy Brown and Thunderbolt Patterson. He held countless championships, including the NWA North American championship, the Mid-South Tag Team Championship, and the World Wrestling Association World Heavyweight Championship. In fact, Ladd captured the WWA's top prize in 1980, a full 12 years before Ron Simmons made history as the first black world champion.
In the early 80s, Ladd did settle for a time in Mid-South Wrestling, where he was a wrestler and a booker. During his time as a booker, he was instrumental in building Sylvester Ritter into their top draw, The Junkyard Dog. In Mid-South, he faced the likes of Paul Orndorff, Ray Candy, and the aforementioned Junkyard Dog. He also had his tag team runs with Leroy Brown and managed The Wild Samoans. Ladd left Mid South in 1984 after feuding with Brad Armstrong over the North American Championship. At the age of 48, his knees had taken a beating over his years in football and wrestling. In the coming years, he would wrestle less frequently until he officially retired in 1986.
Post-Retirement
When Ernie Ladd hung up his boots, he got a call from the WWF about joining them in a non-wrestling role. Interested, he returned to the company for the first time in a decade to try out as a commentator. Fans will remember Ernie Ladd as a guest commentator during the WWF vs. NFL battle royal at Wrestlemania 2. Ladd's charisma shined through as ever, but in the middle of WWF's expansion, there wasn't much room at the commentary table. The first few weeks of WWF Wrestling Challenge featured Ernie Ladd, Gorilla Monsoon, and Jimmy Valiant on commentary. However, when Bobby "The Brain" Heenan joined the commentary booth, his chemistry with Gorilla began to outshine the other commentators. Ladd stayed with the company in some capacity until 1988, when he came out of retirement to compete in a Battle Royal in Nassau Coliseum. Following that, he quietly left the company.
Contrary to his brash, outspoken nature, Ernie Ladd led a fairly quiet life after wrestling. In 1994, WCW inducted him into the WCW Hall of Fame, with the WWF following suit a year later. This made Ernie Ladd the first wrestler to be inducted into both companies' Halls of Fame. In 1999, he appeared as Rocky Johnson's manager on an episode of That 70s Show, with Johnson played by his own son, The Rock.  He opened a restaurant in the early 2000s, Big Cat Ernie Ladd's Throwdown BBQ, but closed in 2006 following Hurricane Katrina. In 2004, doctors diagnosed Ernie Ladd with colon cancer, estimating he had three to four months to live. He would live three more years, passing away on March 10th, 2007. Ernie Ladd was survived by his wife, his three sons, his daughter, his 16 grandchildren, and four great-grandchildren. He was 68 years old.