Chapter 16: Course Assessment
Welcome back to another fun-filled edition of Notorious Notes, I'm your host – Nick Radford. I'm here to guide you through the inner workings of my mind and how it relates back to professional wrestling as an art form.
Seeing as this will be the final Notorious Notes for the year of 2019, I thought I'd do a little recap/reflection of how my 2019 has gone. Don't worry, I won't be keeping that game show-esque intro. I just couldn't think of any other way to start my written version of a clip show. It was a very up and down kind of year for me. Weirdly, most of the really cool stuff that happened was not necessarily wrestling-related, but most happened as a result of wrestling. 
One of the most notable things that came out of wrestling is this here humble little blog I've got going on. I started writing for ProWrestlingPost in March of 2019 after the lovely Philip Jones wrote a delightful little article about yours truly and put me in contact with the folks in charge. They offered to let me write a bi-weekly blog about my experiences in the wrestling world. I'm pretty sure they never intended for me to discuss things like mental health, Pokemon, and horror movies, but here we are.
Having a regular outlet to put my thoughts out into the world has been a very cathartic experience. Since I tend to have eclectic and niche tastes that prevent me from really spilling all of my thoughts. Apart from my partner, who I'm sure gets tired of hearing about the On Cinema Universe and what the folks at "Til Death Do Us Blart" think of Paul Blart: Mall Cop 2 this year.
Another wrestling-related thing that isn't physically wrestling I've gotten to do, and probably THE most notable thing, is writing my poetry. This all started in December of 2018. But 2019 is where my poet's muscles started getting their workout (ew, I hate myself for even typing that sentence). As of this writing, I have produced a total of sixteen erotic fan-fiction poems this year. And I've had the opportunity to (attempt to) read them on wrestling and stand-up comedy shows.
I'm really proud of these silly little things. They're a fun creative exercise that people seem to enjoy. They're short enough that they don't feel a super daunting task if I'm really busy during a certain week. My poetry also led me to interact with one of the most positive forces in the universe, Dr. Chuck Tingle. I talked about him in last week's edition). I fully intend to keep writing (and attempting to read) poetry in 2020.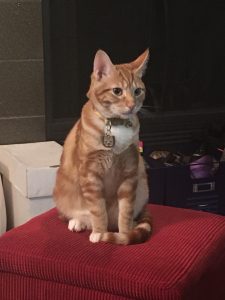 Some other fun non-wrestling related things that happened this year include adopting my wonderful cat, Poutine, in May. She was only two months old when I first met her and she was tiny, cute, slept a lot, and was very easy to hide in my partner's apartment. Now, at around nine months, she is very large, loud, full of energy, and impossible to keep a secret anywhere.
Owning a cat has been a very challenging and rewarding experience in a lot of ways. It definitely reinforced that I do not want kids. I can at least leave Poutine alone sometimes and trust that she won't die. But she has also helped with my mental health a lot. It's crazy how having another living being rely on you for stuff can improve your self-worth. Give you a reason to get out of bed every day. If I'm just not feeling it that day, she will meow at me until I get up and feed her. I'm extremely grateful to have Poutine in my life.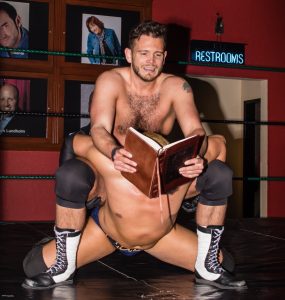 But not everything is sunshine and roses. The actual wrestling part of wrestling has come with its own set of challenges and frustration. I am currently projected to wrap up 2019 with a total of 27 matches. Working for nine companies in two states and never wrestling outside the United States. Those are the lowest numbers since I started wrestling. In 2015, I boasted 76 matches for nine companies in three states/provinces and two countries.
Is this a little disheartening? Yes, it would be silly to try and say that I'm not at least a little let down to see that small of a number. BUT it is also extremely valuable to consider the context. This year was the busiest I've been outside of wrestling since I started training back in 2013. I took classes to get my masters and a license in private investigation, I volunteered, I started a new career outside of wrestling, and as previously mentioned I adopted and raised a cat and focused on my writing.
And that's not to say that this year was a let down in wrestling – far from it! The newly formed Academy began appearing on shows and started gaining traction. I wrestled for three companies I'd never worked for before. Wrestled at my old "home promotion" DOA for the first time in two years. Incorporated my poetry into my in-ring work. And got called for WWE Extra Talent work twice. 2019 was a year of adjusting and balancing. Now that I kind of have things figured out a little more, 2020 will be a year of some more baby steps in the right direction. I don't have anything big planned, but I will keep pushing forward.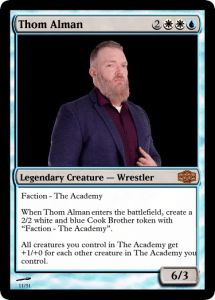 And I will get Thom Alman booked.
(Also, December 27 is my birthday, so if you want to get me something, check out my Amazon Wishlist! Link below!)
The world is your burrito!
Upcoming Dates:
Social Media: