Chapter 15: Love Is Real
This past weekend was a pretty big one for the Pacific Northwest wrestling scene. After the big meal happened on Thursday, wrestling fans could continue gorging themselves on numerous wrestling shows.
Friday featured 321 Battle in Seattle, WA. While Saturday had Without A Cause in Everett, WA. And Defy presenting night one of WrestleSummit back in Seattle. Finally, on Sunday, they capped things off with night two of WrestleSummit in Seattle. And DOA in Portland, OR. My social media was jam-packed full of people gushing about how great the pacific northwest scene has become. People remembered just a few years ago when you really had to search for a wrestling show in the area. Really exemplifying just how much things have changed.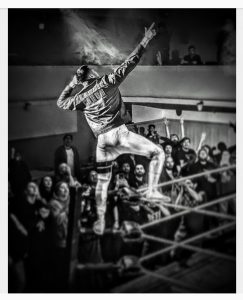 But the biggest news that came out of this weekend (that I paid attention to) was more people jumping on the "Classic" Cody Chhun train. With many realizing just how good he is. For those who know him, Cody is notoriously a savant when it comes to wrestling. He picked it up fast, started building a cult following at Defy, and is finally getting the opportunities to show off what he can do.
That's the main thing I feel like I keep coming back to when I am frustrated with wrestling (cause it happens, why try denying it?), is that there are a lot of people who are very talented that do not get the chance to show what they can do. Cody is one of them. I've mentioned in the past that my partner, Thom Alman, is another one, and I still believe that. Seeing what Cody has done and the attention he's received when he actually is given the opportunity is proof that there needs to be more opportunities for wrestlers in the Pacific Northwest.
To show off what they can do, as opposed to hiding them in big multi-man matches. Not giving the spotlight to the same five local people or the fly-in talent every single show. As a matter of fact, I have dedicated my 2020 to getting Thom more opportunities. Showing people what he can do when he is given the chance to run with the ball.
I don't necessarily see myself as one of those guys. I am definitely not on the same level as Cody or Thom. That's part of the reason I was okay with taking this big weekend of Pacific Northwest wrestling off in order to spend time with my family and play some Pokemon Sword. In the last chapter, I discussed the negativity and toxicity (the System of a Down song that was referenced in the title of the last chapter) of the Pokemon fanbase.
Regarding Pokemon Sword and Shield and related it back to the toxicity of wrestling fanbases and in the weeks since the games' release. They have received positive reviews and very positive sales figures, proving that all that gross negativity was misplaced. Totally blown out of proportion because of the echo chamber of people looking for things to be wrong with them. And then confirmation bias whenever any information came out. This is all meant to apply to wrestling as well. With the message being "negativity only begets more negativity and sometimes it's okay to just enjoy things."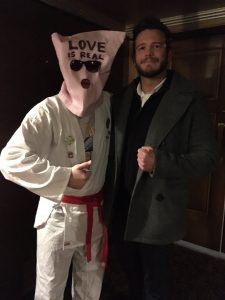 But just because I took the weekend off from wrestling does not mean that it was wholly uneventful for me. Almost exactly one year ago, I made a guest appearance on a podcast called "Pounded in the Butt by My Own Podcast", hosted by World's Greatest Author, Chuck Tingle. The format of the podcast is pretty simple. Chuck starts the podcast with an intro for the guest and then the guest proceeds to read one of his famous erotic stories. I read a story called "Unicorn Butt Cops: Beach Patrol". About a hotdog thief who ends up engaging with members of the famous Unicorn Butt Cops. My appearance on this podcast and the feedback I received from it definitely influenced my decision to begin writing (and eventually reading) my poetry.
Fast forward to this past weekend where Chuck has started a new podcast with comedian McKenzie Goodwin called "My Friend Chuck". He is conducting a mini-tour of the Pacific Northwest. I decided to pop by and thank Chuck for having me on his podcast the year prior. And to give him some of the poems that he played a role in inspiring to write. Well, I did just that and it was pretty great.
Chuck remembered me as soon as I told him I had been on his other podcast and immediately wanted to get "hard wrestler bud" photos together (see attached). I gave him the poems and thanked him and he hugged me and it was really great. They say "don't meet your heroes" but this was an extremely lovely and wholesome experience. I would highly recommend you meet your heroes, especially if they are Chuck Tingle cause he's the best.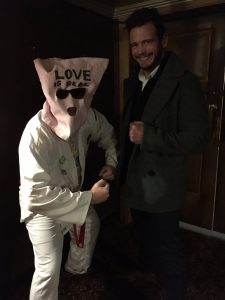 Anyway, there's not really a theme or a moral for this week's chapter but maybe that's the moral in itself; sometimes things just happen and there's nothing to learn or change from it but it's just wholesome and good and that's just great. Conflict is what drives a story forward and if there is no conflict or anything to learn, there is no real story. So thank you for reading my non-story. Go read some Chuck Tingle stories, he's much better at telling them than I am.
The world is your burrito!
---
Upcoming Dates:
Social Media:
Catch up with my past chapter by clicking right here!