Indigenous American Wrestling – The Gathering Of Skill. My connection with Indigenous American culture dates back to when I was a young child. My parents took the Mohawk trail Deerfield River in Massachusetts. It's said that we have some native blood in us. Our great uncle Ancin was the family historian and informed us we were Blackfoot. Ancin had darker skin and higher cheekbones than us and was well respected amongst the Narragansett tribe. When I became older I befriended Grammy-nominated Joseph Firecrow and his wife/ manager, Joanne Moore.
I would have fond memories of talking to Joseph Firecrow about pro wrestling. He would enjoy talking about his younger years when he wrestled for his high school team. He would express his favorites were Wahoo McDaniel, and Tatanka aka Chris Chavis because they were real Indigenous American's. Joseph Firecrow was a truly kind man and he would always sing the national anthem at many of the pro wrestling events.
This article is dedicated to the memory of New England Music Hall of Fame Inductee and Grammy Nominated Joseph Firecrow and Grammy Award-Winning Joanne Shenandoah who recently just passed away.
We will mention a few from the past however for the sake of this article we focus on Chris Chavis aka Tatanka and Wahoo McDaniel however I would like to point out a few individuals who are notable.
Indigenous American Wrestling
Chris Chavis aka Tatanka aka War was born in Pembroke, N.C, and is a member of the Lumbee Indigenous American Tribe. According to the 1990 Census, 48,444 Indigenous Americans in the United States identified their tribe as Lumbee. Over 40,000 of these Indigenous Americans live in Robeson and surrounding counties in South Eastern North Carolina. The Lumbee are the ninth-largest tribe in the country and the largest tribe east of the Mississippi.
He attended Bethel High School, Hampton, Va. 1975-1978. Graduated with honors and was elected in. Was enrolled in the Army R.O.T.C. program all 3 years and in his Junior year was promoted to the highest rank of Command Sargent Major and received a Citizenship Award his Jr. year. Senior year he was promoted to the highest rank of Colonel and received an automatic scholarship to The West Point Academy. He was voted by the R.O.T.C. program as The Best Athlete in 1978.
Chavis played football all 3 years and in 1976 they were State Champions. He was voted Most Valuable Lineman in 1977, All-City Honors in 1976 and 1977.  Chavis was a standout on his High School indoor and outdoor track team in 1976 and was also State Champions.
Indigenous American Wrestling – The Gathering Of Skill
In 1982 Chavis competed in powerlifting. He entered his first bodybuilding contest; which was Mr. Virginia Beach and he placed 2nd. In 1983 1st place Mr. Gold coast, 1985 2nd place Citrus States, 1987 1st place First Coast Bodybuilding Championship, and 1988 1st place Mr. Gulf Coast.
Chavis was trained by Larry Sharpe from the legendary Monster Factory.  Chavis racked up a lot of titles throughout his career such as Carolinas: SAPW Heavyweight Title; Carolinas: AWF United States Title; Memphis: USWA Unified World Heavyweight Title; New York: UCW Title; Calgary: Stampede Wrestling North American Heavyweight Title; Australia: iGeneration Wrestling International Heavyweight Title; West Virginia: Covey Promotions World Heavyweight Title; Germany: GHW Heavyweight Title; and Denmark: DPW Tag Team Title.
"He should have won the Intercontinental Championship from Shawn. Michaels at WrestleMania 9" said YouTube sensation and rapper Stone Keezy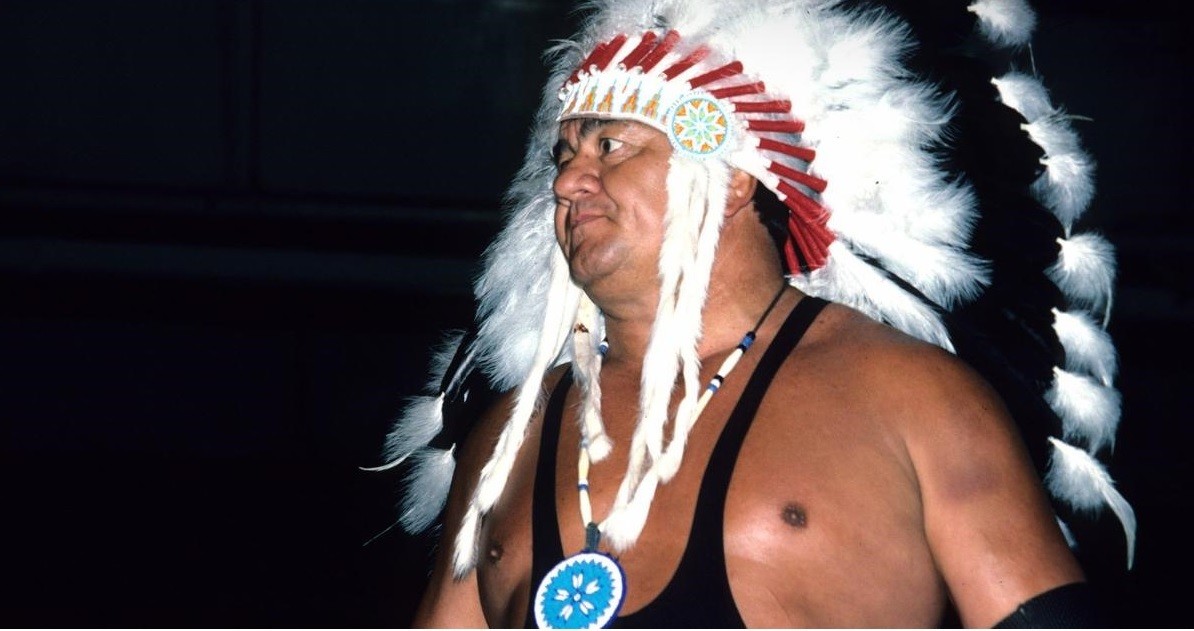 Wahoo went to the University of Oklahoma and was selected in the second round in the AFL Draft by the Los Angeles Chargers. Throughout his career, he played for the Houston Oilers, Denver Broncos, New York Jets, and Miami Dolphins. He played linebacker and guard and was an AFL champion in 1960. While he was playing football he would also wrestle until his retirement in 1968 from football.
Wahoo was from the Choctaw-Chickasaw tribe he is a WWE Hall of Famer, he held the NWA United States Championship five times. McDaniel had tremendous popularity and superstardom in National Wrestling Alliance NWA.
"Ed "Wahoo" McDaniel was a shining gridiron and pro wrestling star.  He was also a loving family man, a complete professional in whatever he went out to achieve, and a real credit to the entire human race as a man with sky-high ethics that he stayed true to all his life" – said world-famous pro wrestling journalist Bill Apter.
At times McDaniel had the misfortune of being compared to certain fake gimmick Indigenous American gimmick wrestlers however McDaniel as Apter stated "stayed true all his life.
Critically acclaimed author John Cosper added
"Wahoo McDaniel was a truly unique star in his time. For starters, he was who he said he was: a Native American. In an era when farm boys from the Midwest became German fascists and British aristocrats, Wahoo's mother was actually German, but his father was half Chocktaw and half Chicasaw.
He was proud of his heritage and very aware of what it meant for others to see an Indigenous American successful in sports. What's more, Wahoo never put himself out there as a caricature. He wore the feathers and the beads, he threw tomahawk chops.
But he refused to speak in halted English like a character from TV and movies. The Wahoo McDaniel fans saw on TV was the same man they met in real life. He spoke his mind directly. He refused to play a stereotype."
Cosper is working on a book about Wahoo he also did the autobiography on Indigenous American pro wrestling legend, Princess Victoria. Victoria was and still is a remarkable individual in and outside the ring. Her book and others can be purchased on here.
"Wahoo and Chris Chavis (Tanka) were huge influences on me and we honor them because they like us were real Indigenous American's,"
said Suma Te Woke La an Indigenous American pro wrestler who has created a native American pro wrestling stable the War Party which includes Ky-ote, Robby Phoenix, Broo mak, Kekoa Mana, Aj Mana, Lisa lace, Desi Dirata, Aron Sykes, SYNN, Tri Bal, Chaska Nayati. & Thunderbear Moore.
Each member has Indigenous ancestry to them. These athletes represent the next generation of Indigenous American pro wrestlers. Both Wahoo and Chavis inspired that and helped pave the way for them.