Nigel McGuinness. His name emerged as a combination of things. The first name 'Nigel' was suggested by wrestler Shark Boy, while 'McGuinness' was chosen in order to allude to other cultures, even though he is English and doesn't have a Scottish or Irish background.
In a career that spanned over thirteen years, his career's most notable moments were in one promotion, since while working in the United States, he established his notoriety while part of Ring of Honor. While there, he had notable matches with the likes of Samoa Joe, CM Punk, and Bryan Danielson (which we will explore in greater depth at another time).
Speaking of his time spent in the US, it was under the tutelage of famed trainer Les Thatcher that McGuinness first learned to wrestle. As part of the Heartland Wrestling Association, McGuinness spent a year training before he had his first match. However, due to a lack of income, his tenure in the US was cut short.
A Return Home
McGuiness would return to the UK, where he would earn money to return to Ohio. He wouldn't simply work to earn money for a return during his time away but would develop his craft. When he returned to the United States, McGuinness's success wasn't relegated to his time in Heartland Wrestling Association but all over the United States.
By 2003, McGuinness introduced the Heartland Wrestling Association European Title to the promotion. After he lost the title in the Fall of the same year, he later regained it and quickly retired the title. McGuinness's early career will forever be tied to Les Thatcher and his work upon coming to the United States and the Heartland Wrestling Association.
The 'Punk-Rock inspired soccer-playing Johnny Saint' was who fans came to know upon his entrance in Ring of Honor. From 2004 until approximately 2009, McGuinness was as much a part of the heartbeat of the promotion as the likes of Bryan Danielson, CM Punk, and Samoa Joe. While each man brought a certain quality, character, and ring acyomn, McGuinness was unlike any other at the time. But his early time in the company wasn't easy. Despite winning when he first joined the company, it would take about a year before picking up steam and gaining recognition.
Adversaries, Allegiances, and Rivalries
He would team with the likes of Colt Cabana early on, but it wasn't until he faced Samoa Joe for the Pure Championship that the proverbial wrestling gears in Nigel McGuinness truly shifted. On August 27th, 2005, McGuinness defeated Samoa Joe to win the Pure Championship.
With the title now in his position, McGuinness the face became McGuinness the heel. That heel persona brought about a very familiar way of insulting the city, town, or state he is in. The most antagonistic way of doing it is by using malapropism and having him mispronounce things despite having terms with the same meaning. Let's Go, Red Stockings!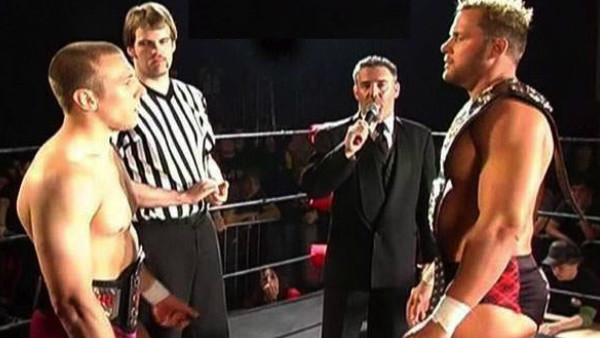 For as good as a competitor as McGuinness was, his character was a juxtaposition. The reason being he would defeat his opposition via count-out in the most unscrupulous of means. He was so talented that to win matches this way was unnecessary but a perfect reflection of the character. Fans knew he was above defeating competition this way, but it didn't matter. It was how he was winning.
One of the most interesting stories to evolve from McGuinness's time in Ring of Honor was why he would carry an iron to the ring:
I was watching WWF with my girlfriend at the time, and her mum was in the room doing the ironing. She casually looked up and saw Jim Duggan coming to the ring with his 2×4, and after I explained gimmicks, she asked if anyone ever carried an iron to the ring. They will now, I said.
McGuinness on the use of his Union Jack decorated iron.
Pure Champion
McGuinness and Bryan Danielson's (Daniel Bryan) career will forever be intertwined. After defeating Danielson to retain the Pure Championship, it earned him an opportunity for the Ring of Honor World Championship. On August 12th, 2005, Danielson defeated McGuinness to capture the Pure Championship and unify it with the Ring of Honor World Championship.
Regardless of the means by which he held the title, McGuiness was the Pure Champion for 350 days. Despite getting a rematch for the title, McGuinness could not contend for the title if Danielson was the champion. Their 60-minute two out of three falls matchup resulted in Danielson retaining, but McGuinness being given the retired Pure Championship out of respect.
It was then from here McGuinness engaged in feuds with Chris Hero & Jimmy Rave. The storylines would take on unique nuances. From competing in, I Quit Matches to competing in matches involved in Pure Wrestling rules. For instance, he would act as a representative of Pro Wrestling NOAH. It would lead to rivalries, with Hero claiming that he was the best pure wrestler in the world.
Nigel McGuinness

545-Day Ring of Honor World Title Reign
McGuinness' value to Ring of Honor could not be understated. With that, so began his rise and run as the Ring of Honor Champion. Over the course of two years, McGuinness either contended or challenged for the title. It initially began after winning a fatal four-way to determine the number one contender for Takeshi Morishima's Ring of Honor Title.
On October 10th, 2007, McGuinness defeated Morishima's title at Ring of Honor's Undeniable. He would go on to hold the title for 545 days. On his 39th title defense, McGuinness would lose the title to Jerry Lynn at Supercard of Honor IV.
Injuries did, however, play a part in McGuinness's departure from Ring of Honor. He wrestled his final match for Ring of Honor at Glory by Honor VIII against Bryan Danielson (Daniel Bryan). McGuinness was a world-traveled competitor with stops all over the world. While the initial plan was to join the WWE, another promotion would bring in this technician. He would be rebranded Desmond Wolfe and would immediately begin a feud with Kurt Angle.
I believe so. I think he was really gifted, and I really thought that he was better than I had expected him to be. Nigel was a very special talent. He had some great technique; he was one of the best technical wrestlers that I've wrestled. He was so good that he forgot how to be a heel. I remember when we would work, he was literally out wrestling me as a heel. (laughs) I had to tone him down and make him understand, 'Listen, I'm the good guy, you're the bad guy, I'm supposed to outwrestle you.' There were certain holds and locks that he put me in that I couldn't escape them.
Kurt Angle on Nigel McGuinness was the best wrestler never to be in the WWE.
During his time in TNA, McGuinness was part of the faction Fortune, teamed with Magnus as the tandem London Brawling, and feuded with Kurt Angle. His time in TNA saw several key factors that were indicative of his success in the promotion. Former tag team partner Magnus (Nick Aldis) would also share about his teaming with McGuiness. Even though their time together is so brief, it left a lasting impression on fans.
I always thought it was a strange mix because I thought Nigel and I were quite similar in a lot of ways. I always thought that the best tag teams were the ones that complement each other. That by having things that the other guy doesn't have rather than two guys that are very alike. That being said, we still worked really hard to bring the best out of each other. I think that even though it was short-lived that it says a lot about what we did achieve.

It was during that time because it really was a very short time and people still bring it up to me to this day. It was literally like two months, I think. It was just a testament to Nigel, and what we did in the short amount of stuff we did do as a team.
Nick Aldis on teaming with Nigel McGuinness in TNA/IMPACT Wrestling
McGuinness's in-ring career was drawing to a close. The retirement tour said reported to be a culmination of different things. His inability to compete with the same ferocity he did in the past and not being signed by the WWE, and not wanting to return to TNA all culminated in ending his career. Despite his in-ring career coming to an end, it didn't mean that his involvement in wrestling had come to an end.
McGuinness' would make his return to Ring of Honor as the color commentator alongside Kevin Kelly. This would eventually lead to another on-air role. McGuinness would be named the 'Matchmaker' for Ring of Honor. A role that carried with it an on-screen authority role. It was also at this time when McGuinness was quite forthcoming about his retirement.
He shared that the WWE had rescinded their offer to him due to an untreated injury, and departure from TNA was due to contracting Hepatitis B and failing to get it treated. McGuinness' value to wrestling cannot be understated. From a technical standpoint, he could lockup with anyone and everyone.
Nigel McGuinness And The WWE
One of the greatest qualities that stand out about a performer is their impact on others and their influence. With each promo and each match, the career of Nigel McGuinness was further cemented. As noted above, his feuds with Bryan Danielson, Chris Hero, and Kurt Angle all had a common trait about them. They each shared a mutual admiration and respect for one another.
McGuinness could manage to be both a heel and face and do it seamlessly throughout that time. Described as 'one of the greatest performers some will never know,' should not be the case. McGuinness led by example. He left home to settle in the United States and create a foundation and a life for himself.
The goal was always for McGuinness to make it to the WWE. In 2016, while his goal was achieved, it wasn't what he had expected, nor was it what many had thought. As a commentator for NXT, 205 Live, and NXT UK, he has shown that he is able to add his knowledge in the commentating booth. He had been furloughed due to budget cuts but was rehired and returned to the commentating area. McGuinness's knowledge of the product is as much a reflection of being a student as he is a teacher. Whether in the ring or in the booth, for McGuinness, it has been about continuing to learn about the product.
Nigel McGuinness

Wrestling's Unsung Pure Champion
While fans may not see some of his classic battles with the likes of Bryan Danielson (Daniel Bryan), that doesn't mean they couldn't. Below is one of his most memorable matches with one of his most notable of adversaries. He was as technically sound like anyone at any point and time. Inspired by UK legends Johnny Saint, McGuinness continues to make a name for himself. Albeit it may be from the commentary area, Nigel McGuinness' knowledge and awareness of the UK scene and emerging talent is evident with each call he makes.
Talent today, such as Seth Rollins (Tyler Black), Cesaro (Claudio Castagnoli), and Samoa Joe, could all easily sing the praises of McGuinness. Will he ever come out of retirement? Only McGuinness can safely answer that question. Today, fans should take the time to look back at Nigel McGuinness's career and how talented he was. The mark of a notable talent should also come from the legacy left behind. For Nigel McGuiness, his legacy will be shared by those that stepped in the ring with him and those that watched him perform.
________________
Unsung Heroes will cover people and personalities whose work doesn't always get talked about as much as it could, such as Nigel McGuinness. With a history rich in stars, the supporting actors don't always get their just desserts. This series will strive to shine a light on those who fall into that category. Our next focus talent of focus is former Ring Of Honor Pure Champion Nigel McGuinness.