With Christmas just a week away it's time for all of our favorite shows to air their seasonal specials! New South has its own festivities planned and we're all invited. This Saturday in Hanceville, Alabama, New South Presents the Dump Sanders Holiday Special! The card for this show is a special one indeed. You might fret if you can't make it down south for this one, but Santa Dump's got you covered. All of the action going down this Saturday will air on the upcoming Episode 15 of Action Clash on IWTV!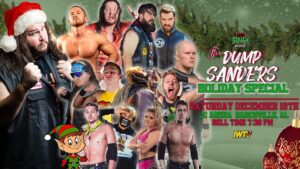 New South Pro Wrestling Presents Dump Sanders Holiday Special
There's a lineup of great matches for this event! This preview will cover four of the heavy-hitters announced, but you'll want to either show up or tune in to catch every minute of what goes down.
Brett Ison vs. The Mongrel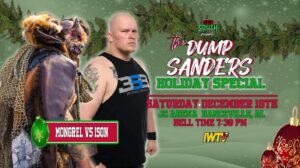 If you saw the most recent episode of Action Clash, you saw the Pitbull stand eye to eye with the Mongrel in the ring during Winter Warz. We were not, however, going to see who the better man was on that chaotic night. We didn't see it then, but this Saturday we will! Ison and The Mongrel will have a whole ring to themselves to tear it up. Expect this match to be one big and memorable brawl.
Jaden Newman vs. Kenzie Page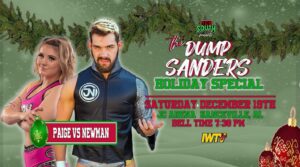 When I saw this match was taking place, the first thing I said was "uh-oh!" Putting Jaden Newman, Ichiban Number One himself up against one-half of the current reigning New South tag team champs? That's trouble brewing. Kenzie Paige is top competition at the moment, and Jaden Newman's faced the best in New South thus far. I won't make a solid prediction about how this one goes, but I will say that Jaden better not expect this match to be an easy night off at all!
Kevin Ryan vs. Shean Christopher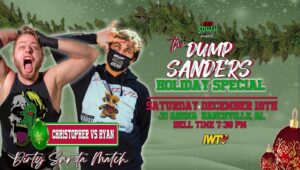 I have a strong feeling this match between these two former partners will be just one battle in the war. There's no way all of this animosity can be resolved in just one go-round! That is, however, unless either Kevin Ryan or Shean Christopher has something in this fight planned to put someone out of action for a long, long time. Given the brutality we've seen go down in the past few weeks since these two severed ties as partners, I believe we're going to see either one of these two attempts to end a career as it's just taking off.
New South Pro Wrestling Presents Dump Sanders Holiday Special
Jordan Oliver vs. Nolan Edward

Here's the one I absolutely cannot miss. For those who have been following the independent wrestling scene closely over the past year, you'll know that these two names will be huge in 2021. Jordan Oliver and Nolan Edward are most surely going to end the year with a banger. This one's bound to be a match of the year candidate, so don't finalize your votes just yet since there's a few weeks left in 2020!
You won't want to miss this fanciful seasonal episode of Action Clash next Tuesday night if you can't make it out to Hanceville, Alabama this Saturday. These four huge matches and so much more will be going down at the Dump Sanders Holiday Special; be sure to catch it all on IWTV on Tuesday, December 22nd at 7 PM CST!