This week's MLW Fusion preview for 5/5/21 promises to be Middleweight Madness. Myron Reed will finally get his rematch with MLW Middleweight Champion Lio Rush. It was the beginning of the year that Rush came to MLW and won the Middle Weight title from Reed in his debut. Reed has been wanting to correct this "Injustice" for months. Laredo Kid attempts to get back on the winning track against the unpredictable Gringo Loco in other middleweight action. No doubt Kid will also be watching the MLW Middle Weight Championship match very closely.
________________
MLW Caribbean Champion Richard Holliday will be in action. Holliday recently defeated Gino Medina, his former Dynasty cohort. Also, MLW has learned that Salina De La Renta has been missing. Could this be a punishment for her going into business behind El Jefes back? This Cinco de Mayo could be one that Salina De La Renta never forgets. Last but not least, does Contra have the right to decide who MLW Heavyweight Champion Jacob Fatu defends the title against?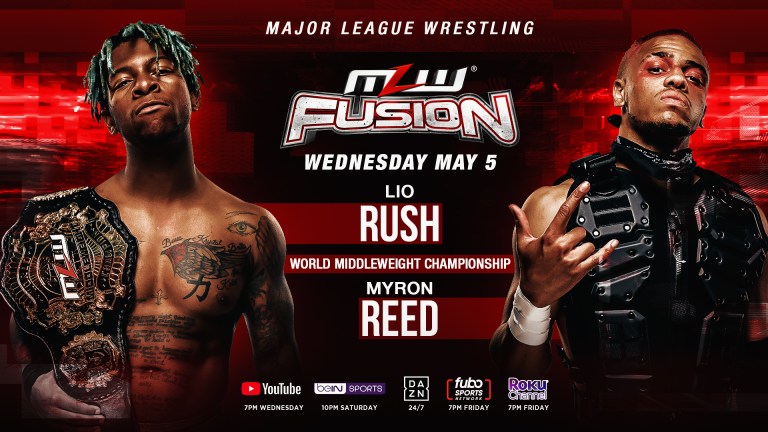 MLW Fusion Preview for 5/5/21
MLW Middleweight Championship
Lio Rush vs Myron Reed
For the past year, Myron Reed has been taking care of some " Injustices" done to him in the ring and out of it. He and Jordan Oliver have faced Contra head on all in the name of getting revenge for an attack that took out the third member of the group.  Ever since the attack at Kings Coliseum in January, Jordan Oliver, and Myron Reed have been fighting for respect. Several times Reed has come close to defeating a member of Contra; however, the terrorist group always gained the upper hand.
Another "Injustice" that Reed has yet to take care of is his loss to Lio Rush. That is until now. This Wednesday on MLW Fusion, Myron Reed will get his rematch against The Money weight himself, the MLW Middleweight Champion Myron Reed. Moments before Injustice was attacked by Contra; Reed lost the MLW Middleweight Championship to Rush in his MLW debut. Until being defeated by Rush, Reed was champion for 424 days. Lio Rush has also been busy adding to his resume.
He defeated AAA Cruiserweight champion The Laredo Kid in a winner takes all match, unifying the two titles in March. These two have been on a collision with each other since the beginning of the year. If their first match was any indication, MLW fans are in for a middleweight classic.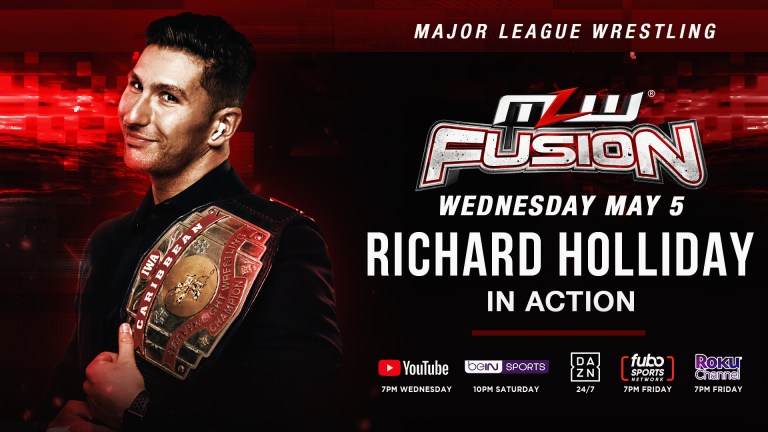 Richard Holliday defends the MLW Caribbean  Championship
It has been announced that this Wednesday, MLW Caribbean Champion Richard Holiday will be in action. His opponent is yet to be announced. However, you can bet the dynastic one will have a plan set up for whoever it may be. Since defeating Savio Vega, Holliday has been cockier than ever. He even took it upon himself to exile Gino Medina from the Dynasty.
Will his opponent this Wednesday finally humble Holliday?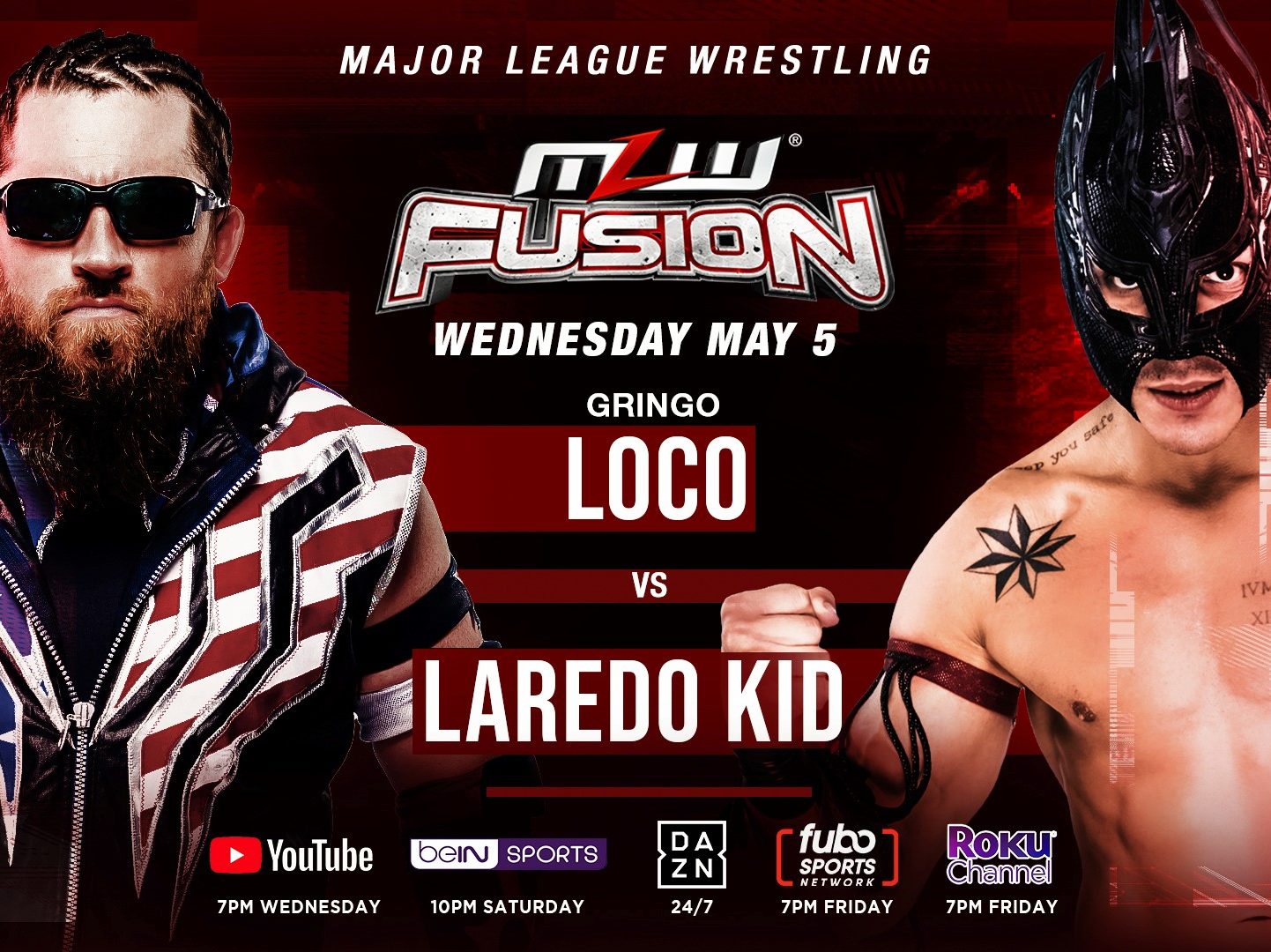 Laredo kid vs Gringo Loco
It's a second cruiserweight classic on this week's episode of Fusion as The former AAA Champion The Laredo Kid takes on Gringo Loco. These two luchadors will bring the fast-paced action to Major League Wrestling this Wednesday. Both have made huge impacts in the lucha world.
However Gringo is looked at as a mockery of Lucha tradition in AAA. While Laredo Kid is viewed as Superman. The difference between Laredo and Gringo, is Gringo can also brawl with the best of them. Don't forget about the 225 lb Cannonball that he can pull out anywhere in the arena. Laredo Kid will need to use his speed and quickness to get the win and climb back up the ladder.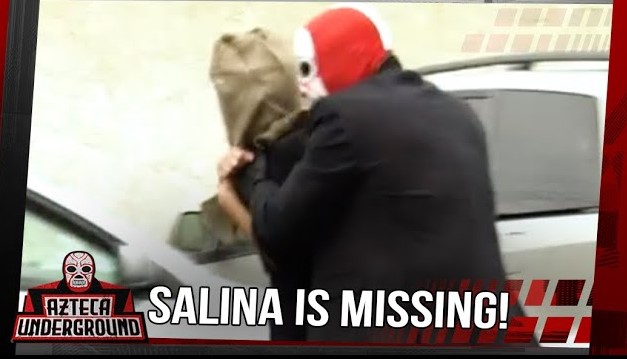 Salina de La Renta is Missing
After going into business herself behind " EL Jefes back, Salina De La Renta has gone missing. In the past, Salina has been known to protect her brand, but no one had protected her from Azteca Underground. Is the Empressaria paying the price for going rogue? MLW cameras last caught a man in a red and black skeleton mask hustling what appeared to be salina with a sack over her head into a limo.
To make matters worse, Azteca Underground has been posting threats on social media, stating, "This Wednesday is Cinco de Mayo!!! A day of grand festivities and consequences". Has Salina made her last business deal?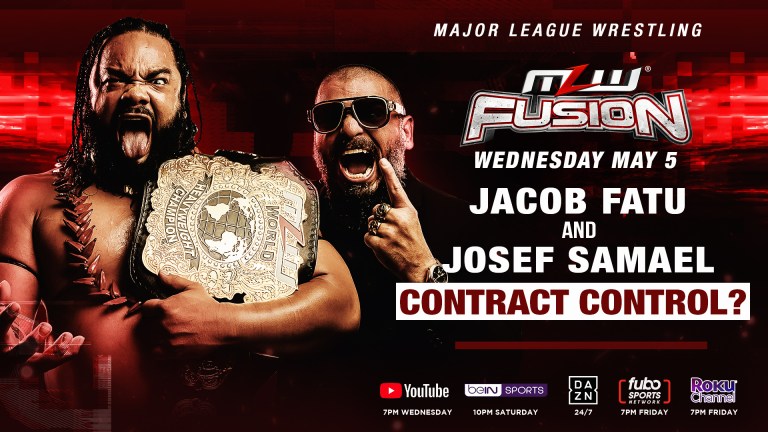 MLW Fusion Preview for 5/5/21
Contras Control of the MLW Heavyweight Championship
Jacob Fatu is the MLW Heavyweight Champion. However, is it fair for Josef Samael to choose who Fatu defends the title against? That is the question that MLW officials are trying to address this Wednesday.  MLW Openweight Champion Alexander Hammerstone made his intentions known to Challenge the Contra Kingpin for the title. However, Josef Samael refuses to allow it.  Jacob Fatu is an unstoppable World Champion, but is that in part to Samuel being contractually allowed to pick and choose his challengers?
Will Hammerstone get his opportunity? Find out on MLW Fusion this Wednesday at 7 pm Et on Youtube, and watch a replay at 10 pm Et on their new home Vice Tv. Also, Fusion is available at 10 pm Sat nights on Bein Sports.
*****
Be sure to stay tuned to the Pro Wrestling Post for this and additional stories from the wrestling world. Readers can rely on Pro Wrestling Post to be their daily source for all things inside the squared circle. As a result, readers can expect daily news, history, and so much more. Please visit Major League Wrestling's official website here for news on the promotion and upcoming events.