This week on MLW Fusion, we preview not one but two championship matches that will take place on 3/3/21. CEO Court Bauer has decided to give the fans a treat for having to deal with Tom Lawlors Filthy Island fiasco two weeks ago. This week the MLW Heavyweight Championship will be up for grabs as Jordan Oliver will finally get his shot at the MLW Champion Jacob Fatu. Also, the MLW Tag Team champions Los Parks will defend their titles against Contras Divari and Gotch.
___________________
For the first time, Bu Ku Doa will talk about his abuse at the hands of his mentor TJP. Is TJP's Mentoring technique actually a form of bullying? In other action, The Heavyweight Hustle Calvin Tankman will face off against the Laredo Kid. Can the luchador rebound after his loss to Lio Rush three weeks ago? Expect this and much more on MLW Fusion this Wednesday at 7 pm Et on Youtube, Bein Sports, Fubu Sports, and DAZN.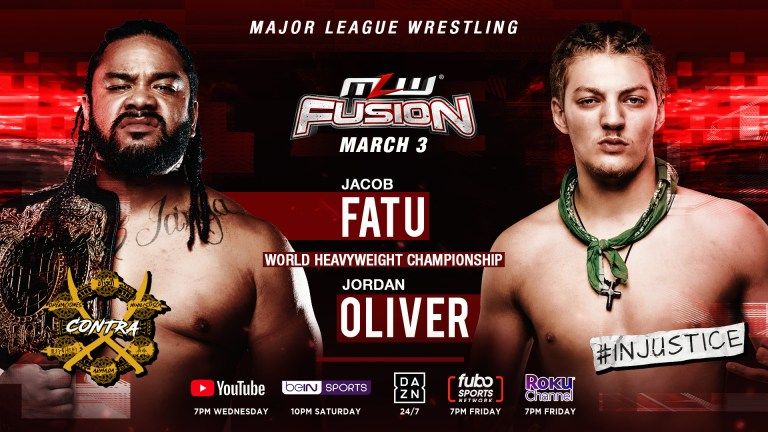 MLW Fusion for 3/3/21
MLW Heavyweight Championship

Jacob Fatu vs. Jordan Oliver
For weeks Jordan Oliver has been claiming that he's not the same kid he was a year ago.  This Wednesday, on MLW Fusion, he will have the chance to prove it. After months of challenging Jacob Fatu, Oliver will get an MLW World Heavyweight Championship match.  Ever since Contra took out Oliver's friend Kotto, both Myron Reed and Jordan Oliver have made it their mission to get retribution for their fallen friend. Oliver has been impressive as of late, stacking up several victories in the process. 
However, is that enough to take the Heavyweight Championship from The Samoan Bulldozer?  Jacob Fatu has been on an unstoppable path of destruction. He has been MLW Heavyweight Champion for 600 plus days now. Bodies have been left battered and broken after getting destroyed by Fatu and Contra. Josef Samael has said that there will be consequences for Injustice. He has also said that this Wednesday will be Jordan Oliver's public execution.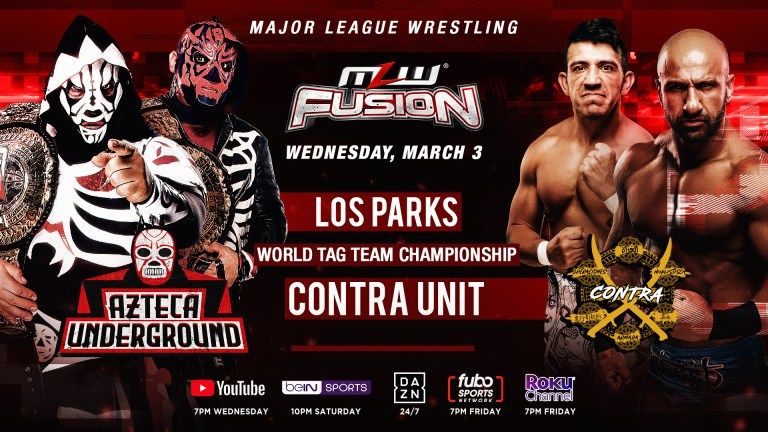 MLW Fusion for 3/3/21
MLW Tag Team Championship

Los Parks vs. Contra 
This is a no-win situation for Major League Wrestling. Both Azteca Underground and Contra want to take over the company. The current champions Los Parks with Salina de la Renta, are unquestionably Azteca undergrounds hitmen. Since defeating the Von Erichs for the tag titles, they are willing to do whatever it takes to please "El Jefe."  Contra has terrorized MLW since its debut. Jacob Fatu is the current MLW Heavyweight Champion. Imagine how much more power Contra could acquire if Davari and Gotch defeat Los Parks to become the tag team champions. No one would be safe. Contra has vowed to destroy everything in its path. This is going to be a clash of the realist family vs. the real terror.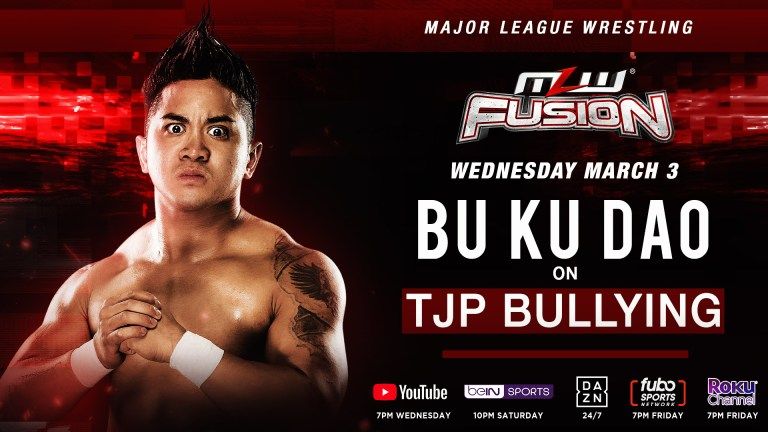 Bu Ku Dao speaks about TJP's Bullying.

TJP seems to be having a change of attitude as of late. The once fan-friendly high flyer has recently been exhibiting more selfish characteristics. He has bullied his trainee Bu Ku Doa verbally and physically. There are even rumors circulating that after the loss to the MLW Tag Team Champions Los Parks, TJP kicked Doa out of the Dojo, throwing his clothes into the street. During an interview last week with Alicia Atout, TJP said he feels he tried to help Bu Ku Doa discover his 'direction". He claims there's nothing he can teach him, and "Bu Ku dropped the ball." When the interview queen pointed out that TJP was bullying Doa, he got angry and shut off his video. This Wednesday, Doa will give his side of the story. How does he feel about his "mentor" now? Find out on MLW Fusion.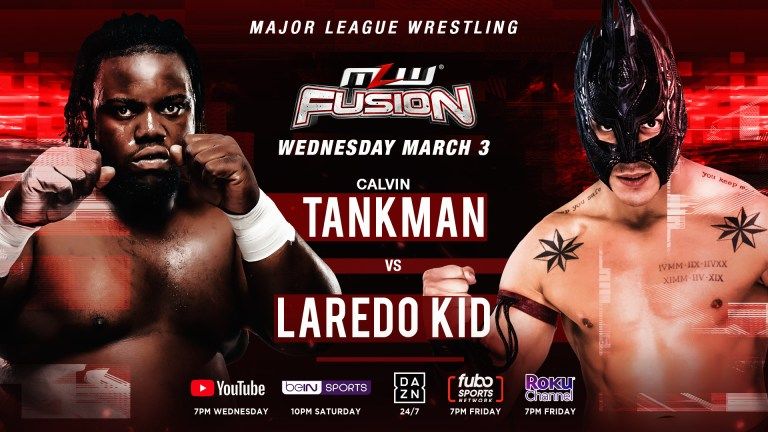 Calvin Tankman vs Laredo Kid 
Also, this Wednesday, Calvin Tankman will challenge The Laredo Kid. After Kid's defeat at the hands of Lio Rush a few weeks ago, you can bet this young luchador wants to get back on the winning path. However, standing in his way is the undefeated 355 lb Tankman. The Laredo kid will have to use his agility and quickness to defeat the Heavyweight Hustle. Kid is a former AAA Cruiserweight Champion. He is a 13-year vet with a move set like no other. Tankman is no ordinary man. There is a huge possibility that the Laredo Kid may not even be able to pull off those death-defying moves.  If Tankman hits Laredo with the Tankman driver, it could be lights out for The AAA superstar. Check out these matches and many more as we prepare for MLW Never Say Never on March 31, 2021. 
*****
Be sure to stay tuned to the Pro Wrestling Post for this and additional stories from the wrestling world. Readers can rely on Pro Wrestling Post to be their daily source for all things inside the squared circle. As a result, readers can expect daily news, history, and so much more. Please visit Major League Wrestling's official website here for news on the promotion and upcoming events.