Mitsuharu Misawa and Toshiaki Kawada. This was one of the most brutal, intense, and personal rivalries in pro wrestling history. It was one that blended professional competitiveness with real-life animosities. They were high school friends, tag team partners, professional adversaries, and in the end, bitter archrivals.
Their rivalry bled into their real lives to the point that they fought for real. And yet, they managed to make the most out of that bitterness and use it in their matches. In doing so, they put on quite possibly the best collection of wrestling matches of all time.
______________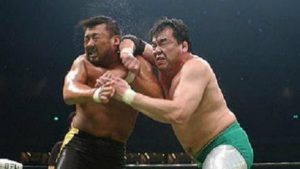 Misawa and Kawada –
Beginnings
Misawa and Kawada went to the same high school, with Misawa being one year older. Both of them were interested in becoming wrestlers after graduating, and Misawa convinced Kawada to join All Japan Pro-Wrestling (AJPW) instead of New Japan Pro-Wrestling (NJPW).
Misawa debuted in AJPW in August 1981, and Kawada just over a year later. And Kawada wrestled his first singles match against Misawa in December of 1992, his first of seventeen singles match throughout his career. They wrestled each other three more times in 1983, and Misawa won all of those match-ups.
But before Kawada could get any sort of revenge, both he and Misawa were sent on foreign excursions. It was and still is standard practice in Japanese companies for younger wrestlers to travel abroad to gain seasoning, and this happened to both of them.
AJPW promoter Giant Baba gave each of them a one-way ticket, and they had to stay where they were until called back by AJPW. To come home earlier would be an admission of failure and would shame them.
Thus, Misawa and Kawada set off to different places. Misawa went to Mexico and while there trained in a more high-flying-oriented style. Misawa's stay in Mexico was cut short in 1984 when Baba bought the rights to the Tiger Mask gimmick that was popular in NJPW. And Baba found his high-flyer in Misawa, who soon donned the mask and became the second iteration of Tiger Mask.
But what of Kawada? According to limited reports of that time, he was believed to be miserable during his excursion. He bounced around aimlessly between minor promotions in both Canada and the United States, often with little success. Meanwhile, he saw Misawa being catapulted to the top as Tiger Mask II.
It was there that the seeds of jealousy were planted. Kawada had hoped he'd be the one to don the mask, especially since he began doubting himself and how he looked compared to Misawa. Eventually, Kawada made his way back to Japan as well, and enjoyed some minor success as Samson Fuyuki's teammate. But it wouldn't be until the golden decade of the 1990s that the Misawa/Kawada rivalry would reignite in earnest.
Tag team partners
In 1990, two important things happened in AJPW. First, Genichiro Tenryu left Giant Baba, leaving then-ace Jumbo Tsuruta without a main opponent. Second, to compensate for Tenryu's departure, Baba decided it was time for Tiger Mask II to, well, unmask. Thus Kawada removed Misawa's mask, signaling the end of that period of his career.
A few months later, Misawa stunned the wrestling world by pinning AJPW ace Jumbo Tsuruta in singles competition. It was a sign of the future: Misawa was coming for Tsuruta's coveted position as company ace. And Kawada was right at his side.
For the next two to three years, Misawa was embroiled in a stable war against Tsuruta. Many of the big AJPW matches in the early 1990s featured Tsuruta and his army (which included company veteran Masanobu Fuchi and ex-sumo wrestler Akira Taue) taking on Misawa and his army (Kawada and then-rookie Kenta Kobashi).
These two stables feuded throughout the years, scoring big wins here and there. Then, on August 22nd, 1992, the torch was passed. Tsuruta had lost AJPW's prestigious Triple Crown Heavyweight Championship to Stan Hansen, whom Misawa defeated on that night to become new champion and new ace.
And his first challenger was Kawada.
The two of them faced off in front of a sold-out Budokan Hall, which would become a central theme to Misawa's main-event run. Billed as a true dream match, Misawa and Kawada had a brutal back-and-forth match that Misawa narrowly won. The crowd went nuts, especially since there was a good chance there'd be a rematch down the road.
Betrayal
By early 1993, it became impossible for Kawada to remain in Misawa's shadow. His desire to surpass Misawa and prove to the world he was the better wrestler became all-consuming.
Thus, after Tsuruta left AJPW's main-event scene due to his Hepatitis diagnosis, Misawa soon found himself without a long-term archrival, just as Tsuruta had been when Tenryu left. This opportunity led to Kawada breaking away from Misawa's army and joining forces with an unlikely ally: Akira Taue.
He and Kawada had their own blood feud going at the same time as Misawa warred with Tsuruta. But by 1993, Kawada was willing to put that aside to focus on beating Misawa instead. and with Kawada turning on him, Misawa elevated the younger Kenta Kobashi to the role of his main partner.
And so was born the era of The Four Pillars of Heaven.
By June 1st, 1993, the new battle lines were drawn. Misawa and Kobashi versus Kawada and Taue. This foursome would face off many times over the next three years, with Kobashi and Taue acting as buffers in the larger Misawa vs. Kawada feud.
And thanks to AJPW's focus on tag team matches, Kawada gained more opportunities to show the fans he was at least as good as Misawa. Since pinning Misawa was next to impossible, Kawada realized he stood a better chance by channeling his aggression onto Kobashi in their tag matches.
Of course, he had reason to be so angry in tag matches: he just couldn't beat Misawa in singles competition.
Of course, he had reason to be so angry in tag matches: he just couldn't beat Misawa in singles competition. And in tag team matches, he could only beat Kobashi. And by late 1993/early 1994, that too became a bit of a challenge because Kobashi started getting stronger.
But even as Kobashi got stronger, Kawada never lost focus. He stayed convinced that, eventually, he'd have Misawa's number. But first he'd have to overcome a few things. First, he'd have to watch Kobashi pin Taue in one of the biggest tag team matches of all four men's careers.
Second, Kawada would have to endure another title match against Misawa. But this time the games were over. Kawada had carte blanche to be as brutal as possible, and so did Misawa. Twelve years of professional rivalry led to this shining peak, the apex of their rivalry. What was once described as 'the singles match of the decade'.
Kawada fought and fought and fought, but Misawa was just too much for him. Misawa survived an inhuman level of punishment from Kawada and then silenced all doubters when he drilled Kawada with a vicious Tiger Driver '91 to end the match.  Although Kawada lost, fans respected and even admired him for his effort.
At the time, many people even considered Kawada to be the better wrestler of the two of them. But to Kawada, that praise wasn't enough. He wanted the top spot. He wanted to be the ace. So he tried and tried.
Then he finally got a lucky break.
Kawada almost makes it
A year later, Kawada and Taue defeated Misawa and Kobashi to win the AJPW World Tag Team titles. But that wasn't all. It wasn't just the fact that Kawada and Taue had won. Nor was it that their match is regarded by some as the single-greatest professional wrestling match in history.
It was the fact that Kawada pinned Misawa clean. Kawada pinned Misawa in the middle of the ring. It was a clean, decisive three-count far away from the ropes and without any sort of smoke and mirrors. Kawada had shown the world that he could beat Misawa. For the first time since 1982, Kawada and the people around him believed in his ability to defeat Misawa.
A month later, Kawada challenged for the title. He tried to parlay his tag team win into a singles win. But alas, it wasn't meant to be. Misawa did not fall that easily. The Emperor of King's Road didn't become AJPW's ace through politics or by being in the right place at the right time.
He became ace by being a mythical wrestler with perfect skills and natural toughness. And unfortunately, Kawada just couldn't break the seemingly-unbreakable Misawa. This loss left Kawada a straight 0-10 against Misawa. Most people would've given up by that point, but Kawada was as stubborn as he was stiff.
The decade wears on
Kawada's next big opportunities against Misawa didn't come until December 1996, when he managed to replicate his success from June 1995 and pin Misawa in a tag team match. It was another classic match for Kawada, and it was another example of his potential to dethrone the ace.
Four months later, Kawada did the impossible by beating Misawa in the 1997 Champion's Carnival tournament. Although not as big as a world title win, it was critical for Kawada. Once again, he tried to parlay that into a world title victory in a singles match but fell short again.
It seemed that while Kawada could win the world title, he just couldn't do it by beating Misawa. That irked him because he began having a large number of accolades in his own right, but everyone would focus on Misawa's and compare how Misawa had more of everything.
And yet Kawada persevered until he finally got his big break. It happened on May 1st, 1998, in AJPW's first-ever show in the Tokyo Dome. In front of 58,300 fans, Kawada pinned Misawa, clean, in the middle of the ring, for the Triple Crown Heavyweight Championship. He had achieved his dream of beating Misawa cleanly.
With this victory, the rivalry reached 2-11 for Kawada, but the number of wins was outclassed by the magnitude of Kawada's victory. He won AJPW's biggest title from the seemingly-godlike Misawa in front of AJPW's biggest crowd ever.
Unfortunately for Kawada, Misawa would still find a way to overshadow him in some way. In this case, it was the length and quality of their respective title reigns. Kawada's Tokyo Dome victory ended Misawa's third reign at 466 days, and his second reign was 364 days long. at the time, the only reign longer was, you guessed it, Misawa's first reign, which lasted 705 days.
As for Kawada, his first reign lasted a mere 133 days and was only marked by one 'successful' defense (successful is a relative term here because his sole defense ended in a 60-minute draw with Kenta Kobashi). And this second reign of his lasted only 45 days as Kawada lost the title to Kobashi on the next big tour. Just like that, Kawada had been stepped over by Kenta Kobashi, or so it seemed.
Kawada's last moment of victory over Misawa came on January 22nd, 1999, when he managed to beat Misawa to win the title once more. Of course, he also became (in)famous in this match because of the dreaded 'Ganso Bomb' spot that saw Misawa get dropped on his head in freefall.
Alas, that moment of victory was short-lived because the ulna injury Kawada suffered early in the match forced him to vacate the title. By the time he recovered, the title picture had changed once again as Vader came from WWE and went on a tear. And poor Kawada had to endure two more singles losses to Misawa later that summer in a title challenge and in the following year's Champion Carnival tournament.
Misawa and Kawada | Exodus
When Giant Baba died shortly after Misawa and Kawada's January 22nd, 1999 match, AJPW's future changed forever. Baba's widow Motoko and then-company president Misawa disagreed on the company's future.
Their disagreements got so bad that Misawa decided to leave AJPW and form his own promotion. And since almost everyone loved Misawa, the overwhelming majority of wrestlers followed him when he left to form Pro Wrestling NOAH.
I say 'almost everyone' because two native Japanese wrestlers stayed with AJPW.
One was Masanobu Fuchi, a lower carder well into the twilight of his career.
And the other was Toshiaki Kawada.
The friendship between himself and Misawa had deteriorated to such a degree that they couldn't even share a locker room anymore. It was believed that Kobashi had to act as the middle man between them, going back and forth between them with ideas on how matches would be laid out.
Worse, at some point, Misawa and Kawada got into a fistfight backstage in AJPW. Details were and are scarce, but what little came of it indicated that Kawada won. There was no going back to any sort of camaraderie or friendly competition. Bitterness and jealousy had consumed Kawada, and Misawa had taken advantage of this in order to make their matches better.
With Misawa's exodus, Kawada became the man that basically kept AJPW alive until 2002, when Keiji Mutoh came in and have it a huge shot in the arm in the form of enormous merchandise sales.
By the mid-2000s, AJPW's position had stabilized, which allowed Kawada to work a less taxing schedule and work some inter-promotional dream matches. And by 2005, there was one left. One…last…match…with Misawa.
In the Tokyo Dome.
The two legends of the 1990s fought one last time. And although both were way past their primes, they still put on a great performance. The only disappointing thing here was that Kawada lost when he had no reason to. Misawa was in a position where he didn't need to win dream matches and Kawada was. So the ending of this match was rather deflating.
Misawa & Kawada –
Legacy
The rivalry between Misawa and Kawada will go down in history as one of wrestling's best. Because they combined their real-life emotions into the larger narrative of their rivalry, their matches reached another level of quality.
They brought so much raw intensity into their matches, and it showed. To this very day, their singles and tag matches are widely regarded as some of the best of all time. Many people praise their rivalry as leading to better matches than such rivalries as Tanahashi-Okada, Okada-Omega, Hart-Michaels, and Flair-Steamboat, just to name a few.
There some of their matches have been included here, but there are many more out there as well that showcase just how amazing this rivalry really was.