Mayu Iwatani
House lights. Moving and attentive darkness. Stars. Dark matter. Is "all the world a stage" or is the stage merely a pastiche for the universe? Think about it. What do we call the dense masses of matter and gravity which burn so brightly that their light is seen long after their life?
Stars. What then do we call the great ones, the performers and characters who grace us with their presence, compel us to tears or laughter or anger, and are remembered long after their own lives? Stardom. It is a great metaphor for the lives of creative and illuminating beings. Beings who shine bright, guide us, and inspire us. We ultimately see ourselves in them and to paraphrase Carl Sagan, the stars are within us as well.
So what happens when a stage, which brands itself earnestly as "Stardom", creates it's biggest and brightest star? Does it burn bright but for a short while, or like our own star, live alongside us seemingly forever? This is the story of "World Wonder Ring Stardom" through it's Idol, it's Ace, Mayu Iwatani. The Brightest Star in all of Stardom.
Protostar
Mayu Iwatani was born on February 27th, 1993 in Mine, Yamaguchi prefecture. It was shortly after graduating high school that Iwatani found her way into the Stardom dojo. Stardom, founded in 2010, had a debut dojo class that featured Iwatani, Arisa Hoshiki, Yoko Bito, and Eri Susa. Alongside established Joshi freelancers, the debut class was tested and quickly a pecking order for the young wrestlers, with Iwatani at the very end of that order.
Iwatani made her debut nearly a month before her eighteenth birthday, taking on fellow dojo trainee Arisa Hoshiki in a losing effort. Iwatani lost 29 out of her next 31 matches, her only wins coming in tag team matches alongside Arisa Hishiki and other experienced Joshi wrestlers. She would not pick up a singles victory until December 11th, 2011, when she pinned Eri Susa, making herself the last member of the first dojo class to score a singles victory.
The story of Iwatani's beginning in Stardom is not unlike the protostar. With gravity and time working together, eventually, the star begins to accumulate and become denser. In this case, and over the next three years of Mayu's career, she improves, gathers her strength, develops a fanbase, a moveset, a repertoire.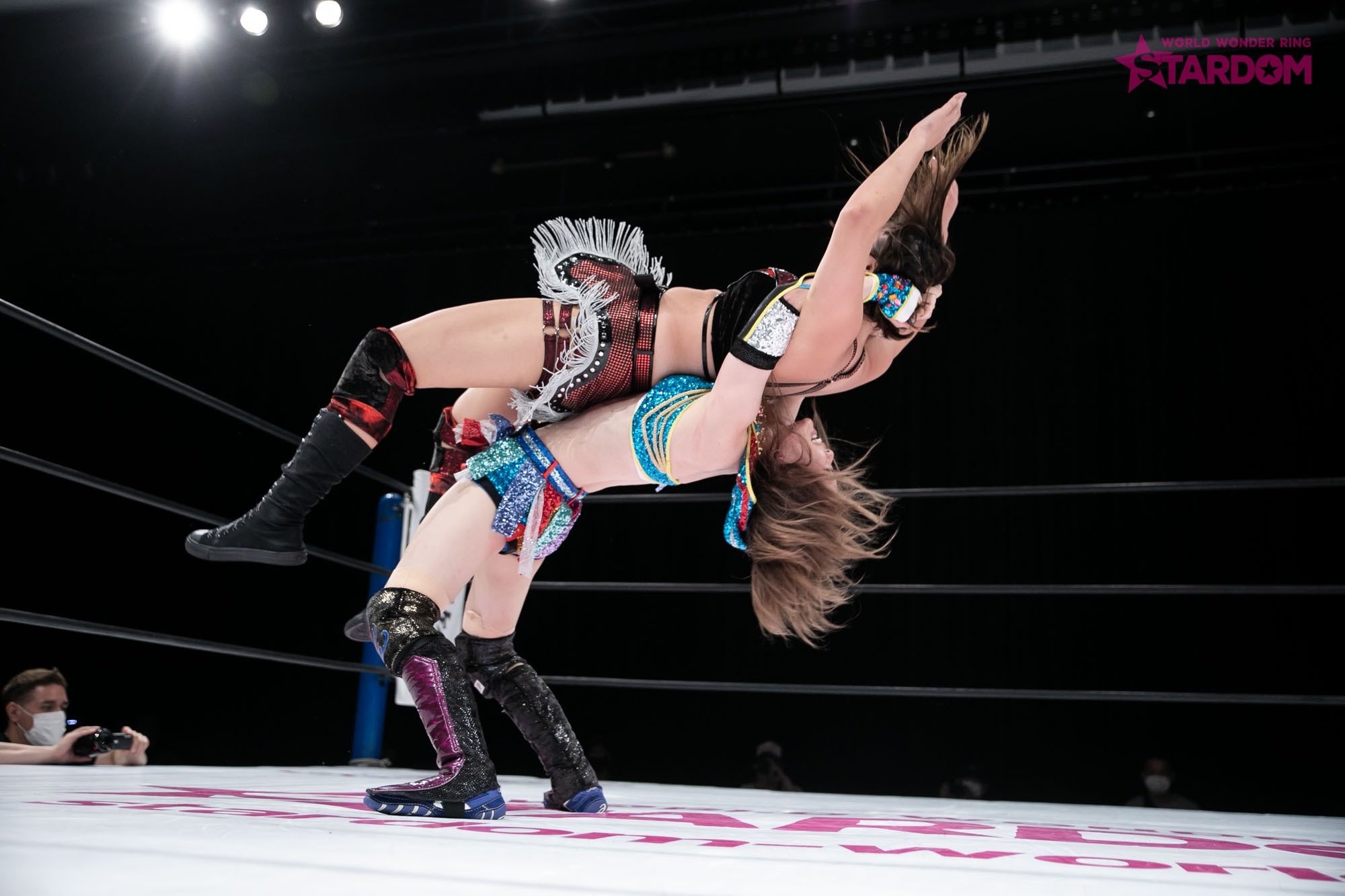 Mayu Iwatani | Out of the Blue
Over the course of 2011 to 2013, Mayu Iwatani participated to the best of her ability. She entered Stardom's Goddesses of Stardom Tag League. The Rookie of the Year Tournament. 5Star Grand Prix. And the Artist of Stardom six-person Tag Team tournament. She teamed up with future international star Io Shirai against the tag team champions in January 2013. It's here where she came up short again. Eventually, Iwatani developed a camaraderie with Miho Wakizawa and Hiroyo Matsumoto. This friendship culminated in a match for the Artist of Stardom Title. A three-person team championship.
At the Stardom Year-End Climax 2013, the team defeated Kimura Monster-gun to capture the title, Mayu Iwatani's first. The team would make four defenses over 224 days. Iwatani would also challenge for the High-Speed Title. As well as the Goddesses of Stardom Tag titles. Iwatani would lose the Artist of Stardom Championship but regain it with Io Shirai and Takumi Iroha as her partners. The regaining of her Artist of Stardom championship would come at the end of 2014, a year that also saw Iwatani capture the Wonder of Stardom Championship, her first singles title.
Red Giant
By the end of 2016, Mayu Iwatani had lost her tag team championships. And her first reign as Wonder of Stardom Champion came to an end at 175 days. She still held the High Speed Championship, a title that actually existed before Stardom itself. But shortly after losing the belt days before her 24th birthday, she decided to pursue the Wonder of Stardom Championship. With singles wins over Hana Kimura, Natsuko Tora, and making it to the finals of the Cinderella Tournament, Iwatani was in line to challenge Kairi Hojo (future Kairi Sane) for Stardom's White Belt.
In a nearly 20 minute, hard-hitting bout, Mayu Iwatani reclaimed the Wonder of Stardom title she had lost in 2015 from the established, charismatic Kairi Hojo. Following a brief feud with Odeo Tai leader Hana Kimura, Mayu challenges then World of Stardom Champion Io Shirai to a champion versus champion match. Shirai accepts. Feeling in her heart that she knows Iwatani well enough to retain her red belt. Shirai and Iwatani have teamed up and teamed against each other since the beginning of Stardom. A match between the two would be exciting, and so the match was made.
Mayu Iwatani | Out of the Blue
The Cinderella story had been rewritten. In this case, the winner of the 2016 Cinderella tournament was now the Wonder of Stardom Champion. As well as World of Stardom Champion. However, with any retelling of the Cinderella story, the clock striking midnight brings challenges unforeseen.
132 days after capturing the White belt, and 95 days after capturing the Red belt from two future Joshi superstars, Iwatani would lose both during the 5Star Grand Prix. She lost the White belt to fellow first classmate Yoko Bito in fifteen minutes. The Red belt to Toni Storm in less than three minutes. In back to back days, Mayu Iwatani appeared to have completely burned out.
Supernova
September 24th, 2017, Iwatani seriously injured her arm in her match with Toni Storm. Afterward, aside from an appearance at the very end of the Yoko Bito Retirement Gauntlet match, Iwatani remained sidelined until January 2018. It's at the Stardom 7th Anniversary that Mayu has her return against Rachel Ellering.
Following her victory at the anniversary event, Iwatani spent 2018 recovering her confidence piece by piece. Following a trio of tag victories with relative newcomer Tam Nakano, Iwatani and Nakano challenged Oedo Tai (Hana Kimura and Kagetsu) for their Goddesses of Stardom Championship. Unfortunately though they came up short. Iwatani was entered into the ROH Women of Honor Title Tournament.
Mayu Iwatani | Out of the Blue
The first-round match featured Iwatani matching up with another fairly new talent in HZK. The victory over HZK granted her a meeting with Deonna Purrazzo. After overcoming Purrazzo, it seemed that the old Iwatani was back. April 1st presented a stumbling block, as Toni Storm managed to defend her World of Stardom Title from Iwatami. The next week, Mayu Iwatani would lose her semi-final match to Kelly Klein by referee's decision. The same result that ended her first World of Stardom title reign.
April also brought a bittersweet run in the Stardom Cinderella tournament. Mayu failed to beat former champion Io Shirai before the time limit draw and did not make the finals. After facing the adversity of an injury, it seemed that luck had turned it's back against Iwatami again.
The young talent of some Stardom began to ingratiate themselves to Iwatami, including Tam Nakano, Saki Kashima, and Starlight Kid. They formed a faction called STARS and feuded with Io Shirai's outfit Queen's Quest and old rivals Oedo Tai, who would lose their Goddesses of Stardom titles to Mayu and Saki Kashima in June 2018.
Mayu's feud with Oedo Tai would lead to another defeat for the World of Stardom Title. This time at the hands of Kagetsu. If one thing would pre-empt Iwatami's rise to greatness, it is a loss. After losing the title match against Kagetsu, Mayu Iwatani managed to win the entire 5Star Grand Prix for the first time. Defended her Goddesses of Stardom title. And win the Artist of Stardom Title with her STARS cohorts.
Planetary Nebulae
2018 would be a year for Iwatani to pass on her skills and mentorship to the newest generation of Stardom wrestlers. Like a constellation, Mayu provided the blueprint for success to struggling wrestlers. 2019 was a dominant year of returns for her as a singles and tag team champion. She would win the ROH Women of Honor Championship before losing at the ROH/NJPW G1 Supercard at Madison Square Garden. She would hold the Artist of Stardom Championship for 255 days with STARS. And on November 11th, 2019, she would challenge once again for the World of Stardom Championship.
After saying goodbye to Kairi Hojo and Io Shirai in 2017 and 2018 respectively, Mayu Iwatani was left as the sole Idol of Stardom. A curious prospect, to start life as a star so humbly. But with time and calamitous and almost destructive collision, become the sun around which all things revolve. Bea Priestley and Mayu Iwatani faced off at Best of Goddess 2019, and in Korakuen Hall. The Icon came back to the throne.
Mayu Iwatani | Out of the Blue
If divination is a science, it is the science of self-examination. The stars don't tell us anything more than we want to see. In this way, Stardom is a vehicle for the stories we wish to see for ourselves. The story of a rookie, who fakes it until she makes it. With determination and skill coming in time, is a wholesome story. One which Mayu Iwatani offers us. In the era of COVID-19, there's not much housed within the realm of "reality" that is comforting or encouraging. So theatre once again is what we turn to. To look for the bright stars in the murky darkness…just trying to find our way home.
Sources:
Stardom's Official YouTube Channel