The name LA Knight exudes arrogance. But when you dig a little deeper, what you will find is an almost twenty-year veteran finally in a position to show just how special of a talent he is capable of being.
As a trainee of Cody Hawk, Knight has been everywhere and anywhere in North America that has showcased his gift to gab. He initially emerged in the Heartland Wrestling Association. While there, Knight competed under the moniker Deuce.
It was there where he initially found success. He captured the HWA Television Championship during his time there. Knight didn't remain in the HWA for a long time but initially cut his teeth in the ring.
Movement and opportunity was synonymous with Knight's career early on. After moving from Heartland Wrestling, he competed for Mach 1 Wrestling in 2009. During his time there, Knight would both battle and later align with a former IMPACT and current AEW talent, Brian Cage.
Together with Cage, the duo would make up the tandem known as Natural Selection. They would even capture the M1W Tag Team Championships at one point.
After leaving M1W, Knight would later compete for Championship Wrestling from Hollywood. It was while there where Knight realigned with Brian Cage. Together with Cage, the duo once again regained the success they achieved in M1W as Natural Selection.
Knight would be a co-holder of the NWA Heritage Tag Team Championship with Cage for nearly 7 months. Once their team dissolved, it was Knight who would go on and challenge then-champion Adam Pearce for the NWA World Heavyweight Championship. Despite being unsuccessful in his attempt to become the champion, Knight was held a prominent role on the roster.
Before He Was LA Knight |
Championship Wrestling from Hollywood
Knight won the Championship Wrestling from Hollywood Heritage Heavyweight Championship. He did so after winning a 30-man Red Carpet Rumble to name a new champion.
However, after losing the title to former SoCal Uncensored member Scorpio Sky, Knight would later leave CWFH and seek an opportunity with the WWE. What is interesting to note is that while LA Knight has captured the Million Dollar Championship, he was formerly known as Slate Randal while with the WWE's Performance Centre and NXT brand.
While there, he played everything from a security guard to enhancement talent with the ECW brand.
Opportunities are what you make them, and for LA Knight, he made the most of each experience he was a part of. Over the next five years, Knight would remerge on the independent circuit, competing in the United States and Puerto Rico.
However, it wasn't until 2015 that Knight would showcase to the world that he had so much to say and could say it often. While under the Eli Drake moniker, fans learned of Drake as he joined Micah & Drew Galloway, forming The Rising.
This short-lived faction provided each of the men a part of it an opportunity to showcase their strengths. As time passed, Drake would participate in various feuds with former stablemate Drew Galloway, Grado, and Kurt Angle.
Allegiances in Wrestling
Drake would be engaged in matches, Feast or Fired, or battles for the TNA King of the Mountain Championship. These battles showcased how valuable Drake was to the roster and what he could contribute to any event along the way.
With IMPACT aware of how strong his gift to gab is, Drake was part of an interview segment titled Facts of Life. This ultimately led to a feud with Cowboy James Storm. But whether it was the TNA King of the Mountain Championship and then the contended for the IMPACT Grand Championship.
One of Drake's strengths has been his allegiances in wrestling. This continued with his alliance with Tyrus. Despite being helped by Tyrus, Drake would eventually leave Tyrus during one of their matches together.
But after offering Tyrus more money to remain by his side, the big man accepted, and bygones remained bygones. Finally, after years of his commitment to the industry, Eli ' LA Knight ' Drake was presented with the opportunity.
That opportunity was to become the IMPACT World Champion, and did so. He captured the vacant title and held it until Austin Aries defeated him.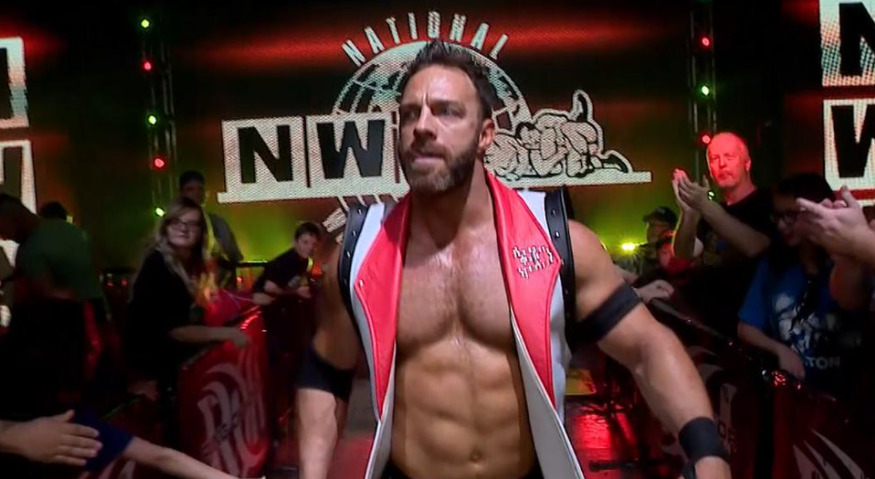 While Knight's departure from IMPACT Wrestling was shroud in controversy, he remained professional in his response to his departure. He thanked IMPACT Wrestling for his opportunity with the company and moved on.
He would parlay his time in IMPACT Wrestling to an opportunity with the National Wrestling Alliance. During his time there, he would capture the NWA Tag Team Championship with former IMPACT rival Cowboy James Storm.
Departure from IMPACT Wrestling
"Back in January (2019), I basically just let them know, like, 'Hey, I'm not intending to stay this year.' I kind of let them know my intentions that I wasn't planning to stay this year,"
"I really thought about it last year, and I almost left [at that time & I know they thought I was leaving; I thought I was leaving at one point, and I ultimately decided to stay & I kind of came to the decision that there are a lot of options now & I wasn't happy with how the first half of the last year went for me, but I will say, the last part of the year was a lot of fun; even though it was Ellsworth or whatever.
Just doing what we did in New York – that play I had with the audience there and with him. It was so much fun. From then on, it was a great time."

– Eli Drake on Chris Van Vliet's show on his departure from IMPACT. (h/t WrestlingNews.com)
Part of what has made Knight so effective is his ability to adapt and use media to his benefit. His performance in the ring is only met with his opportunities in front of the small screen.
Knight's appearances in a reality show hosted by Dwayne Johnson and a guest role on Brooklyn Nine-Nine has shown he is willing and able to perform beyond the ring.
LA Knight is NXT
His time now to shine is in the WWE. As a member of the WWE's NXT brand, LA Knight will be granted the same opportunities afforded to him throughout his career. For LA Knight, the near twenty-year veteran's journey to be where he says as much about his commitment to himself as it does to his passion for the sport. He has a great deal of support around him, and if the comments below are any indication, the skies are the limit for LA Knight.
"I don't think there's a ceiling on anybody. When they walk in the door, I kind of evaluate everybody as they're walking in the door. My hope is that all of them have the potential at one point in time to garner whatever they need to become as big of a performer as they can be here.
I've been a fan of his since he was here the first time, and there's a lot of reasons — on his side and our side — as to why that didn't work out that time, but I was always a fan of his then, I was a fan of his work, his promo skills, and everything else as he went along his journey.
I've always thought when the time was right, he would do great here. The time was right, and phone calls were made, and interest was [there] on both sides, and it just went from there. It was smooth and easy.
He wants to be in a place where he can have the biggest platform in the world that's here, and I want to give it to him. So we're going to run with it and see where we can go. There is no ceiling."

– Triple H on the arrival of LA Knight