KUSHIDA is one of the most talented and technically gifted wrestlers on the NXT roster. He can do pretty much anything. And while he isn't in the main event scene (at least, not yet), it's only a matter of time before he headlines a TakeOver special. One need only look at his time before WWE to understand what he's capable of.
Hybrid Training
Yujiro Kushida began his training to become a wrestler in the Fall of 2005. His first employer was the Takada Dojo, run by Nobuhiko Takada. A former world champion pro wrestler and shootfighting aficionado. As such, KUSHIDA learned both pro wrestling and mixed martial arts at the same time. In fact, he dabbled in MMA before becoming a full-time pro wrestler. He finished his MMA career with a record of 6-0-2.
From 2006 to 2010, KUSHIDA wrestled all over the world. Bouncing around between different companies and styles. He first wrestled for Takada's JUSTLE promotion, which was the closest thing Japan had to a WWE-style company. He wrestled in Canada, mainly for Border City Wrestling. That run included a notable match with Canadian wrestling mainstay Tyson Dux. While in the US, he made a name for himself in the lucha-oriented CHIKARA promotion.
And then followed suit with CMLL in Mexico. Determined to become a complete wrestler, KUSHIDA sought to combine existing MMA skills with the high-flying aspect of lucha libre. After successful tours across North America and a stint in All Japan Pro-Wrestling, KUSHIDA eventually made his way to New Japan Pro-Wrestling. He would find his home for the next nine years.
KUSHIDA first appeared in NJPW at the 2010 Best of Super Juniors tournament, but as an outsider. He performed well but only managed to get eight points. Not enough to make it to the next round. It wasn't until February 2011 that KUSHIDA signed with NJPW full-time and became one of their top junior heavyweight stars.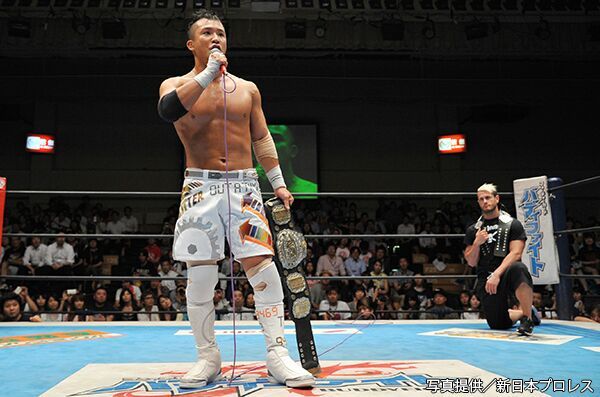 KUSHIDA
A Rough Start
Despite his skills and talent, KUSHIDA's early years in NJPW were rough. He ended up being in the middle of the road more often than not. He spent most of his time teaming with bigger stars like Hiroshi Tanahashi and Hirooki Goto. KUSHIDA also sought to claim some glory, such as with the BOSJ tournament and the IWGP Junior Heavyweight Championship.
Alas, he was unsuccessful on all these fronts. He didn't make it to the semifinals in the BOSJ. Often losing to big junior heavyweight title matches to more established stars like Low Ki, Kota Ibushi, and Prince Devitt. It wasn't until he went on another foreign excursion that he found his groove.
Dawn of the Timesplitters
During an American tour, KUSHIDA began teaming with American independent mainstay Alex Shelley. The two of them seemed to have great chemistry together, and thus they became a regular tag team. Known as the Timesplitters, this marked a noticeable change for Kushida's attire as well. From this point on, Kushida would dress like Marty McFly from the Back to the Future films. On several occasions, the Timesplitters' entrances included actual Deloreans from the movie series.
This proved to be one of the best decisions of KUSHIDAa's career as the Timesplitters achieved near-immediate success. They entered the 2012 Super Junior Tag Tournament and ended up winning it. Thus becoming the #1 contenders for the IWGP Junior Heavyweight Tag titles. Less than a month later, they defeated Forever Hooligans to win those titles for the first time. The Timesplitters would end up holding those belts for almost six months before losing them back to Forever Hooligans.
Working His Way Up
Seeing the talent, KUSHIDA possessed, NJPW's bookers began using him in more high-profile matches. He and Shelley had several great tag team matches for the junior tag titles. Most notably against The Young Bucks at Wrestle Kingdom 8. Throughout 2014, KUSHIDA challenged for numerous titles. Including Tomohiro Ishii's NEVER Openweight title and Jay Lethal's ROH Heavyweight title.
Although he lost both challenges, he was vindicated soon after. At Dominion 6.21 2014, the Timesplitters won the junior tag titles a second time. And shortly thereafter, KUSHIDA became a dual champion. By defeating Kota Ibushi on July 4th, 2014, to become IWGP Junior Heavyweight Champion. However, that reign was short, lasting only 79 days.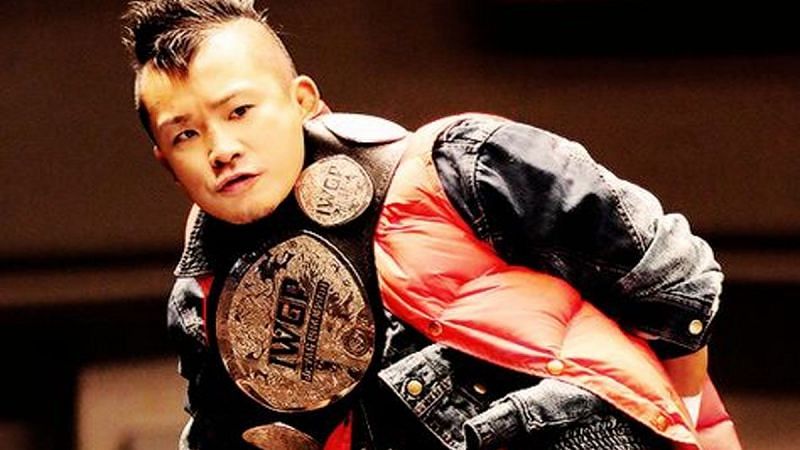 KUSHIDA
Rise As A Singles Star
In 2015, Shelley suffered another injury, and Kushida was pushed as a singles star. He entered the BOSJ tournament and, this time, won it. That led to a shot at the Junior Heavyweight title, which he ended up winning. But this reign was also short, lasting 80 days. KUSHIDA lost it to Kenny Omega, who at the time was still a junior heavyweight in NJPW's eyes. But Kushida persevered and managed to beat Omega again.
This time at Wrestle Kingdom 10, to reclaim that coveted title. Incidentally, that title loss served as the impetus for Omega to move from Junior Heavyweight to Heavyweight. And to make this happen, he ousted then-leader of the Bullet Club, AJ Styles. Usurping the position for himself, forever taking NJPW in an entirely different direction.
With his Wrestle Kingdom 10 victory, KUSHIDA ended up having a solid reign for the first time. This third reign of his lasted 257 days and five successful defenses. KUSHIDA became a fixture of NJPW's cruiserweight division. Having fantastic matches with the likes of Hiromu Takahashi, Will Ospreay, Ryusuke Taguchi, Taiji Ishimori, BUSHI, Marty Scurll, among others.
Through all of these matches, KUSHIDA proved to be one of the best-rounded wrestlers in NJPW. He could fly like Ospreay. Land explosive offensive moves like Hiromu. Had technical skill like Scurll and much more.
And although he's much older now at 37, he likely still has lots left in the tank. WWE's style isn't as punishing as New Japan's (his match with WALTER notwithstanding). So he'll probably be able to get more mileage out of his body. And even if he performs at a fraction of how he did in New Japan, NXT's fans will definitely be in for a treat.
________________
Before the journey began for several WWE talent, their skills were honed in gymnasiums, auditoriums, and crowds of a few hundred people. They never wavered in the pursuit of their goals, and those roads they traveled helped them achieve the success they have today. The "Before the E" series title is derived from 'The E' which is inspired by a common nickname for WWE. To understand where talent is today, it is essential to know how they came to be part of the Entertainment side of World Wrestling Entertainment. This week we present KUSHIDA before The E.