Professional wrestling fans, young and old, let's take a trip back in time to October 6, 2006, and the onset of a rivalry between Kurt Angle and Samoa Joe. It was on this night that one of, if not the greatest TNA rivalry, was born. During that night's episode of IMPACT, former WWE Heavyweight Champion, Kurt Angle, made his TNA debut.
To say this was a huge deal for TNA was an understatement. Angle was one of the most decorated performers in all professional wrestling and had recently left the WWE. For today's rivalries, we're looking at the three best matches in their best-of-seven pay-per-view series of singles contests between Samoa Joe and Kurt Angle.

This wasn't Lex Luger showing up on the debut episode of WCW Monday Nitro. However, it was still a huge feather in the cap for TNA. The company, long heralded as the number two wrestling promotion in America, finally had a megastar actively choose them over the WWE. It's safe to say wrestling fans were intrigued to see what the Olympic Hero would do in the land of TNA.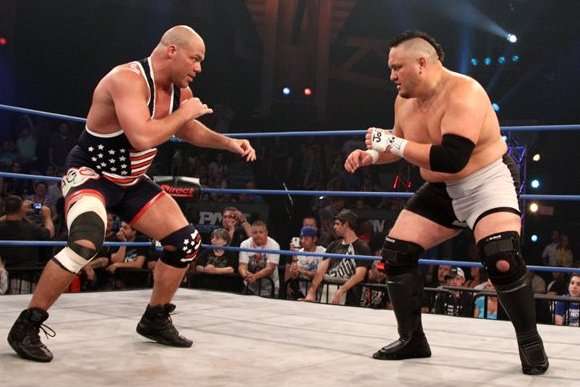 Ready to meet the former WWE Champion was a man long proclaimed as one of TNA's toughest competitors, Samoa Joe. They engaged in numerous battles throughout their time in the Impact Zone, and each time they stepped in the ring together, the intensity was at an all-time high. Seven times they faced each other in singles competition on TNA pay-per-views, and each time they delivered the goods. 
Kurt Angle and Samoa Joe:  Lighting the Fuse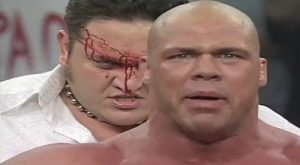 Before diving into their matches, let's return to that October 6, 2006 episode of Impact. Upset with the current World Championship situation, Samoa Joe had to decide whether he was going to return the NWA Heavyweight Championship to Jeff Jarrett or possibly lose his job.
After choosing the latter, emphatically presented by ripping the official TNA document in half and shoving it in TNA announcer Mike Tenay's face, the lights went out. Angle's official TNA music reverberates throughout the Impact Zone, and the TNA faithful in attendance erupt.
An exuberant Don West on commentary perfectly captures their reaction. 
"Kurt Angle in TNA and his debut arrives. The crowd is going crazy."
After Angle enters the ring, Joe lays down the NWA Heavyweight Championship daring Angle to cross the line. The two engage in an intense staredown as the crowd anticipation hits a fever pitch. Angle is the first to strike, headbutting Samoa Joe before performing an Olympic Slam.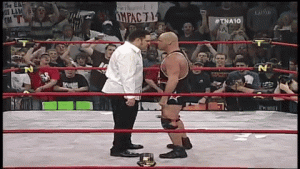 With his foe briefly incapacitated, Angle raises the NWA Heavyweight Championship. Not one to stay down, Joe rises from the mat like an enraged horror movie villain. With blood streaming down his face, Joe stalks Angle before nailing him with a jump kick to the side of the head.
Joe walking up behind Angle is an iconic moment in TNA. It only added to help make this feud feel larger than life. Eventually, a horde of security guards come out to separate the two, but the fuse had been lit in an explosive manner.
The two had another pull-apart brawl at the Bound for Glory pay-per-view that following Sunday before their first one on one match was scheduled for Genesis 2006.
Genesis 2006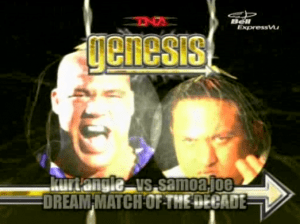 Before their monumental first encounter took place, TNA put together one of their finest interviews/highlight packages, giving this match a legitimate big-fight feel.
"Why Samoa Joe? I handpicked Samoa Joe, he is at the top of the food chain here." – Angle 
"Nobody can hurt you like I can hurt you. For everything you have, for everything you train for, you can't train for me." – Samoa Joe
For 18 months, Samoa Joe had never been pinned or submitted while in TNA. Add that to Angle's resume, and Mike Tenay's claims that this was the most anticipated match in the five-year history of TNA rings especially true. The IMPACT Zone chanting "This is awesome" when the two merely lock up further emphasizes this point. 
This match, which was the main event, makes Samoa Joe look like a monster while proving why many consider Angle as the absolute best to ever step inside a ring. Midway through, Joe bloodies Angle and becomes like a shark in the water showing just how vicious he can be. 
In the final minutes, there is an amazing sequence where Angle applies the ankle lock. It is then reversed into the Coquina Clutch, only to be reversed once again into the ankle lock.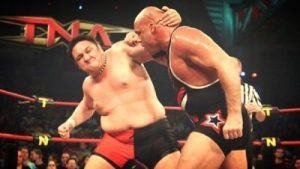 The match comes to an end when Angle once again locks in the ankle lock. With nowhere to go and no chance of escape, Samoa Joe taps out.  After suffering his first loss in TNA, Joe is met with a "You tapped out chant" from the Impact Zone.  Something he addresses by immediately challenging Angle to a rematch. 
"You're god d*mn right I tapped out. Because I know when I can recognize when somebody one day is the better man. But dammit, Kurt, if you're half the man I think you are, you'll give me a rematch."
Angle, after initially turning down the request, eventually agrees, setting up The Rematch a month later at Turning Point. 
Kurt Angle and Samoa Joe: Turning Point 2006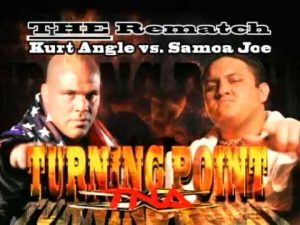 The attention and dollar signs generated from their first encounter led to a follow-up encounter. TNA was quick to put Samoa Joe and Kurt Angle into a rematch. Heading into their second contest, Angle felt Joe deserved a rematch.
Even referencing a story of his chance at redemption during his Olympic medal run in their prefight interviews as his motivation to fight Joe once again. For Joe, this was his chance to redeem himself, he had tasted defeat for the first time in TNA, and it didn't taste good. 
"Kurt Angle took my reputation. Kurt Angle took all my hard work, and in one fell swoop, with three taps on the mat, all that disappeared."
The story of their second contest is all about Angle's mat skills versus Joe's superior striking.  Angle attempts at keeping the match grounded, displaying his unmatched wrestling skills, but each time Joe has an answer in the form of quick punches and vicious kicks. 
Just like their first encounter, this one features a beautiful sequence of Coquina Cluth and Ankle lock reversals. This time, however, it leads to Joe dramatically getting to the ropes to break Angle's vaunted Ankle Lock.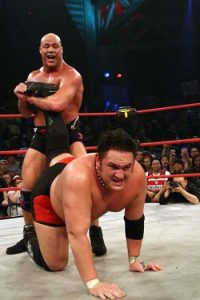 In the end, Angle's frustration with not being able to finish Joe off leads to his downfall.  With the referee incapacitated, Angle's attempt to use a chair backfires as the steel weapon bounces off the top ring rope and into his face.
Samoa Joe quickly takes advantage, locking Angle in the Coquina Clutch one final time, forcing the Olympic hero to tap out. The victory evened the score for Samoa Joe and cemented this rivalry as one of the best of 2006. 
Kurt Angle & Samoa JoeLockdown 2008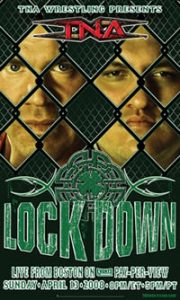 The two faced off in a pair of more gimmick-style matches in 2007. The first a two out of three falls match at Final Resolution. This was followed by a winner take all match at Hard Justice. 
At Hard Justice, not only was the TNA World Heavyweight Championship on the line, but so was the IWGP Heavyweight Championship, TNA X-Division Championship, and TNA World Tag Team Championship.
Therefore, a great deal was a stake. Angle came out on top in both of those matches, taking a 3-1 lead in their series, and the two wouldn't meet again on pay-per-view in a single's competition until Lockdown 2008. 
While their first four matches all felt big, their match at Lockdown 2008 felt like a major pro wrestling event.  The importance of which Joe emphasized a month prior to their match during one of his best promos on an episode of Impact. 
"I will do everything and anything to win the TNA World Heavyweight Championship."
The TNA World Heavyweight Championship on the line and was going to be contested inside a six-sided steel cage. Taking the intensity up to eleven was the fact that if Samoa Joe lost he would retire from the sport of professional wrestling. Heavily influenced by mixed martial arts, their cage match has a totally different feel to it than its predecessors.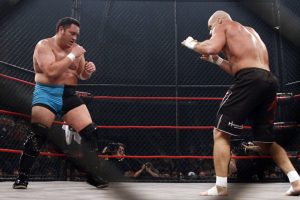 Former UFC fighter Frank Trigg, as a guest commentator, adds even more legitimacy to their encounter. 
The match is a continuous back-and-forth of vicious strikes and submission attempts. They ranged from the ankle lock to a Boston Crab and figure four.  Numerous times both men are on the verge of victory, only for the other to somehow find a way to survive. 
The end comes after Samoa Joe connects with a muscle buster to get the 1-2-3 as he wins the TNA World Heavyweight Championship for the very first time.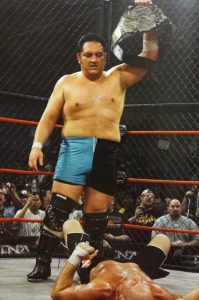 Kurt Angle and Samoa Joe wouldn't meet again in a one-on-one pay-per-view match for four years. On that night at Destination X, Samoa Joe evened their series at 3-3. Their final TNA pay-per-view match came at One Night Only in 2013, and that night Angle emerged victorious, earning him the 4-3 edge in their exhilarating best-of-seven series.
The only way their in-ring rivalry could've ended better would've been Samoa Joe retiring Kurt Angle at WrestleMania 35, but that's a story for another day.