On August 14th, 2016, the trajectory of New Japan Pro-Wrestling's history changed in a big way as Kenny Omega wins the G1 Climax Tournament. The finals of the biggest and most prestigious tournament in modern wrestling saw an unexpected winner rise to the top. That wrestler went on to become one of the most iconic and controversial wrestlers of the modern landscape.
His name is Kenny Omega, and this is the story of his history-changing win.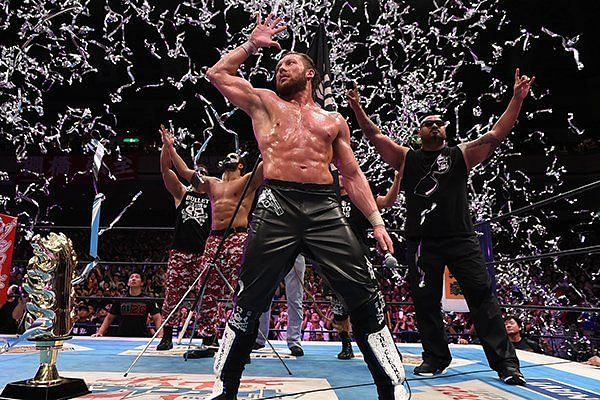 Massive roster changes spurred Omega's rise to the top in New Japan. At the end of January 2016, NJPW lost Doc Gallows, Karl Anderson, Shinsuke Nakamura, and AJ Styles. Three of those four men were in the same stable (The Bullet Club), and Styles was its leader. And the Bullet Club was one of the fastest-growing stables in New Japan in terms of popularity and success.
But despite that popularity, BC wrestlers were usually heels. They were booked in big money feuds against other top babyface stars in the company, such as Hiroshi Tanahashi and Kazuchika Okada. And so, with Styles gone, the Bullet Club needed a new leader, whom they found in Kenny Omega.
Prior to this, Omega was an undercarder in Bullet Club. He was known for his comedy antics and an over-the-top personality that wasn't taken seriously. Even when he tried to look menacing and credible, people didn't see him as a main-eventer. NJPW's bookers saw this and thus began the process of elevating Omega up.
The first step was for him to drop his 'junior heavyweight' baggage. Prior to 2016, Omega wrestled in that lower division because he was lighter and wasn't seen as a heavyweight. So solve this problem, Omega lost the IWGP Junior Heavyweight Championship to KUSHIDA at Wrestle Kingdom 10. But he didn't ask for a rematch or try to become a contender for that title, no. Instead, he went onto the next step of the plan: take over the Bullet Club.
On January 5th, AJ Styles was attacked from behind. Omega betrayed Styles and destroyed him, usurping the spot of BC's leader for himself. And with his trusty allies, The Young Bucks, at his side, Omega claimed that position without any resistance. With Styles removed from the picture dramatically, more attention and importance would be given to Omega.
Omega continued his rise to prominence over the next few months. Between February and June 2016, Omega won the IWGP Intercontinental Championship and the NEVER Openweight Six-Man Tag Titles alongside the Young Bucks. Being a dual champion gave him a heavy schedule, but he proved himself a fighting champion. Though he lost both titles by early July, that month ended with him involved in his biggest challenge to date: the G1 Climax.
But by that point, Omega was aware of the crossroads that lay ahead of him. On one hand, he knew how good he was and was more than confident in his abilities. On the other hand, he knew that the press and the critics had no faith in him and saw him as highly unlikely to win.
Determined to prove the nay-sayers wrong, Omega promised to win this G1 tournament, which also happened to be his first. But it wasn't an easy task. His block was full of major threats. These included: company veteran and submission expert Yuji Nagata, no-nonsense ass-kicker Katsuyori Shibata, AJPW and NOAH mainstay Katsuhiko Nakajima, and arguably the most popular 'bad guy' in his block, Tetsuya Naito. In fact, of his block, Naito was the heavy favorite, especially given that he was more popular than Omega at the time.
Kenny Omega Wins The G1
But Omega proved everyone wrong. His tournament performance was much better than expected, especially after suffering a loss to perpetual lowercarder YOSHI-HASHI. He managed to bounce back from that plus losses to both Michael Elgin and Shibata and reached the end of the tournament with twelve points. The exact same amount of points as Naito.
Only one of them could advance to the next round. And so, Omega and Naito fought to be in the finals and, in the process, put on one of the greatest matches to ever take place. They went almost the full thirty minutes and demolished each other with incredible wrestling and counters. In the end, despite Naito's focused and relentless destruction of his knee, Omega soldiered on to reach the finals. Where he faced Hirooki Goto. It was at this point that predictions began to change in earnest.
Goto was in the same block as company favorites Tanahashi and Okada. But after those two went to a 30-minute draw in the semi-finals, Goto surpassed both their point totals to advance. And when the finals was announced as Goto vs. Omega, it became less of an easy prediction for most New Japan fans.
On the one hand, Goto was seen as a favorite because of his loyalty and dedication. He had been with NJPW for a decade and had proven himself a more than capable wrestler. And with the G1 finals lacking in all of the big names of the past five years – Tanahashi, Okada, Nakamura, Styles, or Naito – Goto seemed like a favorite.
And yet, Goto had many detractors as well. Despite being a solid fighter, Goto had been booked poorly for most of his career. He was the poster child for the phrase 'always the bridesmaid, never the bride.' He got many big opportunities before but always choked in world title matches.
Meanwhile, Omega's sudden rise to the top was seen as the sign of something special. This outsider had gone from being a joke to a serious and credible wrestler in the span of months and was gaining momentum. And even though his wrestling style and personality were somewhat strange, if not ridiculous, fans grew to respect him for his tenacity. Still, Omega had one factor working against him: he was not Japanese.
No gaijin/outsider had ever won the G1 in its current format. The tournament had changed names many times since its inception in 1974. And since then, only two non-Japanese wrestlers had won it:  André the Giant in 1982 and 1985 and Hulk Hogan in 1983. Even with his rise in popularity, few people expected Omega to join such esteemed company. But when the match finally came about, it became clear who the fans supported.
Despite portraying the typical honorable fighter, Goto was soundly rejected by the fans. He fought like every top-level NJPW wrestler that came before him, but the fans didn't care about him. Instead, they reacted positively to Omega and got behind him much more. And when Goto did the logical thing and attacked Omega's weakened knee – expecting applause for his grasp of psychology – he was showered by boos. Omega channeled this support and gained critical momentum.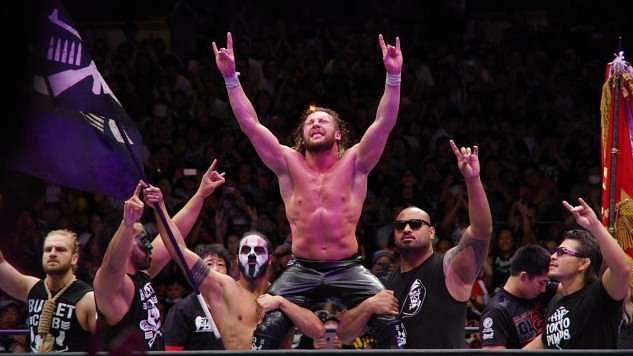 Even after Goto did everything he could to slow Omega down and destroy his neck with his array of high-impact bombs, Omega soldiered on. That led to one of the most exciting G1 finishes ever. For almost two straight minutes, Goto and Omega traded counters, reversals, finishers, and kick-outs.
Each time one of them thought they had the match won, the other would either survive or escape. Goto kept trying to hit his one big finisher, the Goto Revolution (GTR), a devastating lariat/backbreaker combo. Omega, meanwhile, had other plans. He did double duty with his strategy. To wear Goto down, Omega hit all of his big moves plus two special ones.
First, he dropped Goto on his head with Bloody Sunday, which was Prince Devitt's finisher. And after that, he also nailed Goto with the Styles Clash. In doing so, he called back to the two previous leaders of the Bullet Club, which got an enormous reaction from the fans and the commentators at ringside.
With Goto rendered helpless, Omega hoisted him onto his shoulders and planted him with his ultimate finisher, the One-Winged Angel. That was enough for Omega to beat Goto and win the G1 Climax.
Kenny Omega Wins The G1 Climax 26
It's Wednesday, August 14 in Japan!#onthisday in 2016, Kenny Omega became the first non-Japanese wrestler to win the G1 Climax when he defeated Hirooki Goto.
Relive the match on NJPW World!https://t.co/FnZnfO9ANJ#njpw pic.twitter.com/GrIzWBf6Mk

— NJPW Global (@njpwglobal) August 13, 2019
In doing so, Omega accomplished three things. First, he cemented his spot as the Bullet Club's leader and demonstrated how he was bigger and better than both Devitt (its founder) and Styles (its most iconic leader). Second, he became the first non-Japanese wrestler to win the G1 Climax tournament and the first in four years to win it in his first appearance.
Thirdly, and most importantly, he proved he was a main-eventer. People believed in his wrestling skills and his physical conditioning. Fans rallied behind him even though he was technically a villain. He put on such encapsulating matches that people couldn't help but pay attention to him. Those things helped give him critical momentum as he continued his rise to the top.
With that victory, the foundation was laid for the next two-to-three-year period, which saw Omega reach his peak as a wrestler. Like him or not, Omega became arguably the most talked-about wrestler in the world. He became an international star and rubbed shoulders with NJPW's biggest and most accomplished wrestlers. Word spreads that every company in the world wanted him, including WWE, but he turned them all down for New Japan (that is until AEW was formed).
Had this match not taken place – or had it ended differently – then who knows how things would've turned out for Omega and those around him.
Kenny Omega Wins The G1 Climax 26