After a quarter of a century, Jerry Lynn excelled with each and every opportunity in front of him. His career initially began competing in the Northern United States in states such as Michigan and Minnesota. He captured the Light Heavyweight & Heavyweight Championships during his time in Pro Wrestling America.
However, it would be the following year where Lynn would compete for Hall of Fame wrestler and promoter Verne Gagne as part of the American Wrestling Alliance (AWA). In fact, he was the last threat for the AWA World Heavyweight Championship that Larry Zbyszko held at the time.
For Jerry Lynn, international opportunities presented themselves for him. First, he would go to Japan in 1990 in Universal Lucha Libre. While the name suggests it would operate out of Mexico, the now-defunct Japanese promotion focused primarily on utilizing a luchador style in the ring.
Once he traveled back to the United States, Lynn competed in the United States Wrestling Association in Memphis, Tennessee, for the USWA Southern Heavyweight Championship. It was as part of a tournament to crown the champion where he would compete. Despite being unsuccessful after losing in the first round, Lynn began to make a name for himself.
With experience, Lynn would build a resume for himself. His time in the Global Wrestling Federation in Dallas, Texas, was another opportunity. It was there where Lynn would capture the GWF Light Heavyweight title. He would then compete in Smoky Mountain Wrestling for Jim Cornette the following year.
While his time in wrestling early on would be help him to be recognized, it wasn't all he would do. For example, Lynn took part in a film where he needed to have short hair. That played itself out when he would take part in a feud prior where his hair was cut leading up to the film.
By December of 1993, Jerry Lynn returned to Japan, and he did so competing for Michinoku Pro Wrestling. During that tour, he competed in the Michinoku Futaritabi 1993 series of matches, among others. In addition, he teamed with Terry Boy on a couple of occasions. During his time in Michinoku Pro, he faced the likes of Taka Michinoku, Shiryu, and Sabu, among others.
Lynn's time in the promotion was a learning opportunity for him and learn he did. The following year, Lynn would continue his international travels competing in CMLL (Consejo Mundial de Lucha Libre), which led us to something Lynn became synonymous with…
The Many Faces of Jerry Lynn
Throughout the earlier part of Lynn's career, competing under a mask was woven into the fabric of his time in wrestling. However, much like anything else, to immerse yourself into your environment, you must embrace the traditions that they also have tied to them.
During this time in Mexico, in 1994, Lynn would don the mask and become Sultan Gargola. The following year he would return to Michinoku Pro competing as Golgotha Cross. Both were masked characters, with one tied to traditional Japanese lore in the famed manga animation.
In the Fall of 1995, Lynn would join World Championship Wrestling. At this time, fans in WCW were introduced to him both without and with the mask. While under a mask, Lynn would compete as Mr. JL. With a mask, it was perfect to see Lynn compete as part of WCW's Cruiserweight division.
His mask and attire were as much a homage to luchadores of both the past and present as they were reflective of the division and what it was hoping to achieve. Unfortunately, Lynn would break his arm a few months into his time with the company putting him on the shelf.
After recovering the following year, as Mr. JL, Lynn would return to Japan. It was there where he would compete in NJPW's legendary tournament, the Best of the Super Juniors. His time there was as important to him personally as it was creatively. Again, Lynn was perfecting his craft, and this time, they're allowed for that to take place.
Among his last matches in WCW was at Clash of the Champions XXXV. He competed as part of a six-man tag team match with La Parka and Konnan. The trio would face Chavo Guerrero Jr, Super Calo, and Chris Jericho. Lynn would leave the company in the Summer of 1997.
With Lynn's departure from WCW came new opportunities. This new opportunity would be in the one promotion that finally noticed how exceptional a talent he was.
Jerry Lynn would join Paul E Dangerously's (Heyman) Extreme Championship Wrestling. It was a promotion that elevated talent and gave fans an opportunity to see men and women with a thirst to compete. His initial feud was with Justin Credible. He later transitioned into a feud with Lance Storm and Chris Candido.
Next, Lynn would engage in feuds with the Full Blooded Italians, Mikey Whipwreck, and Lance Storm. With each rivalry, Lynn was catching the attention of those behind the scene and fans in attendance.
The Rise of The New FN Show
After a couple of years in ECW, Lynn would engage in what is arguably his most notable feud to date. In what was initially an ECW World Television Championship match against champion Rob Van Dam at Living Dangerously, 1999 became so much more. The match result saw Lynn win the match and championship but in the rarest of ways. Lynn was given the title from the referee as the time limit had expired.
Typically, championships are won by pinfall or submission but not in this instance. This decision didn't sit well with Lynn, who asked for another five more minutes to be added to the match. This time, Van Dam hit Lynn with his Five-Star Frog Splash leading to Van Dam ultimately retaining the title.
My favorite is one that wasn't even a pay-per-view match. It was at the arena in Philly. I think the date was September 17, 1999. It was one where I wa supposed to wrestle him, and at the beginning of the show, the Impact Players jumped me and they sent me to the hospital. I can't remember if it was Lance or Justin that was wrestling Rob instead.
Of course, there was a run-in, and I came in with my ribs all taped up and helped Rob clear the ring. And then I was leaving the ring, and Rob challenged the mic and challenged me and said the people came here to see me fight.
So, I limped back to the ring, and off to the races we went. Well, the whole first part of the match was 'RVD' chants, and there was a spot halfway through where he clotheslined me, and I went through the table. It was just out of nowhere. So, after the table spot, the refs came out, and other people came out, and they're carrying me back.
Halfway down the aisle, I pushed them all off and went back to the ring and after that, it was 'Jerry, Jerry, Jerry!' So, we took the crowd and flipped them. Everyone was on their feet. I still get goosebumps thinking about it. That's my favorite match just because of how the crowd was. – Jerry Lynn on his favorite match against Rob Van Dam in ECW

It was from this match that Lynn would then refer to himself as the NEW FN Show. As fans were aware, Van Dam would refer to himself as the Whole FN Show in comparison. This new nickname by Lynn showed that he was going to be the one threat for the TV Title that Van Dam couldn't simply say he was greater.
The two would engage in several matches for the ECW World TV title. With each match, the two would put on one match that appeared to be better than the next. Although Lynn would not capture the title, he would often be tied to Van Dam as one of this biggest and greatest threats to him during his title reign.
Lynn's championship drought would not last. At Anarchy Rulz 2000, Lynn would capture the ECW World Heavyweight Championship after defeating Justin Credible. However, after losing the title to Steve Corino, Lynn would turn heel and align with Cyrus at this time.
After competing in ECW, Jerry Lynn would once again compete in the WWE. He briefly held the WWE Light Heavyweight championship during his time there. During his time in NWA-TNA, Lynn was once again part of a promotion not unlike his days in ECW.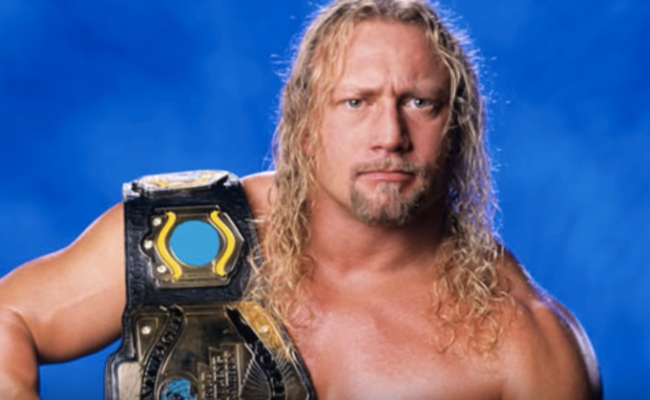 Over the course of five years, Lynn would capture the X-Division Championship & become a co-holder of the World Tag Team Championships on two separate occasions. Lynn would return to the promotion in 2010. It was at that time where he resumed his rivalry with Rob Van Dam.
A true wrestler in every sense of the word, Jerry Lynn would also compete in Ring of Honor. While there, he would face the likes of Nigel McGuinness, Roderick Strong, and Austin Aries. During his time there, Lynn would capture the ROH World Heavyweight Championship. He would then return to the promotion in 2014 in a backstage producer role over the course of five years.
After his time with Ring of Honor as a producer came to an end, Jerry Lynn would join All Elite Wrestling. Armed with a cradle piledriver (also known as the Gotch-style piledriver), Lynn had an array of moves that would amaze and astound his opponents. He was considered the best wrestler, never to be the focal point of a promotion by some.
His career is remarkable. His time in the ring was often unheralded. Jerry Lynn was more than good; he was a great talent. To call himself the New FN Show was more than just a moniker but a true reflection of how incredible a talent he was in the ring.