Being a retired professional wrestler, the main questions I get asked are – "Is it fake?" "Do you really get hurt?" "Are you not good enough to do a real sport?" Believe me, I've been asked that last question more than once. And the answer I give to those questions is to suspend your disbelief and go and watch a match. Wrestling is either something you're going to love or something you're going to hate. And one style that throws up a lot of judgment is intergender wrestling.
I began training here in the UK at the age of 16, way back in 2006. When I began intergender wrestling wasn't part of the scene. The only experience I had of watching it was from the Chris Jericho/Chyna feud in 1999. I stopped training in 2008, but fast forward eight years to 2016 and I began to train again with a new company. And the UK scene had changed drastically from when I had left. The UK scene was in the middle of a boom period, with the likes of WWE starting to take notice. Especially with the NXT UK Championship being created. Part of this boom included a lot more intergender style matches. This new style meant that new names would have the chance to shine in the UK, and one of those names was Session Moth Martina.
Intergender Wrestling – The Rise, Fall, and Rise Again?
Martina has become synonymous with the term intergender wrestling and for good reason. Her comedic character, along with her hard-hitting and technical prowess, makes her one of the very best at it. I would like to spotlight one of her matches this week, and then move on to why in 2020, these type of matches may become non-existent. Why? Due to the #SpeakingOut movement that happened earlier this year.
I'd like to take you back to Friday 3rd August 2018, Brighton, England. Riptide Wrestling was holding Night Two of their Brighton Championship Tournament. A certain tag team match was making the headlines in not just the BritWres scene, but national mainstream media too.
Yep so @DaveBensonPhill + @mothfromdaflats vs @FederalesJr + @NoFunDunne is a thing that will happen in Brighton on 3rd August

Night 2, #BCT2018 ?️‍???
???https://t.co/I7J7nbqqQT pic.twitter.com/uaAjj9s6mI

— ??????? ????????? (@RIPTIDEwres) July 19, 2018
The tag team match itself involved Session Moth Martina and Dave Benson Phillips (a former children's TV presenter here in the UK). They faced off against No Fun Dunne and Los Federales Super Santos Jr, aka the Anti Fun Police. From the start, you knew that this wasn't going to be a regular tag match The ring was covered in tarpaulin, and a paddling pool filled with gunge was on the outside. For those who are unaware of what gunge is, Google "Get Your Own Back" hosted by Dave Benson Phillips and all will become clear.
The match starts with the back and forth banter between all four of them before No Fun Dunne unloading on Martina. The two of them being, "the better wrestlers," obviously work the majority of the match. They both get the crowd invested. Even Santos and DBP are doing their part and are getting involved, which in a tag match is vital.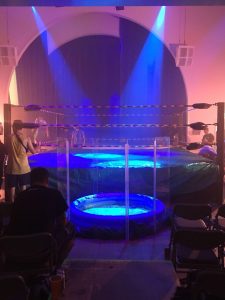 Intergender Wrestling – The Rise, Fall, and Rise Again?
The finish sees Santos falling into the gunge pool at ringside, with Dunne looking on in horror. Martina lifts Dunne to give him a Tombstone. But not before DBP pours a cup of gunge inside Martina's tights. She then places Dunne's head in there as well. He gets a Tombstone (or Wombstone if you will) for his troubles and the match is over.
Overall the match was always going to be a tightly worked comedy match. Basically to help Dave Benson Phillips get through it. That much was obvious. Could that finish happen now due to the #SpeakingOut that happened this year? I'm going to take a guess and say no. Mainly because there will always be a part of society that will be offended and consider it distasteful. I would like to think that at shows like this, being an over 18's event, that this sort of match could still happen.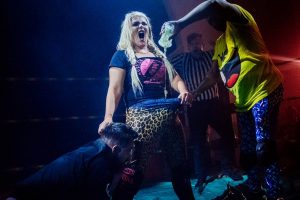 Earlier this year, we saw the start of the #SpeakingOut movement and the devastating impact it had on not just the UK scene, but across the world. Brave women and men came forward to speak their truths about people involved in professional wrestling, and other walks of life. This not only changed how we view people and the industries we have grown to love but also life as a whole. Even more so with the world being in the middle of a pandemic.
What will this mean for wrestling going forward? Is this the end of intergender wrestling? Lance Storm certainly has his doubts after commenting in a tweet last month.
I see some discussion on inter gender wrestling matches again. In light of #SpeakingOut I think these matches have to stop. I've heard from so many women who were uncomfortable doing these but felt obligated to to get booked because these matches were accepted "norms".

— Lance Storm (@LanceStorm) August 6, 2020
The Rise, Fall, and Rise Again?
He also had his say with a reply to Martina's tweet from last month, with concerns as to how these matches could be deemed safe at the independent level. She tweeted wrestlers should be allowed the choice of an intergender match if they want too. I'm sure there are many others who agree with him. I for one am not one of those people. I believe that with the right story, psychology, and the right characters, intergender wrestling will carry on.
I think we should be allowed the choice to have an intergender match if we want to.

Hopefully in a safe environment where no woman or man will feel uncomfortable in that situation again. https://t.co/DsrZOt46LQ

— Session Moth Martina? マーティナセッション (@mothfromdaflats) August 6, 2020
I feel in the right environment, and with the right people, then intergender matches can thrive. There shouldn't be anyone being made to feel uncomfortable within the business. And to anyone who is making others feel that way, should walk away and not look back. No one wants you there.
As a former wrestler, I believe that as long as you're brave and good enough to step foot in a wrestling ring and you have the trust and respect from your opponent, then you will be kept safe. And most importantly, work to the very best of your ability. To make all the people watching suspend their disbelief and watch two (or more) people give their all.
Originally written by Dan Conroy