This episode of IMPACT Wrestling will center around the wedding of Brian Cage and Melissa Santos. The show opens with a cute video montage featuring photos of Brian and Melissa. When Josh Matthews and Don Callis welcome us to the broadcast, they're dressed in tuxedos. Now, of course, there are other items on the agenda for the evening. Ken Shamrock, UFC, and wrestling legend and the World's Most Dangerous Man is in the house. Josh and Don are also joined by Gabby Loren from AfterBuzz for special coverage of the wedding.
That is not #LAX…

▶️ https://t.co/sWu6SEiYN7@OfficialEGO @Walking_Weapon #IMPACT pic.twitter.com/qL9cSOcFeQ

— IMPACT (@IMPACTWRESTLING) September 28, 2019
Before we get to the wedded bliss segment of our show, there is wrestling to be had. Suddenly, the music of Ortiz and Santana, LAX rings out in Sam's Town Casino. But it isn't the recently departed tag team that takes to the stage. Instead, it's the team that forced them to leave IMPACT Wrestling, Ethan Page and Josh Alexander, The North. After several minutes of trash talking and attempting to downplay the legacy of LAX, Konnan comes to the ring. After dressing down the current IMPACT Wrestling Tag Team Champions, Konnan brings out a couple of friends to teach them a lesson. Rob Van Dam and Rhino hit the ring and the fight is on. After a referee joins them, that fight becomes an official match.
Chaos to kick off #IMPACT! @TherealRVD & @Rhyno313 are taking it to the #TheNorth – we've got a match on our hands!

▶️ https://t.co/sWu6SEiYN7 pic.twitter.com/9P5oj3KnNa

— IMPACT (@IMPACTWRESTLING) September 28, 2019
While the action goes down in the ring, Josh reminds us that the march to Bound for Glory continues. With their victory over LAX last week, Rich Swann and Willie Mack have been named number one contenders to the tag team championships. The X Division Championship will also be defended at BFG, the first qualifier will happen later in the show. Tessa Blanchard will take on Dave Crist of oVe. This match between The North and RVD and Rhino would come to a close and not in the champions' favor. RVD would jump over the top rope to take out Ethan Page on the outside. While the referee and Konnan both went over to check on the combatants, Josh Alexander attempted to seize the opportunity. He brought in one of the tag title belts, but Konnan caught him before he could use it. After a match of tug of war, Konnan released the hold on the belt for Alexander to turn around into a Gore from Rhino. Rhino then set Alexander into position for a 5 Star Frogsplash from RVD. This would spell the end for the North and secure the victory for Konnan and his friends.
While the wedding of Brian Cage and Melissa Santos still awaits us, we go backstage to find Gama Singh talking to his charges, Rohit Raju and Raj Singh. The elder Singh and leader of the Desi Hit Squad was embarrassed by them, which is why he went to India to get someone who could restore their honor. That someone proved to be Mahabali Shera, who made his in-ring return last week. There was then an advertisement reminding us of IMPACT's move to AXS TV starting on Tuesday, October 1st. Next, our wedding correspondent Gabby welcomes Eddie Edwards, who is one of the groomsmen for the wedding. Gabby is then found by Johnny Swinger, who thinks he's still the star of ECW on TNN.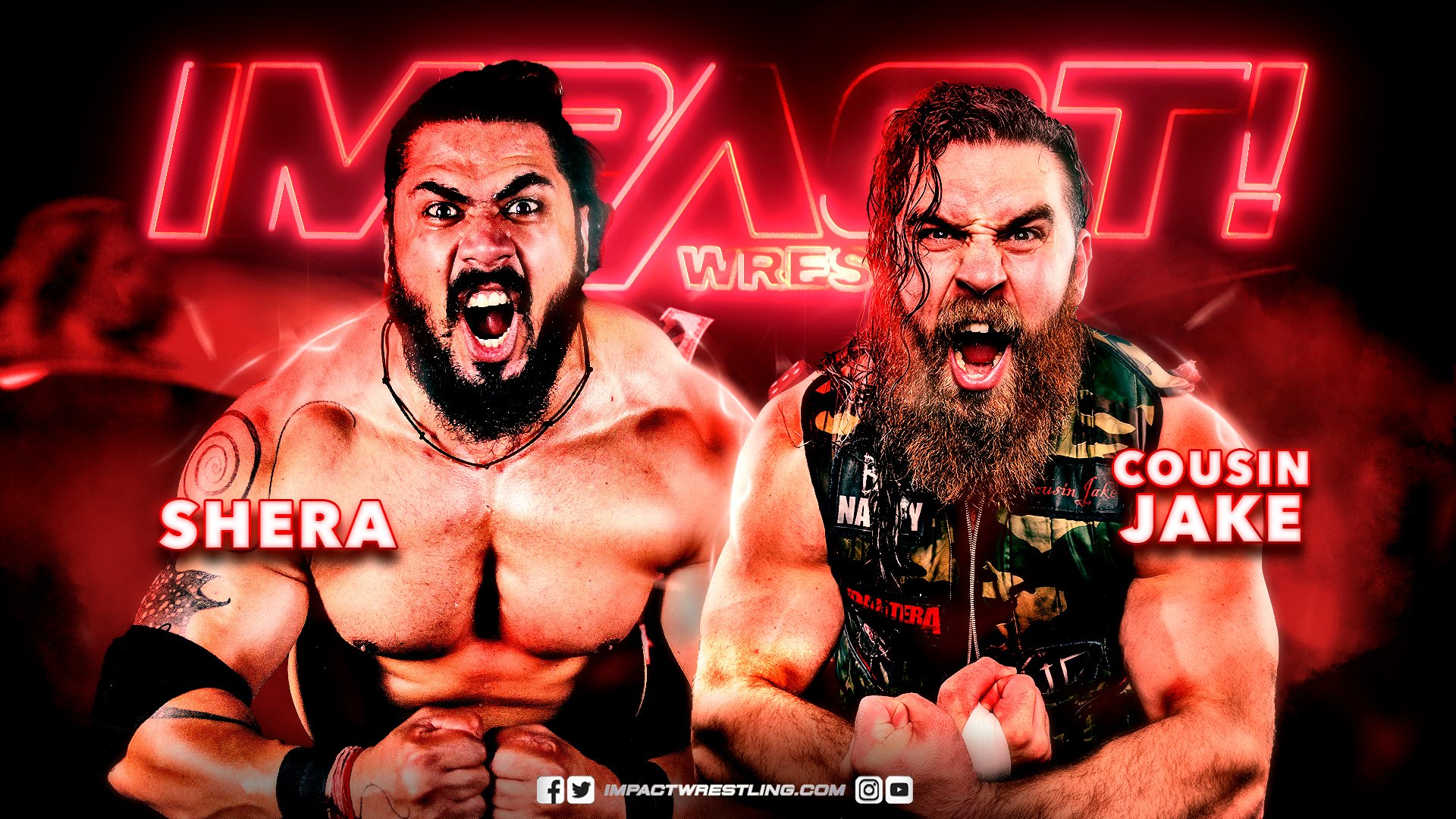 In the ring, Gama Singh introduces Mahabali Shera to the crowd. Shera will be taking on Cousin Jake, accompanied by Cody Deaner. Despite Cousin Jake's effort, he was no match for Shera. The Indian Lion made quick work and picked up the victory. After the match, Shera attempted to continue to beat down Cousin Jake. Cody Deaner got into the ring and attempted to defend his kin. This led to him being assaulted by all three members of the Desi Hit Squad. Once again we check in with Gabby, who is standing by with TJP and Fallah Bah. Eddie Edwards stumbles through, it's clear he and Reno Scum got into a little bit of the bubbly. The wedding of Brian and Melissa is still to come, but now it's time for Knockouts action!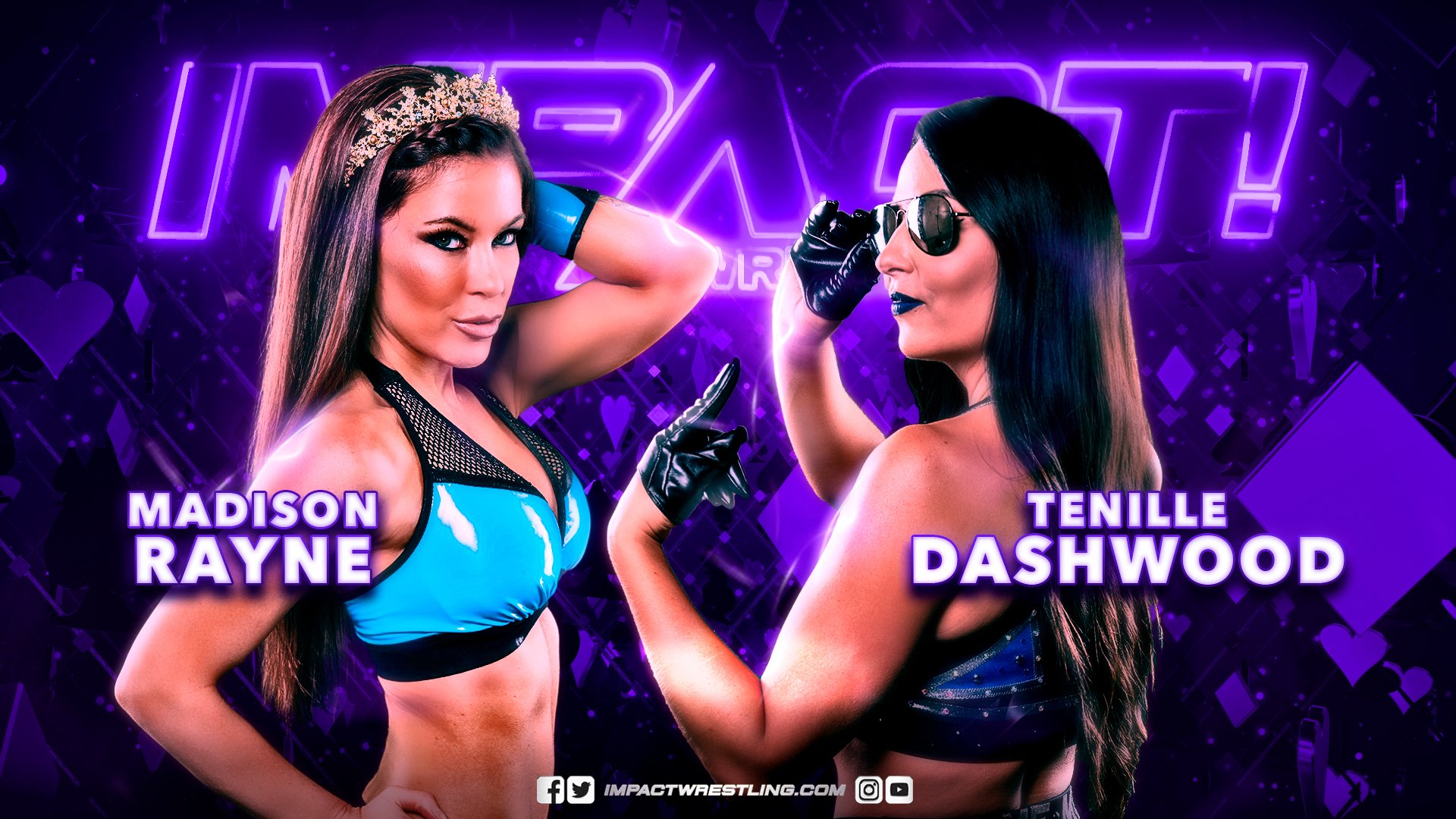 Madison Rayne, the Queen Bee, and self-proclaimed locker room leader, will take on the newest Knockout, Tenille Dashwood. If I could recommend one match for you to seek out to watch from this episode, it would be this one. Both of these Knockouts are very evenly matched and the match itself went back and forth. One of the fundamentals in wrestling is to hit a big move and immediately go for the cover, and this was illustrated a lot in this contest. After many near falls, Tenille was able to hit Rayne with The Spotlight for the victory. More guests are arriving for the wedding of Brian Cage and Melissa Santos. Gabby catches up with Rob Van Dam and his girl Katie Forbes, and they are joined by Rich Swann and Willie Mack.
He's here! @ShamrockKen has made his return to #IMPACT Wrestling!

▶️ https://t.co/sWu6SEiYN7 pic.twitter.com/kNothTuv3M

— IMPACT (@IMPACTWRESTLING) September 28, 2019
Up next we will hear from the very first IMPACT Wrestling World Champion, the World's Most Dangerous Man, Ken Shamrock. Ken makes his way to the ring to a great ovation. He cuts a promo, talking about how proud he is to be back in IMPACT Wrestling, how he had been speaking with Brian Cage about a match. And then Moose decided he wanted to call out Ken Shamrock. Now Shamrock has been looking high and low, no Moose to be found tonight. We look up at the video wall and find that Moose is at Shamrock's dojo in Las Vegas. He assaults several members and says at Bound for Glory, he will show Shamrock why he is the greatest professional wrestler.
Backstage, Taya Valkyrie approaches Rosemary, who still hasn't been returning the Knockouts Champion's text messages. Earlier tonight, it was made official that it will be Tenille Dashwood challenging Taya at BFG. Taya attempts to bargain with the mistress of the Multiverse into disposing of Tenille and then Rosemary can challenge her instead. Rosemary soundly refuses, saying that Valkyrie should go into battle like a true warrior, not a coward. Until Valkyrie quits the cowardice, Rosemary will not associate with her. Miffed, Taya hands Rosemary a garment bag containing a dress for her to wear to Brian and Melissa's wedding before taking her leave.
Speaking of weddings, the IMPACT Flashback Moment of the Week is to another wedding in IMPACT history. It's the wedding of ODB and Eric Young inside of a steel cage. Sami Callihan and the entirety of oVe attempt to enter the area for Brian and Melissa's wedding but are turned away. We then check-in with the groom, Brian Cage, and his groomsmen, as well as the bridal party.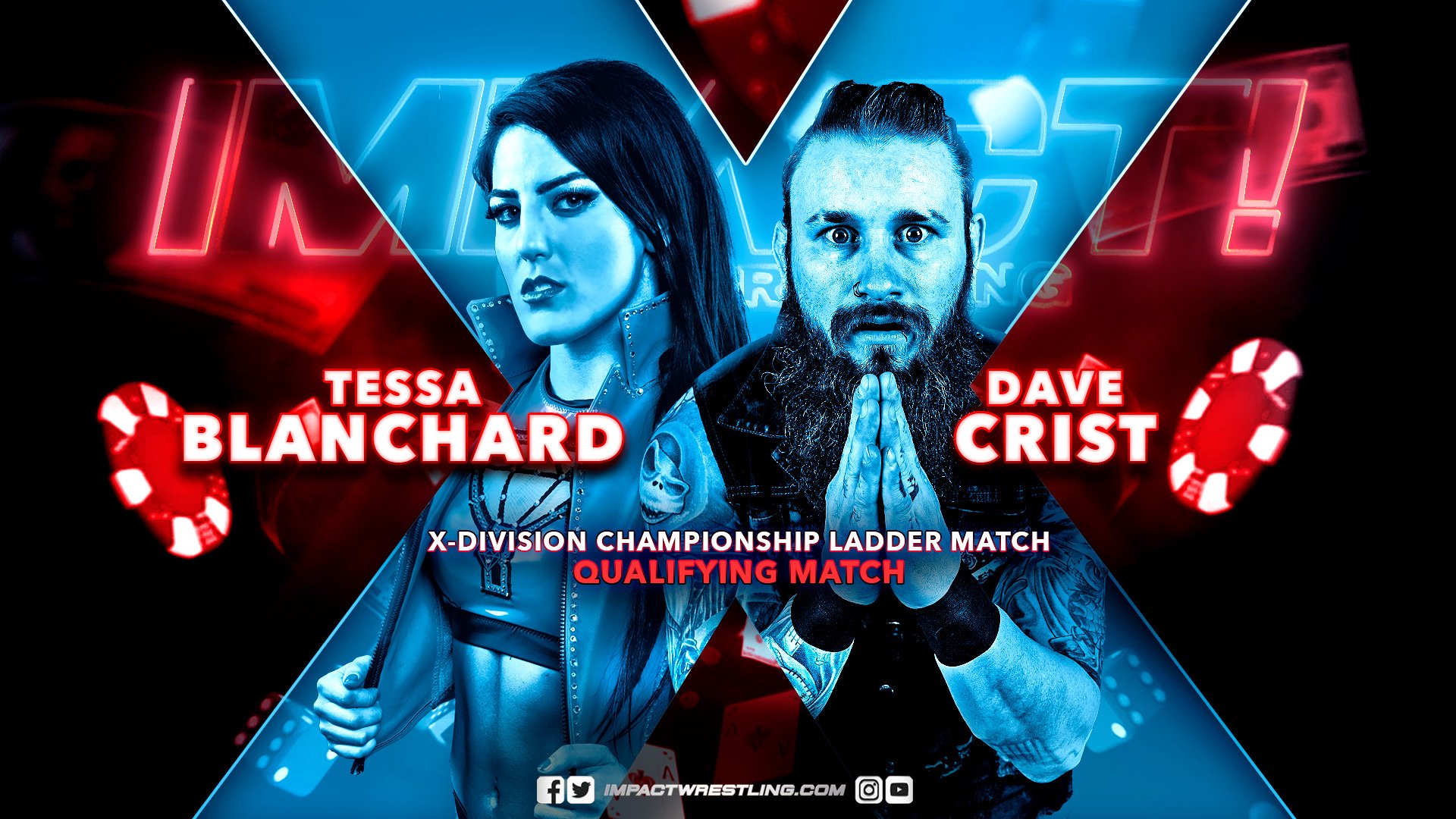 The wedding is still to come, but first, we have a qualifying match for a spot in the five-way ladder match for the X Division Championship at Bound for Glory. Dave Crist, accompanied by Madman Fulton and his brother Jake, will take on the Undeniable Tessa Blanchard. Bedecked in red and camouflage, Tessa goes into battle as Dave doesn't even let her finish her entrance. Fulton is quickly ejected from ringside for attempting to go after Tessa in front of the referee. In the end, the efforts of Jake Crist didn't help his brother.
Enough is enough!

▶️ https://t.co/sWu6SEiYN7#IMPACT @FultonWorld @TheJakeCrist pic.twitter.com/oxH2CJMSHs

— IMPACT (@IMPACTWRESTLING) September 28, 2019
Tessa picked up the victory to qualify for the X Divison title match by planting Dave with a buzzsaw DDT. However, her victory was short-lived, as Madman Fulton stormed the ring and laid her out with two chokeslams. Now it's time for what we've been waiting for all night, the wedding of Brian Cage and Melissa Santos. Unfortunately for Alisha Edwards, she can't find her husband, Eddie when it's time to enter as the wedding party. She finds herself on the arm of Ace Austin as the ceremony is ready to begin.
And unfortunately for Brian and Melissa, that wouldn't be the only interruption. Taya, of course, had to make a speech about herself, Ethan Page spouted off about organizing a union, and Eddie Edwards drunkenly stumbles in. Edwards ends up laying out Brian's brother Ryan Cage who was officiating the ceremony. Tommy Dreamer makes a plea for anyone who can officiate the wedding now. A rabbi, a ship's captain, even a minister. The Sinister Minister James Mitchell shows up and can finish the ceremonial duties.
When you need a minister, @MinisterReal is there! The ceremony is in the books and the reception is next! ?

▶️ https://t.co/sWu6SEiYN7#IMPACT @MrGMSI_BCage @ThisIsMelSantos pic.twitter.com/coADfhbl0Z

— IMPACT (@IMPACTWRESTLING) September 28, 2019
We reconvene for the reception at the ring inside Sam's Casino in Las Vegas! During the first dance, the couple is interrupted by Sami Callihan. Sami gives a toast and goes to hit Cage with his empty gift bottle, but nails Melissa instead! The scene is shock and horror as Brian Cage tends to his fallen bride.
OH MY GOD!#IMPACT @TheSamiCallihan @ThisIsMelSantos @MrGMSI_BCage pic.twitter.com/51UpjP8jPK

— IMPACT (@IMPACTWRESTLING) September 28, 2019
We'll be back next week with the next IMPACT Interrogation here on the Pro Wrestling Post. Will Taya find a taker to help her with Tenille? Will Brian Cage get revenge on Sami Callihan on behalf of his new bride? Find out next week!