Welcome to the IMPACT Interrogation on the Pro Wrestling Post. We have changed regular authors and formats slightly, but we're here to give you the skinny on this week's IMPACT Wrestling. Currently it airs on Pursuit and on IMPACT's Twitch channel, with the move to AXS TV set for October. We are currently 30 days out from Bound For Glory, but tonight it's all about LAX. They lost a match to The North in which their IMPACT Wrestling careers were on the line.
The show opens with a heartfelt video tribute to Santana and Ortiz, LAX. They will be leaving IMPACT Wrestling for All Elite Wrestling. In the video, Santana and Ortiz explain their journey in IMPACT, to raise the profile of the company and the tag team division. With four dominant reigns as tag team champions and numerous incredible matches to show for it, it's clear they had a lasting effort on IMPACT Wrestling. They will be sorely missed, however, we here at the Pro Wrestling Post and the fans of IMPACT Wrestling wish them nothing but success in their future endeavors.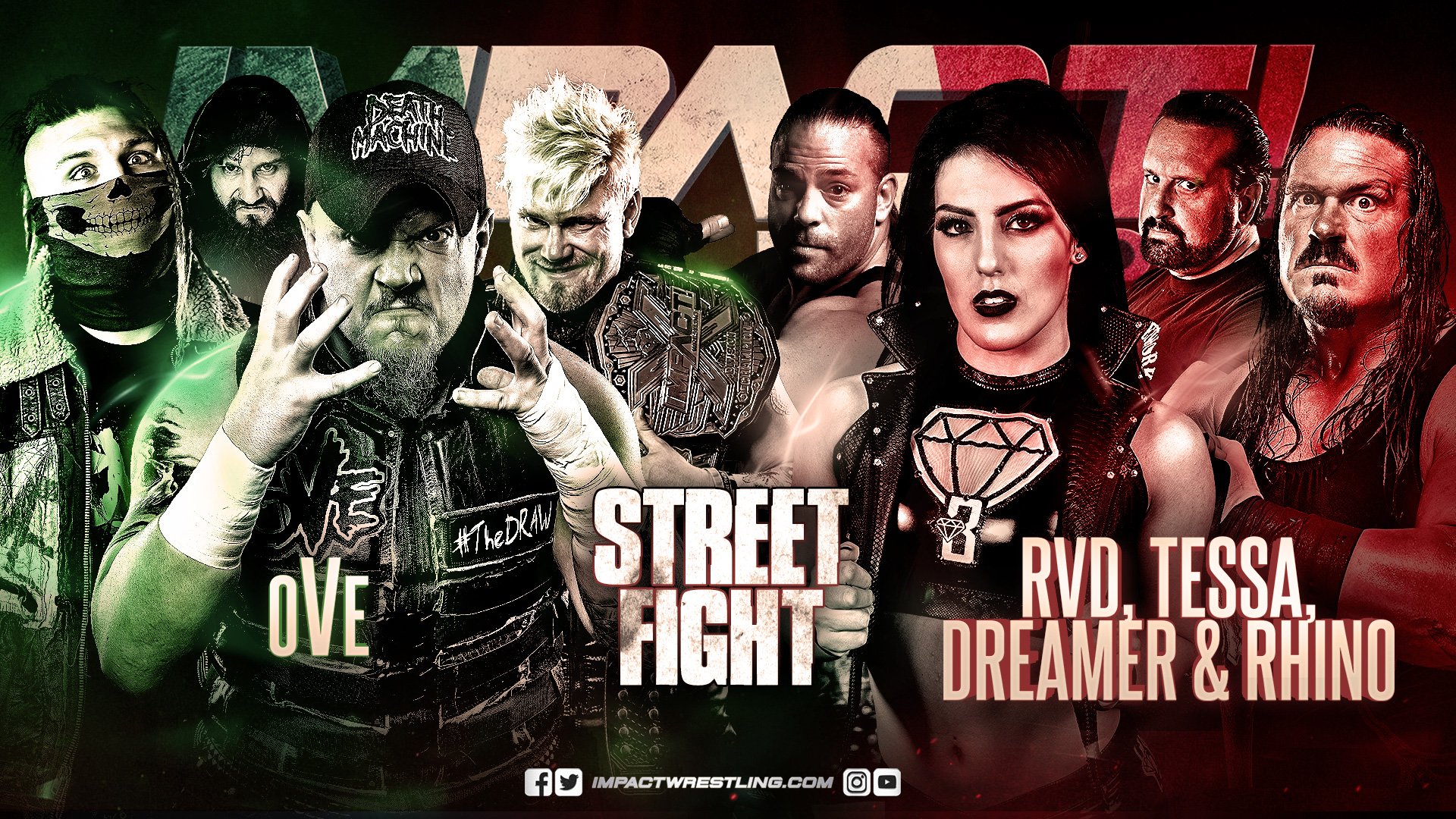 First up is the eight-person street fight between oVe and Tessa Blanchard, Tommy Dreamer, Rob Van Dam, and Rhino. Last week on IMPACT, the match between Jake Crist, Sami, Tessa and Tommy broke down. While the chaos unfolds in and outside the ring, Don Callis and Josh Matthews are on commentary. Matthews mentions that later tonight will be a no disqualification match between Havok and Su Yung. For the first several minutes, it was a straight-up fight. There were incredible dives by Dave Crist, Tommy Dreamer, and Rob Van Dam. Tessa also attempted a dive after doling out some punishment to Callihan but was stopped by Jake Crist. The Undeniable one also went toe-to-toe with the largest man in the match, Madman Fulton.
It was around the ten-minute mark before any weapons were introduced into this street fight, appropriately by the Innovator of Violence, Tommy Dreamer. Jake Crist was gored through a table, Rob Van Dam delivered a Five Star Frogsplash, and Tessa slid in to finish the match. Using her new submission, the cross-face with a Kendo stick, she made Jake Crist tap out. Going backstage, Alisha Edwards discovered Ace Austin in a wheelchair. Sporting a sling and a neck brace who proclaims he's there for her, to support her in her big match tonight. He also points out that her husband, Eddie Edwards, is not there for her. After Alisha leaves to finish getting ready, the Ace of Spades gives a pointed smirk to the camera.
Tonight is the last match for #LAX and #TheNorth want to celebrate…

▶️ https://t.co/sWu6SEiYN7#IMPACT @OfficialEGO @Walking_Weapon pic.twitter.com/qIJ4OXvXMy

— IMPACT (@IMPACTWRESTLING) September 21, 2019
We continue the tribute to LAX on IMPACT Wrestling, showing clips from their very first Tag Team Championship win back in March of 2017. Backstage Jimmy Jacobs is standing by with the current IMPACT Wrestling Tag Team Champions, the North. Ethan Page and Josh Alexander are even wearing party hats. Ethan says he doesn't know why people are walking around with tears and loving embraces, they should be celebrating the departure of LAX. He even has a pinata for their fiesta. Following the interview, we go back to Josh and Don. Tonight LAX will be in the main event one last time, taking on their friends Willie Mack and Rich Swann. There will also be an interview with one of the newest Knockouts, Tenille Dashwood.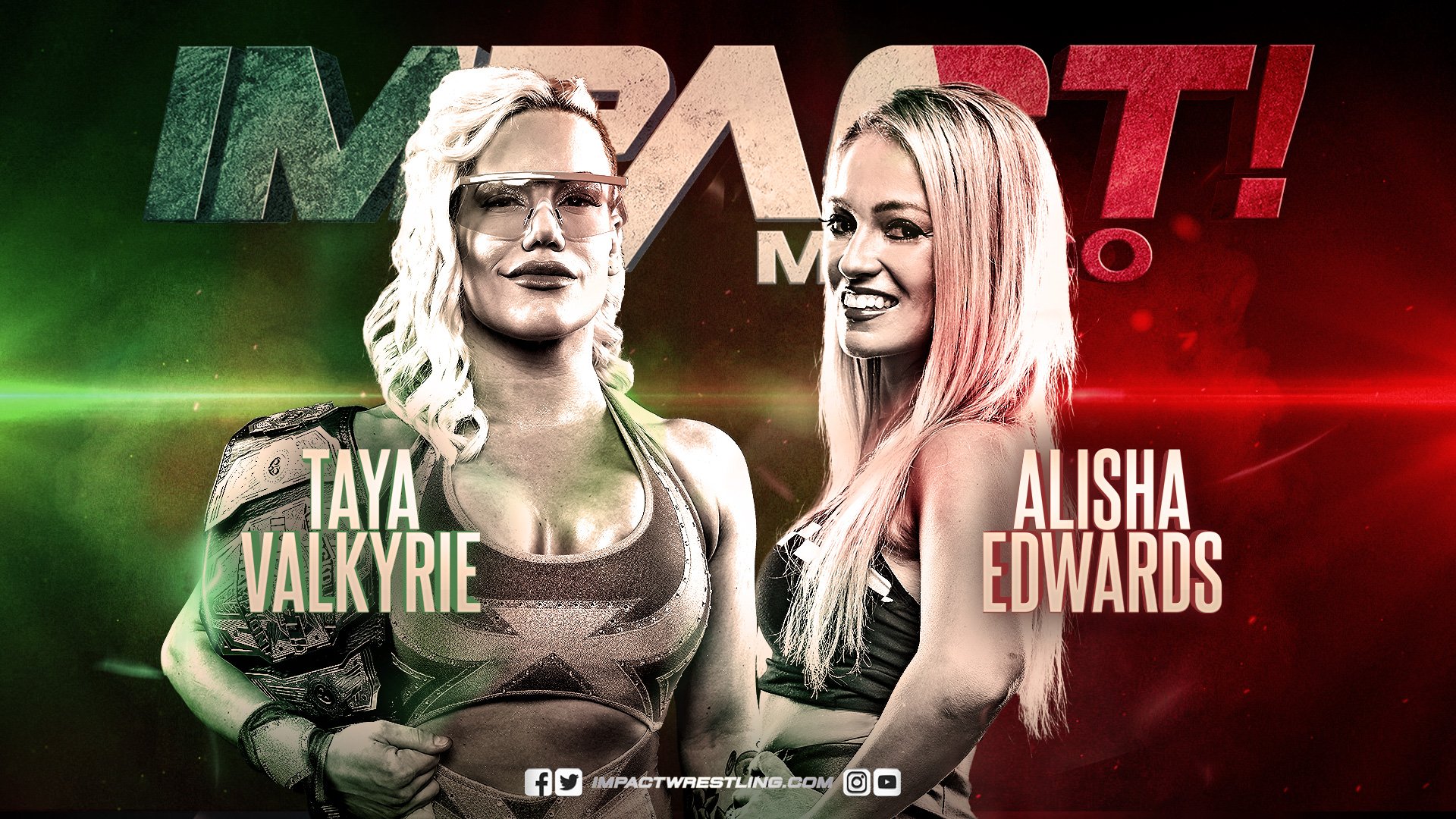 Next week will be the wedding of IMPACT World Champion Brian Cage and Melissa Santos. Tonight will be the bachelor and bachelorette parties for them both as well. The show continues with a Knockouts match, Alisha Edwards takes on the champion, Taya Valkyrie. If Alisha were able to get a victory over Taya, she would put herself in the path for a title shot down the line. Alisha gets a jump on the match as soon as the bell rings, but is quickly overpowered by La Wera Loca. Ace Austin is then wheeled down to ringside by an attendant in blue scrubs. Valkyrie dominates Alisha for a couple of near falls, but with the outside support, Alisha rallies back. She hits a flatliner and goes for the pin, but is pulled out of the ring by John E. Bravo.
With Alisha on the floor recovering, Ace Austin rises from his wheelchair, completely fine. He takes out Bravo before scurrying back to the chair and putting his sling back on. His effort was for naught, as when Alisha crawled back into the ring she was seized by Taya. Taya easily hit the Road to Valhalla for the cover and the win. Alisha then dutifully follows Austin in his wheelchair to the back, still unaware of his actions. Cameras then find The North, handing out party hats and favors as they look for fellow party animals. They eventually come upon RVD and Rhino. Rhino destroys the pinata and when asked why by RVD, Rhino replies that he just wanted the candy.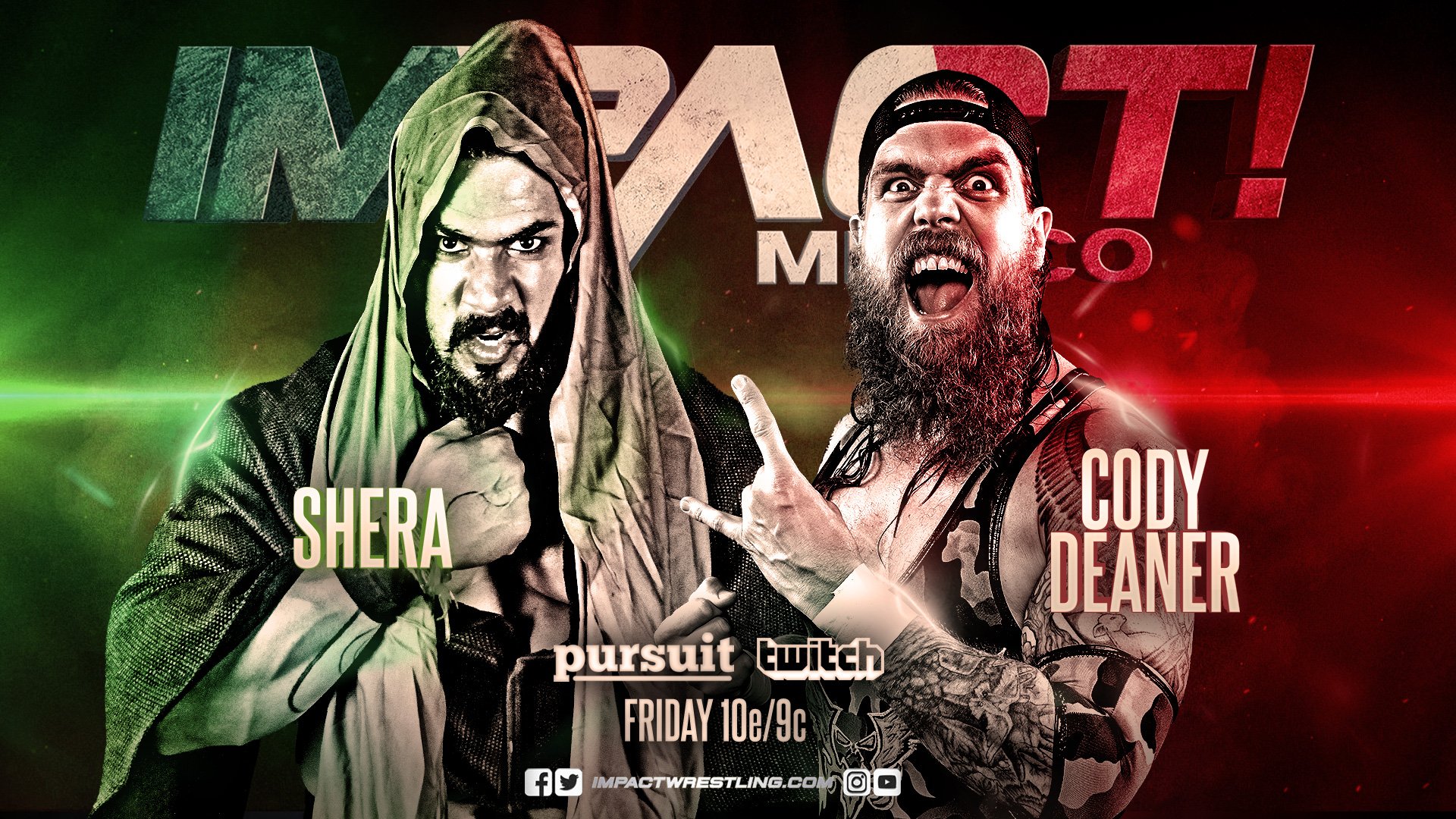 In the ring is Gama Singh, who introduces Mahabli Shera as the newest member of the Desi Hit Squad. Shera is a giant of a man who recently returned to IMPACT. He assisted the Desi Hit Squad against the Deaners. That is why Shera will now face Cody Deaner. Shera is accompanied to the ring by all the other members of the Hit Squad, while Cody has his Cousin Jake at his side. Despite the valiant efforts by Cody, Shera was just too big and strong. Shera gets the win after just a couple of minutes. In another clip for LAX, is one of their top opponents. We revisit the street fight from 2018 in Toronto with the OGz.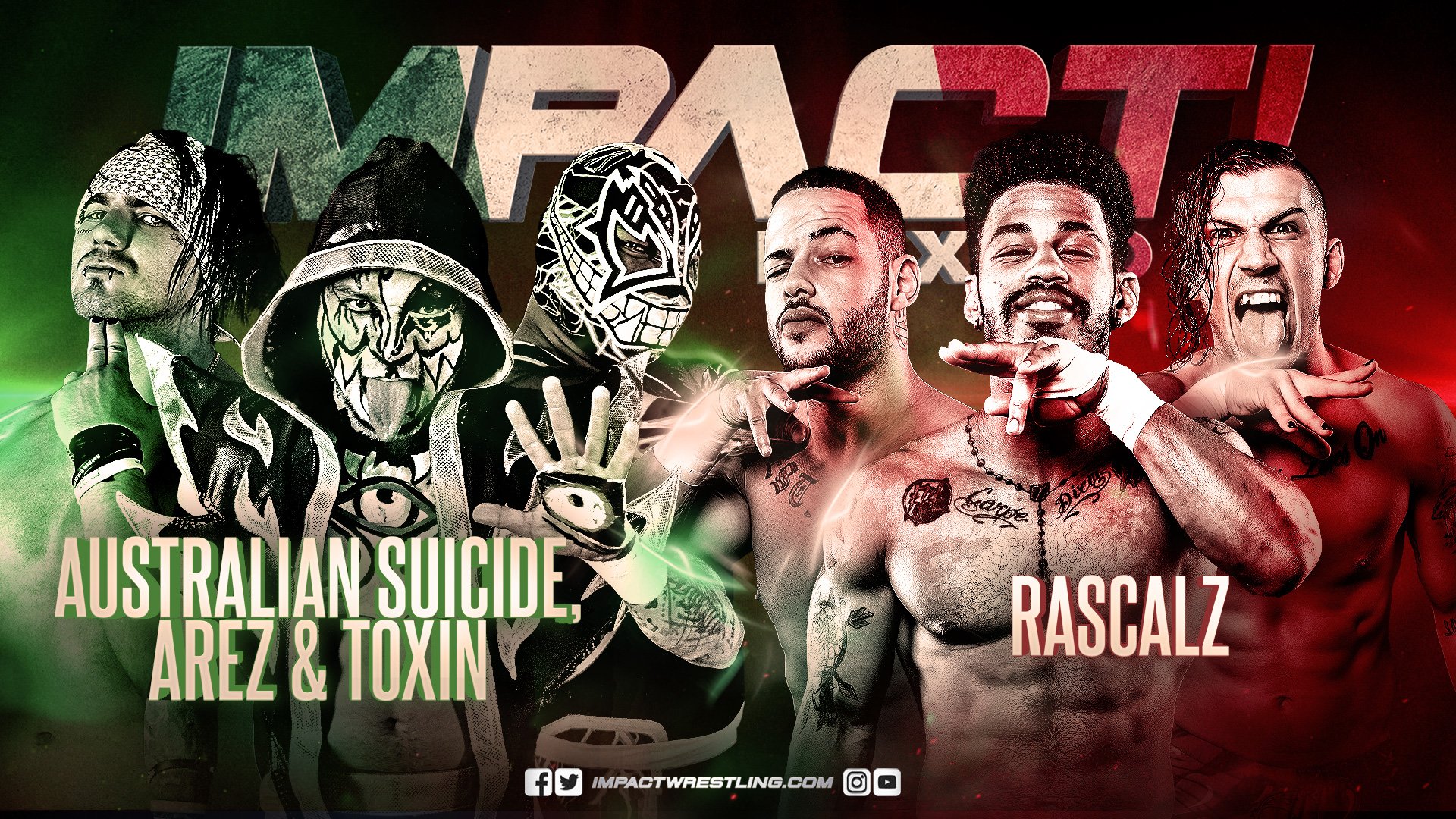 Our next match is a trios match, featuring the Rascalz and Arez, Toxin, and Australian Suicide from AAA. This was a fun lucha-style match, following traditional lucha libre tag team rules. The Rascalz pick up the victory following a standing shooting star press by Wentz. Next, we see a video from Moose, talking about his match at Bound for Glory against Ken Shamrock. Moose is walking the streets of Mexico City, looking for a fight and he finds out, laying out three on a street corner. Then he proclaims himself the World's Most Dangerous Man. We then check-in with Brian Cage, Rich Swann and Tommy Dreamer in preparation for the bachelor party.
She came to #IMPACT Wrestling to face some of the best talent in the world… and take @TheTayaValkyrie's Knockouts Title!

▶️ https://t.co/sWu6SEiYN7 #IMPACT @TenilleDashwood pic.twitter.com/41ZTBkTBrm

— IMPACT (@IMPACTWRESTLING) September 21, 2019
Next up, Jimmy Jacobs sits down with Tenille Dashwood. While Tenille is excited about the new challenges and matches she will have in IMPACT Wrestling, she has one real goal. That is the Knockouts Championship that Taya Valkyrie currently holds. Taya had her very first professional match against Tenille. And while much time has passed and both women have grown, Tenille refuses to be passed over and it's all about Tenille. Keeping with the Knockouts theme, Havok is out next for the no disqualification match with Su Yung. She isn't empty-handed either, Havok comes brandishing a staple gun. As The Undead Bride makes her entrance, Havok attacks her. Havok concentrates on the back of Su Yung before throwing her back into the ring.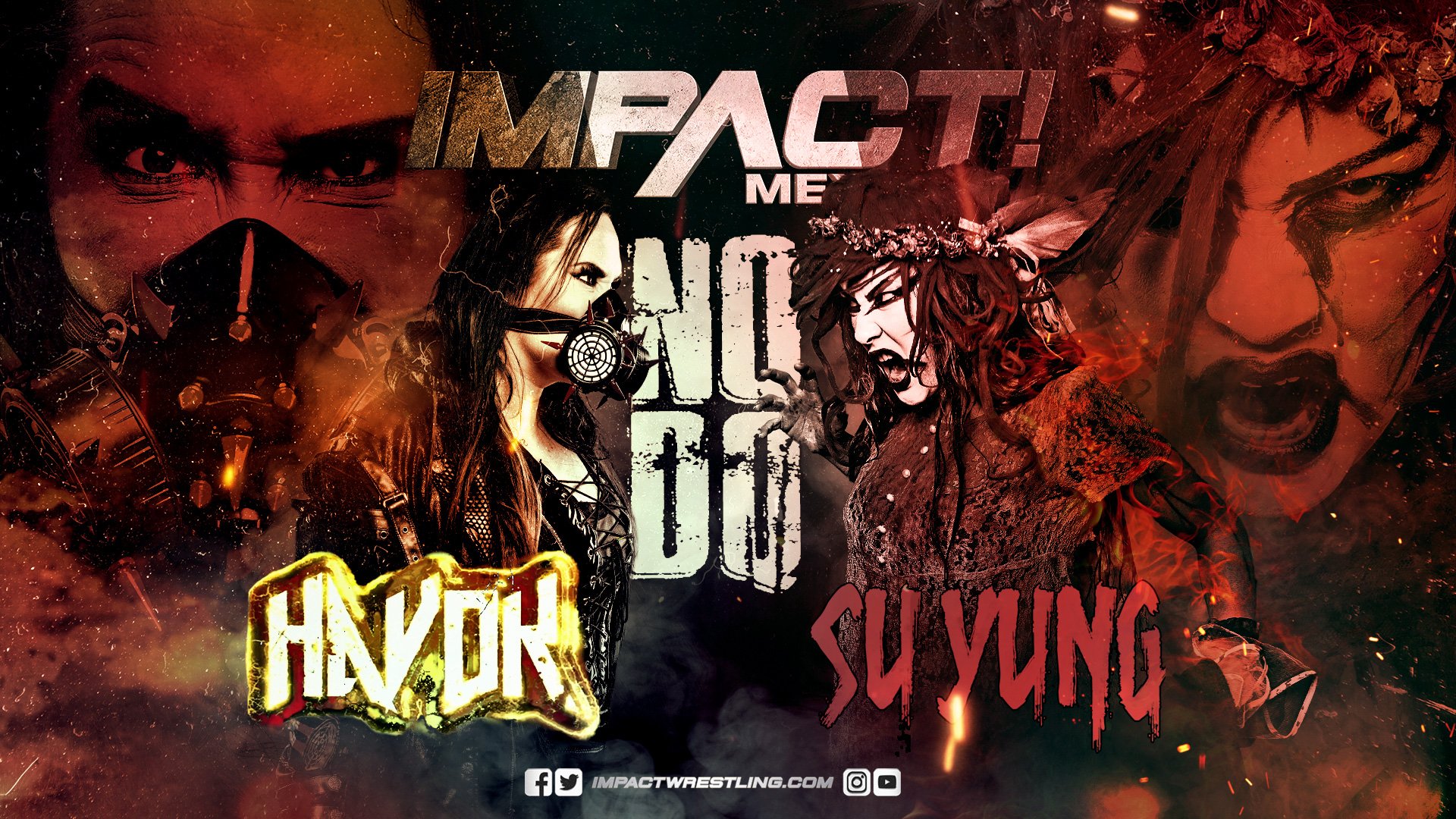 Havok retrieves a chair and attempts to use the staple gun, but Yung is ready for her. She resists and holds Havok off until she can sink her teeth into her arm. This creates space for Su Yung to regroup and go on the offensive. Despite Su's efforts and willingness to use whatever at her disposal, including her own body, to take Havok down was not in the cards. The staple gun Havok brought was used against her, but that wasn't able to turn the tide for Yung. Havok hit her with the patented tombstone piledriver for the victory. Su Yung sat up after the fall though and the fight would continue. The brawl would spill over into the back and up a flight of stairs. After controlling the Undead Bride with a Von Erich-style claw, Havok would wrench her up and put a noose around her neck. The monstrous Knockout would then lower Su down the stairwell shaft by the rope.
Video footage from Melissa Santos' bachelortte party with the Knockouts airs next. They are entertained by Joey Ryan dressed as a cop. While the girls are enjoying themselves, we check in with the groom, Rich Swann and Tommy Dreamer. Their time is not exactly what either Swann or Dreamer had in mind for a bachelor party in Las Vegas. Cage however is enjoying the best cheat day of his life with a giant platter of donuts. It's time for another clip of some of the best moments of LAX in IMPACT Wrestling. This one is from the Barbed Wire Massacre III with oVe in January of 2018. We then see a video package about Johnny Swinger coming to IMPACT Wrestling next week!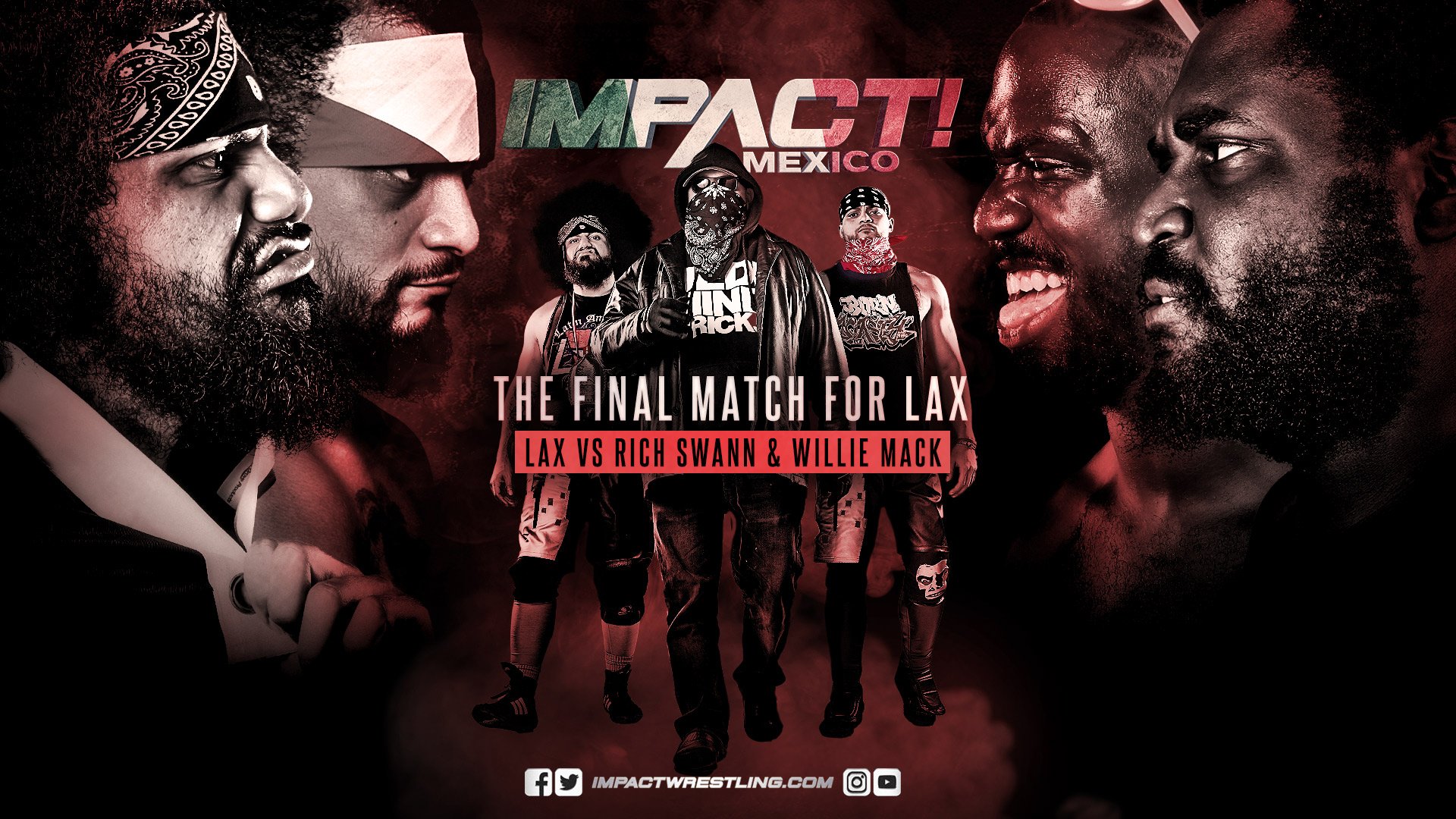 After recapping the matches already signed for Bound for Glory, it's time for our main event. It's a farewell to Santana and Ortiz of LAX and they will take on Willie Mack and Rich Swann. As is usual with LAX matches, both of them gave their all, as did Mack and Swann. Rich Swann hit a Phoenix Splash, followed by a 6-Star Frogsplash from Willie Mack, who then made the cover to win. After the match, Konnan got into the ring and everyone shook hands and hugged. The fans chanted thank you and LAX as the locker room emptied. Everyone got into a big group hug, with LAX at the center. The camera cuts away from the ring with LAX on the shoulders of Fallah Bah, Jake Deaner and Willie Mack.
Goodbye and good luck. #ThankYouLAX @Santana_PNP @Ortiz_PnP #IMPACT pic.twitter.com/W0kzXUy28F

— IMPACT (@IMPACTWRESTLING) September 21, 2019
We then go to Su Yung, being worked on by medical staff. The EKG machine takes a flat line and they leave in sadness. Once she is alone, the Undead Bride who had been unmoving, takes a big gasp and opens her eyes. Tune into IMPACT Wrestling next week for the wedding of Brian Cage and Melissa Santos, the debut of Johnny Swinger and so much more!
SHE'S ALIVE! @realsuyung #IMPACT pic.twitter.com/0iepBud54K

— IMPACT (@IMPACTWRESTLING) September 21, 2019