Welcome to another edition of the IMPACT Interrogation! We'll be taking a look at the October 11th edition of IMPACT. Things are heating up as the countdown continues towards Bound for Glory. The show opens with a recap of the ongoing storylines. Eddie Edwards speaks to Tommy Dreamer regarding his actions at Brian Cage and Melissa's wedding. Edwards claims he was drugged by Reno Scum, who greeted Edwards during the pre-wedding coverage with AfterBuzz's Gabby Loren. Ace Austin continued to assure Alisha Edwards that he would always be there for her. The issues between oVe and Brian Cage continue, as Cage was arrested last week after inadvertently attacking a fan in his pursuit of Sami Callihan. Konnan was found laid out after a closed-door locker room encounter with The North.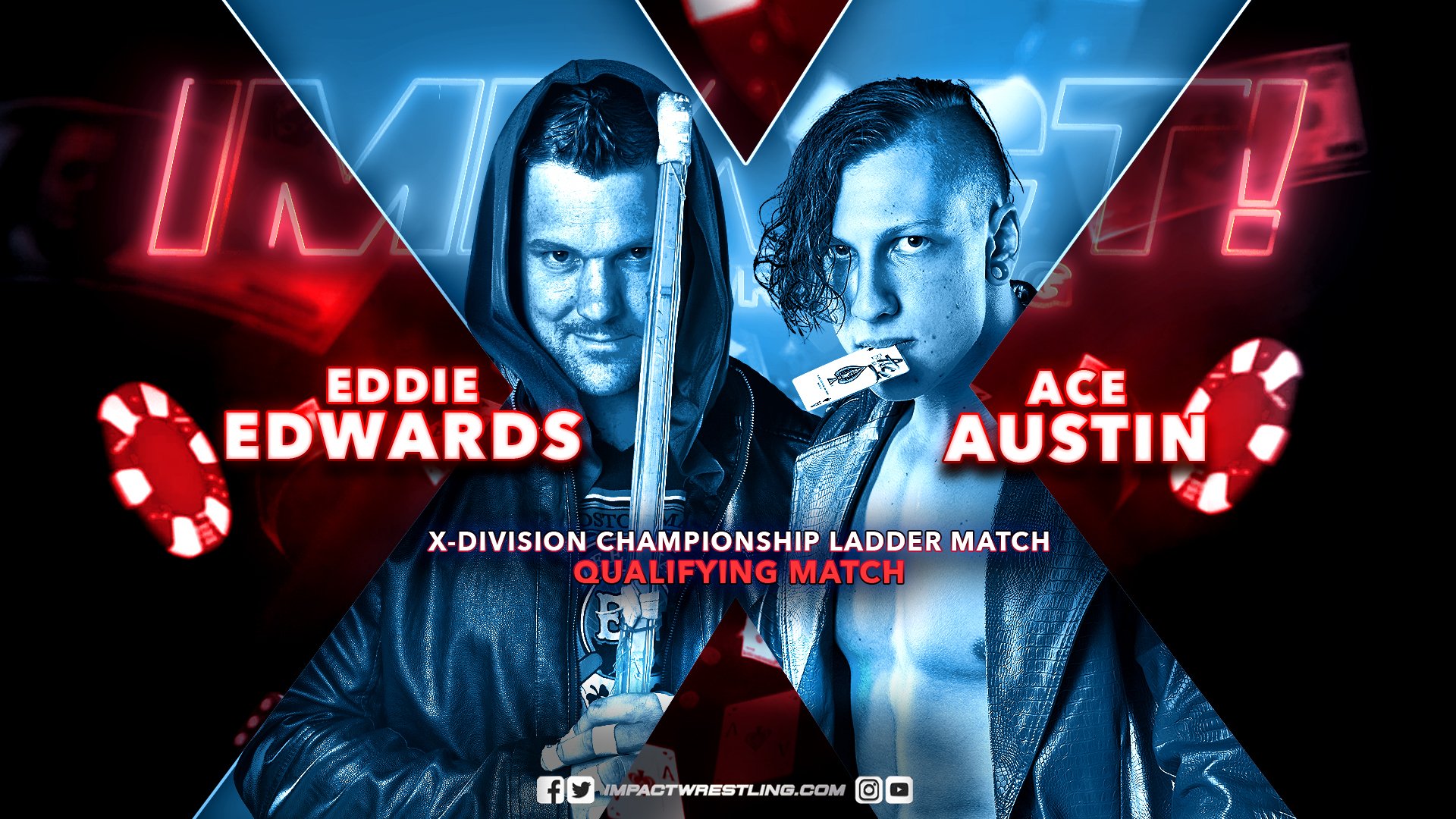 Now let the action of IMPACT Wrestling begin! Ace Austin is out for a match to open the show. He is sporting new merchandise which reads Ace Austin 3:16. What does Ace Austin 3:16 stand for? I just banged your wife! He also found two very excited female fans at ringside, who were also sporting his shirt. Austin kissed one of them quite passionately twice, so it's clear he fancies himself a playboy. His opponent is Eddie Edwards, who's wife Austin is still trying or perhaps has bedded. The winner of this match will also go onto the X Division Championship Five-Way Ladder match at Bound For Glory.
Eddie took the fight to Austin early and quickly. While Austin's quickness would allow him to get ahead of Edwards on occasion, Edwards would stay in control for most of the match. That is until Reno Scum came to ringside. They pulled the referee out of the ring when Eddie was just one count away to going to Bound for Glory. After attempting to use Kenny and take out Reno Scum, Edwards lost his hold on the kendo stick. This would allow Reno Scum to distract the official and hand Austin a piece of steel to slip into his wrist brace. Ace would then lay Eddie out with a back fist for the victory.
Ace up his sleeve with solid steel!

▶️ https://t.co/sWu6SEiYN7 #IMPACT @The_Ace_Austin pic.twitter.com/818GTaMVLt

— IMPACT (@IMPACTWRESTLING) October 12, 2019
After the match, Reno Scum would attack Eddie Edwards and lay him out with a super curb stomp. Backstage, Taya Valkyrie is looking for Rosemary when she runs into her, literally. Valkyrie has to defend her Knockouts Championship against Havok tonight. She would like Rosemary's assistance in "fixing" this. Rosemary holds steadfast to her conviction and informs Valkyrie that life isn't fair and they will watch as Havok rips her apart. That match is still to come on IMPACT. Also set for tonight's episode are Jordynne Grace vs. Katie Forbes, Moose vs. Stephan Bonner in a Victory Road rematch and tag team action in the main event. Jake Crist will team with Madman Fulton to represent oVe against the team of Daga and Tessa Blanchard.
Up next we have the Desi Hit Squad coming to the ring for a six-man tag team match. Their opponents are the fun-loving and high-flying (in more ways than one) trio, the Rascalz. The Desi Hit Squad start the match, attacking before the bell rings. They can domiate the smaller team, until a second attempt at a legal tag allows an exchange from the Rascalz. The Rascalz rally and look for a double dive on the Hit Squad, but are stopped by a double chokslam by Mahabali Shera. Trey was able to catch the trio off guard though and land a dive. Shera was just too much for the team of Trey, Wentz, and Dez. The big Indian lion laid out all three and finally Wentz with a slam. He then placed Raj on top to pick up the victory.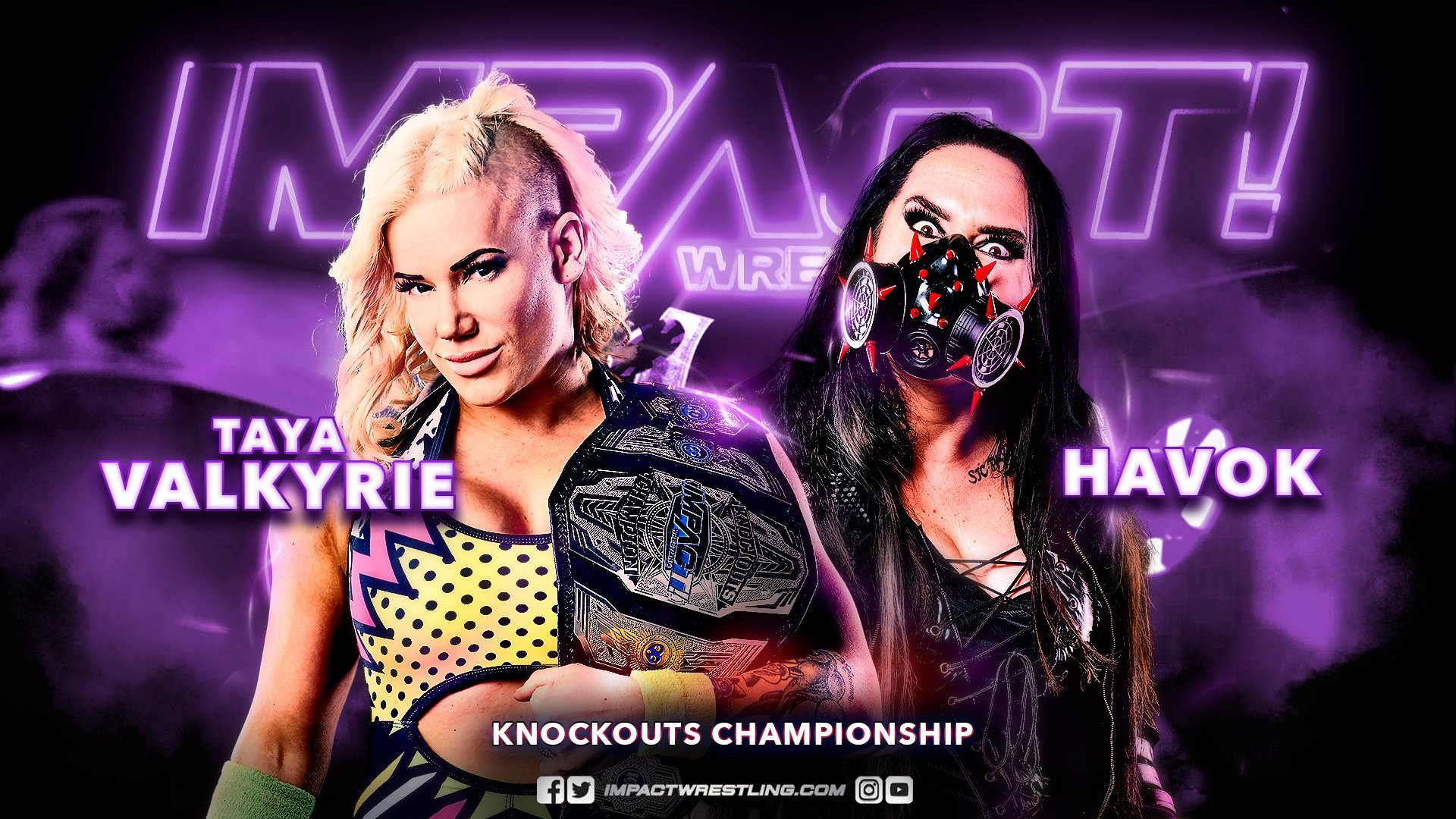 Backstage we see Katie Forbes arrive and she mistakes her opponent Jordynne for a valet driver. It's time now for the IMPACT Knockouts Championship match. Havok along with the Sinister Minister James Mitchell are out first. Before the match gets under way, Taya's opponent for Bound for Glory makes her way to the ring. She joins Don Callis and Josh Matthews on commentary for this match. Havok having the power advantage was in control for most of the match. However when she went for the pin, John E. Bravo pulled the referee out of the ring and shoved him to the ground. This caused the referee to call for the disqualification and the match is thrown out. Havok takes out her frustration on Bravo, pulling him into the ring and dropping him with a big boot followed by a chokeslam.
Wait just a minute! @TheTayaValkyrie may have retained by DQ but @TenilleDashwood gets the last laugh…

▶️ https://t.co/sWu6SEiYN7 #IMPACT pic.twitter.com/xFJL5WymGi

— IMPACT (@IMPACTWRESTLING) October 12, 2019
The crafty champion Taya then attacked her with the Knockouts Championship belt. This drew in Tenille Dashwood, her opponent at Bound for Glory. Tenille was able to get the best of Valkyrie here, but will the same be true when the chips are on the line? You can find out by tuning into Bound for Glory on October 20th. We then see a video from Sami Callihan and oVe. Sami is continuing to twist the narrative to his advantage, claiming that Brian Cage is nothing but an animal and deserves to be behind bars. He also attempts to shift the blame of hitting Melissa Santos with a bottle onto Cage as well. Next, The North is interviewed about their triple threat tag team title defense. Before they can talk about their defense, they are joined by both opposing teams; Rich Swann and Willie Mack, and Rob Van Dam and Rhino.
Moose is out next for his rematch with Stephan Bonner. Moose will also have a huge obstacle in the ring at Bound for Glory with Ken Shamrock. Moose is accompanied by his friend and trainer, Frank Trigg. Trigg joins Don and Josh on commentary during the match. Moose dominated the early moments of the match, but Bonner was able to battle back. Bonner was about to hit his top rope elbow drop, but Moose saw this and tossed the referee into the ropes. Moose loses the match, but via disqualification. After the match, Moose continued to attack Stephen Bonner. He retrieved a chair from under the ring, but before he could use it, Moose was stopped by Ken Shamrock. Shamrock asserted dominance, taking Moose down and applying the ankle lock, causing Moose to tap out. Frank Trigg could only watch from commentary as Bonner held him at bay as Moose continued to tap.
Is this what we're going to see at Bound for Glory?! #BFG

▶️ https://t.co/sWu6SEiYN7 #IMPACT @ShamrockKen @TheMooseNation pic.twitter.com/TGkDAYrXLl

— IMPACT (@IMPACTWRESTLING) October 12, 2019
Up next is more Knockouts action as Katie Forbes takes on the formidable Jordynne Grace. Katie tends to get written off as just a beautiful girl who has a very talented derriere. However, she gave Jordynne Grace one of her biggest challenges to date. Jordynne was able to use her extreme power to her advantage and one Grace Driver later, the match was over. After their match, both women have to deal with running into Johnny Swinger. While Katie reminds him that she's off the market, Jordynne gives Swinger a good shove out of her way. After the Impact Plus Flashback Moment of the Week, we go backstage to Tessa Blanchard getting ready. Daga thanks her for her help last week, but he can fight his own battles. Tessa says that any battle involving oVe is her battle, and don't worry at Bound For Glory, he'll be in battle on his own.
Any battle involving #oVe is @Tess_Blanchard's battle!

▶️ https://t.co/sWu6SEiYN7 #IMPACT @Daga_wrestler pic.twitter.com/qMLzYyTyk4

— IMPACT (@IMPACTWRESTLING) October 12, 2019
We also check in with Fallah Bah and TJP, Bah is continuing his training has he challenges Unbreakable Michael Elgin next week. Josh and Don run down the matches for next week's IMPACT as well as a few for Prelude to Glory.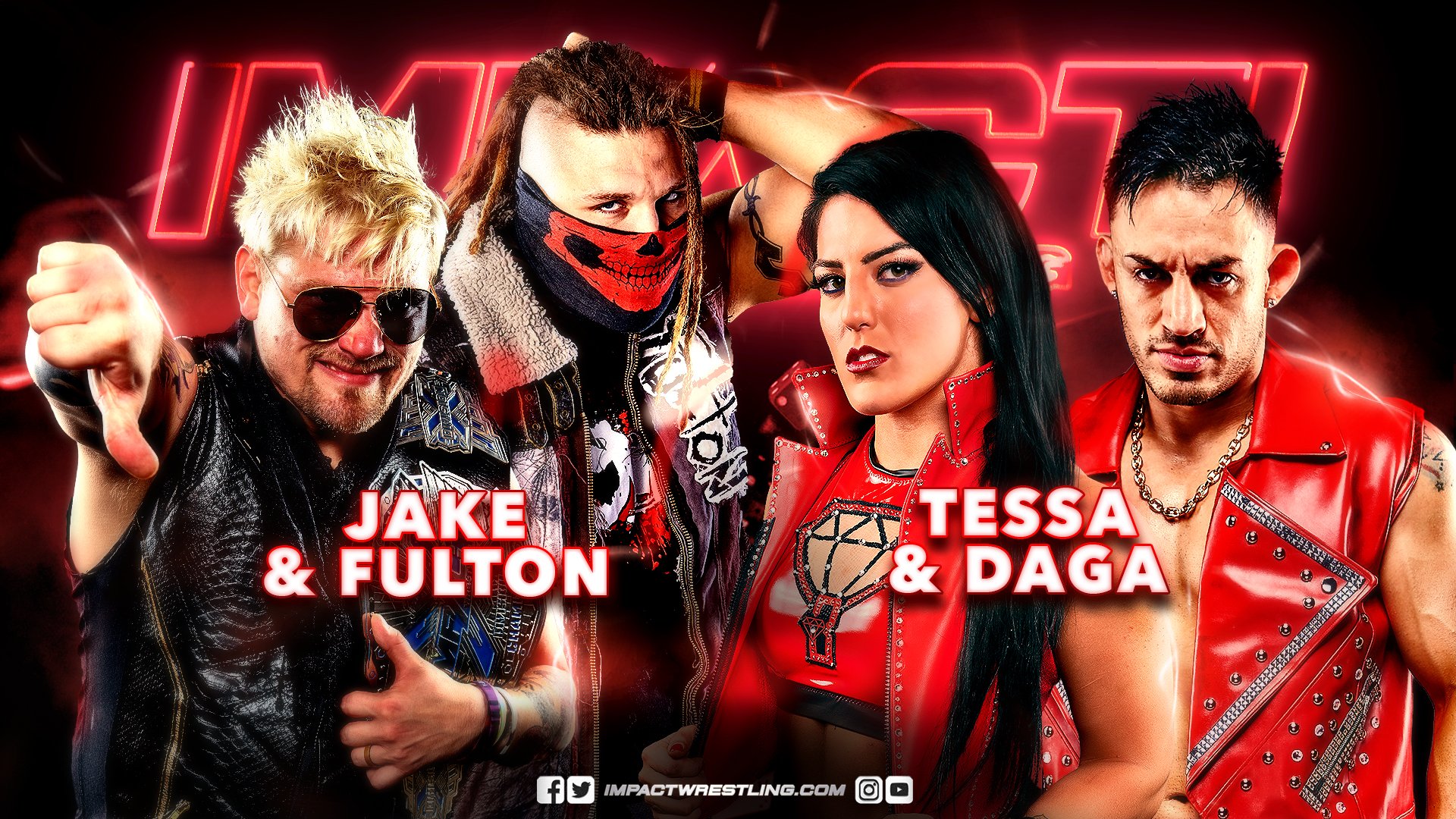 It's now time for the main event here on IMPACT Wrestling! Tessa Blanchard teams with El Jefe, Daga to take on Jake Crist and Madman Fulton of oVe. Blanchard and Daga have to work together to overcome the monster Madman Fulton. They prove to be a very effective team and Tessa picks up the victory over the Golden Draw, Jake Crist. After the match, oVe does what they do best: sneak attacks from behind. They destroyed both Tessa and Daga.
Great teamwork from @Tess_Blanchard & @Daga_wrestler!

▶️ https://t.co/sWu6SEiYN7#IMPACT pic.twitter.com/asYJWTfXgl

— IMPACT (@IMPACTWRESTLING) October 12, 2019
Then their attention was drawn to the video wall, where a car was seen arriving. It's the IMPACT World Heavyweight Champion, Brian Cage. He rips through the backstage area like a Tasmanian devil to find oVe before making his way to the ring. He takes them all out, demanding where is Sami?! The Callihan Death Machine attacks Cage from behind with a steel chair, which proved no help. However, the strength in numbers provided by oVe is what makes the difference. They handcuff Cage to the top rope and when Callihan threatens him with a bat, the unthinkable happens. Melissa Santos, Cage's wife, rushes to the ring and stands in the way and begs Callihan to not hit him. At first they comply, but when Melissa's back is turned, Callihan seizes her and while Fulton forces Cage to watch, delivers a piledriver.
Goodnight from Las Vegas… #IMPACT @MrGMSI_BCage @ThisIsMelSantos pic.twitter.com/qoTM43AvAx

— IMPACT (@IMPACTWRESTLING) October 12, 2019
The reckoning will be coming for Sami Callihan at Bound for Glory! We'll be back next week with the go-home edition of IMPACT Wrestling right before their biggest weekend, Bound for Glory.