On this day, Hulk Hogan wins the IWGP Championship. Thirty-eight years ago, Hulk Hogan made history as the first-ever IWGP Champion in New Jew Japan Pro-Wrestling. Not only did this win bring huge exposure to NJPW, but it also changed the direction of wrestling history.
Hogan was part of a ten-man tournament in 1983 called the IWGP League. That tournament involved a multitude of top-level wrestlers from all over the world. Other participants included NJPW founder Antonio Inoki, UWA World Heavyweight Champion Canek and CWA World Heavyweight Champion Otto Wanz. Inoki wanted the best wrestlers from far and wide to enter his tournament in the hopes of creating the most prestigious contest and prize possible.
Inoki's usual plan was to bring in these high-profile stars to New Japan and he, as New Japan's star, would beat them all. But that's not what happened this time. Instead, Hogan, as a heel, beat Inoki in the finals of the tournament. The ultra-popular ace of the company lost to a hated foreigner. And in doing so, Hogan became the first-ever IWGP Champion (note: not to be confused with the IWGP Heavyweight Championship, which was a different title that wouldn't exist until 1989).
Hulk Hogan wins the IWGP Championship
With this win, Hogan won his first world title in any promotion. It was a major recognition for him that he was starting to be seen as a true wrestling star. That rise in star power also influenced  Hogan's – and pro-wrestling's – future. This title win brought Hogan to loggerheads with the AWA's bookers. Hogan saw himself as a star and didn't see much of a future there, especially after Vince McMahon Jr. began his nationwide expansion.
Hogan returned to WWF/E in December 1983 while still reigning and defending IWGP Champion.  Less than a month later, he won his first WWF World Heavyweight Championship and became a double world champion in the process. But his IWGP Championship wasn't recognized by WWE. Still, he carried that belt with pride and defended it against, and lost it to, Inoki in June 1984.
What if Hogan had never won the title?
Had Hogan never won that world title, it's possible the course of wrestling history could've gone in a different direction. Vince McMahon handpicked Hogan to be the centerpiece of his new wrestling empire based on, among other things, his name recognition. He was a big name throughout the United States and had proven he could be a draw internationally. This was all VKM needed to create pro-wrestling's first international wrestling superstar.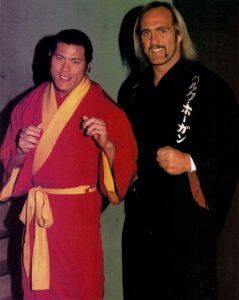 But If Hogan never won this title, he might've chosen to stay with the AWA. He might've missed the chance at international recognition. And Vincent Kennedy McMahon might've picked someone with more star power to be his key to national expansion. There's no doubt that Hogan would've become a big star eventually, what with his incredible charisma and larger-than-life personality. But if someone else came in and took his spot as IWGP Champion, then the specific chain of events that led to Hulkamania running wild might not have ever taken place. It was a moment in time that many have argued its validity but at the time made a statement to both Japanese and American wrestling fans alike. Hogan is recognized by some as the first to win the title to crown the champion while others have stated that its has completely stricken from the record books.
'On This Day' is a commemorative article series dedicated to specific events, matches, and occurrences in wrestling history. We revisit those key moments and look back at how they went down and what they meant to the wrestling industry. Hulk Hogan wins the IWGP Championship is that match.