New Japan Pro-Wrestling (NJPW) had one of its biggest paydays on April 29th, 1996. On that Tokyo Dome Showcard, company savior Shinya Hashimoto defeated outside menace Nobuhiko Takada to recapture the IWGP Heavyweight Championship. With that victory, Hashimoto concluded one of the most lucrative storylines in the company's history: he defeated the head of the outside invaders and saved NJPW and its Strong Style presentation. Today we present the History of the IWGP Heavyweight Championship – Part 2: Inoki's Descent Into Madness.
_________________
But behind closed doors, a storm was brewing. NJPW owner Antonio Inoki needed to figure out where the company would go from there. He needed to determine how NJPW's next major story would unfold. So he looked at the story that had just ended, how Hashimoto dutifully risked everything to save NJPW from Takada and his invaders. But Inoki has always been known to be a bit…crazy. Many of his decisions as a promoter have raised eyebrows, at the least.
This tendency for weird decisions was compounded by the fact that NJPW – and pro wrestling in general – were being threatened by another, more sinister menace: Mixed Martial Arts. And Inoki wouldn't allow anyone in the world of combat sports to be seen as tougher than his wrestlers. After all, NJPW's tagline was and still is 'King of Sports'. So he decided to combine MMA with his strong style of wrestling in one of the most devastating failures in wrestling history. When all was said and done, Inoki had been forced out of the company. NJPW was almost dead, and the IWGP Heavyweight had lost a ton of prestige.
Inoki's Descent Into Madness
The first hints of foolishness
Inoki's first sign of making odd choices was his handpicked wrestler to defeat Hashimoto. At the time, Hashimoto had the longest reign as IWGP Heavyweight Champion, holding it for 489 days. Aside from Hashimoto, Inoki also still had the unwavering loyalty of both Keiji Mutoh and Masahiro Chono. Both of whom were considered the company's top stars. And of those fabled Three Musketeers, Chono was the only one that hadn't yet won the IWGP Heavyweight Championship. So it stood to reason that the rivalry between the Three Musketeers would continue with Chono finding a way to beat Hashimoto. This would've been the logical decision.
But Inoki went in another direction. He chose Kensuke Sasaki instead.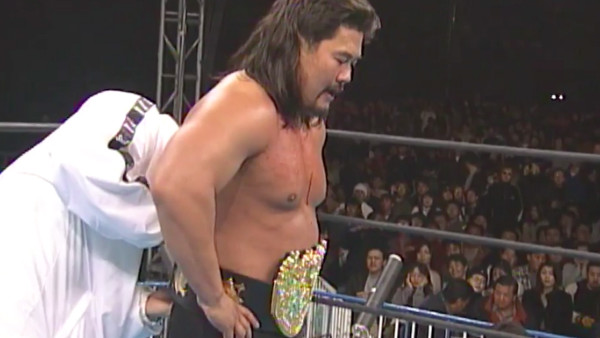 Sasaki, a.k.a. Power Warrior in the United States, was, in many ways, NJPW's version of pre-illness Roman Reigns. He was a big, muscly power wrestler that had the right look and performed well in the ring. But many NJPW fans saw Sasaki as a younger clone of Riki Choshu. Much like how later fans said Reigns was a longer-haired clone of John Cena. And like Reigns after him, Sasaki was given a monster push in 1997 to elevate him to superstardom. Courtesy of Inoki.
In the span of one month, Sasaki won the 1997 G1 Climax tournament, the IWGP Tag Team Championships, and the IWGP Heavyweight Championship. Then to solidify his (presumed) main-event status further, Sasaki's first two opponents as Heavyweight Champion were Chono and Mutoh.
And to make sure Sasaki wasn't seen as weak, the person he lost the title to was not one of those Three Musketeers, but Tatsumi Fujinami. Who was even older than any of the Three Musketeers.
History of the IWGP Heavyweight Championship – Part 2
Speaking of Chono
Chono felt angered that Sasaki got his title shot (and reign) before him, and turned villainous as a result. The new Chono dressed in all black and behaved like a Yakuza gangster. This made him stand out so much more in NJPW. Maybe that change of gimmick was all he was missing. This was as Chono defeated Fujinami on April 8th 1998 to become IWGP Heavyweight Champion for the first time.
Incidentally, this occurred on a show titled 'Antonio Inoki's Retirement Show'. With Inoki no longer wrestling actively, the stage was set for the fans to focus more on the younger stars. But Chono's luck ran out soon after. He was forced to vacate the title only 44 days into his first (and only) reign due to a neck injury.
A new champion was needed, and that came in the form of Scott Norton. Norton defeated Yuji Nagata to win the title, becoming only the second American to do so. But despite his best efforts and skills, Norton's reign lasted only 103 days, as he lost the title to Mutoh on January 4th, 1999.
Which is one of the most infamous days in wrestling history…
The day the ace was screwed
While most of the English-speaking world spent January 4th, 1999 celebrating Mankind's WWF title win, NJPW put on their annual January 4 Dome show. The main event of that show was Mutoh win the IWGP Heavyweight Championship for the third time. But that wasn't what everyone was talking about. The big news story was the undercard match between Shinya Hashimoto and Naoya Ogawa. This contest is widely considered to be the beginning of the Inokism era and set in motion a chain of events that almost led to NJPW's complete destruction.
As mentioned earlier, Inoki always wanted his NJPW wrestlers to be seen as the toughest combat sports professionals in Japan. And he didn't like the idea that these MMA fighters were making waves in Japan. Shattering that worldview of his. But MMA was there to stay and its popularity was only growing by that point in time. So Inoki figured if he couldn't beat MMA, he might as well exploit it for profit.
History of the IWGP Heavyweight Championship – Part 2
And he chose to do this by pitting a Japanese MMA fighter (Ogawa) against his company's ace (Hashimoto) in a singles match. This match also had a personal edge to it since Hashimoto lost to Ogawa in Ogawa's debut in 1997. This was when Hashimoto was champion. Inoki had his reasons for wanting to push Ogawa so badly. Aside from being an MMA fighter, Ogawa was also an Olympic silver medalist from the 1992 Summer Olympics and ranked fifth overall in the 1996 Olympics. So in the world of amateur wrestling, he was a big deal. Not exactly Kurt Angle-level, but close enough.
Details on the event differ, but the general consensus is this. Inoki is alleged to have instructed Ogawa to shoot on Hashimoto. In other words, Ogawa was ordered to turn a 'worked' professional wrestling match into a real fight. And then win using real MMA strikes. For almost seven minutes, Ogawa pummeled the living hell out of Hashimoto. And Hashimoto couldn't really defend himself because he was a trained professional wrestler, not an MMA fighter. Chaos ensued, and the match was ruled a no contest.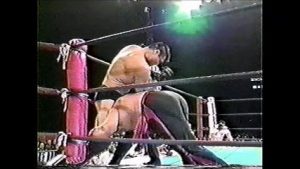 And in doing so, it destroyed Hashimoto's career.
As we've established earlier and in part 1, Hashimoto was one of the Three Musketeers and NJPW's ace. He was known for his bravery and loyalty to NJPW. And his storylines saw him protect the company from outsiders no matter what. He was also known for being incredibly tough, having taken incredibly thrashings since his debut. Thus, NJPW's fanbase respected him enough to pour money into his matches. Which in turn led to his epic runs as IWGP Heavyweight Champion and the company making so much money.
It took Hashimoto Hashimoto years to cultivate that reputation and aura. And Ogawa – under direct orders from Inoki – destroyed it all in seven minutes. As a modern comparison, imagine if WWE had 2004 Tough Enough winner Dan Puder beat a pre-surgery Kurt Angle at WrestleMania with Kurt barely getting any offense in.
History of the IWGP Heavyweight Championship – Part 2
A Steep Fall
While Hashimoto had to pick up what was left of his reputation, Keiji Mutoh enjoyed a heavyweight title run that lasted almost a full year. But he knew he too wasn't safe from Inoki and his weird decisions. Mutoh lost the title to Genichiro Tenryu in December 1999, who in turn lost it to Sasaki on January 4th, 2000. But the new millennium was not kind to NJPW, or any other Japanese wrestling company for that matter.
Inoki decided to embrace MMA to its fullest extent with the new millennium. Muddying the waters to a never-before-seen degree. From 2000 until 2006-7, NJPW was home to a plethora of crossover contests. Pro wrestlers fought in MMA matches and MMA fighters wrestled in wrestling matches.
These problems were exacerbated by Inoki's decision to make Riki Choshu head booker for NJPW. For whatever reason, Choshu decided to de-emphasize the junior heavyweights. Despite them being a historically-important draw for the brand. While also pushing Sasaki into the main-event position again.
History of the IWGP Heavyweight Championship – Part 2
A Talent Exodus
Fans saw the writing on the wall and started leaving NJPW in droves. To try and slow that down, NJPW booked some rare inter-promotional matches involving arch-rival All Japan Pro-Wrestling (AJPW). Following Misawa and his NOAH split, there were only two native wrestlers left on AJPW's roster. Masanobu Fuchi and Toshiaki Kawada. Kawada was considered one of the top AJPW stars of the 1990s, and NJPW invited him over for some big money matches. One of those was a non-title match against Sasaki, which Kawada won. Apparently, losing to an outsider hurt Sasaki's pride so much that he chose to vacate the IWGP Heavyweight Championship. Only to win it in a tournament final against Kawada on January 4th, 2001.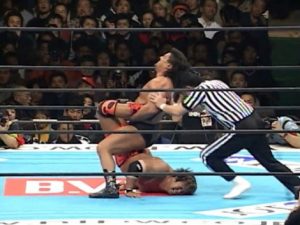 While Sasaki was the focal point in front of the cameras, Inoki continued to push this MMA inclusion as much as possible. One wrestler after another was being sacrificed on the altar of Inokism. This was in order to make the MMA fighters look good. Inoki had fully embraced them as the future of his company. Even though NJPW's fans hated this. He even had NJPW cruiserweight wrestling legend Jushin 'Thunder' Liger participate in an MMA fight. Albeit as a last-minute substitution against Minoru Suzuki. This didn't make sense in any conceivable way. But Inoki wanted the MMA stars over as much as possible. He saw them as the future of his brand.
Realizing their futures were in doubt, all of the Three Musketeers made critical decisions. This further complicated NJPW's main event scene. Hashimoto left NJPW to form his own company, Pro Wrestling Zero1. Chono remained officially employed with NJPW. But wrestled in lower-card situations and generally didn't care anymore. He became more focused on outside ventures. And Mutoh, who had spent all of 2001 reinventing himself and having arguably his best year as a pro wrestler – left NJPW for AJPW. And then became that company's president in 2002.
With these changes, Inoki resorted to desperate measures. Sasaki lost the title to Scott Norton after only 72 days as champion. But Norton was also a transitional champion. He lost the belt less than a month later to Kazuyuki Fujita.
Who?
Fujita was a lower-card NJPW guy during the mid-to-late 1990s before he jumped to Fighting Network RINGS. RINGS was a shootfighting wrestling promotion that structured matches to be as close to MMA as possible. While without being officially an MMA organization. Then in 1999 they changed again and officially became an MMA organization. After that, Fujita had a successful run in PRIDE Fighting Championships. Which would soon become the top MMA organization in Japan.
Fujita would go on to hold the IWGP Heavyweight Championship for 270 days. This was before vacating it due to a ruptured Achilles tendon. By this point, Inoki had fully embraced the MMA stars as his main draws. So if one fighter couldn't carry it, he'd just swap him for another. Which he did, as Tadao Yasuda became IWGP Heavyweight Champion soon after.
History of the IWGP Heavyweight
Nadir
By this point, interest in NJPW was at a historic low and was only getting worse. MMA had killed off major interest in NJPW. And almost any other major wrestling company in the country. Pro wrestling started to suffer from this stigma of being seen as 'fake and dated'. While MMA was seen as the future. Most wrestlers and promoters in Japan fought actively to resist this label by putting on classic wrestling matches. But not Inoki. He was hellbent on following the tide and going with what fans were thinking, instead of proving them wrong.
Since fans no longer saw traditionally-trained pro wrestlers as genuine tough guys, Inoki decided to make the people the fans did see as tough guys as stars. In doing so, Inoki drove away loyalists who'd been following his brand for years, if not longer. While failing to convince MMA fans that his wrestlers deserved to be in the same conversation as MMA fighters.
Luckily, one man managed to slow the downward spiral NJPW found itself in. When he beat Yasuda for the IWGP Heavyweight Championship. And we'll cover his exploits and the pits he had to drag NJPW out of in the next part. This was the History of the IWGP Heavyweight Championship Part 2. Stay tuned for part three in the coming weeks!