Gotch Vs Hackenshmidt. Professional wrestling was very different at the turn of the century.  The sport caught on in America after the civil war, where the soldiers took to grappling as a form of entertainment. The soldiers who were best at wrestling would go on to perform for audiences at circuses and carnivals. From there, it grew into a spectator sport. However, it wasn't a very profitable spectator sport. It lacked the excitement of boxing or the freshness of baseball or football. Wrestling matches were hour-long affairs featuring two athletic men plying and escaping holds until one could pin the other. There were no costumes. There was no music. The first recognizable gimmick wouldn't come around until the 1940s. In order for wrestling to become profitable in America, something had to happen. They needed an American to become World Champion. On this day, we remember Gotch vs Hackenshmidt one.
The Challenger: Frank Gotch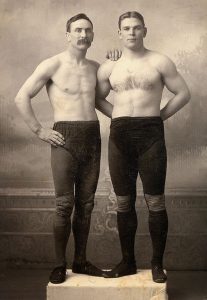 Born and raised on a farm just south of Humbolt, Iowa, Frank Gotch took up amateur wrestling in his teenage years. His first match in a professional context came on April 2nd 1899, scoring a win over Marshall Greene. The young Gotch would continue defeating local competitors with ease until June 12th, when he faced a man who claimed to be a furniture dealer from a neighboring town. The stranger was a challenging opponent, grappling with Gotch for over 2 hours before finally pinning him. After the match, the stranger gave Gotch his calling card, revealing his identity as former American Heavyweight Wrestling champion Dan McLeod. On December 18th, 1899, Gotch unsucessfully challenged another former champion, Martin "Famer" Burns. In spite of the loss, Gotch's skill and technique impressed Burns, who offered to train Gotch. Under Burns's tutelage, the duo went to the Yukon, where Gotch became a local champion.
Gotch Vs Hackenshmidt
Gotch returned to Iowa in 1903 and immediately challenged then-American Heavyweight Champion Tom Jenkins. He lost their first match, but won the championship in their rematch on January 27th, 1904.  He would spend the next four years trading the championship with Jenkins and another competitor, Fred Beell. However, in 1905, something happened to irk the once and future champion. During Tom Jenkins's third and final run with the American Heavyweight Champion, he faced "The Russian Lion" George Hackenschmidt. On May 4th, 1905, Hackenschmidt defeated Jenkins 2-0 in Madison Square Garden, and proclaimed himself the undisputed Heavyweight Wrestling Champion of The World. Gotch, incensed at the display, immediately challenged this new champion. Hackenschmidt payed Gotch no mind, choosing instead to sail back home to England.
The Champion: George Hackenschmidt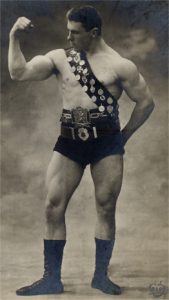 George Karl Julius Hackenschmidt was born in Dorpat, Livonia (now Tartu, Estonia) on August 1st, 1877. In his early years, he set about developing his physical prowess, taking advantage of the gymnasium at his school. He excelled in running, jumping, gymnastics, cycling, and weightlifting. After graduating from school in 1895, he took a job at an engineering firm in Reval (now Tallinn, Estonia). He joined the city's Athletic and Cycling club, where developed a keen interest in wrestling. In 1898, Hackenschmidt moved to St. Petersburg, where he joined the local athletic and cycling club. There, he met trainer Dr. Vladislav von Krajewski, who convinced Hackenschmidt to pursue a career in professional wrestling.  In January 1899, however, he had to put his career on hold for a 5-month stint in the Russian army.
Gotch Vs Hackenshmidt | On This Day
In 1900, Hackenschmidt captured the championships of Moscow and St. Petersburg in a tournament in Moscow. In 1901, he would tour Europe, winning championships in Paris and Vienna. In 1903, Hackenschmidt came to England, where he confronted the country's strongest wrestlers and got familiar with the new Catch-As-Catch-Can style, which was gaining popularity. With manager C.B. Cochran, Hackenschmidt created a boom period for wrestling in England. "The Russian Lion" headlined shows in music halls and theaters across the nation.
Wrestlers came from across the world to participate in tournaments. This included American Heavyweight Champion Tom Jenkins, who challenged Hackenschmidt on July 2nd, 1904. Jenkins would give Hackenschmidt his toughest challenge, but still lost two straight falls to The Russian Lion that night in the Royal Albert Hall. The following year, the two would have a rematch at Madison Square Garden, leading to the same result. After this victory, Georg Hackenschmidt had the rightful claim to be World Heavyweight Champion.
Gotch Vs Hackenshmidt
The Match
Frank Gotch and George Hackenschmidt met at the Dexter Park Pavillion in Chicago Illinois on April 3rd, 1908. The first fall took over two hours, with both men on their feet for much of the time. However, this does not mean little of note happened. While on their feet, Gotch seemed to bully Hackenschmidt around the ring. Initially, Gotch leaned heavily on his opponent, so as to wear him down. Then Gotch began butting heads with Hackenschmidt and gouging with his thumb. At one point, Gotch even punched Hackenschmidt in the nose. Hackenschmidt didn't take this lightly, complaining to the referee about Gotch's tactics and excessive body oil. The referee ignored these complaints.
At about the two hour mark, Gotch had forced Hackenschmidt into the ropes before tearing him off and finally getting behind him. Gotch then brought the mighty Russian down to the mat, where he attempted for 3 minutes to apply his patented toe hold. Hackensdhmidt evaded the hold, but in doing so gave up the rest of his strength. He conceded the fall to Gotch, whereupon the two returned to their dressing rooms. When the time came for both men to return for the 2nd fall, Hackenschmidt opted not to. Instead, he told the referee to declare Gotch the winner, thereby relinquishing his World Heavyweight Championship.
The Aftermath: Gotch
Frank Gotch spent the next three years establishing himself as a dominant wrestler on the world stage. He faced the likes of Tom Jenkins, Hackenschmidt's training partner Dr. Ben Roller, and the then-undefeated Stanislaus Zbysko. When he wasn't wrestling, he made public appearances as a celebrity figure. Theodore Roosevelt invited him to the White  House, where he squared off against a Japanese jiu-jitsu practicioner in the East Hall. He even starred in a play "All About A Bout," which went on tour. Whenever he walked onstage, the audience gave him a standing ovation. Gotch had brought pro wrestling to the forefront of American sports.
In 1910, Gotch would vacate his American Heavyweight Championship, opting to focus on his status as World Heavyweight Champion. Gotch won the 1911 rematch against Hackenschmidt. He would defend his championship two more times before retiring as champion with a reign of 1 284 days.
Gotch Vs Hackenshmidt 
The Aftermath: Hackenschmidt
In the immediate aftermath of the bout, Hackenschmidt seemed humbled by the experience. "[Gotch] is the king of the class, the greatest man by far I ever met," He said of his opponent in an interview. "After going nearly two hours with him, my muscles became stale. My feet also gave out. I had trained constantly against the toe hold and had strained the muscles of my legs. When I found myself weakening, I knew there was no use continuing and that I had no chance to win. That was the reason I conceded the championship to him." When asked if he would like to face Gotch again, he responded " I have no desire to wrestle him again. A return match would not win back my title"
Gotch and Hackenschmidt had a rematch on September 4th, 1911 at Comiskey Park in Chicago. Nearly 30 000 fans came to watch Gotch tear into Hackenschmidt. During the 20 minute bout, Gotch discovered a weakness in his opponent's knee. Some years prior, George had developed a case of bursitis in his knee, for which he underwent treatment. Then, while training for the match, Dr. Roller struck that knee, causing the bursitis to act up. Using this to his advantage, Gotch cinched in his famous toe hold, forcing Hackenschmidt to concede two straight falls. After this match, George Hackenschmidt never wrestled again. Instead, he spent his remaining years pursuing his other passions, namely physical culture, philosophy, and gardening. On this day in 1908, we remember Frank Gotch vs George Hackenschimdt.