Eddie Edwards and Sami Callihan are certainly not strangers to each other. Their long and storied disdain for each other stretches back to the infamous attack on Eddie Edwards by a baseball bat-wielding Callihan that left Edwards with a broken eye socket and orbital bone. That led to a change in attitude from Edwards, who became much rougher around the edges, as he ditched the blue-chipper persona he had prior to the attack. It also started Callihan on his upwards trajectory towards being the IMPACT World Champion and arguably the best heel in the wrestling world today. These two wrestler's careers will forever be linked together, as they can't seem to stay out of each other's way for too long.
__________________
Insert Ken Shamrock, Sami Callihan's old rival turned new self-proclaimed best friend and tag partner. "The World's Most Dangerous Man" is set to face Eddie Edwards at Bound For Glory on October 24. It is with none other than the Death Machine himself in his corner. The odds are certainly stacked against Edwards, having to face such a staunch challenge in Ken Shamrock, who will have Eddie's biggest rival lurking at ringside. This numbers advantage has already reared its head, as evidenced on the October 20 episode of IMPACT.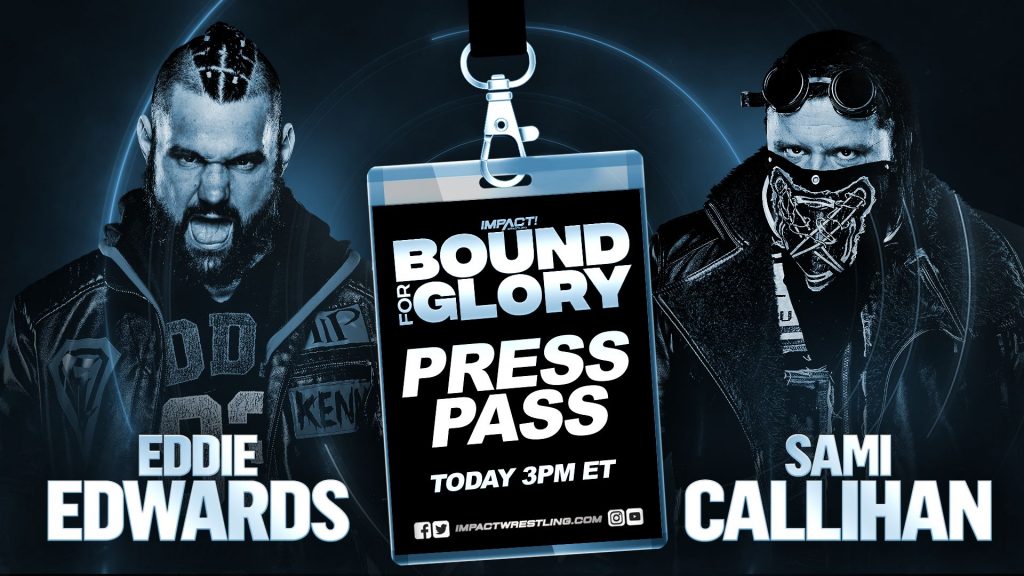 Eddie Edwards and Sami Callihan Discuss Their Rivalry Ahead of BFG
We saw Eddie Edwards face off against his rival Sami in singles action, in a good back and forth contest. Near the end, Sami grabbed his phone, pressed a button, after which all the lights turned out. They turned back on to reveal Shamrock at the top of the entrance ramp. This distraction was enough to allow Callihan to earn a roll-up victory. Afterwards, Shamrock rushed the ring, and applied his signature ankle lock, while Callihan taunted and laughed at the screaming Edwards.
Pro Wrestling Post was invited to participate in the final press pass before BFG featuring the two bitter rivals. Callihan repeatedly guaranteed a Shamrock victory, claiming that he has reawakened the "killer" in his friend. He said that Shamrock had lost his way, even going as far as saying that he had become a "bitch" prior to linking up with Sami. Edwards didn't seem worried, claiming that he had several contingency plans should Callihan choose to get involved. Then the floor was opened to media questions.
You have both had some classic moments and matches since you've first crossed paths. Where do you guys think your rivalry stands in the [discussion of] greatest rivalry in IMPACT?
Eddie Edwards: I mean, that's not up to me to say. I just live in the moment when it's going down. You know . . . our rivalry will never end, there's no end in sight for it. So you can't grade something that's not done. This is something that's continuing on, and I'll gladly continue this on with Sami.
And Sami, I know you are mad saying that I don't thank you for what you did. I have thanked you publicly. I will thank you again. Thank you for making me who I am because without you, I would not be the man I am today, so I do thank you for that. But I will still gladly beat your ass at any point. Gladly.
Sami Callihan: We'll see, here's the thing, I'm going to go out and say it. We're one of the best, if not THE best rivalry in IMPACT history. The entire management, the entire locker room should be thanking us for putting this company back on the map and bringing it to where it is today. Like it or not, me and Eddie Edwards are the heart and soul of Impact wrestling and that's not going to change."
Sami Callihan attacks Eddie Edwards with a baseball bat.
Shamrock locks Edwards into ankle lock as Callihan mocks him
****
Be sure to stay tuned to the Pro Wrestling Post for this and additional stories from the wrestling world. Readers can rely on Pro Wrestling Post. It is their trusted daily source for all things past and present inside the squared circle from around the globe. As a result, readers can expect daily news, history, and so much more. Please visit IMPACT Wrestling's official website for its content here.