On Jan 7th, 2001, Extreme Championship Wrestling aired ECW Guilty As Charged 2001 live from New York City in the Hammerstein Ballroom. Slated on the evening were nine matches, including three title matches (two ECW World Heavyweight & an ECW World Tag Team). It also featured an 'I Quit' Match between Tommy Dreamer & CW Anderson.
Rob Van Dam & Jerry Lynn face off in the main event & we find out the next challengers for the ECW World Tag Team Titles as we have a 3 Way Dance between The Unholy Alliance, FBI & Kid Kash & Super Crazy.
ECW Guilty As Charged 2001
Tag Team Match
The Bad Street Boys (Christian York & Joey Matthews) vs. Jerry Lynn & Cyrus
Jerry Lynn gives Joey Matthews the cradle piledriver while Da Baldies holds Christian York and makes him watch with Matthews down. Cyrus asks for a tag, so Lynn obliges, and Cyrus covers Matthews to get the victory.
Winners: Jerry Lynn & Cyrus (2:41)
ECW Guilty As Charged 2001
ECW World Tag Team Titles Match
Danny Doering & Roadkill (c) vs. Hot Commodity (Julio Dinero & EZ Money)
Danny Doering trades holds with Julio Dinero & EZ Money until Roadkill makes a blind tag & he surprises Money with a power slam, springboard elbow drop & Lancaster Lariat, then Doering & Roadkill hits Hot Commodity with a Panty Drop Elbow and G Spot Sweep, then Doring with a plancha.
Doring chases Elektra so Chris Hamrick attacks him & this allows Hot Commodity to take control with Money Clip over the rail and a springboard bulldog. Money even adds an EZ Bomb but a dazed Doring lands on his balls.
Doring uses the opening to tag Roadkill & he cleans house with Barnburner & Amish Bomb before he also gives Money an extreme wedgie; then Elektra interferes and opens the door for Julio to hit Jalapeño Popper.
Hamrick takes out Money by mistake, and Roadkill turns a body scissors into Buggy Bang for the win.
Winners: AND STILL ECW World Tag Team Champions: Danny Doering & Roadkill (10:06)
ECW Guilty As Charged 2001
Nova vs. Chris Hamrick
Nova knocks Chris Hamrick to the outside for a dive & once they return to the ring, they fight back & forth until Nova attacks the leg & this leads to a dragon screw and a Figure 4, so Elektra breaks it with an eye rake & that allows Hamrick to take control.
Nova almost rallies with a sit-out flapjack, but Hamrick connects with a super Frankensteiner. Then Elektra interferes again, but Nova fends her off. They wipe out the ref before Nova hooks Hamrick in a Crossface Chicken Wing and with the ref down, Mike Keener arrives, but he isn't alone.
Chris Chetti appears in a referee's shirt. Chetti fast counts Nova's shoulders on the mat while Keener hears Hamrick submit & before Mike announces a winner, Lou E Dangerously whacks him with his phone.
This brings out Spike Dudley. Lou sees him, so he mocks Dudley & asks him why he would call himself a Dudley then Lou tries to explain why Chetti is there, but Spike cuts him off.
Dudley & Nova take out Lou & Chetti before Nova counters Hamrick into a Kryptonite Crunch for the victory.
Winner: Nova (5:30)
ECW Guilty As Charged 2001
"I Quit" Match
Tommy Dreamer vs. CW Anderson
Tommy Dreamer & CW Anderson spill to the outside and brawl on the floor. While on the floor, Anderson targets Dreamer's shoulder before he rams him into the post and performs an armbreaker before Dreamer counters with a Rydeen Bomb and a half crab.
They head outside again, where Dreamer attacks Anderson's arm with a chair and rings the bell against his head. Then he targets Dreamer's knee. Anderson uses a chair and leg holds until Dreamer gets a Christmas present from Towel Boy & it contains razor wire! Anderson grabs Towel Boy and pulls him into the ring.
It backfires as Dreamer & Towel Boy use metal trays on Anderson before Anderson rallies with a Ferris Wheel, then he gives Towel Boy a stalling superplex and drops Dreamer with a spinebuster on the razor wire.
Anderson uses the chair on Dreamer's neck and suplexes him onto two chairs; with Dreamer down, Anderson introduces a table into the mix. Fighting on the top rope follows this, but Dreamer hits a super Spicolli Driver onto the table then he wraps the plastic strip from the table around Anderson's eyes as he yanks back until Anderson quits.
Winner: Tommy Dreamer (14:11)
ECW Guilty As Charged 2001
ECW World Tag Team Titles #1 Contenders 3 Way Dance
The Unholy Alliance (Yoshihiro Tajiri & Mikey Whipwreck) vs. FBI (Little Guido & Tony Mamaluke) vs. Kid Kash & Super Crazy
Mikey Whipwreck, Tony Mamaluke & Kid Kash starts this match off, and they trade takedowns and knockdowns. Little Guido, Super Crazy & Tajiri do the same before they have a standoff.
They exchange leg drops and dropkicks before everyone locks in submission holds, and then Whipwreck uses an inverted STF. Tajiri does the Tarantula, and Crazy hooks a surfboard stretch, then dives to the floor follow. They continue until Big Sal squashes Kash & Mamaluke covers to eliminate Kash & Crazy.
Afterward, the FBI & Unholy Alliance brawl outside around the guardrail, then Whipwreck shoves Mamaluke's head between the bars and nails a guillotine leg drop, then back inside, The Unholy Alliance puts the FBI in the tree of woe for baseball slides.
Mamaluke answers with a tornado reverse DDT before Guido hits Sicilian Slice before they hit Whipwreck with a double superbomb and do modified airplane spins. Whipwreck keeps attempting Whippersnapper, but the FBI counters him.
They lock Whipwreck in double submissions until The Unholy Alliance rallies as they hit stereo Tiger Suplexes to score the victory.
Winners: AND #1 Contenders To The ECW World Tag Team Titles: The Unholy Alliance (13:31)
ECW Guilty As Charged 2001
Tag Team Match
Simon Diamond & Johnny Swinger vs. Balls Mahoney & Chilly Willy
Simon Diamond & Johnny Swinger attack Chilly Willy and hits him with Problem Solver while Balls Mahoney runs after Blue Boy & before they can go for the cover, Mahoney enters the ring with a chair and whacks Blue Boy.
Rhino arrives to ruin the fun & he Gores everyone, including Jasmin St Clair. Then Rhino gives St Clair a piledriver.
Winners: No One (No Contest) (0:48)
ECW Guilty As Charged 2001
ECW World Heavyweight Title Triple Threat Tables Ladders Chairs & Canes Match
Steve Corino (c) vs. The Sandman vs. Justin Credible 
Steve Corino & The Sandman trade strikes and ladder shots before they place the ladder on top of each other and either stomp it or ride another ladder onto them. Steve Corino introduces the cane into the fight before Justin Credible uses the ladder for the old 3 Stooges spot, but The Sandman ends this by running Credible into the corner.
He also hurls the ladder at Corino, so Credible & Corino stop this with a ladder to The Sandman's balls. Then once Sandman gets the cane, he gains some revenge and nails Credible with it before Credible & Sandman seek a better ladder. Corino creates a table bridge on the rail.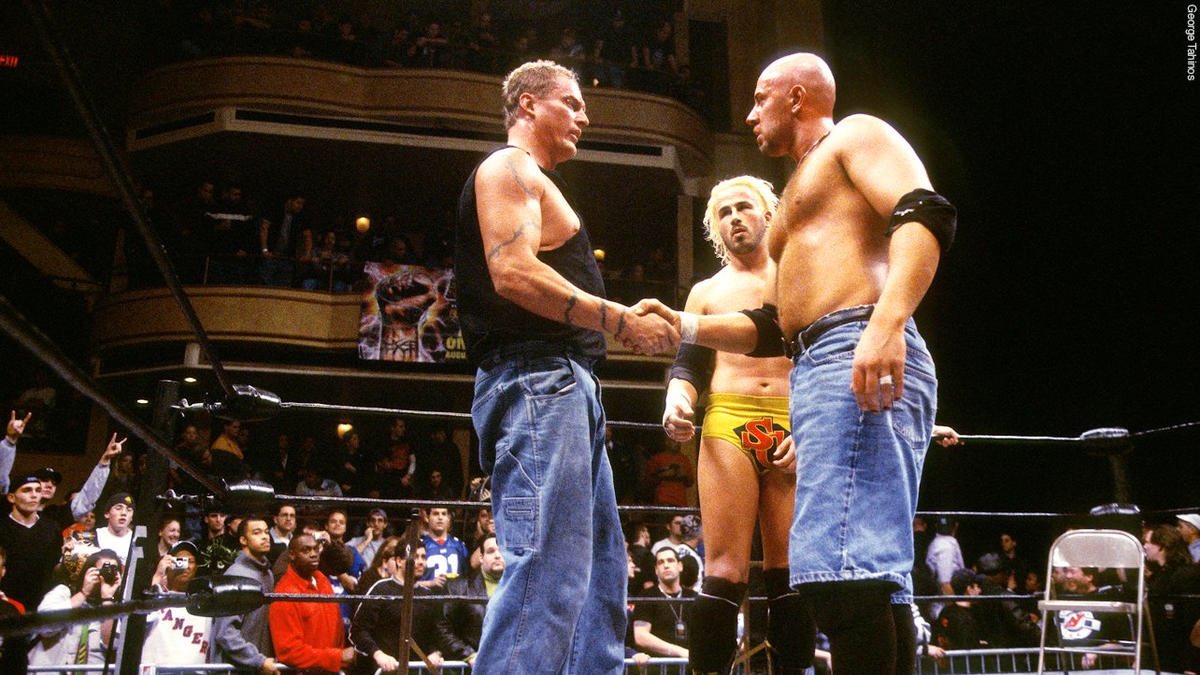 They prevent each other from climbing before Corino dumps Sandman on a table, then Corino attempts Expulsion but Credible counters into That's Incredible, then Francine gives Sandman a coochiecanrana.
Sandman finds a giant ladder and puts it in the ring. When Credible & Corino climb, somebody raises the ECW World Heavyweight Title, and this allows Sandman to cane both men before they all brawl until Corino & Credible crash through a table & with them down, Sandman grabs the ECW World Heavyweight Title to win.
Winner: AND NEW ECW World Heavyweight Champion: The Sandman (13:20)
ECW Guilty As Charged 2001
ECW World Heavyweight Title Match
The Sandman (c) vs. Rhino
Rhino sets up a table in the corner and Gores Sandman through it, then goes for the hook of the leg, but he kicks out at two, then Rhino grabs a 2nd table and brings Sandman to the apron.
He gives Sandman a piledriver on the table and then hooks the leg, but it gets a two count. Then Rhino connects with another piledriver on the table to put Sandman away.
Winner: AND NEW ECW World Heavyweight Champion: Rhino (1:00)
ECW Guilty As Charged 2001
Rob Van Dam vs. Jerry Lynn
Rob Van Dam & Jerry Lynn fight to a standoff and stall for a few minutes. When the action resumes, they brawl to the outside until RVD nails his guardrail leg drop, then back inside the ring, he scores a gorilla press and moonsaults, and this continues until Lynn uses kicks, a leg drop, and a baseball slide with RVD down he hugs Cyrus.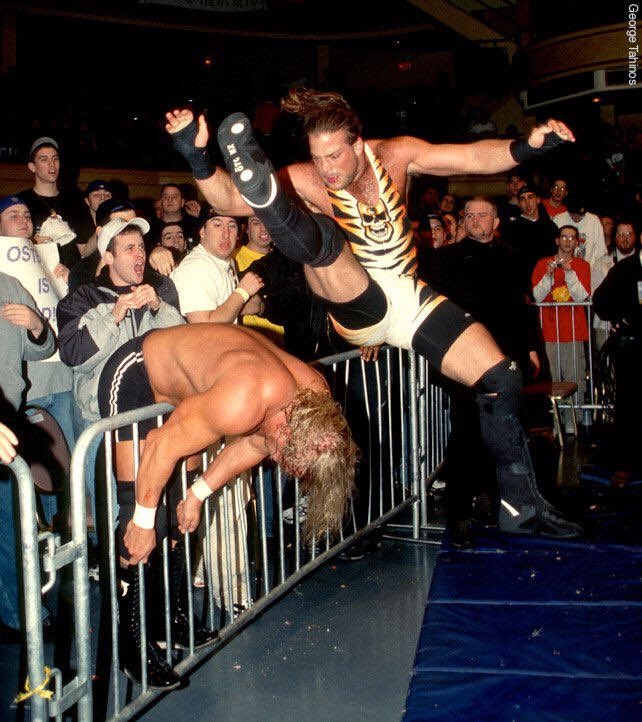 After a low blow and a roll-up by Lynn, RVD rallies as he hits a running Van Daminator, but Lynn fires back with a sunset bomb on the chair. Then we get more chair shenanigans to follow until RVD hits a springboard kick.
Cyrus interferes and prevents a 5 Star Frog Splash from RVD & which draws Joel Gertner to the ring & he gives Cyrus a DDT and helps RVD, then Gertner holds the chair, and RVD nails Van Terminator to score the win.
Winner: Rob Van Dam (24:30)