On Saturday, March 12th, Defy presents Defyant Nights from Washington Hall in Seattle, Washington. Defy comes off the heels of their DEFY 50 show, with Defyant Nights appearing to be equally as intense and full of action. With championship matches slated to take place, an all-violence is legal match as well fans being welcome to a meeting of two absolute bulls along with the interim Defy Championship being on the line as Christopher Daniels defends his championship against Wheeler Yuta.
Fans will also witness the PCW ULTRA Women's Championship on the line, along with the debut of Big Damo (formerly Killian Dain in the WWE). This show appears to have a bit of everything for everyone once again. Which match are you most looking forward to as Defy presents Defyant Nights?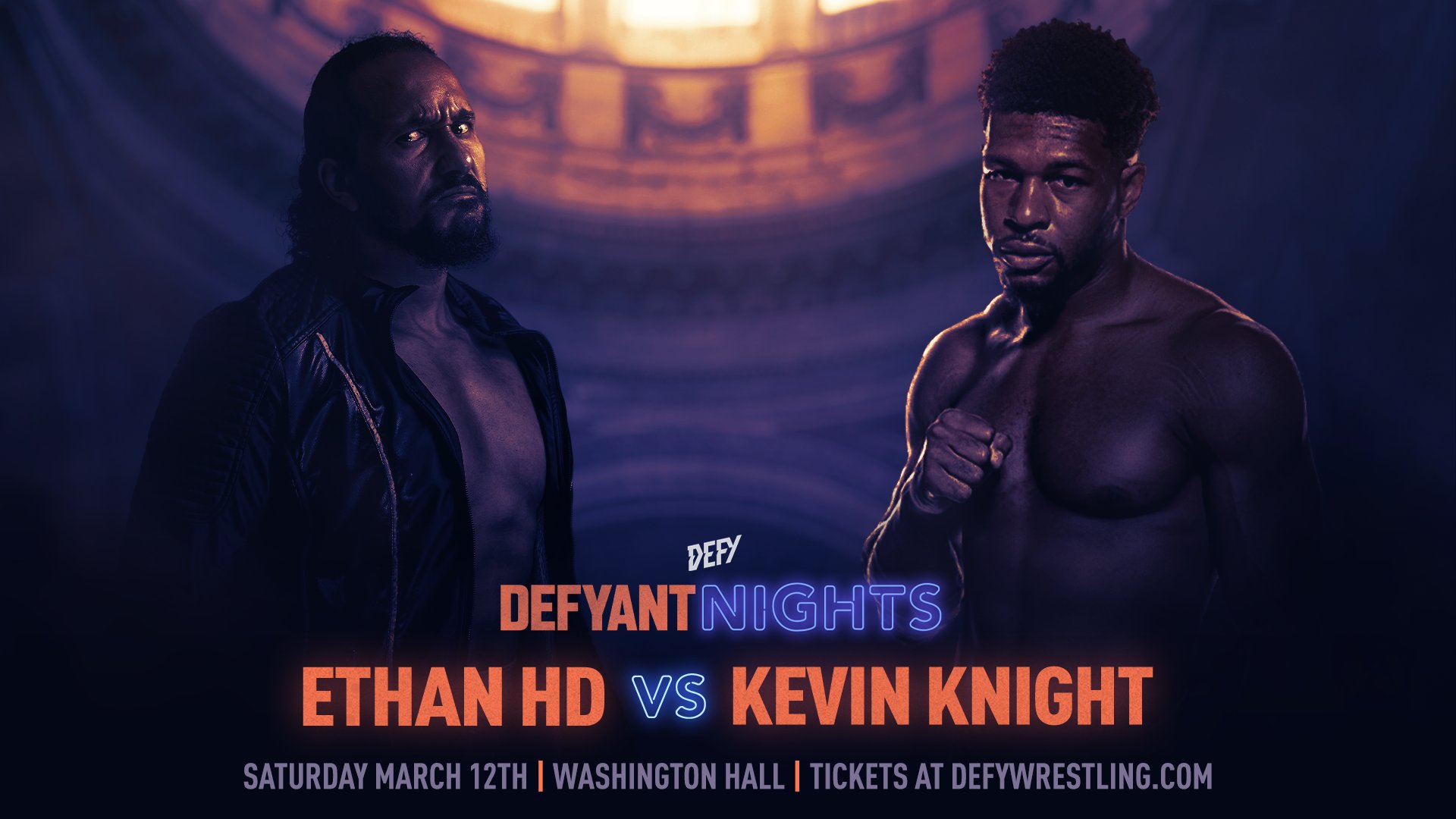 Defy Presents Defyant Nights
Ethan HD vs. Kevin Knight
Last month Ethan HD squared off against Titus Alexander, and this time he faces a complete package in Kevin Knight. The Lakewood, Washington native returns to Defy and looks to avenge last month's loss to Alexander with a win against Knight. For the NJPW STRONG talent, Knight looks to bounce back after he came up short after challenging for the Defy Tag Team Championship's last month.
The former 'Jet' Kevin Knight is coming off a busy 2021 that kept him active as part of the NJPW STRONG brand. But, will Knight be able to parlay his time and matches outside the PNW to success against the ever-improving Ethan HD?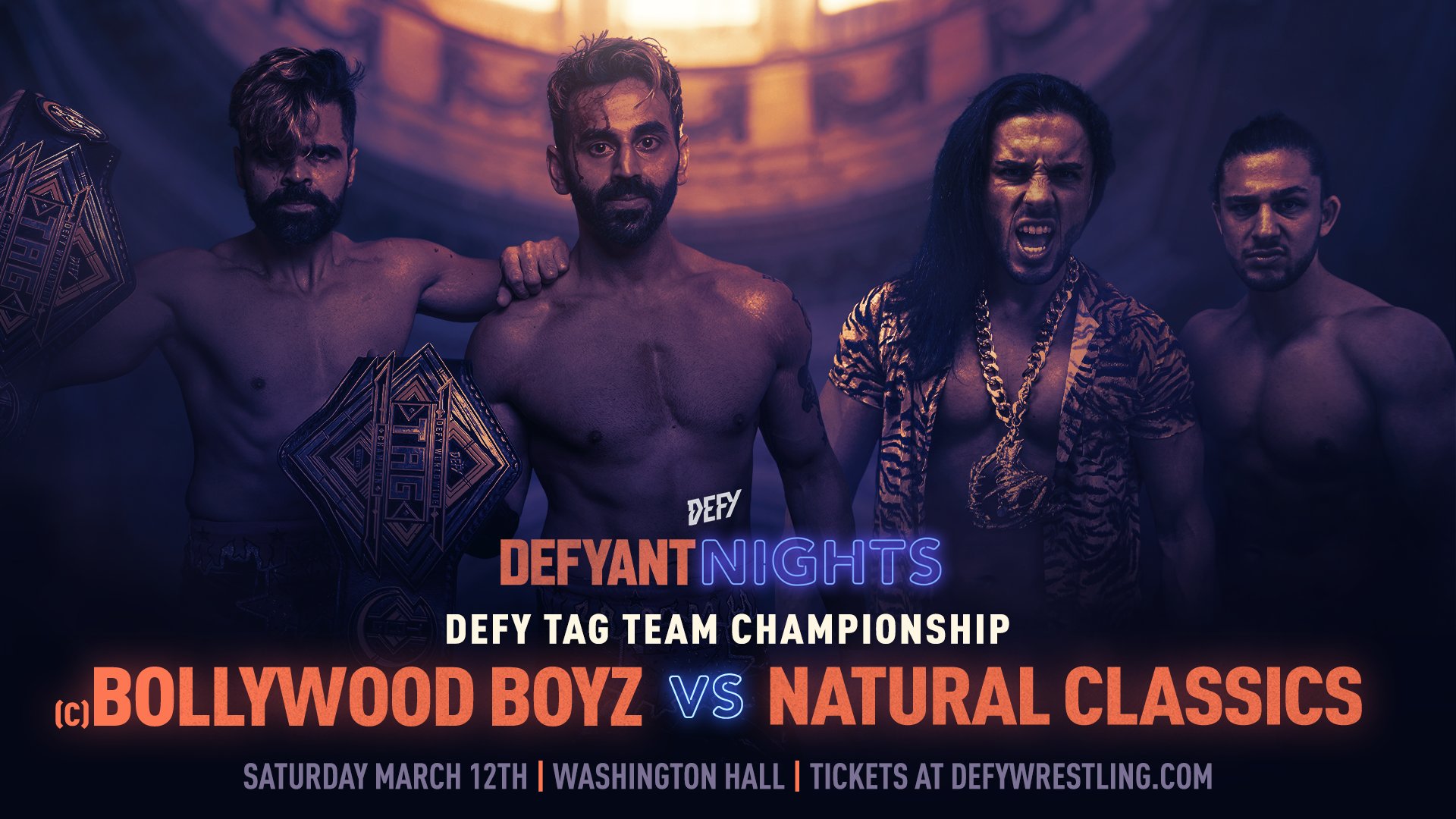 Defy Presents Defyant Nights
Defy Tag Team Championship
The Bollywood Boyz (c) vs. The Natural Classics
Fans can never accuse Defy of being a promotion that rests on its laurels. The Melbourne, Australian team, and current Melbourne City Wrestling Tag Tag Team Champions, Tome and Steve Filip, make their debut at Defyant Nights. This duo are walking right into the fire as they stand across the ring from the current Defy Tag Team Champions, Harv and Gurv Sihra.
In what will be the brother's Sihra's second title defense against another current tag team who are champions. This match marks the first time both of these teams have faced each other. Some may argue this is a battle taking place on neutral ground, with the Bollywood Boyz being Canadian and Tome and the Natural Classics being Australian. We could be looking at an International fight for the ages.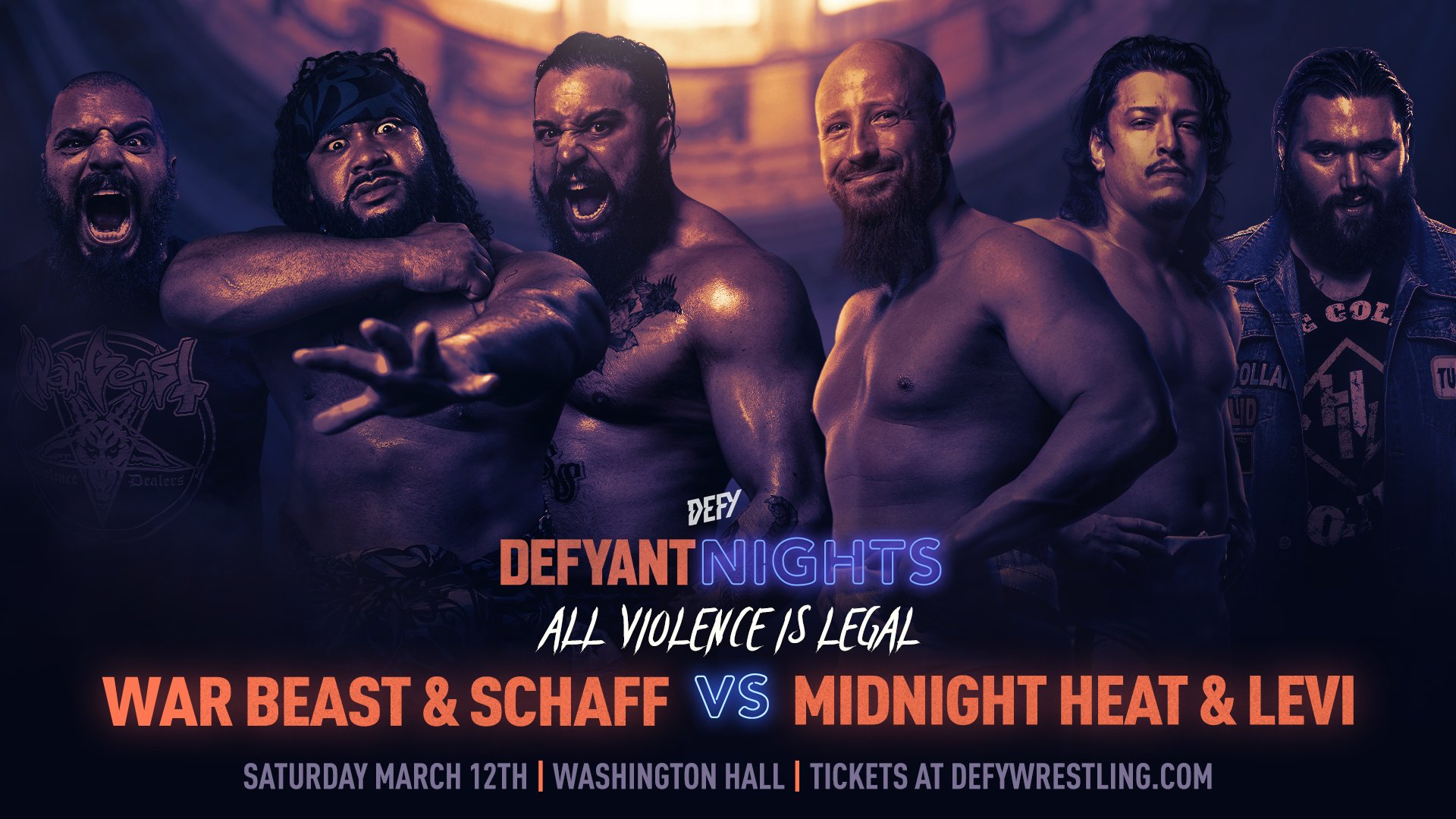 Defy Presents Defyant Nights
All Violence is Legal
War Beast & SCHAFF vs. Midnight Heat & Levi
The term never judge a book by its cover should never be used when applied to looking at the above poster. The trios of Josef Samuel, Jacob Fatu, and the former Defy Champion, SCHAFF, appear as though they're coming for blood. For the former Tucker Knight, Levi returns to Defy after last month's 3-on-2 handicap match in which he and his partners Midnight Heat weren't victorious.
This time, while they won't have the advantage, it appears as though the fierce duo of Samuel and Fatu present this trio with a disadvantage. When we add to the inclusion of SCHAFF, nothing but fear for what could be coming in this match for Gibson, Levi, and Pearl, that said, you only need to have your shoulders down on the mat for a count of three, so anything is possible.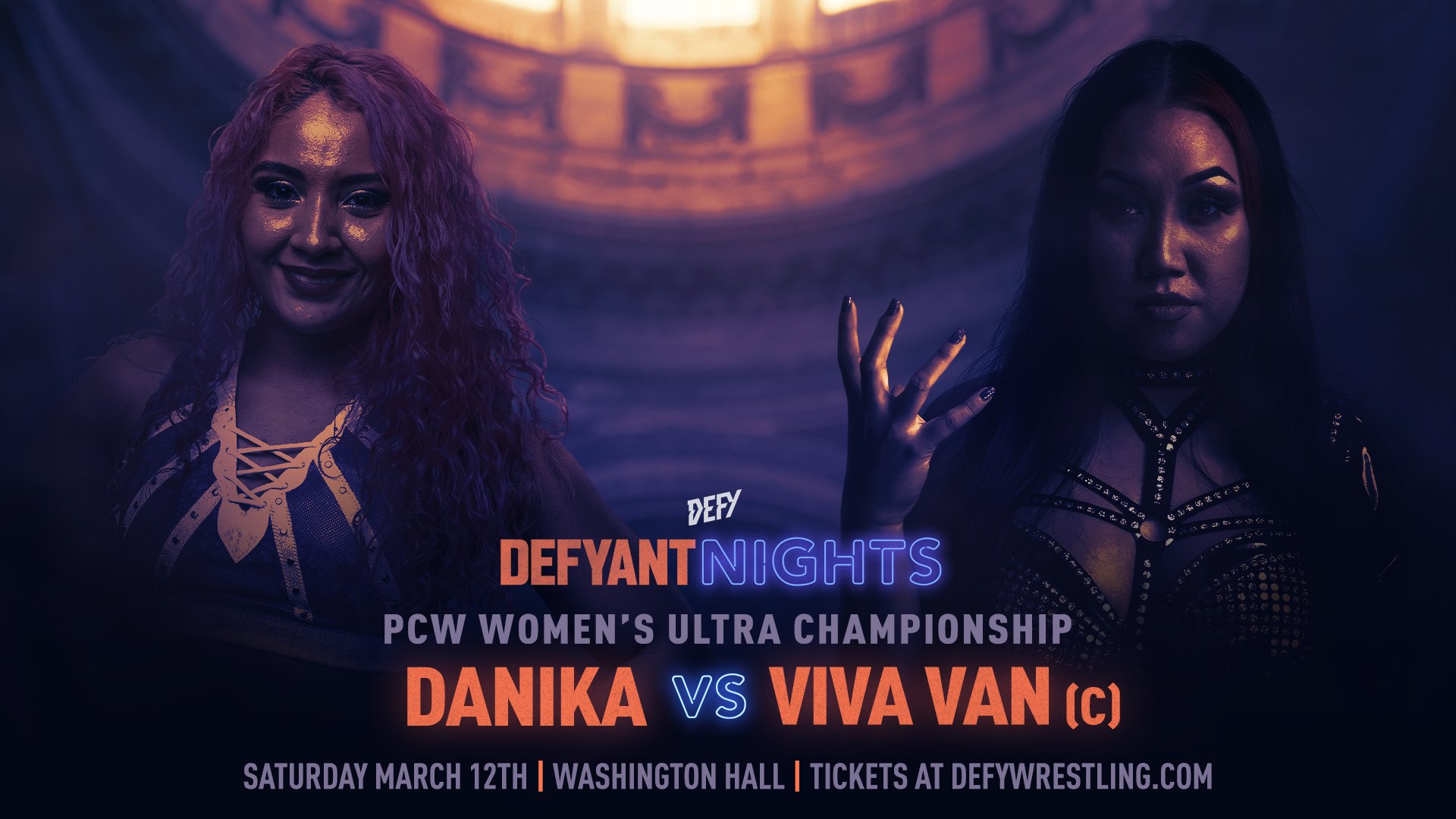 Defy Presents Defyant Nights
PCW Women's Ultra Championship
Danika vs. Viva Van (c)
Seattle's own Danika Della Rouge returns home and to Defy for the first time since 2021. However, this time, Rouge returns with the stakes higher as she is challenging for the PCW ULTRA Women's title. This time, the former trainee of the Buddy Wayne Academy faces someone that is also emerging on the PNW. With Santino Bros Wrestling School trainee, Van is in the 141 Day of her reign as champion.
While she has faced and defeated Danika in the past, it wasn't for the PCW ULTRA title. This time, however, with the stakes higher, it is means the champion has a target on her back, and Danika is set to be the one to fire shots at the champion and walk away victorious.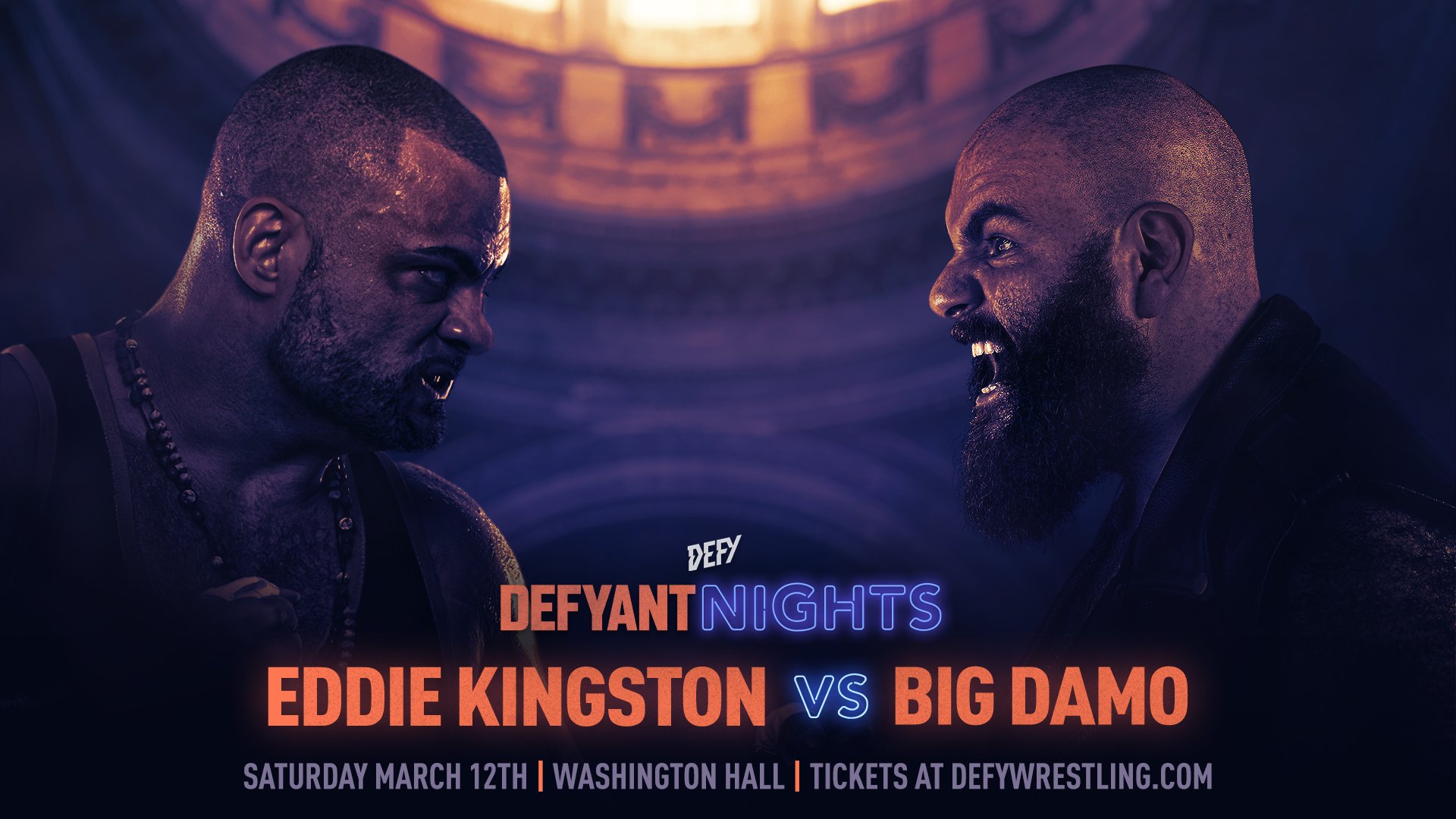 Defy Presents Defyant Nights
Eddie Kingston vs. Big Damo
Big Damo debuts for Defy Wrestling! The former Killian Dain competes for the second U.S-promotion this following up on last week's appearance at Control Your Narrative's debut show. But with a fresh look, Damo comes to Defy to face another man that is as committed as anyone today to his craft. Eddie Kingston, a twenty-year veteran, returns to Defy. While he had intentions of appearing earlier this year, Kingston is here now, and the result will be nothing but sheer brutality.
If there was ever a time when fans could sit back and watch two bears beat each other from one side of the ring to another, it is this one. Kingston may come into this match as the sentimental favorite, but after this showing, 'both these guys' will easily walk out with the fans' support.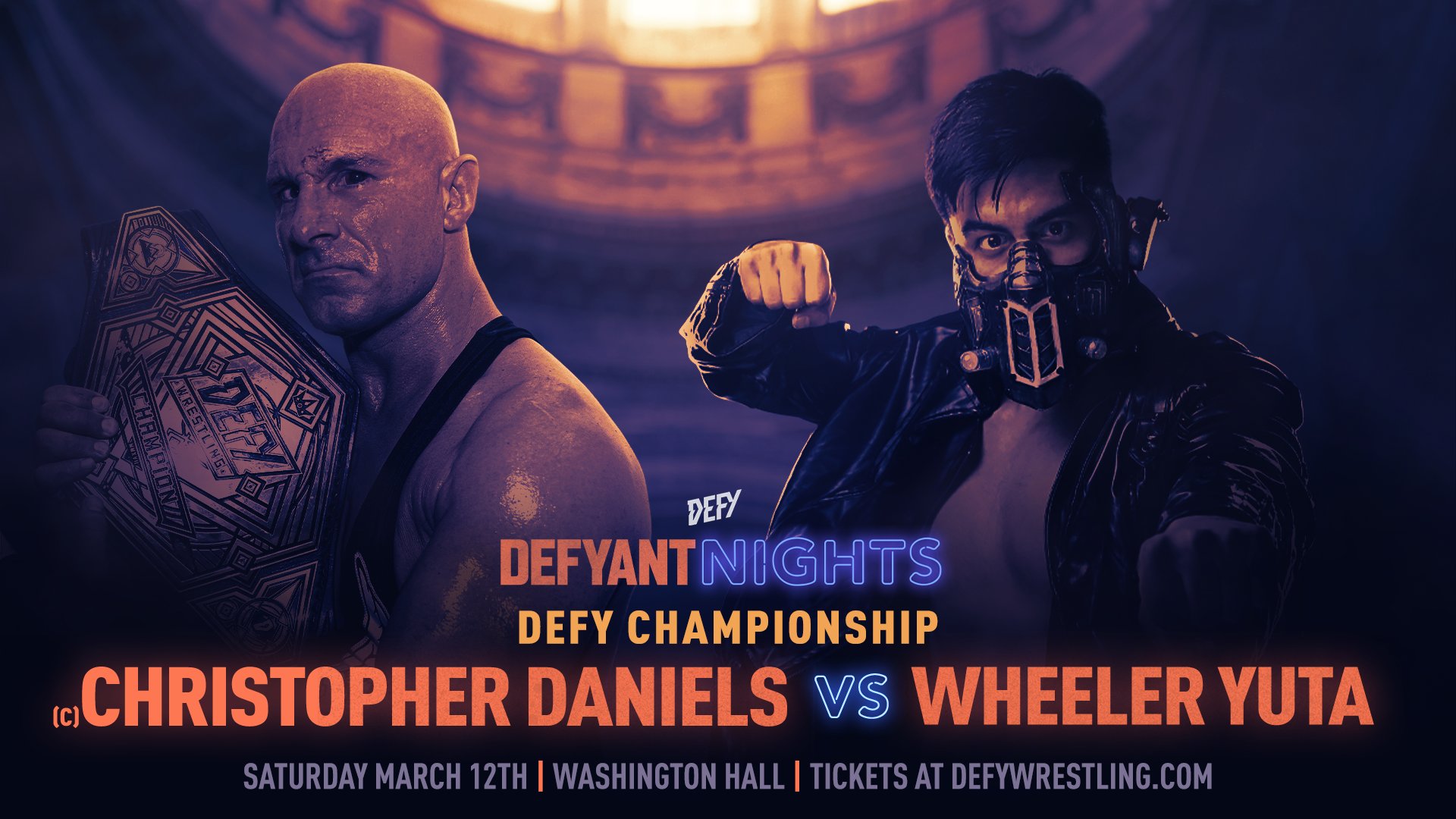 Defy Presents Defyant Nights
Defy Championship
Christopher Daniels (c) vs. Wheeler Yuta
In his third title defense, Christopher Daniels puts his title on the line against a member of the Best Friends, Wheeler Yuta. At 51-years of age, Daniels doesn't appear to have lost a step. An interesting note about this is match is that while both men are with AEW, this is the first time either have faced one another despite working for the same company.
Another interesting fact is Daniels has been wrestling longer than Yuta has been alive. So what does this say about what is in store for Yuta? If the Fallen Daniels past matches are any indication, it could be an uphill battle for the challenger to try and climb.
*****
Stay tuned to the Pro Wrestling Post for this and additional stories from the wrestling world. Readers can rely on Pro Wrestling Post to be their daily source for all things inside the squared circle. As a result, readers can expect daily news, history, and so much more. Please visit DEFY Wrestling's official website here for news and information on the promotion and upcoming events.