On Saturday, February 26th, Topo Chico presents DEFY Wrestling's DEFY 50 event. The show emanates from Washington Hall in Seattle, Washington. As of this writing, there are six matches announced for the event. Fans in attendance will witness a pair of title matches but a match of the year contender on paper.
As we go into the show, those in attendance will witness the likes of interim DEFY Wrestling Champion Christopher Daniels putting his title on the line against NJPW STRONG's Clark Connors. So while eyes may be on the DEFY Championship being up for grabs, it is another match that fans are likely talking about. Which one could that be? Check out our preview of DEFY 50 below to find out who we're alluding to.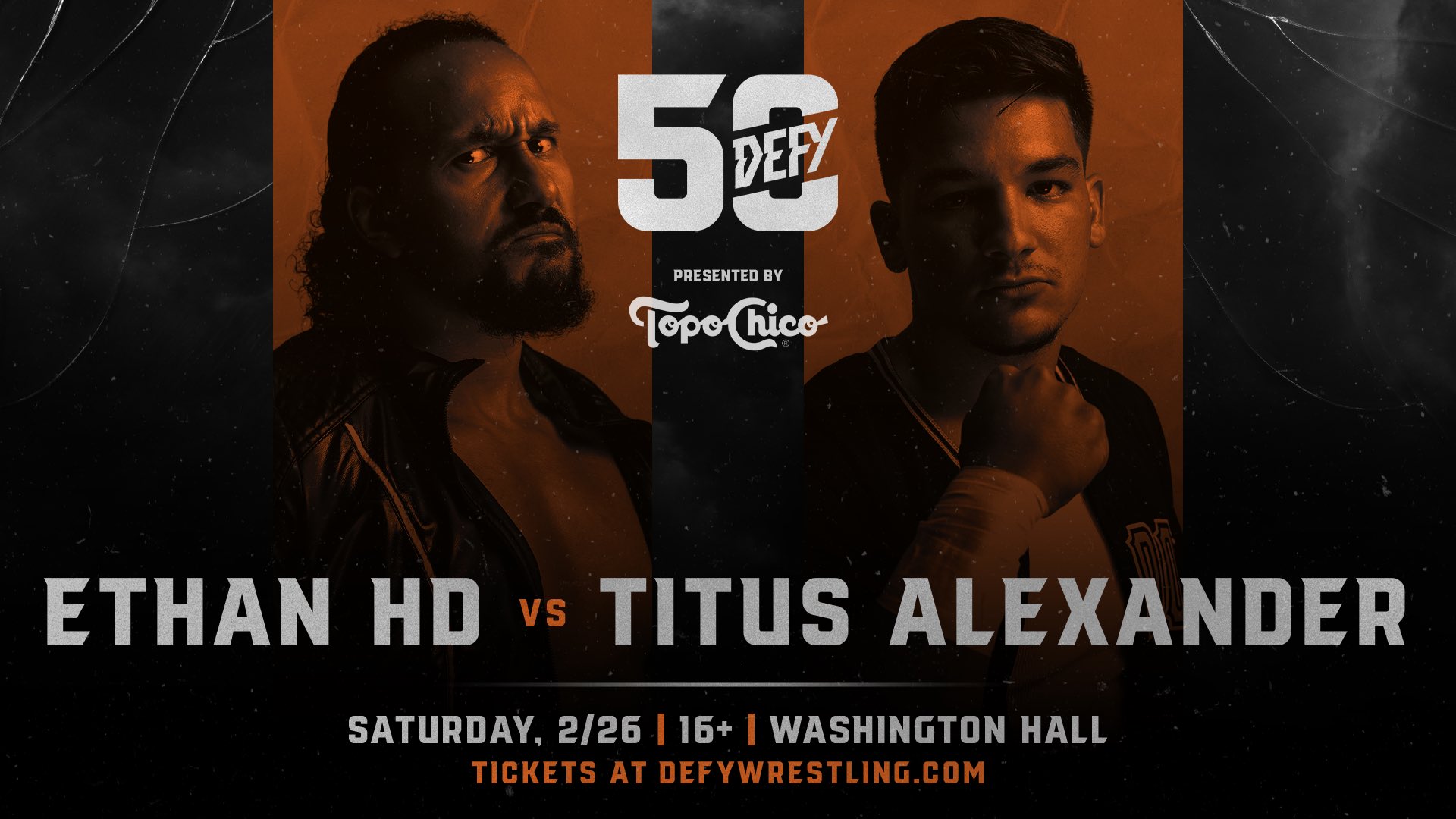 DEFY 50
Ethan HD vs. Titus Alexander
With these two men likely to get the fans at Washington Hall in a frenzy, it is sure to be a match no one wants to miss. The Future Franchise returns to DEFY to face someone that is all too familiar to DEFY's fans. In one match where two men are no strangers to one another, it is sure to be one to stand on your feet throughout. While Alexander is a rising star standing in his way once again is the twelve-year veteran in Ethan HD.
The last time these two crossed paths was part of DEFY's Dark Horse as part of a triple threat match that saw Alexander victorious. With no other men involved, Alexander will have all his attention on the one man that has held titles in the PNW throughout his career. While no title is up for grabs here, pride is as valuable as any title in DEFY today.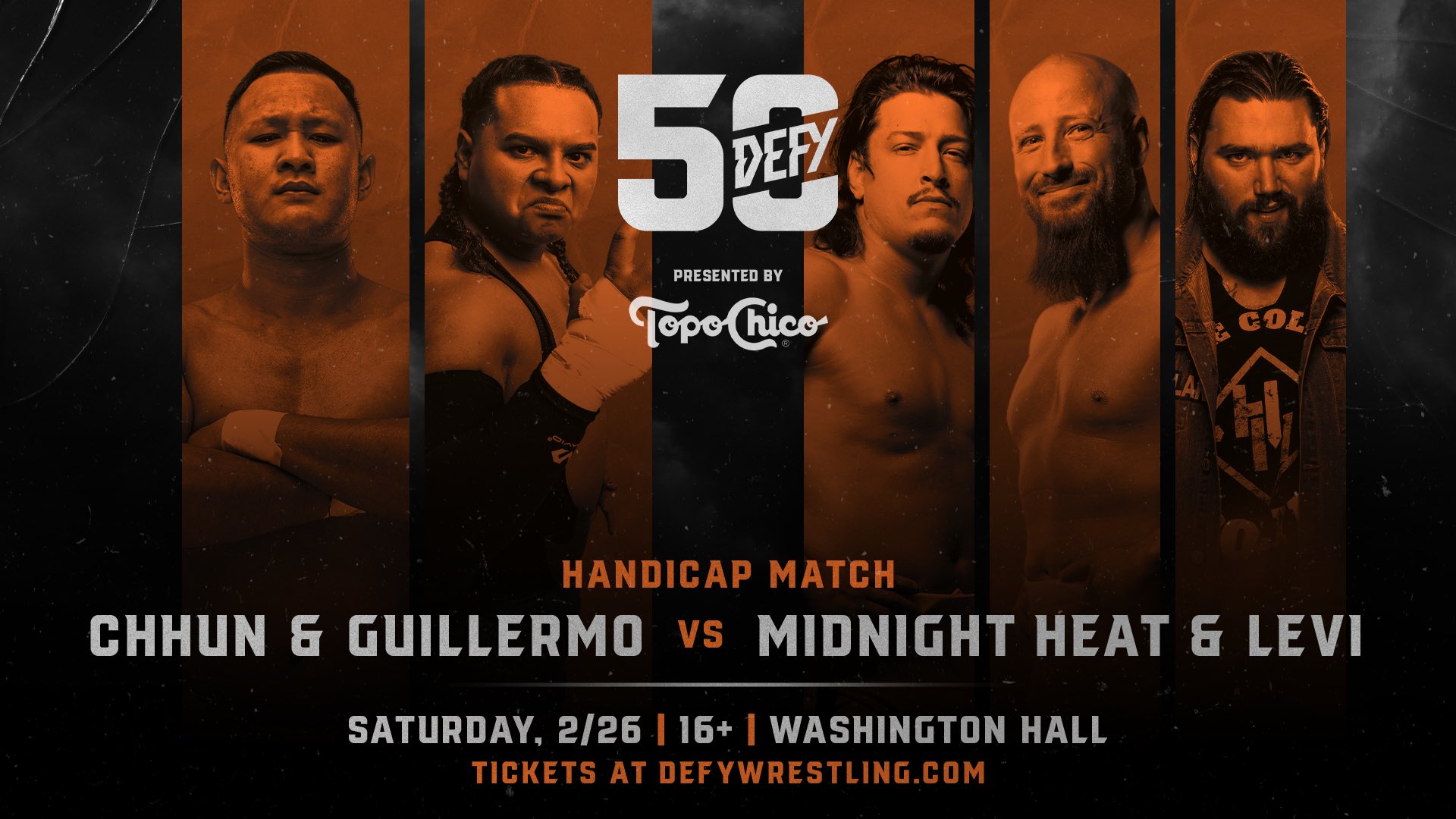 DEFY 50
Handicap Match
'Classic' Cody Chhun & Guillermo Rosas vs. Midnight Heat & Levi
A handicap match is rare. A 3-on-2 handicap is also rare. However, the stipulations of the match are what makes it all the more intriguing. If team Chhun & Rosas win, then Cody Chhun will be reinstated in DEFY. However, if they lose, then Guillermo is out of DEFY wrestling. As the two were interviewed by Jim Valley, they were sure to share that they didn't care what was at stake.
When you are willing to risk it all and lose it all at the same time, the result is hazardous for all involved. Despite being the team that is short-handed and not caring about having to leave DEFY, it is hard to think they are the ones most capable of having their challengers at risk of losing in this match.
DEFY 50
DEFY Tag Championship
Bollywood Boyz (c) vs. Rocky Romero & Kevin Knight
Each of these teams brings something special and unique in their battle. From the journey, Gurv & Harv Sihra have been on from their time in Extreme Canadian Championship Wrestling to their time in the WWE to returning to the PNW, these brothers have come to show just how committed they are to their craft. Across the ring from the brothers, Sihra are men representing NJPW and NJPW STRONG.
Romero is a tag team specialist capturing titles countless times. The former Jet, Kevin Knight, returns to the PNW to bring with him the southern flare that this Georgian native is famous for. Is this the night that Knight returns to DEFY for the first time since 2020 to become one-half of the DEFY Tag Team Champions? Not if the Bollywood Boyz have anything to say about it.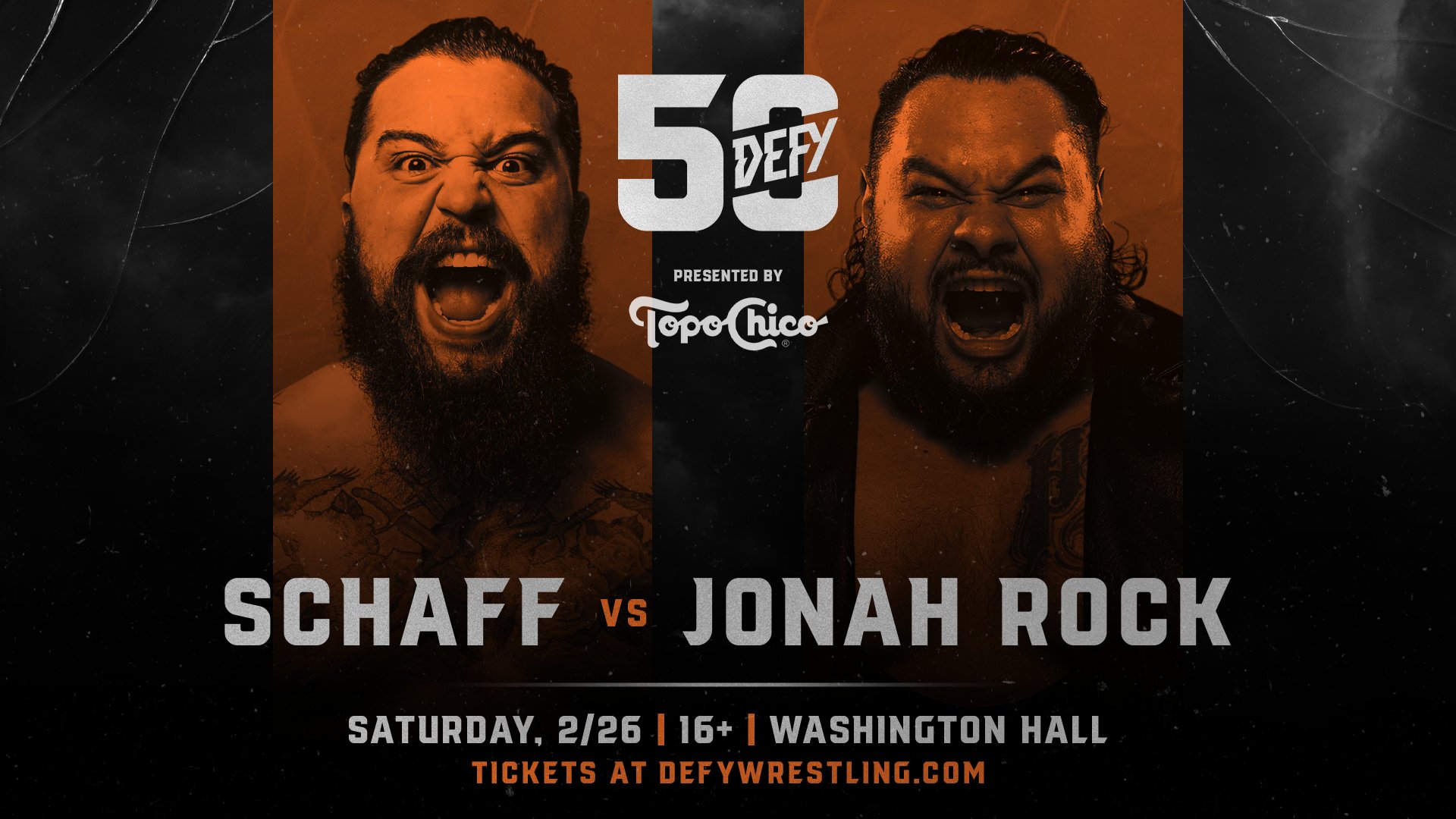 DEFY 50
SCHAFF vs. Jonah Rock
In previewing this match, it is impossible to look at it and not smile. There will be nothing fancy in this meeting of these two monsters. SCHAFF is a long-time favorite of the DEFY faithful, and whomever he's been in the ring with, the ultimate result has been admiration and respect from those in attendance. However, SCHAFF has never faced someone like the top dog, JONAH.
The near six-foot near three hundred pounds, Rock came to the US from Australia earning a name for himself during his time in The Mighty Don't Kneel and later as Bronson Reed in the WWE's NXT brand. Both of these men are sure to come at one another with everything in their opportunity to destroy one another. We hope Washington Hall doesn't crumble from the sheer devastation they are likely to cause.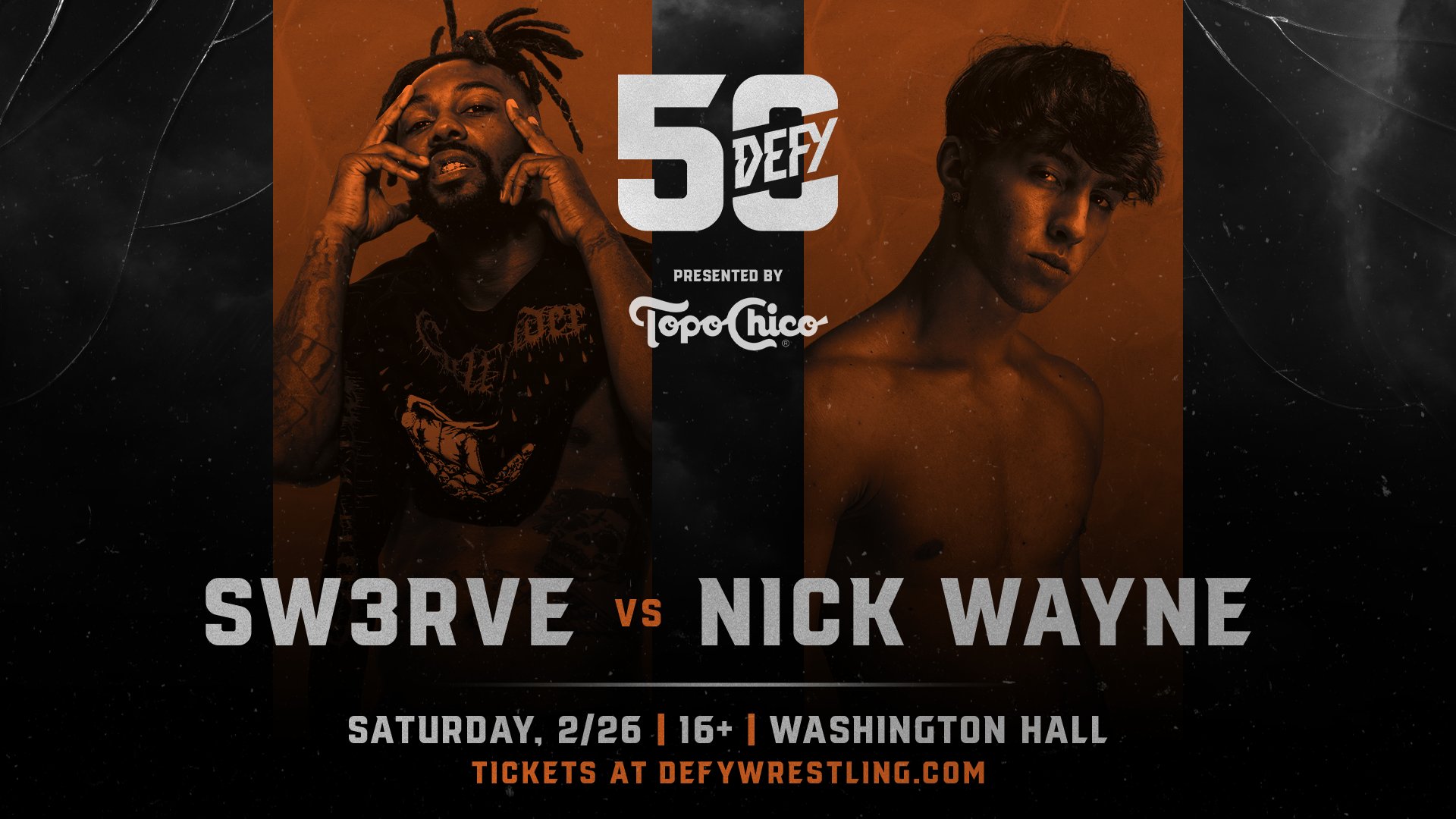 DEFY 50
SW3RVE vs. Nick Wayne
THIS has all the makings of the show-stealer, without a doubt, that fans are talking about. As fans will recall, Wayne was greeted after his match last month by his mentor Darby Allin with a contract. That contract was granted to Nick Wayne by AEW. After this meeting, Wayne was confronted with a man that could be called the man that put DEFY Wrestling on the map. Wayne's performance in the Pacific Northwest and the surrounding areas have made him a much sought-after talent.
One man that has sought to capture Wayne's attention is the man once considered the face of DEFY. The return of SW3RVE comes with the arrival of a whole new competitor. Following his departure from the WWE, the man once known as Shane Strickland returns home as well. SW3RVE's return to Washington Hall brings with it a potential passing of the torch in the PNW.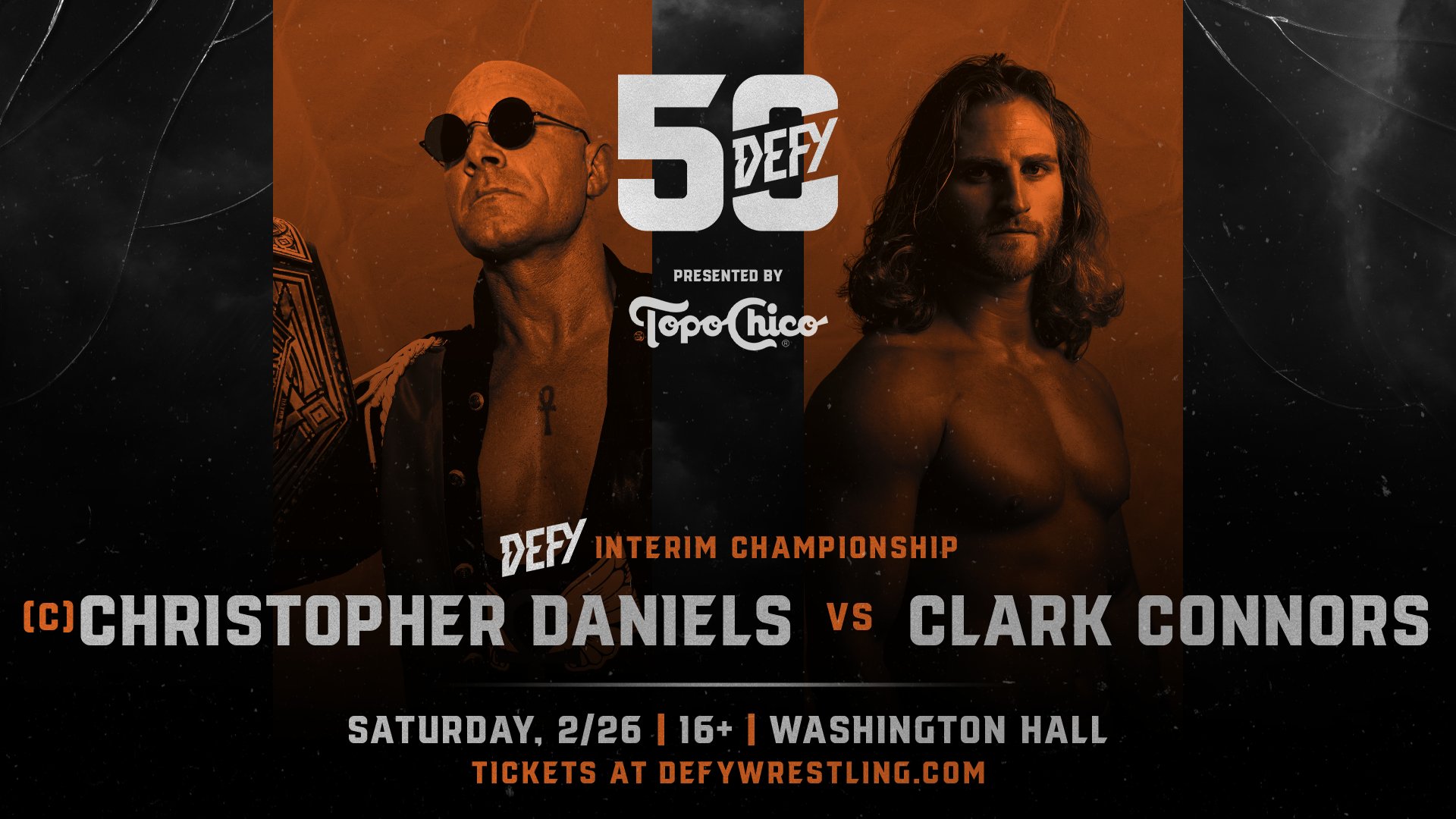 DEFY 50
DEFY Interim Championship
Christopher Daniels (c) vs. Clark Connors
As the Fallen Angel walks, he carries not a cross but a title with him. So while the DEFY Interim Championship isn't something he must carry with guilt, it is something he will have to be concerned about. As he defends his title, he faces a man that stands across from him that is quickly making a name for himself on the American west coast. The Snoqualmie, Washington native, returns home to do more than just visit friends. Connors returns to Washington to not only rise up but to put the Fallen Angel further down. Is this going to be the match and the night that Connors becomes the NEW DEFY Interim Champion?
*****
Stay tuned to the Pro Wrestling Post for this and additional stories from the wrestling world. Readers can rely on Pro Wrestling Post to be their daily source for all things inside the squared circle. As a result, readers can expect daily news, history, and so much more. Please visit DEFY Wrestling's official website here for news and information on the promotion and upcoming events.