At Battleground, with their father in their corner, Cody Rhodes and Goldust challenged The Shield members Seth Rollins and Romain Reigns. Dean Ambrose was in their corner. The stakes were high. If the Rhodes boys won, they would reclaim their jobs in WWE. But if they lost, not only would they remain unemployed but their father's contract with the company would be terminated as well.
After nearly 14 minutes, Cody planted Rollins with the Cross Rhodes. Thus securing the win for his family in a feel-good moment. Though Battleground, as a whole, was negatively received by many fans and critics, the general consensus was that The Rhodes Family and The Shield had one of the best matches of 2013. We present Cody Rhodes part 2.
Cody and Goldust would return to RAW as a tag team. They defeated Rollins and Reigns to win the WWE Tag Team Championship. They would defend the titles against numerous teams, including The Usos and The Real Americans, before ultimately dropping them to The New Age Outlaws, who recently returned to the company.
2014 saw the Rhodes brothers go losing streak that would result in a down-on-his-luck Cody stepping away, suggesting that Goldust find a new partner. After several failed attempts with new, potential tag team partners, Goldust would bring Cody back, though not in the way that fans expected.
Stardust

In June, Cody would return to TV as the character known as Stardust. Wearing a full-body suit and face paint, Stardust was clearly influenced by Goldust. With talks of outer space and the inclination to hiss, similar to Goldust's deep breath and bit. Cody's approach with Stardust, from a public relations standpoint, was old school as well.
While most wrestlers would make talk show and media appearances in professional attire, Cody dressed and behaved like Stardust, as if the character was a separate entity. A number of these appearances are available online and worth watching for those that are curious.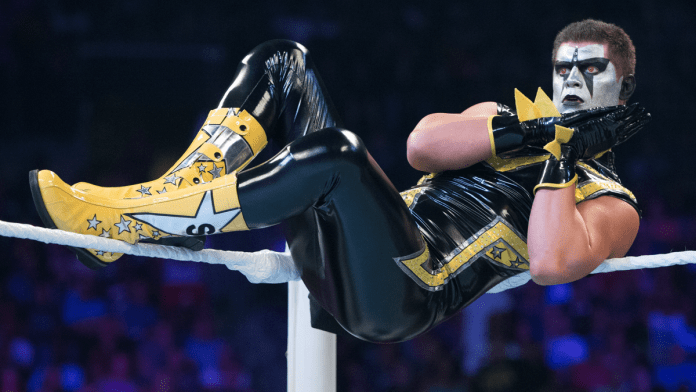 Stardust and Goldust would become WWE Tag Team Champions once more, but the second union of the brothers in face paint wouldn't last. Tensions arose in 2015, as Stardust became a more dominant personality, even to the point where the mere mention of the name "Cody" drew his ire. Stardust would turn on his brother in February, his character becoming even more eccentric than it once was.
 In A Galaxy Far Away
Stardust was involved in a few other programs, some bigger than others, during the remainder of his WWE tenure. His most notable was with Stephen Amell, who achieved fame for his starring role in the superhero TV series, Arrow. Given the fantastical nature of the Stardust character, the feud with Amell made sense on paper.
It worked well in execution, too, as Stardust would partner with King Barrett to face Amell and Neville in a losing effort. This wouldn't be the last time Amell would become involved in pro wrestling, especially in relation to Cody.
In 2016, Cody betted on himself. Outside of WrestleMania 32, where he wrestled as Stardust in a seven-man ladder match for the Intercontinental Championship, he didn't do much of note in WWE that year. In May, he stated that he requested his release from the company. The impetus for this was creative frustration.
On an episode of the Sam Roberts Wrestling Podcast, Cody revealed that the Stardust character was meant to be more along the lines of a unique, modern comic book villain, but it underwent constant changes until it resembled a carbon copy of Goldust. Furthermore, in a statement he made on Twitter, Cody expressed the desire to become WWE's top star, which Vince McMahon and Triple H didn't see. Thus, Cody left WWE.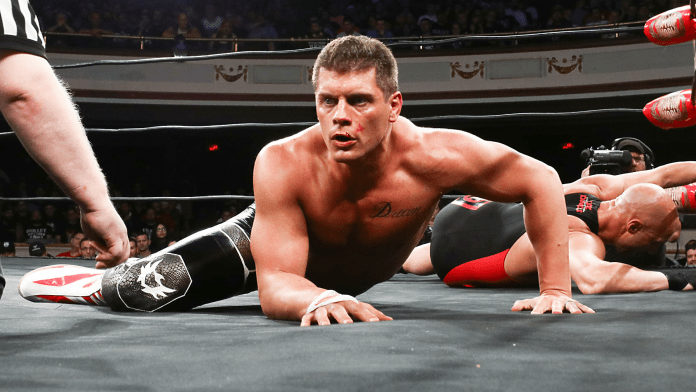 Cody Rhodes Part 2
Out from under the WWE umbrella, Cody worked the independent circuit, wrestling for smaller promotions ranging from Northeast Wrestling to Pro Wrestling Guerrilla. As he moved from one promotion to the next, he would achieve different accolades. In PWG, he competed in the Battle of Los Angeles tournament. In What Culture Pro Wrestling, he became Internet Champion. He was more involved in pro wrestling, making a mark wherever he went, so it was safe to say that he accomplished his goal of exploring different parts of the industry.
This wasn't enough, though, as Cody had greater aspirations. He debuted in Ring of Honor in December of 2016, turning heel against Jay Lethal following a babyface welcome from the fans. The following year, in June, he would defeat Christopher Daniels at Best in the World to become ROH World Champion; this would be the first world championship of Cody's career.
He defended the championship at Final Battle, in December, in a losing effort to Dalton Castle. This wouldn't be Cody's only run with ROH gold, though. Alongside The Young Bucks, Cody would eventually challenge The Kingdom for the ROH World Six-Man Tag Team Championship, where the Bullet Club members emerged supreme.
New Japan Pro Wrestling
Cody's time in New Japan Pro Wrestling kicked off with a bang. Following his announcement that he would be joining Bullet Club, Cody set his sights on the Tokyo Dome. He debuted in 2017 at Wrestle Kingdom 11, the promotion's biggest show of the year, against Juice Robinson. Cody would win and went on to make sporadic appearances for the promotion. The following summer, at the G1 Special in Long Beach, Cody challenged Kazuchika Okada for the IWGP Heavyweight Championship, where Okada emerged victoriously. The following year, at Wrestle Kingdom 12, Cody challenged Ibushi, coming up short in the encounter.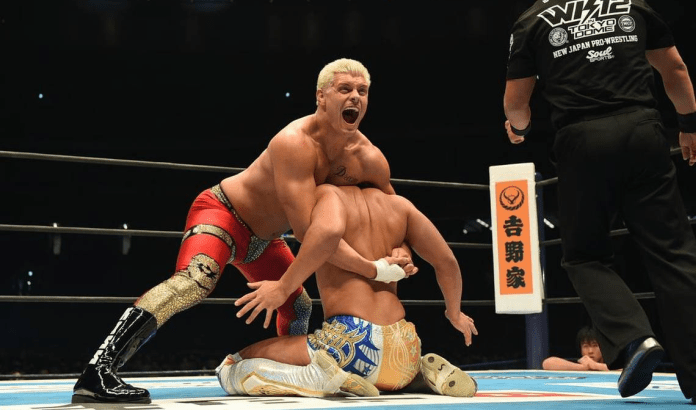 It was during this time that cracks within the proverbial Bullet Club armor began to show. Cody and Kenny Omega, who successfully defended the IWGP United States Championship at Wrestle Kingdom 12 against Chris Jericho, exhibited tension between one another. Fans wondered who the "true" leader of Bullet Club was, especially with certain members fracturing off to form the BC Firing Squad.
Eventually, Cody and Omega would reunite, this time under a more united front. Cody would go on to defeat Robinson for the U.S. Championship at Fighting Spirit Unleashed but lost it back to Robinson the following year at Wrestle Kingdom 13. This would mark Cody's final appearance with NJPW.
All Elite Wrestling
This brings us to All Elite Wrestling, which is where the majority of Cody's focus will be moving forward. Not only will he provide his services as an in-ring talent, but one of the three executive vice presidents, The Young bucks, Matt and Nick Jackson, being the other two.
With the three stars being good friends outside of the ring, as evidenced by their "Being the Elite" YouTube series, their involvement in AEW should come as no surprise. Given the competitive nature of professional wrestling, especially from a business standpoint, the promotion would have to stand out to fans and prospective talent alike.
One of the perks expressed by Cody Rhodes at the All Elite Wrestling rally was freedom in terms of outside commitments. Chris Jericho, for example, will work for AEW but still be able to work his cruise. The same can be said for Joey Janela, another AEW signee, and his Spring Break event. In terms of insurance, not unlike WWE, any talent that's injured in AEW will be covered.
Compensation was arguably the most noteworthy perk; male and female talent will be paid fairly, regardless of gender, and make more money in AEW in the process. Benefits such as these will understandably catch the attention of free agents determining where they should set their sights. Simply put, AEW is a promotion developed with the talent in mind.
Cody Rhodes is All Elite
One can argue that All In, where Cody Rhodes successfully challenged Nick Aldis for the NWA World Heavyweight Championship. It served as a proving ground for AEW. Would fans want to see a promotion capable of holding shows like All In? The reception has, so far, been largely positive. With a talent that has the experience and lineage of Cody at the helm, the excitement within the pro wrestling world is justified.