Bret Hart, Edge, Roddy Piper. The list of great Canadian wrestlers is endless. In 2016, two of the greatest Canadians of the current era, Kevin Owens & Chris Jericho, formed a formidable team that carried Raw through the early parts of the brand split. This is the story of the rivalry between Chris Jericho vs Kevin Owens. However, as is often the case in wrestling, this friendship was never made to last.
Owens would eventually dramatically turn on Jericho. In a rivalry that would include championships, festivals, and a WrestleMania match.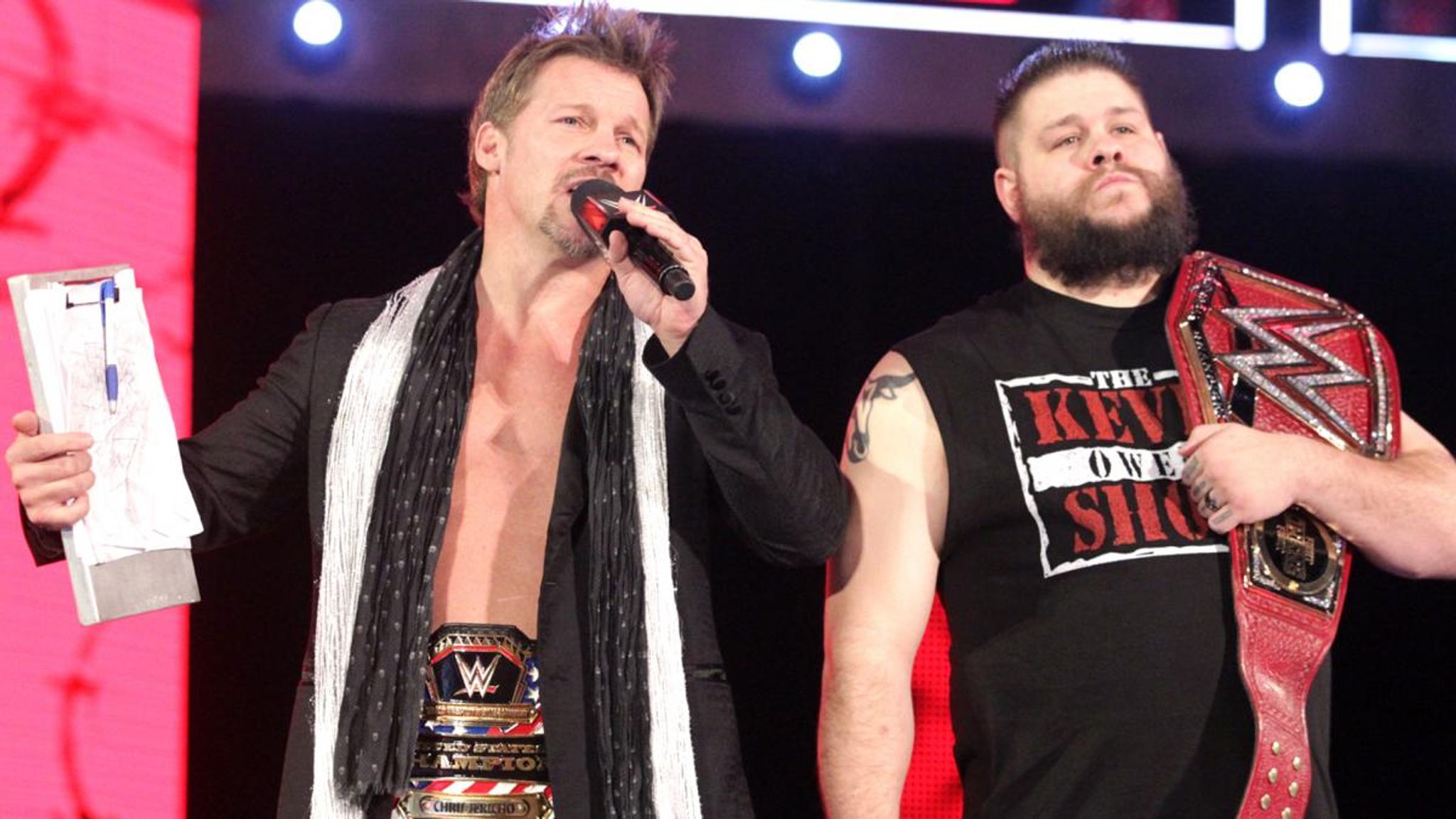 An Unlikely Friendship Forms
To understand the rivalry, it's important to go back to the very beginning, to when the two men first crossed paths. On Smackdown, April 21st 2016, Kevin Owens and Chris Jericho fought against Sami Zayn and Dean Ambrose in a tag team match. This was to promote matches between Zayn and Owens, and Jericho and Ambrose at the forthcoming Payback show.
Kevin Owens was told to celebrate winning the match incredibly dramatically. This was despite the fact that Jericho had done most of the working attacking Ambrose, giving Owens an easy pinfall.
 "Vince was very specific before," Owens explains on Talk Is Jericho. "He was like, 'Well, when Chris pushes Ambrose and you get the victory, you act like it's all you…it's a huge moment for you, like you just won the Stanley Cup.'"
– Kevin Owens on the "Talk is Jericho" podcast
Vince McMahon reportedly found the moment hilarious, thus planting the first seeds of the boss pairing the two together as a duo. They would continue to interact in backstage segment's. They would often crosspaths as they were two of the most over heels on Raw at the time. The official pairing began when Jericho needed a partner to face Enzo and Cass, as he was feuding with the two that August. Owens would volunteer to aid him, leading to Jericho declaring Owens as his best friend for the first time.
The Unexpected Push
Jericho and Owens would defeat Enzo and Cass at that months SummerSlam. That same night, Finn Balor was crowned the inaugural Universal Champion. Balor would unfortunately have to relinquish the title immediately, due to suffering a shoulder injury during the match. On Raw one week later, Owens would win the vacant Universal Championship to the surprise of the entire WWE universe. Owens beat Seth Rollins, Roman Reigns and Big Cass in an elimination fatal four-way, with the surprising help of Triple H, who betrayed his former ally in Rollins.
This victory would change the dynamic of the Jericho and Owens friendship. The pair were now the headline act of Raw every week.  At Clash of Champions, Rollins would get his deserved match for the title. After a referee bump, Jericho would become heavily involved in the match causing multiple distractions and interferences to help Owens retain. Rollins received another chance at the belt inside hell in a cell. Jericho managed to sneak into the to again ensure his best friend walked away with his championship.
Chris Jericho vs Kevin Owens – The Cracks Begin to Show
At Roadblock: End of the Line, Rollins would get his chance for revenge on Jericho in a one-on-one match. Owens tried to interfere but accidentally distracted the referee whilst Jericho was pinning Rollins. Rollins kicked out, only thanks to the delayed count, and beat Jericho with the pedigree. Jericho was furious with Owens after the match. Owens banged on Jericho's locker-room door and apologized, but Jericho wouldn't come out to talk to him.
Owens defended his belt against Roman Reigns in the main event. After a grueling match, Jericho hit Owens with a codebreaker. He teased, turning on his best friend, even holding and eyeing up the Universal Championship. It was all a rouse, however, as Owens won the match by disqualification, retaining his belt, and embracing his best friend afterwards.
Two weeks later on Raw, in a two-on-one handicap match, Jericho teamed up with Owens to defeat Roman Reigns. Despite the two vs one stipulation, the match was for Reigns' United States Championship. Jericho, who scored the pinfall, would be crowned the new champion. Despite both men now holding gold, Jericho still made hints towards winning the Royal Rumble and challenging Owens for his belt as Wrestlemania.
Ultimately, he'd be unsuccessful, despite finishing in the last four of the matches. Earlier in the night, Owens would also defend his title again against Reigns. Jericho was forced to watch the match from a shark cage above the ring. He was still able to drop a pair of brass knuckles to Owens. Along with a Braun Strowman interference, Owens would yet again retain his belt, just.
Chris Jericho vs Kevin Owens – The Festival of Friendship
During a promo, Goldberg would interrupt Jericho and Owens, and demand a Universal Championship match at Fastlane. Jericho would accept the match on behalf of his best friend, to the frustration of Owens. In order to repair some of the new issues in their friendship, Jericho planned the 'Festival of Friendship.' On the 13th February edition of Raw, Jericho planned a festival to show Owens how much their relationship meant to him.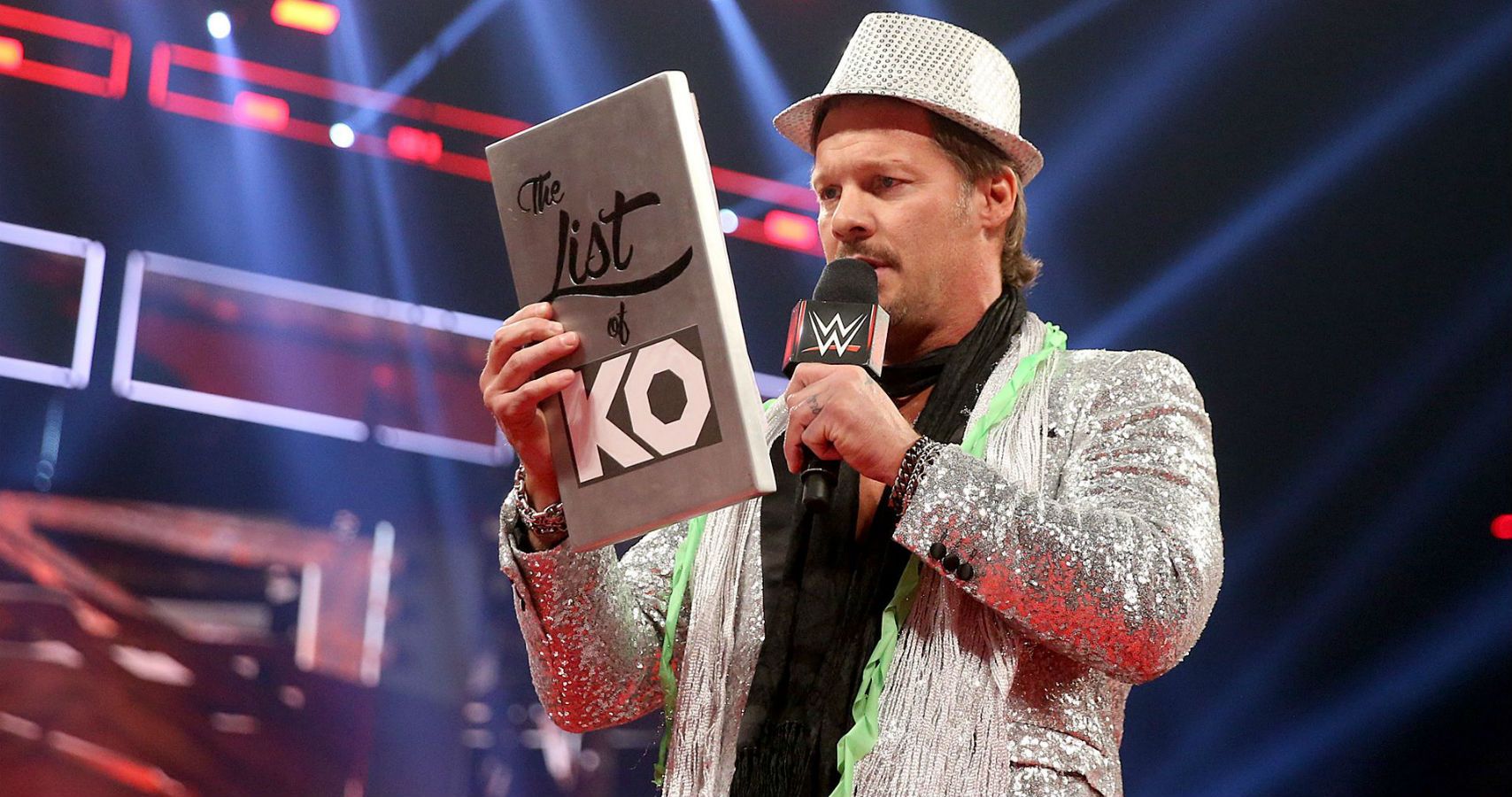 Jericho would firstly gift Owens with an intertwined statue of two people, representing their bond. Secondly, a romantic esc picture portraying the 'creation of Kevin.' Finally, a magician named 'friendship the magician,' whose tricks failed to impress an already frustrated Owens.
As one last act to cheer up Owens, Jericho arranges for Goldberg to come to the ring. Instead, Gillberg returns, only to receive a viscous beatdown. Owens would then present Jericho with a gift of his own, a brand-new list. Jericho says the famous line, 'how come my names on this.' He's then attacked by his now former best friend. It turns out the list was actually, the list of 'KO.'
Chris Jericho vs. Kevin Owens – The Flagship Rivalry Ends in Disappointment
At Fastlane, Goldberg would defeat Kevin Owens to win the Universal Championship. Chris Jericho entered mid-way through the match to distract Owens and cause the title change. Unfortunately, this meant Owens and Jericho would not compete for a World Championship at Wrestlemania. Jericho frustratingly explained his thoughts on this decision to 'Inside the Ropes' four years later.
"There's no bitterness when I tell this story or no anger; it's just the way it is," Jericho explained. "I've been working in this business for a long time. So you mentioned Kevin Owens and Jericho and we had the best story on the show for months. One of the original plans from Vince's (McMahon) mouth to my ears directly was the main event of WrestleMania, was going to be Jericho vs Owens for the world title, and Jericho wins the title, for the first time ever as a babyface. I've never been a babyface world champion ever. Weird to think of it, right? Seven-time champion as a heel."
"Next week the plans changed, which Vince did not tell me, Goldberg vs Brock for the title, because that's what they wanted to do," Jericho said. "That's fine. Maybe from a marquee standpoint, that might have been a bigger money match, but from a story standpoint ours was worth more. But we went from the main event to being put on second. That's an insult, because the second match is just another match. Either you're on last or you're on first, and maybe the semi-main event. But that's it, those are your big money spots at WrestleMania."
– Chris Jericho shares his thoughts on WrestleMania 33
Owens and Jericho's Wrestlemania match was ultimately disappointing. In a lacklustre contest, for Jericho's title, that didn't represent the quality of their story, Owens would beat Jericho with the powerbomb to the apron.  Owens however, would leave the arena disappointed. Vince McMahon would very bluntly tell Owens afterward, that he wasn't happy with the match at all.
Chris Jericho vs Kevin Owens – Crossed Paths For The Final Time?
Jericho would win his title belt back at the next pay-per-view, Payback. On the May 2nd 2017 episode of SmackDown Live, the two would have their final singles match. Owens would this time be the one to reclaim the Championship. The prizefighter won after three 'pop up powerbombs.' The final ever meeting of the pair would come in a triple threat match, on the 25th July 2017 SmackDown Live show.
Jericho would make a surprise return to face Kevin Owens, and his new enemy AJ Styles, for the United States Championship. Aj Styles would steal the title after pulling Owens off Jericho to pin him himself, after Owens had hit Y2J with a frog splash.
The two best friends turned bitter enemies have not crossed paths in the ring again, to this day. Jericho states the disappointing end to their rivalry as a key factor for him in leaving the company. With Owens recently signing a new deal with WWE, and Jericho actively involved in weekly AEW television, it seems unlikely these two will face off again in the near future. However, in wrestling, you just never know.