The Wednesday Night Wars took an interesting turn this week when AEW Dynamite ended in a brawl between Chris Jericho and Mike Tyson. Earlier reports indicated Tyson had an interest in doing a pro wrestling match. The only question was who his opponent would be, and it seems we have our answer in Le Champion. In an interview for ESPN, Jericho gave some insight on how it came about and what might happen with Tyson in AEW.
When asked about how the angle came about, Jericho had this to say:
"As far as I'm concerned, I've been working with Mike for 10 years,". Probably seen each other half a dozen times and appeared on camera four or five of those. I know Mike. I think when the idea came for him to be involved with us at AEW, the natural pairing was with Chris Jericho. Plus, we have a story. Last time we were in the ring together, he knocked me out. There's the story. Whether you're into wrestling that much or you're not, it's very cool. And you have two performers that have been in the spotlight for 30-odd years that are arguably at their biggest for drawing buzz right now."
"Obviously, the idea is to do something more," said Jericho. " That's the thought process, I think between both parties. What that is at this moment, we're thinking and discussing. Look, Chris Jericho versus Mike Tyson in a wrestling match, in a street fight, in a boxing match, would be big. Whatever he feels comfortable with, I can make it good. That's what I do for a living. That's what I've been doing for 30 years."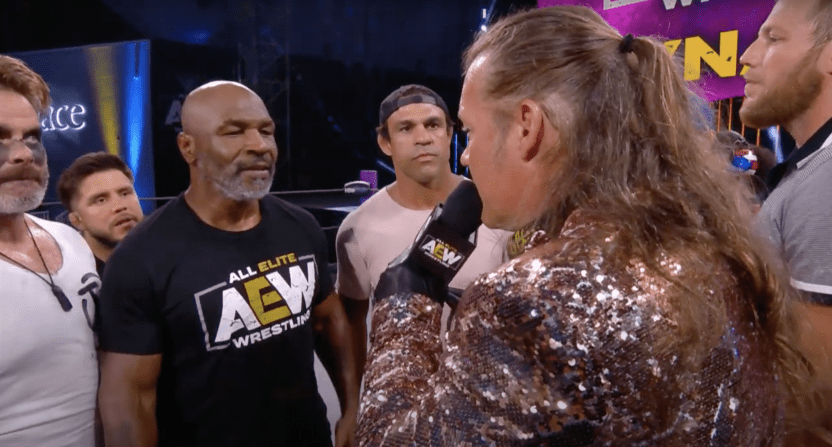 Chris Jericho Discusses Mike Tyson In AEW
The inaugural AEW Champion also speculated on how he would fare in a boxing match with the former WBA, WBC, and WBF champion. "I'm not Mike Tyson. I'm not 1/1,000th of Mike Tyson, but I've been boxing for six years. I know how to box. I could win fights on my own against people of my skill level."
Nothing has been booked for Tyson in AEW just yet, but there may be more lucrative offers on the table. Evander Holyfield has said there's a good chance he and Tyson have a third bout. There's also speculation that Tyson Fury could defend his WBC Heavyweight title against the 53-year-old former champion. But it's safe to say this isn't the last we'll see of Mike Tyson in AEW.
Be sure to stay tuned to the Pro Wrestling Post for this and additional stories from the wrestling world. Readers can rely on Pro Wrestling Post to be their daily source for all things past and present inside the squared circle from around the globe. As a result, readers can expect daily news, history, and so much more. Please visit All Elite Wrestling's official website for more information as well here.