The CTV affiliate here in Montréal had a fantastic track record for broadcasting wrestling shows every Saturday at high noon. According to many an aficionado, this association went way back to the days of the territories, wrestling at its finest. In the early to mid-1970 s, the station ran a local fed known as Grand Prix wrestling.
It had no official link at all to Emile Duprée's Atlantic Grand Prix wrestling. The Montreal promotion, which had as its rival All-Star wrestling run by the Rougeau clan, was run in fact by Paul Vachon. One Saturday show just blew me away. A new act was introduced, The Chris Colt Experience.
Colt was unlike any other performer I had witnessed before. He wore Alice Cooper-type makeup and was unique at the time in that he used intro music as well as exit music. He would make his way to the ring to Welcome to My Nightmare while leaving to No More Mr. Nice Guy.
He also made use of the top rope elbow drop as a finisher. While his time in Grand Prix was relatively short, Colt left an impression on me that would last for decades. As the years went by, I undertook quite a bit of research on his career and came across some fascinating information that reinforced Colt's place as a true innovator and trailblazer. While he might have had more baggage than the Samsonite warehouse, he left indelible impressions everywhere he went.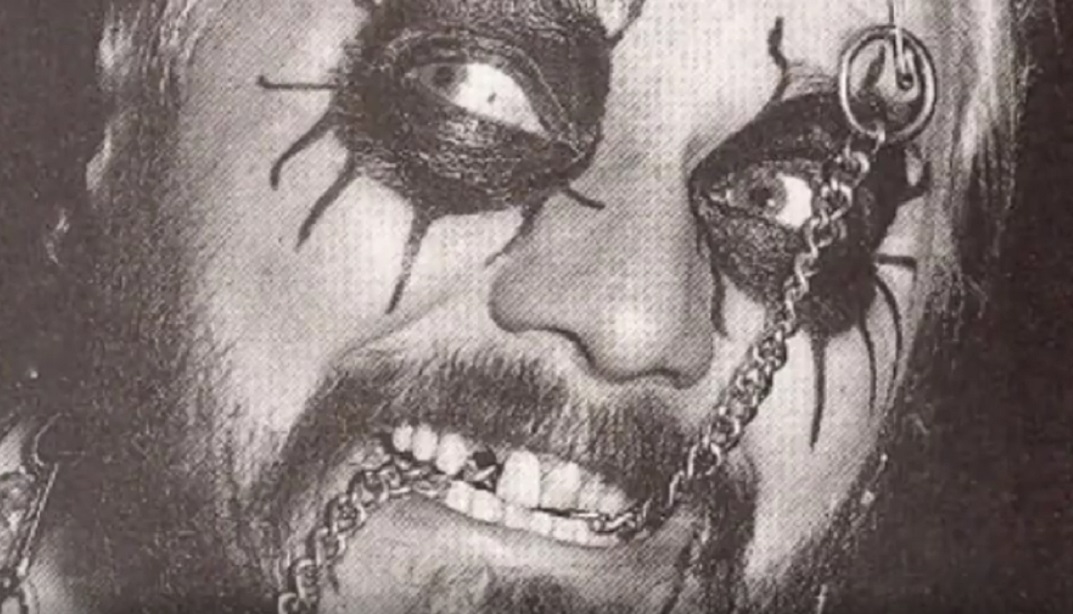 Chris Colt – His Early Interest
Born Charles Harris in the 1940s in Idaho. Chris Colt became fascinated with wrestling at a very young age. His family moved to Oregon when he was a boy, and his first contact with the sport saw him hook up as a caddy for Don Fargo, who had a storied and outlandish career spanning decades.
Fargo had more than a dozen different personas and was known to take kayfabe very seriously and kick the gong around wherever he traveled. It appears that Mr. Fargo heavily influenced Chris Colt.
Colt found his way to Massachusetts and broke into the business as Magnificent Maurice Chevier. It was there that he met up with Russell Groves, who was ten years his senior. The two formed a tag team as kayfabe brothers, Ronnie and Paul Dupree. Partners in the ring, they were also a couple in real life at a time when taboos and obstacles were seemingly everywhere.
They made no efforts to hide their relationship in the dressing room and on the road yet had to be discreet given the times. Colt hence goes down as one of the very first performers to openly manifest his preference. Avant-garde and courageous beyond the shadow of a doubt.
Being discreet also meant being respectful and smart. Colt never resorted to making a caricature of his orientation a la Sonny Kiss. The partners portrayed biker brothers, leather, chains, and all. They even named themselves California s Hells Angels. And Hell, they raised mainly wrestling in Detroit, where they became NWA  tag team champions in a top-rank promotion run by Paul Farhat, the  Sheik, often imitated, never duplicated.
Chris Colt – Movement from Mid-West to Arizona
The couple grew tired of the Mid-West winters and did what the smart money did, and moved to beautiful sunny, and dry Arizona.
There they continued to draw more heat than a strip of Reynolds Wrap in a tandoor oven. They performed regularly at a Phoenix venue known as Madison Square Garden, a tribute to the house that Bruno built. Upon arriving in the South West, the real-life Hells Angels bikers let the promotion know they were very unhappy with the characters portrayed as members of their association. These were not cats you wanted to mess with. The tag team was renamed the Comancheros.
One night, the duo decided to burn an American flag on TV. Too bad Rick Monday was nowhere to be found. The outlet that broadcast that incident got into huge trouble with the F.C.C. and, as a result, lost its broadcast license; ouch!
The pair had a living beyond the edge mentality outside the parameters of performance. Their whole life was a show. In one famous incident, they paraded around a hotel with a small white tiger on a leash.
In the Fall of 1976, Ronnie Dupree died of a heart attack during a gig as a ring announcer. He was only in his early forties. Colt carried on his career as a singles wrestler. He dropped the biker gimmick and re-invented his character as a hard rocker. He was active until 1986 but took on fewer gigs over time.
The elephant in the room was Colt's issues with substance abuse. Not even a struggle but a conscious choice to live each day like it was to be his last. An Arizona performer named Bill Anderson said that Colt downed a crate of beer and a bottle of Southern Comfort daily. Another worker, Greg Lake, who knew Colt in the North West, claimed Chris told him that he could never work when he was not high.
Infamous Incident in Phoenix
There were occasions, of course, when Colt lost control. In an infamous incident in Phoenix that took place in 1975, Colt hallucinated during a cage match seeing spiders all around. He fled the venue fighting with both the fans and arena security. In research on Chris Colt about 5 years ago, one came across a Grand Prix wrestling clip where he took on Canadian Peter Caperella, an enhancement talent performer very active on the Canadian scene.
Sadly, the audio portion of the clip has been deleted for copyright reasons. When it was first seen, the audio portion was very present. At about the two-minute and ten-second mark, Colt appears to stagger during a momentary lapse in the proceedings. During the post-match interview with the legendary George Cannon, Colt forgot his name, slipped out of character, and apologized.
Gimmicks & Personas
Colt last wrestled in Alabama in 1986, adopting a neo-nazi gimmick and going under the name of Chris Von Colt. Afterward, he went incommunicado until his passing in Seattle in 1996. Colt was way ahead of his time in so many aspects of his brief life. In terms of the art form that is wrestling, he used entrance music years before it became popular, outrageous costumes, and face make-up as well.
He always worked the crowd to the max and even innovated moves that were spectacular at the time; his third rope flying elbow broke ground as a finisher in an age when a body slam was a viable finish.
Forty years ago, we did not have anything close to the mechanisms in place today. What we now have is there to aid and overcome substance abuse issues. Had he been given a chance to make use of them, Colt could have been as well known as Rick Flair, Randy Savage, etc.
While relatively obscure, especially to younger fans, Chris Colt in my paved the way for several notable wrestling stars.
Chris Colt – His Influence on Others
From the likes of Kevin Sullivan, Legion of Doom, Jesse Ventura, Raven, Jon Moxley, Darby Allin, Edge, and dozens more. Think of any wrestling show on tv or the internet WITHOUT entrance music, makeup costumes, and the portrayal of a dark and troubling, even mysterious edge. It would be a dismal dull affair. Colt may have burned a few bridges, but he passed on many a torch as well. Major contributions to changing the wrestling landscape.
Not to underestimate the legacy of Colt, I often wonder what COULD have been. That being said, we do not believe he regretted his choices. Like the line from Rust Never Sleeps, Colt found it better to burn out than to fade away. No one is in a position to argue with his choices. Thinking hard before throwing the first stone applies to us all.