On this day in wrestling, let's look back at this barbaric match as the Legend Killer and the Hardcore Legend do battle. Everyone evolves. On April 18th, 2004, at WWE Backlash, The Legend Killer Randy Orton took his first steps to evolving into the apex predator with a little help from the hardcore legend Mick Foley aka  Cactus Jack. Orton survived being dropped onto thumbtacks, hit in the head with a garbage can, and repeatedly beaten with a barbed wire-wrapped baseball bat affectionately known as  "Barbie."
____________________
Legend Killer and The Hardcore Legend
Foley Finds His Dark Side…Cactus Jack
Mick Foley came out of retirement to team with The Rock at Wrestlemania XX vs. Evolutions Randy Orton, Batista, and Ric Flair. This was not the first time The Rock and Foley had teamed up; their legendary Rock n Sock connection in the late 90s won tag team gold. At WrestleMania XX, Evolution gained the victory with a thunderous RKO. Foley blamed himself for the loss and wanted to even the score with the trio. Randy Orton, in particular, was this cocky, arrogant, brash,  young competitor that Foley felt could use a hardcore lesson.
Orton deeming himself the Legend Killer felt he was better than any generation before him.  He recently won the Intercontinental title. Orton was on top of the world. He and the rest of evolution attacked Mrs. Foley's baby boy and kicked him down a stairwell. However, the topper was when Randy Orton spit in Foley's face as the hardcore legend was leaving the arena.
The Hardcore Legend Calls Out The Legend Killer
In retaliation, Foley called out the Intercontinental Champion. In arguably Foley's best promo, he demanded Randy Orton spit on his face again. Orton and the rest of the WWE universe had a confused look on their face. Foley told Orton that he was a liar and considered himself a legend was a bunch of crap. He demanded Orton once again to spit in his face. At that moment, Evolution's youngest member spit in Mick Foley's face. As Orton's lugee ran down Mick Foley's jaw, he began to bludgeon himself until he was bleeding. Foley grabbed the mic and said:
"When you spit on my face you spit on my name.You spit on my legacy. You spit on the business that I love and I cannot accept that, because I worked too hard and too long to see my reputation torn apart by you , you little bastard. I've seen my ear ripped off in Munich Germany . I've seen my skin hanging off the barbed wire in Japan and I've been bludgeon in Nigeria . Now I no longer have to wonder if I can go to that place in my heart where darkness dwells because I'm already there. "
At that moment, Foley attacked Orton. Batista and Ric Flair saved their evolution cohort, but Foley grabbed a chair. Mick Foley had found his dark side …. Cactus Jack.
A Hardcore Beat down
At Backlash 2004, a match was signed. However, this was no ordinary match. This was a no-holds-barred match for the Intercontinental Title.  As an extra stipulation, Evolution was barred from ringside. Randy Orton had to face Cactus Jack alone. In the words of Jim Ross
"It is slobber knocker time for young Mr. Orton."
This type of match favored Mick Foley heavily. Randy Orton was in for the fight of his life. The legend Killer did bring a select few weapons to the ring, but Foley brought barbie with him. Once Cactus saw Orton, he began to swing the bat like he was in the World Series. Orton tried to use a garbage can as a shield, but that didn't last long. Foley was unhinged. Finally, Orton caught him in a drop-toe hold into the steel steps. Then Orton hit him over the head repeatedly with a garbage can. Cactus seemed to thrive on every shot. He rolled Orton in the ring and began to punish him. Orton began to run up the ramp.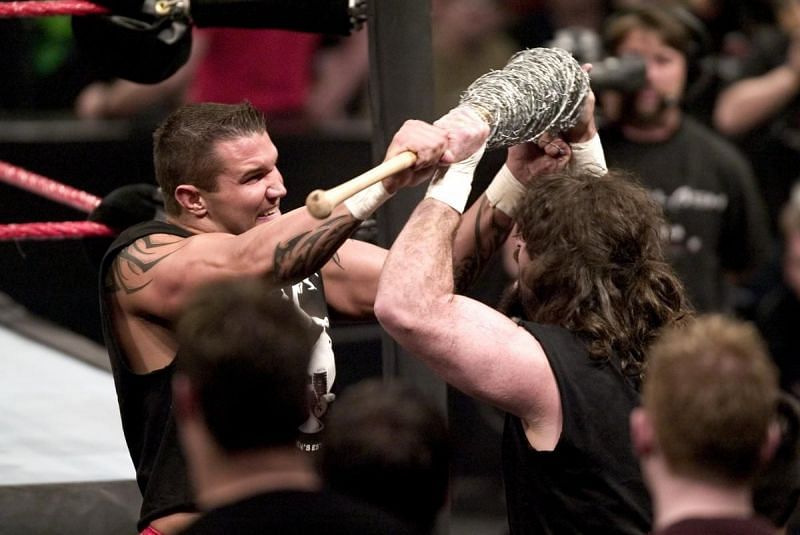 As Cactus went after him, he was caught in a suplex on the ramp. Orton went to work on Cactus. He rolled the hardcore legend in the ring, grabbed Barbie, and attempted to use it on Cactus's face. Cactus escaped by giving Orton a low blow, grabbed Barby, and struck the Evolution member in the face. Orton's face was a crimson mess. Like a shark that smelled blood, Cactus attacked the Intercontinental Champion. He grabbed the baseball bat and began raking Randy's face with it like a cheese grater.
Cactus Jack Shows Why He's The Hardcore Legend
Just when fans thought things could not get any crazier, Cactus Jack found a gasoline can. He poured gasoline all over Barbie and threatened to light it on fire. Raw GM Eric Bischoff ran to ringside and said that if Foley lights that match, the local fire department will shut the showdown. Mick dropped the lighter and instead grabbed a cookie tray and knocked Orton in the head with it. Then Mrs. Foley's baby boy rolled out to the floor and produced a piece of plywood with barbed wire all over it.
The Evolution of Randy Orton
Jerry Lawler said it best.
"Randy Orton is in a horror movie."
Just as it looked like the Legend Killer would be cut to shreds, he threw powder in Cactus's face, and back body dropped him into the barbed wire plywood. Orton then dropkicked Foley into the barbed wire one more time. Orton went for the cover but only got a two count. He grabbed a bag in the corner and dumped thumbtacks all over the ring. As Orton went to RKO cactus into the thumbtacks, Cactus reversed it into a back body drop driving Orton right into the tacks. One look at Randy's face, and you knew the legend Killer was in intense pain .
As Orton got to his feet, all the thumbtacks were stuck to his body. Seeing his life flash before his eyes, Orton began to run back to the locker room, but like Jason, on Friday the 13th, Cactus Jack ran after him. He grabbed the Intercontinental Champion and threw him off the stage to the floor. The crowd erupted as Foley threw up the bang-bang sign and gave Orton an elbow drop off the stage. As the two superstars were lying there, Cactus had a smile on his face. This was his fun time. He got Orton back to the ring hit a DDT, but amazingly, Randy kicked out.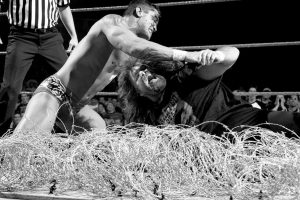 The Legend Killer Becomes EXTREME
As Orton rolled to the corner, he saw his one opportunity. He grabbed Barbie and nailed Jack with it. However, Cactus seemed to like it and surprised Orton with a mandible claw. It looked like it was over for the Legend Killer, but somehow Orton nailed cactus with an RKO. Still, Cactus kicked out. As Orton got back up to his feet, you could see the future apex predator in the Intercontinental Champion. He hit a second RKO on Foley. This time the ref counted to three. Randy Orton defeated Cactus Jack. This match changed Orton forever. It's the first time many WWE fans saw the viscous side of Randy Orton. It was the first time fans saw a glimpse of the apex predator.