Cassandro the Exotico. It's often the story in the world of pro wrestling that a wrestler plays a character to perform in front of the crowd. But there are the occasional times where the person is not playing a character, but they are true to themselves, which helps establish a connection with the audience.
For example, people like William Moody worked in a funeral home, which helped his character "Paul Bearer." Another perfect example would be Saúl Armendáriz, better known to the world of pro wrestling, more specifically Lucha Libre, as "Cassandro el Exotico" (nowadays more commonly known by "Cassandro").
The History Of – Cassandro El Exotico

Before discussing Cassandro's stellar career, let's take a quick detour towards the history of the exotico gimmick in Mexico. Going back to the 1940s, Mexico took an early turn towards having their luchadores wear amazing costumes, from masks to robes and everything in-between. One such person was Sterling Davis Sr., an incredible wrestler who wanted to stand out to the crowd, so he dressed effeminately and wrestled as "Gardenia Davis."
The gimmick got over big to the Mexican audience and even left an impression on George Wagner, who adopted a similar look and gimmick in the States, calling himself "Gorgeous George."

Fast forward over the decades in Mexico, and the gimmick stayed popular with the fans and boys alike, with such huge draws in Mexico as Adorable Rudi, Bello Greco, and Sergio el Hermoso. These flamboyant characters would entertain, charm, and dazzle audiences over the years, leading into the '80s, with a new batch of exoticos, such as Rudy Reyna, Pimpenela Escarlata, May Flowers, and our subject for today, Cassandro.
Cassandro the Exotico – The Exotico Persona
One thing about the exotico gimmick is, the usual exotico does comedy-type spots, such as kissing their opponent, smacking the rear, etc. It's usually a gimmick saved for early in a card to make the crowd laugh. But in early 1991, the legendary Hijo del Santo, son of the most famous luchador ever, El Santo, was looking for someone new to defend his UWA Welterweight title against.
Cassandro caught many people's eyes in the promotion, as it was the general consensus that he was way more than just the typical comedy exotico. Cassandro could do more than just entertain; he could brawl, he could fly, and above all, he could wrestle.
While the company was on board with the title match, several in the media and in the public did not feel the same way. Many comments made about Cassandro and the title match did not help Cassandro's mental health, and he attempted to commit suicide over the negative press.
Lucky enough, he was found by fellow exotico and long time friend Pimpenela Escarlata (who is also an amazing wrestler and personality), and Cassandro worked on preparing for the title match, which turned around a lot of the negative comments and had the majority praising Cassandro for his skills in the ring.
He continued to impress the boys and fans alike, shining brightly. He even won the UWA Lightweight title the following year against Lasser (the first time an exotico won any title in the UWA promotion, which was first created in 1975.)
Cassandro stuck with the promotion over the next couple of years, which at the time was on a downward spiral due to the rising popularity of Antonio Pena's creation, Asistencia Asesoría y Administración (more commonly known as Triple-A or AAA).
Cassandro the Exotico – Personal Struggles & Reinvented
Around this time, Cassandro started venturing into the world of drugs and alcohol. It's never a lifestyle that an addict chooses, but his particular venture was an extremely hard one. What made his times of addiction even tougher was the loss of his mother, Maria, in 1997. His addictions really took over, which made it difficult to find work as a luchador. However, he did manage to dig deep within himself.
With the help of a combination of Mayan and Native American spirituality, he finally stopped on June 4th, 2003, and has never looked back. Upon hearing he had cleaned up, several promotions in the Los Angeles area started using Cassandro for shows, but one especially was a perfect fit, the Lucha VaVoom promotion.
Founded in 2003 and based around Los Angeles, Lucha VaVoom took Lucha Libre a step further than traditional Lucha. It had burlesque level outfits & it had crazy chickens clucking each other and their opponents. It had pole dancers while the matches were going on. And crazy as it sounds, they were outdrawing pretty much every other promotion in the area with their unique style.
The more popular they got, the bigger the names they were able to bring in, and the more attention they got. With Cassandro working for them in high profile matches in 2004-2005 and excelling, the AAA promotion in Mexico.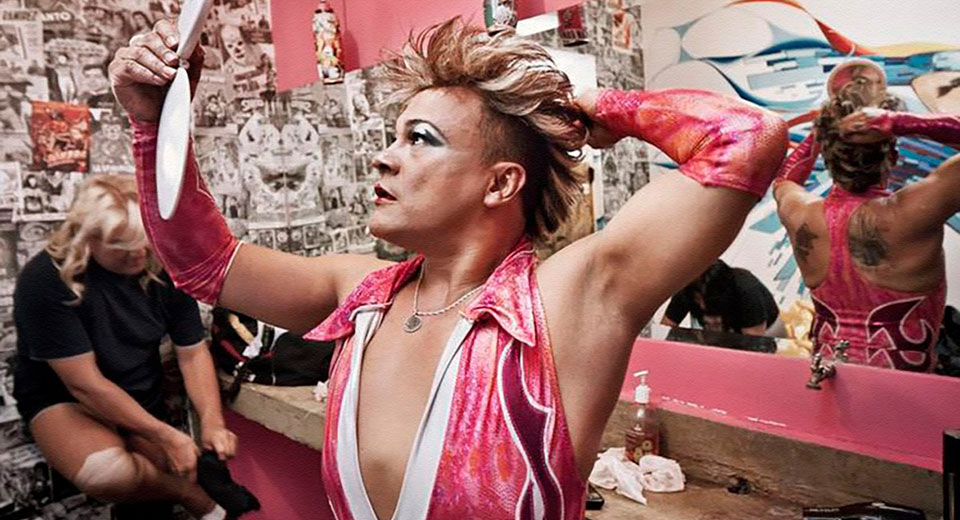 Supporting of his Exotico Persona
AAA founder, Antonio Pena, was a huge fan of the exotico gimmick and used many of them when the promotion was first created, with names like Rudy Reyna, May Flowers, The Rose, Pimpenela Escarlata (who got a mega push in 1994-1995), and finally brought in Cassandro in late 2005 into the promotion. Cassandro was immediately thrown into a huge feud against fellow exotico Pimpenela Escarlata.
The two feuded for quite a few months and was supposed to escalate into a big "caballera vs. caballera" match (hair vs. hair), yet a major injury sidelined all plans for the big match. Cassandro left AAA but did return less than a year later, teaming with Escarlata and being a huge tecnico (good guy/fan favorite) and got over huge with the fans.
Cassandro the Exotico – Rise to Stardom
Cassandro's rise to popularity and star power kept escalating around this time and never turned back. He was featured on multiple TV programs, even on Conan O'Brien in a skit training Conan and co-host Andy Richter on how to become luchadores back in 2017.
In addition, he has traveled all over the world, especially over the past decade in places in Europe like France and England, often working on shows with Hijo del Santo (the two have maintained a close friendship over the decades). The two of them even had a famous match at the Louvre in Paris.
There were multiple bookings for major companies in the United States, such as Ring of Honor, TNA (now Impact), NWA, CHIKARA, Game Changer Wrestling (working a match against Sonny Kiss for the event called "Effy's Big Gay Brunch") and dozens more. He was even the focus of an amazing documentary done back in 2018 by Marie Losier called "Cassandro the Exotico."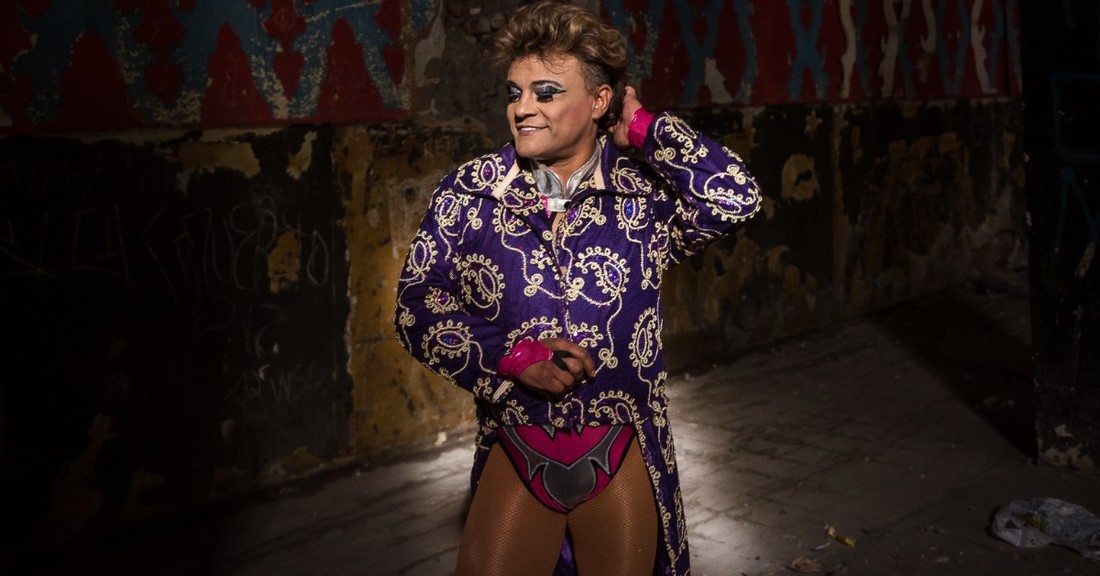 Cassandro the Exotico – Coping with Fame
One thing that really makes Cassandro stand out, however, is the way he handles the popularity. The entire time, he has continued to be an amazing role model for many different groups in the world. While he has always been very open about his sexuality (he is openly gay), he is also an amazing example for those who have struggled with addiction and are looking for support or inspiration for turning their lives around.
In addition, with his impressive wrestling skills, his matches are often a must-see for up-and-coming wrestlers, both those who do the exotico gimmick and for those who just want to learn to become a great wrestler and improve their in-ring skills.
Plus, there is even an upcoming movie with Mexican actor and director Gael García Bernal set to play Cassandro! And even several health scares over the past few years have done nothing to bring his demeanor and positive attitude down (he recently had a brain embolism removed in the past couple of months, which he is slowly recovering from, but doing amazing.) However, he is not retired from active competition, and if Cassandro is performing near you, it is 100% an experience you don't want to miss. I can honestly say the world is a better place because Cassandro is a part of it.
by Roy Lucier