Capital City Championship Combat returns to Ottawa's St. Anthony's Hall on Friday, April 22 & C*4 presents Time and Tide. C*4's second event of 2022 will be headlined by the Ottawa return of Ring of Honor World Champion Jonathan Gresham and so much more on yet another stacked card.
March's Fantastic Voyage was the promotion's most successful event to date, packing the sold-out venue with over 500 fans. Time and Tide will be absolutely can't miss for Ottawa wrestling fans.
C*4 Presents Time and Tide
Cecil Nyx vs. Jody Threat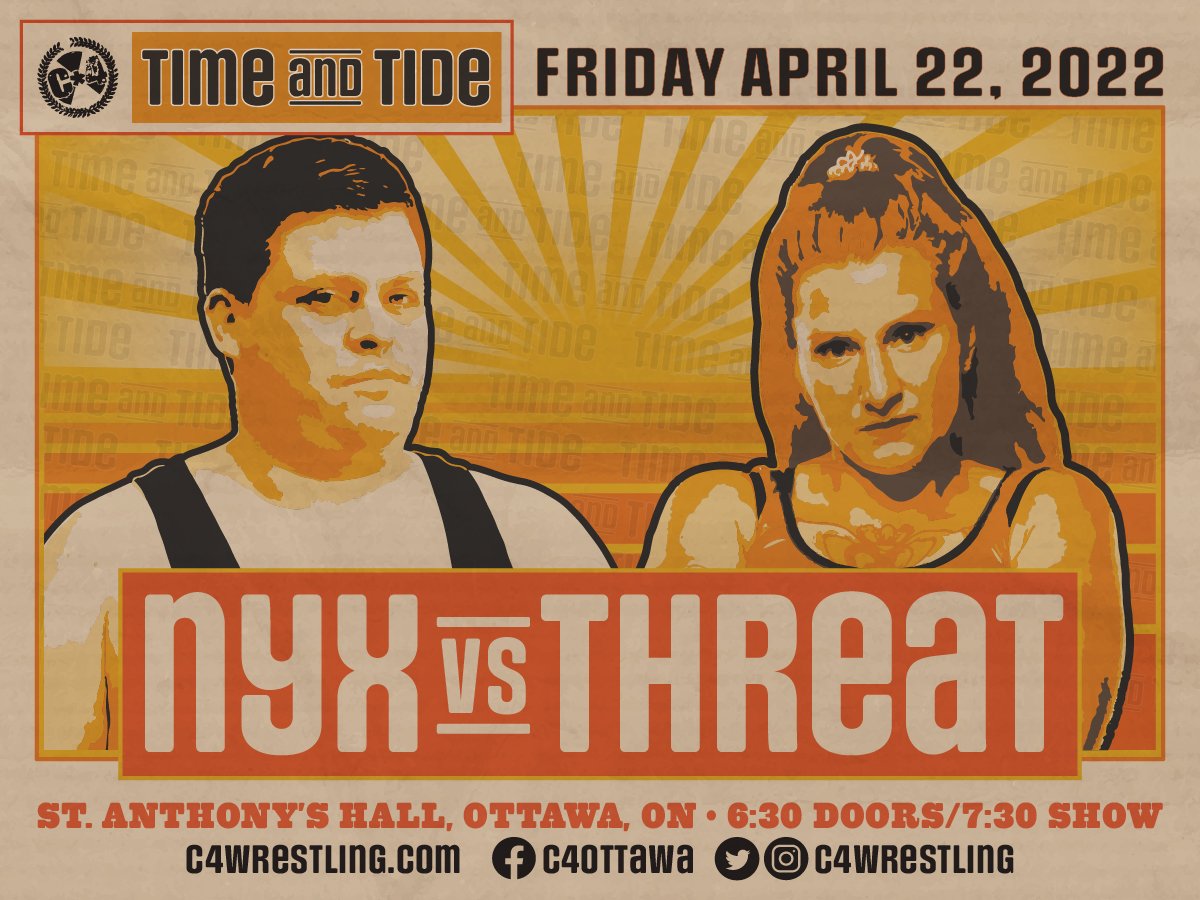 "The Curse" Cecil Nyx and "Wild Child" Jody Threat have animosity stemming from a six-way scramble match at Fantastic Voyage which also involved Kobe Durst, Macrae Martin, TARIK, and eventual winner Gabriel Fuerza. A highlight of the scramble saw the unpredictable Threat throw herself over the ring post and to the outside onto a standing Nyx, Durst, and TARIK. Will "The Curse" be able to ground the "Wild Child" at Time and Tide?
"Hotstepper" Macrae Martin vs. "Scrapper" James Stone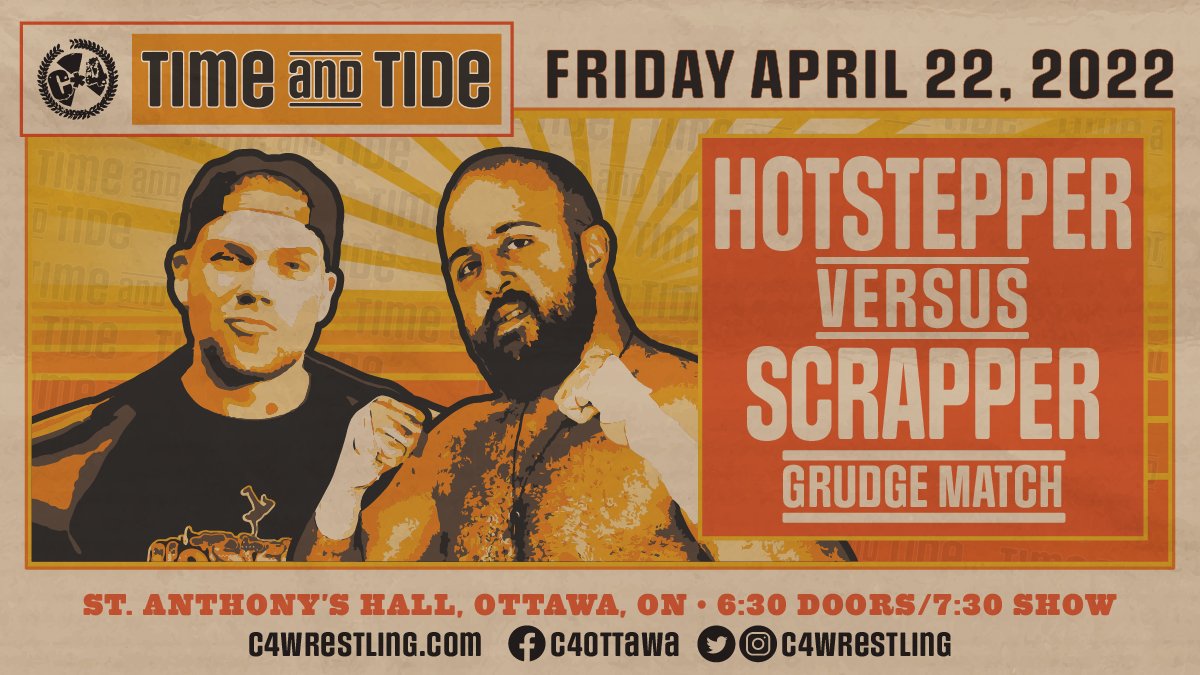 Martin and Stone have a score to settle dating back to December's Better Watch Out event when Martin defeated Stone. After the match, the "Scrapper" opted to slap Martin across the face rather than shake his hand.
The grudge between the two escalated at Fantastic Voyage when Stone got involved in Macrae's six-way scramble and cost him the bout. Stone then assaulted the "Hotsepper" with a chair and planted him with a piledriver after the bell. The two will certainly be eager to get their hands on one another this Friday night.
Ava Everett vs. JANAI KAI vs. Alexia Nicole – Three Way Dance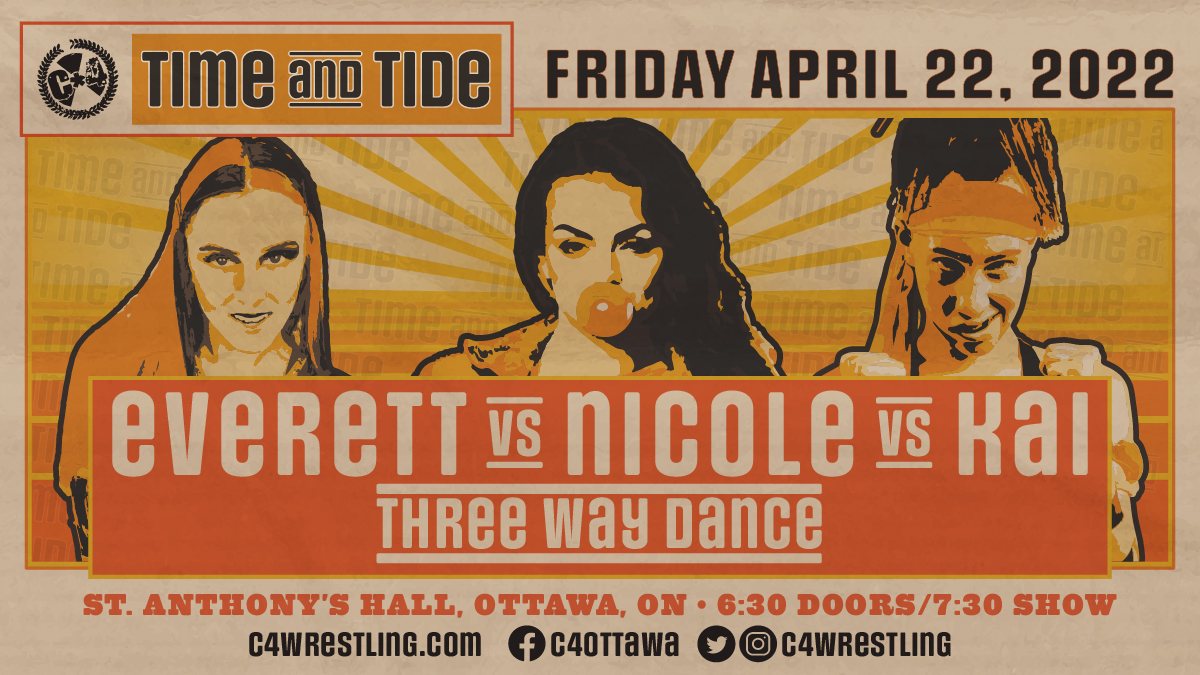 Femmes Fatales Champion Alexia Nicole is coming off a successful title defense at Fantastic Voyage against Willow Nightingale. She'll take on the debuting "Kick Demon" JANAI KAI and the returning "The Creator" Ava Everett.
Kobe Durst and Holden Albright vs. Mathieu St. Jacques and Lufisto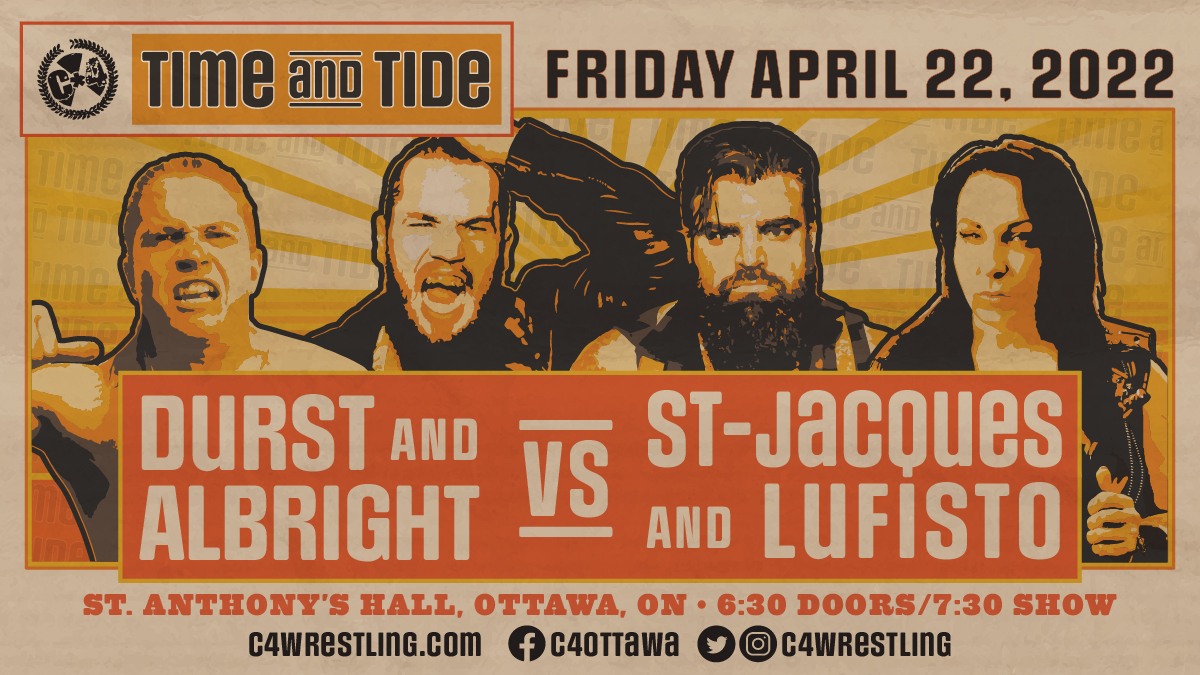 The duo of St. Jacques and Lufisto formed at Fantastic Voyage, when Lufisto filled in for St. Jacques' Le Tabarnak de Team partner Thomas Dubois. The pair would lose the C*4 Tag Team Championships to Violence Is Forever.
The duo were originally scheduled to face a debuting Kings of the District before Jordan Blade pulled out of the event. Instead, they'll now face Kobe Durst, who both St. Jacques and Lufisto have tangled with recently, and his partner Holden Albright.
Gabriel Fuerza vs. Alex Silva vs. Eal O'Neal vs. Myung Jae Lee – Four-Way Dance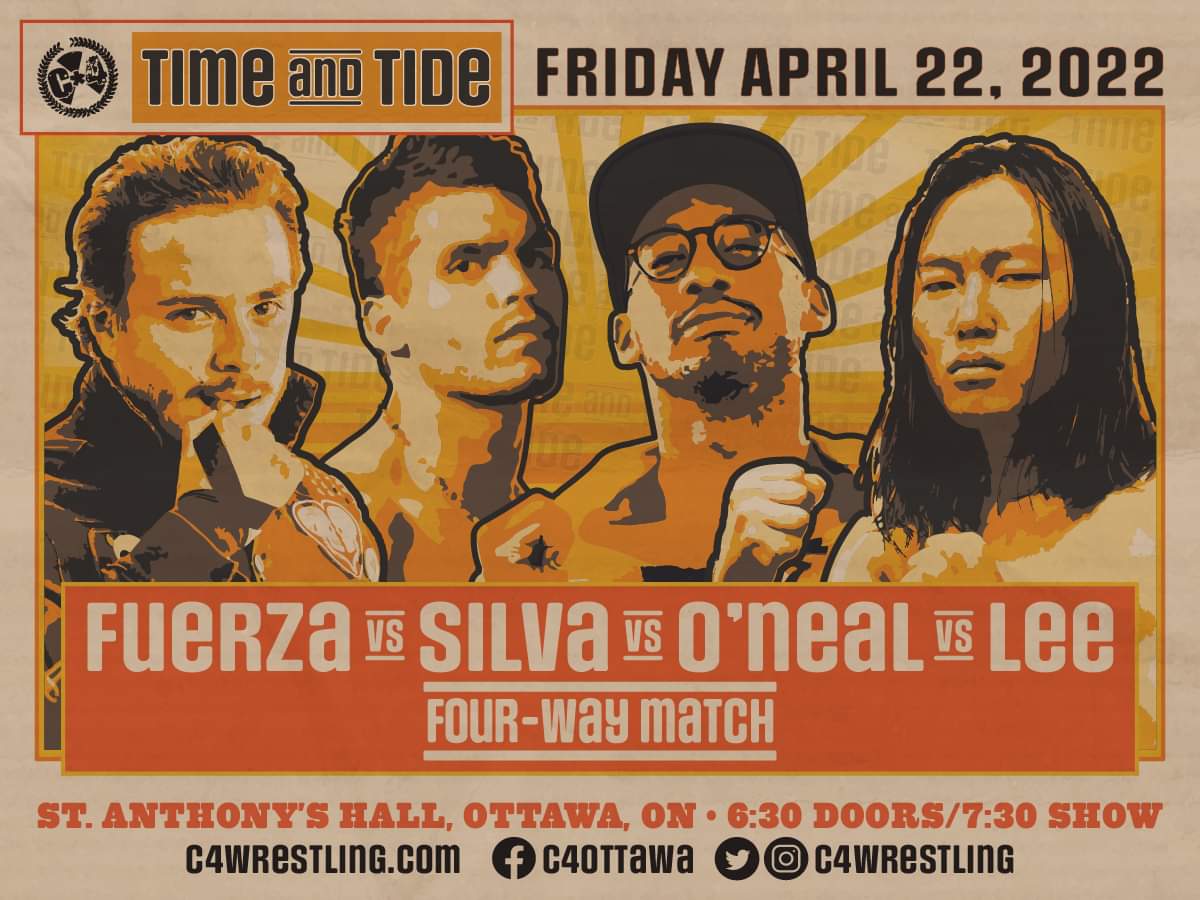 Myung Jae Lee, Gabriel Fuerza, Alex Silva, and Eal O'Neal, will collide in what promises to be another thrilling multi-man bout. After winning last month's six-man scramble, Fuerza certainly has momentum on his side. On the same night, Lee fell to Josh Alexander.
C*4 Presents Time and Tide
Anthony Greene vs. Junior Benito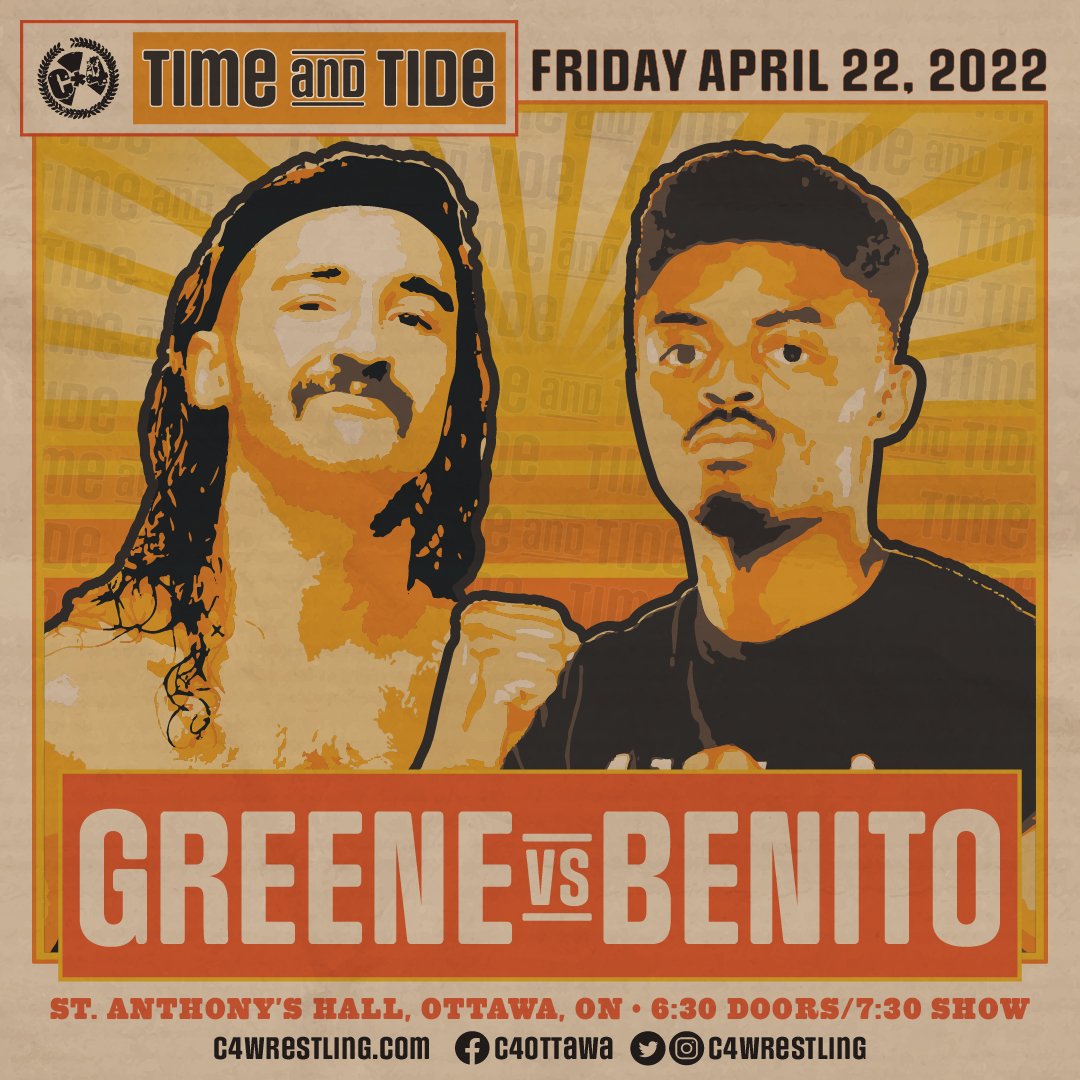 "The Alternative" Anthony Greene, formerly August Grey in WWE, will make his Ottawa return to take on local fan-favorite "The Young Bull" Junior Benito. Benito is returning from a successful European trip, where he competed for DOA Wrestling and in PCW's 16-man Road to Glory tournament.
Kevin Ku vs. BIFF Busick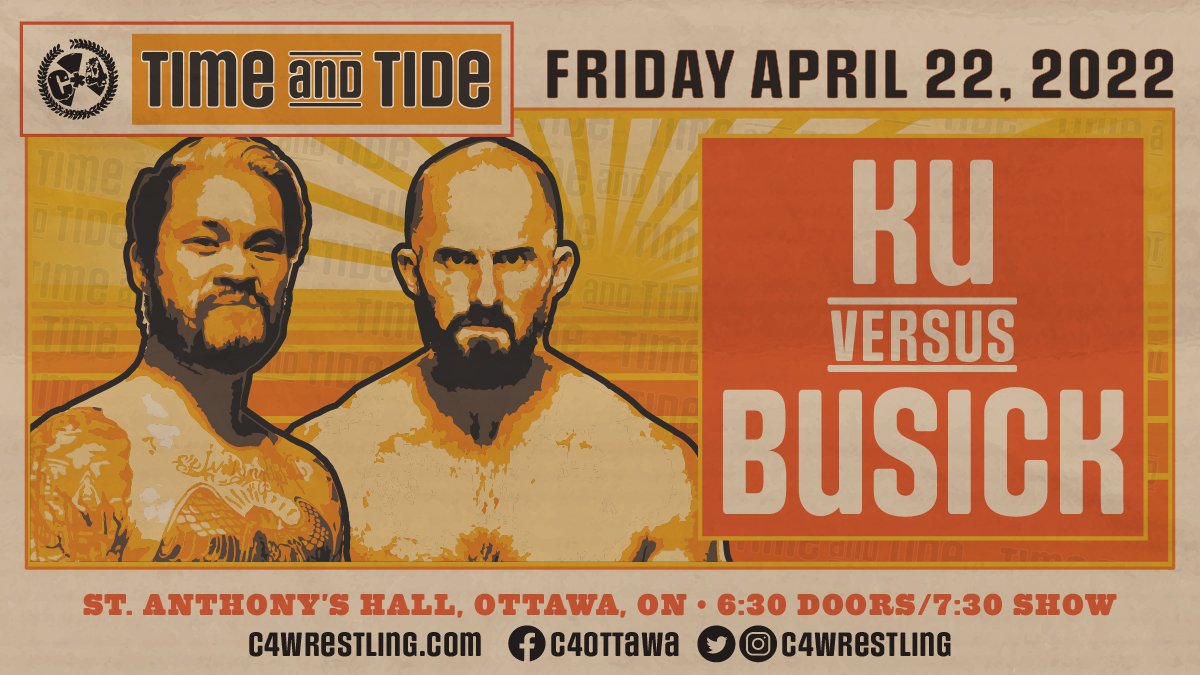 One half of the newly crowned C*4 Tag Team Champions Violence Is Forever, Kevin Ku, will take on BIFF Busick. Busick made his C*4 return last month in a losing effort against Kevin Blackwood; he'll undoubtedly have redemption on his mind.
C*4 Presents Time and Tide
Kevin Blackwood vs. Jonathan Gresham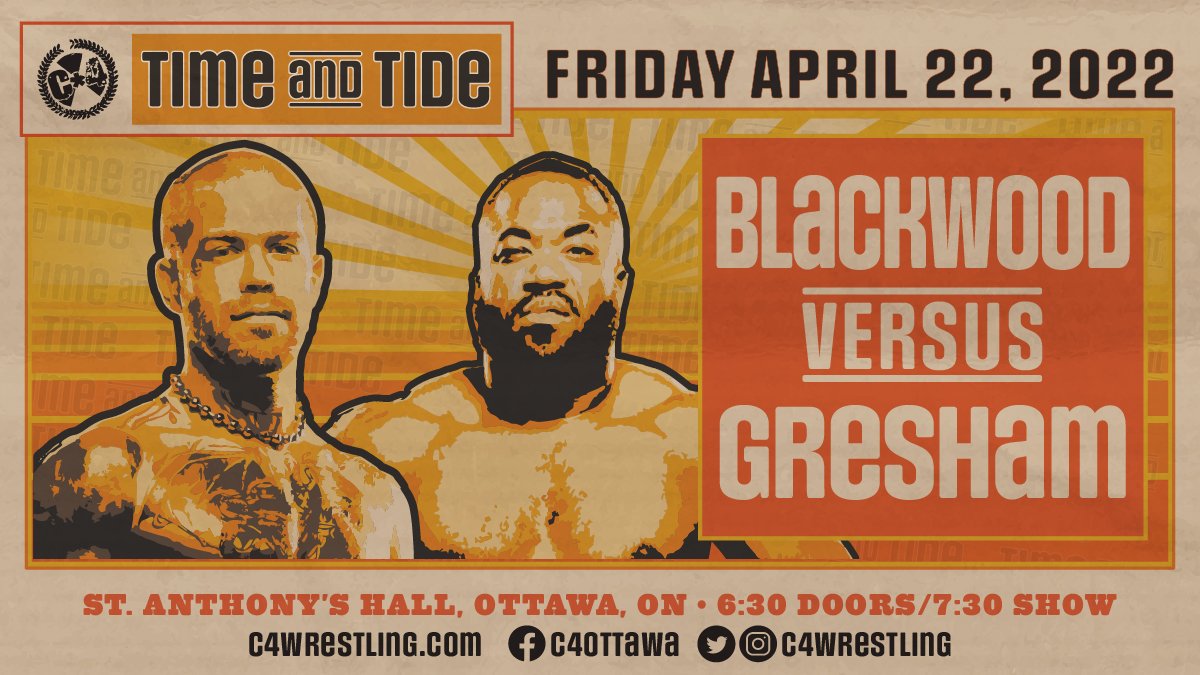 Current Ring of Honor World Champion Jonathan Gresham is set to make his Ottawa return, hot off the heels of a successful title defense against Dalton Castle at AEW Battle Of The Belts II.
Stepping up to challenge Gresham is Kevin Blackwood, who last defeated BIFF Busick in a thrilling match at Fantastic Voyage, earning a future shot at "Speedball" Mike Bailey's C*4 Championship.
The absolutely loaded card promises a hard-hitting and fast-paced night of professional wrestling from Ottawa's premiere independent wrestling promotion.
*****
Stay tuned to Pro Wrestling Post for this and additional stories from the wrestling world. Readers can rely on Pro Wrestling Post to be their daily source for all things inside the squared circle. As a result, readers can expect daily news, history, and so much more. Please visit Capital City Championship Combat's official website here for news and information on the promotion and upcoming events.