Capital City Championship Combat returns for their most important annual event. C*4 presents Fighting Back 12: Wrestling With Cancer this Friday Night at Ottawa's Preston Event Centre.
Since 2011, C*4 have raised over $500,000 for the Canadian Cancer Society in memory of local wrestling fan Phrank Morin. This year, they once again bring some of the best of the independent wrestling community together to raise as much money as possible for the important cause.
Tickets remain available online at tinyurl.com/FightingBack12 or in person at Vertigo Records and The ODDs & SODs Shoppe. If you are unable to attend but still wish to donate, you can do so at fighting-back.ca. Evil Uno will also be hosting a fundraising gaming live steam with special guests at twitch.tv/EvilUno over the weekend.
Let's take a look at the final match card.
C*4 Presents Fighting Back 12
Fighting Back Invitational
As per tradition, we begin with the Fighting Back Invitational Rumble match. At least 15 wrestlers, possibly more, will enter the bout, according to a Facebook Post by the promotion. The invitational has, in the past, served as a catapult for C*4 talent to take that next step towards the main event scene.
Last year's winner, Junior Benito, went on to become (even more of) a fan-favourite, as well as challenge for the C*4 Championship and main event of several shows throughout last season.
This year's advertised participants include Nathan Yarymowich, Benjamin Tull, Vaughn Vertigo, Joseline Navarro, Sexxxy Eddy, Dexter Doom, Sway Archer, Yoya, Isaiah Broner, London Lightning, Bob Anger, Alex Maze, Jessie V, Alexander Kable and one-half of the C*4 Tag Team Champions, Puf.
C*4 Presents Fighting Back 12
Kristara vs Jody Threat
In a first-time-ever matchup, two fan-favourites in, Kristara and Jody Threat, will face off. The pair teamed up quite effectively at June's C*4 Fury event, defeating Dream Girl Ellie and Veda Scott.
Prior to Fury, Kristara became much more of a C*4 regular as the season progressed, while Threat was making a name for herself in Impact Wrestling.
C*4 Presents Fighting Back 12
James Stone w/Vanessa Kraven vs. Trent Seven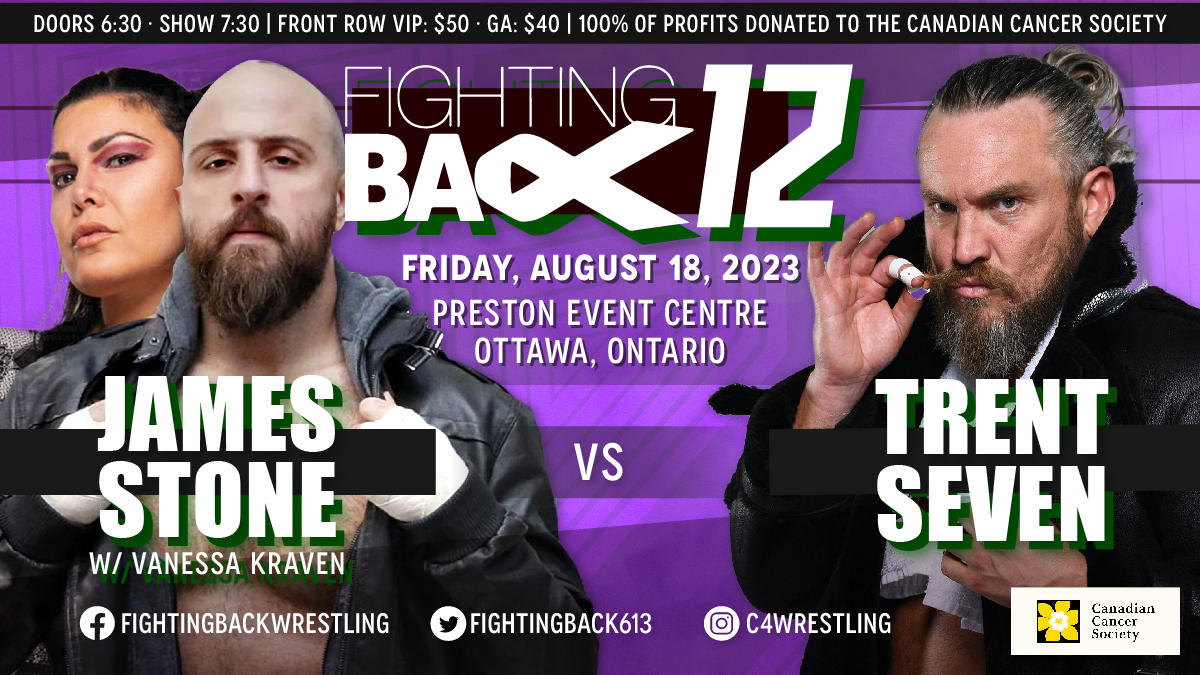 The final match to be announced on Thursday pits Scrapper against British Strong Style, as James Stone will meet Trent Seven in the latter's second C*4 outing. At Fury, Seven arrived alongside Speedball Mike Bailey, although in a losing effort to Myung-Jae Lee and Evil Uno.
That same night, Stone was defeated by Joshua Bishop in a cage match, capping off a rough season which saw him lose the C*4 Underground Championship. Based on their wrestling styles, and with both men desperate for a win, expect a hard-hitting matchup.
C*4 Presents Fighting Back 12
Myung-Jae Lee & Evil Uno vs. Violence Is Forever
Fury was also quite the evening for both Myung-Jae Lee & Evil Uno and Violence Is Forever, albeit for opposite reasons. As previously mentioned, Lee and Uno participated in a wild-card tag-team match, which saw them defeat the team of Speedball Mike Bailey and Trent Seven, with Lee scoring perhaps the biggest pinfall of his young career.
On the flipside, Dominic Garini and Kevin Ku of VIF lost their C*4 Tag Team Championships to Puf and Pretty Ricky.
Fighting Back presents an opportunity for both a wild-card team and the former champs to prove why they should be next to receive a title shot. It just so happens that Uno and Ku also faced off at last year's Fighting Back 11, with Uno picking up the victory. Will things be different this time around?
C*4 Presents Fighting Back 12
NFW Championship Fatal Four-Way
Brett Ryan Gosselin (c)  vs. Channing Thomas vs. TJ Crawford vs. GKM
In the first title match of the evening, the New Jersey-based Northern Federation Wrestling's NFW Championship will be on the line. Defending NFW Champion Brett Ryan Gosselin is set to defend in a Fatal-Four Way against Channing Thomas, TJ Crawford and GKM.
This will provide an opportunity for the C*4 faithful to discover new talent, as Crawford is the only one listed as wrestling on a C*4 event in the past (via cagematch.net).
The defending NFW Champion, who calls himself the Victorious BRG, cut a promo released by NFW and compared himself to the Montreal Canadiens, a line which may not earn him much favour among Ottawa Senators and Brady Tkachuk fans in attendance.
C*4 Presents Fighting Back 12
Interspecies Wrestling King of Crazy Championship
Thomas Leduc vs. Cecil Nyx (c) vs. Brian Milonas
C*4 are also set to welcome Interspecies Wrestling once again to Fighting Back, as the IWS King Of Crazy Championship will be on the line in a three-way match. Cecil Nyx will put his title on the line against Thomas Leduc and Brian Milonas.
Nyx unsuccessfully challenged for the King of Crazy Championship in a four-way at Fighting Back 11 but went on to win the vacant Championship in April.
C*4 Presents Fighting Back 12
Three-Way Dance Tag Match
Fresh Air vs. The Rascalz vs. T.D.T.
In another three-way dance, Fresh Air (Junior Benito & Macrae Martin) battle Impact Wrestling's The Rascalz (Trey Miguel & Zachary Wentz) and T.D.T. (Thomas Dubois & Mathieu St-Jaques). Fresh Air and T.D.T. have plenty of issues stemming back to last season, which culminated in a four-on-four steel cage war at Fury.
Adding one of the most exciting tag teams on the planet into the mix, The Rascalz, only adds another element of excitement in what could be one of the best matches of the night.
C*4 Presents Fighting Back 12
Dream Match
Stu Grayson vs Ninja Mack
In a sure-to-be mind-blowing first-time-ever dream match, Stu Grayson will go to war with Ninja Mack. Well known for his work in Game Changer Wrestling and Pro Wrestling NOAH, Mack promises to be an exciting opponent for the hometown "born and bred for combat" favourite in Grayson.
C*4 Presents Fighting Back 12
Dream Match
Joshua Bishop vs Lance Archer
AEW and NJPW star "The Murderhawk Monster" Lance Archer will make his C*4 debut at Fighting Back 12. The promotion could not have selected a better opponent for the former IWGP United State Champion, in the form of "The Intense Icon" Joshua Bishop.
The former C*4 Underground Champion certainly has momentum on his side after defeating James Stone in a brutal Cage Match at Fury two months ago. This one will be a certified hoss fight.
C*4 Presents Fighting Back 12
C*4 Championship Canadian Challenge
Kevin Blackwood (c) vs Judas Icarus
C*4 Champion Kevin Blackwood will host another Canadian Challenge. This time stepping up is Judas Icarus. Blackwood surpassed the one-year mark as C*4 Champion in June in what's been a dominant title reign thus far.
He's defeated challengers including Brent Banks, LuFisto, Kevin Ku, Jonathan Gresham and former champion Mike Bailey. The one near-defeat during his reign was a 60-minute time-limit draw against Stu Grayson. 
The Aesthetic Crippler's next challenger, Judas Icarus, is set to make his C*4 debut and has competed in other Canadian independents such as Smash Wrestling, Barrie Wrestling and Mystery Wrestling. Internationally, he's competed in DEFY, Progress and Prestige Wrestling.
Will we see a new C*4 Champion crowned at C*4 Fighting Back 12 in Judas Icarus, or will Kevin Blackwood add another name to his list? We'll find out Friday night at the Preston Event Centre.
*****
Stay tuned to Pro Wrestling Post for this and additional stories from the wrestling world. Readers can rely on Pro Wrestling Post as their daily source for everything inside the squared circle.
As a result, readers can expect daily news, history, and much more. Also, please visit Capital City Championship Combat's official website here for news and information on the promotion and upcoming event.