Unsung Heroes and will cover people and personalities whose work doesn't always get talked about as much as it could be, such as Brian Kendrick. With a history rich in stars, the supporting actors don't always get their just desserts. This series will strive to shine a light on those who fall into that category. Our next subject is a graduate of the Shawn Michaels Wrestling Academy, former WWE Tag Team Champion, & trainer. This is Brian Kendrick.
_____________
A wrestler's growth and evolution in the sport is tied to several things: health, commitment to their craft, and the ability to change with the times. In the case of one particular wrestler, his growth as a performer has seen several ebbs and flows over the course of the last twenty years. Brian David Kendrick's career has seen him compete worldwide, gaining a great deal of attention in more recent years in North America.
Kendrick's early days in the business came when he moved to Texas in 1999. There, he trained at the NWA Southwest Wrestling School. However, it has been frequently noted that his training under a former WWE Champion and Hall of Famer helped create an opportunity for him in WWE. It was at the Shawn Michaels Training Academy that Kendrick first established himself. Given the nickname 'Spanky,' Kendrick began to hone his craft. The origin of the name involved finding pleasure in one's self and the ability to remain awake late at night on trips while competing on the independent wrestling circuit.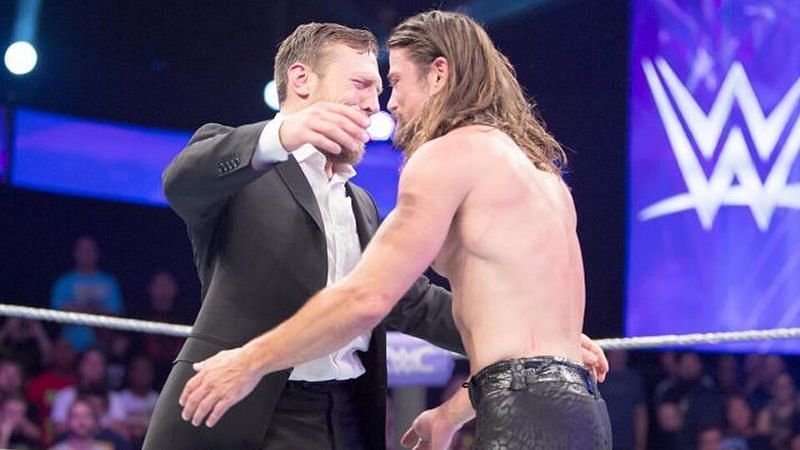 Brian Kendrick & The American Dragon
When he began to compete, his first professional match was with a man that competed under the name 'American Dragon,' who has since gone to be a WWE Champion. That man? Bryan Danielson, AKA Daniel Bryan. His relationship with Bryan dates back to the two of them training together under the Michaels Training Academy.
It was kind of scary at first, and I was really nervous. I mean, what do you say to one of the greatest wrestlers of all time? It turned out he was the nicest guy you could ever meet. People can believe what they want to believe, but he's genuinely a nice person. It's great learning from the greatest wrestler of all time. Rudy also puts in a ton of effort, and I'd say he's the most underrated person I've ever met.
– Brian Kendrick on training under Shawn Michaels
Training will only prepare an individual for some scenarios. It is the in-ring experience that shapes them as a performer. This is Kendrick's case, as he transitioned to the WWE's developmental territory, Memphis Championship Wrestling, though he was eventually released. While being released at such a young age could have been discouraging, he felt that if he worked hard enough, the opportunity to be with the company would again present itself. That determination says a great deal about Kendrick's heart. He drew on past influences such as the Blue Blazer (Owen Hart), who was among his favorites growing up, to inspire him.
Memphis Championship Wrestling
During his time in MCW, Kendrick made the most of it. He won championships, built relationships, and gained experience. He certainly perceives that period as a glass half experience. By 2002, Kendrick competed for the rising promotion Ring of Honor. While he didn't secure a contract, those matches continued to add to his growing experience. He also competed for Zero1 in Japan and adopted a new persona, 'Leonardo Spanky,' based mainly upon his resemblance to famed actor Leonardo DiCaprio. While with Zero1, Kendrick became the first-ever International Junior Heavyweight Champion.
In 2002, Kendrick once again signed with WWE, and by 2003 he was on television in a variety of roles. Everyone can't walk into the main event, so for Brian Kendrick, it became about building value. During the storylines he was involved in, such as countless attempts to earn a contract or a feud with 'The Doctor of Thuganomics' John Cena, Kendrick gained a following. He competed under his 'Spanky' moniker during that latter storyline and would typically mock Cena and parody his rapper persona.
Once this run came to an end, he was released from the company. What did the future hold? Kendrick's departure led to him competing in TNA and Ring of Honor. He also brought his Spanky character back to Japan, though his time there would be short-lived.
 Teaming with Paul London
In 2005, Brian Kendrick again returned to WWE and would align with Paul London. Together the duo would not only become an exciting tag team but a successful one as well. They captured the tag team championships and held the titles for a long period. The duo was so captivating and so exciting that it was disappointing not to see them have an even longer run in the division.
One of Kendrick's most remarkable qualities is his versatility. He was a successful tag team wrestler, but now the opportunity as a singles star emerged. After a feud with ex-team-mate London, Kendrick would have a run as a heel known at the time as 'The' Brian Kendrick, during which time he was escorted to the ring by Ezekiel Jackson. He challenged for championships and was a prominent character in 2008. However, by 2009, he was released by WWE.
"I think I took the opportunity for granted. I would say I've always loved wrestling intensely since I was eight years old – when I was consistently watching videotapes and recording what was on TV. But I started on TV at a really early age, which was great as I got to learn from a lot of legends, but I had to go away for a while because I took it for granted, and it made me appreciate what I'd lost."
 Brian Kendrick on his departure from the WWE in 2009.
Over the next seven years, Kendrick competed all over the world. He would join Dragon Gate USA, compete for Pro Wrestling Guerilla, Insane Championship Wrestling out of Scotland, EVOLVE, and even appeared once again for Ring of Honor. However, in 2010, Brian Kendrick would join TNA. During this time, we saw him capture the X-Divison championship. Whether it was as a heel or a face, Brian Kendrick was successful in TNA, in both singles and tag team action. He was genuinely pleased with his time in the promotion.
I enjoyed it. It's a different animal in TNA and not run the same as WWE, which I grew accustomed to with that level of work. TNA was great while I was there, but like many other TNA wrestlers, I wasn't working, getting paid for months off, and not being able to wrestle anywhere else. Stuff like that gave me stomach pains because they took what I loved away from me. When I was working at TNA, I loved it, but when they contracted me, they wouldn't bring me in and refused to let me wrestle anywhere else; I just wanted to go postal.
Brian Kendrick on his departure from TNA
Kendrick would then join New Japan Pro Wrestling and compete for the company for two years. He competed in such events as Dominion, Best of the Super Juniors, and the Super Junior Tag Team Tournament during this time. Something was missing, however. For all he achieved, he sought the opportunity to give back, and in 2013, he did just that. Drawing from his lessons under Shawn Michaels and Tracey Smothers' learning tree, Kendrick developed a wrestling school of his own and an associated promotion, aptly titled Brian Kendrick's Pro Wrestling school. One of his trainees that he felt put in the work was none other than former WWE talent Eva Marie. Kendrick hoped she would continue to face those more experienced than her in hopes of further improvement.
I think for me, I look at wrestling a little bit different and almost in an obscure way & I look at it as music and rhythm, more of tugging emotions than the physical side of it. I try to bring a fresh perspective on what wrestling is and what we are trying to get out of the fans and give back to the fans. What I have to offer is my unique perspective.
Brian Kendrick on his wrestling school
Aware of how things had ended for him in WWE seven years earlier, an opportunity presented itself for another return. He was chosen to be a participant in the inaugural Cruiserweight Classic. This sixteen man tournament saw him face the likes of Tony Nese, Raul Mendoza, and Kota Ibushi. However, it wasn't until after Ibushi eliminated him that all eyes were on him again. He and former training partner Daniel Bryan embraced in the ring, showing genuine emotion over how far Kendrick had gone in his return.
Since returning to the company, he has taken on several roles. He has been a face, a heel, a Cruiserweight champion, a mentor, an ally, and an enemy. What he has also been is unsung. For all he's achieved, Brian Kendrick's career has come full circle, and he's a better person and performer because of it.