Words like "excellence" have followed Bret Hart throughout his life. When he called himself "the best there is, the best there was, and the best there ever will be," he wasn't trying to brag. Instead, he was setting for himself a standard that he strived to live by.
From the moment Bret was born on July 2, 1957, there was no escaping wrestling for him. He was the eighth child born to Canadian wrestling pioneer Stu Hart. Stu owned and ran the Stampede Wrestling promotion. All eight Hart brothers did various work for the company from a very early age. They all trained for pro and amateur wrestling in the family basement, known affectionately as "The Dungeon".
The boys competed in amateur wrestling at high school and college before starting careers in the squared circle in their father's promotion. Even their four sisters would all marry wrestlers. They even kept a wrestling bear in their backyard.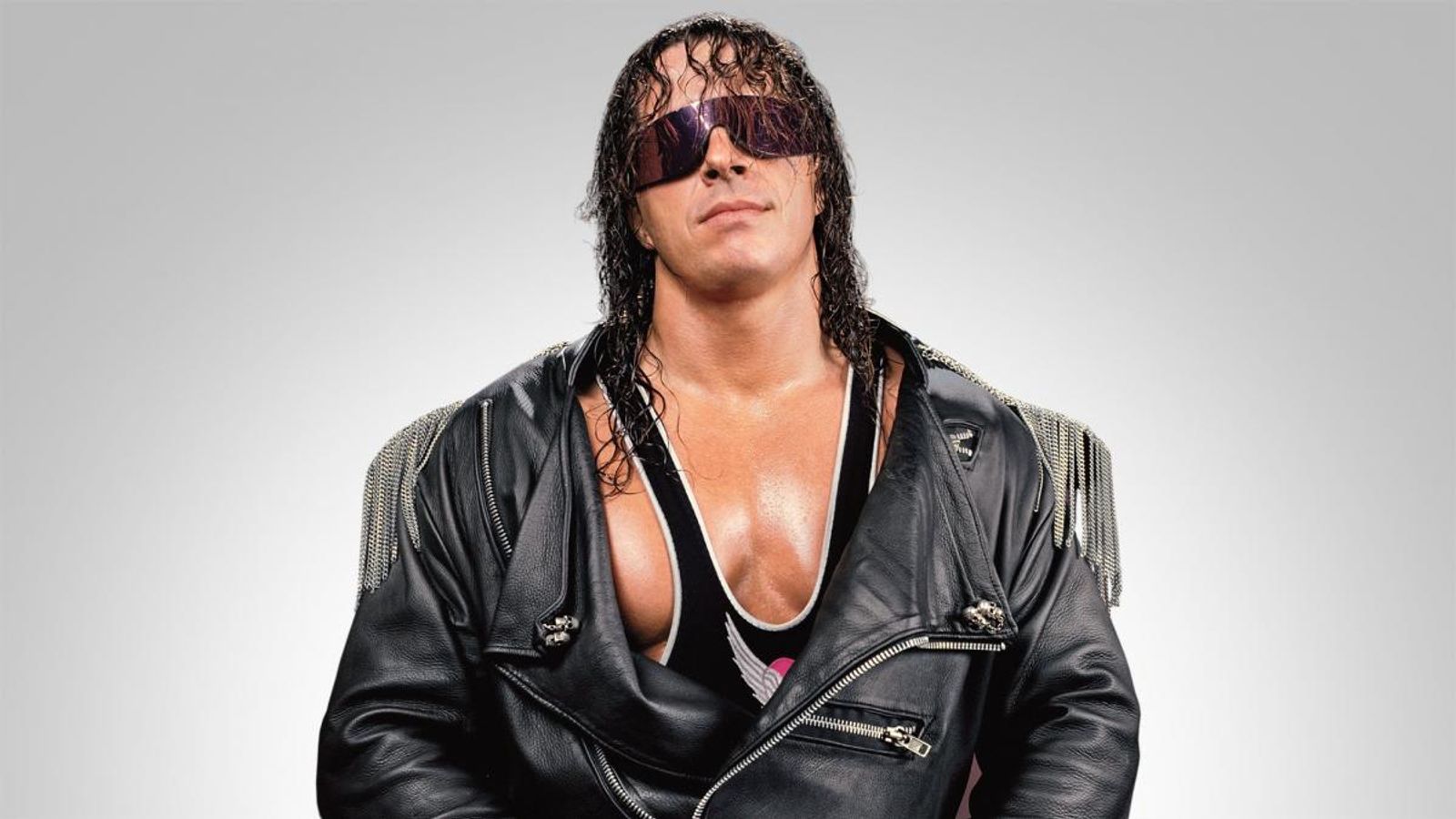 Bret Hart – The Definition of Excellence

Bret's first job in wrestling was to help pick numbers in prize draws. After that, he and his siblings would have to distribute fliers at school and sell programs at events. Bret would work as a referee in 1976 while he was a college student. His destiny appeared to be in the amateur sport. He earned national recognition for his success.
He describes showing his Canadian Interuniversity Sport medal to his father as being the moment that changed their relationship. His father wanted Bret to keep it as his main focus and go to the Olympics. But Bret did not see a viable career in it, and health issues was making it harder to continue. As his grades started falling, he saw pro wrestling as the only escape. He got his opportunity in 1978 when his father asked him to fill in for an opponent who no-showed an event.
"My dad was a shooter or submission wrestler, and he loved to stretch anyone who dared to show up at his door. I remember him stretching the daylights out of Father Roberts, the Catholic priest who baptized all the Hart kids. Father Roberts got closer to God in my father's basement dungeon than he felt comfortable with. But Stu was non-denominational; he stretched a rabbi once too."
– Bret Hart on his father's intense training techniques.
Bret would have been a crowd favorite just for being a Hart alone. His reputation from amateur wrestling preceded him. Fans expected more from him, and he delivered. He formed a tag team with his brother Keith and dominated the tag division. While he mainly competed locally, he got to work with a wealth of international talent.
It was his work and training with Japanese stars that set Bret apart from other performers. As hard as he worked in his matches, fans were more impressed by how he jobbed. His losses were often better performances. They helped raise Bret within the company to become one of the most decorated competitors. He even represented the company in New Japan Pro Wrestling.
Stampede was bought out by the World Wrestling Federation in 1984. According to Vince McMahon, the purchase was not about eliminating competition. He claims that he wanted to acquire Stampede's video library and four specific talents. Bret was one of them. He enjoyed a great relationship with McMahon from the start. He struggled to find his footing in the company.
He was smaller than most opponents, and he was lumbered with poor gimmicks. The first was the worst, and he only used it once. He believed that you should not call yourself a "cowboy" unless you had the toughness to back it up. Bret actually tried to persuade McMahon into firing the agent that was hampering his career. McMahon talked him into trying one last idea.
Hart was repackaged as "The Hit Man," one half of a tag team with his brother-in-law and fellow Stampede alumni Jim "The Anvil" Neidhart. The group was not called "The Hart Foundation" because of their family ties or connection to Stampede, but because of their manager Jimmy Hart (no relation). Bret only went along with it because he respected Neidhart. Everything they touched turned to gold.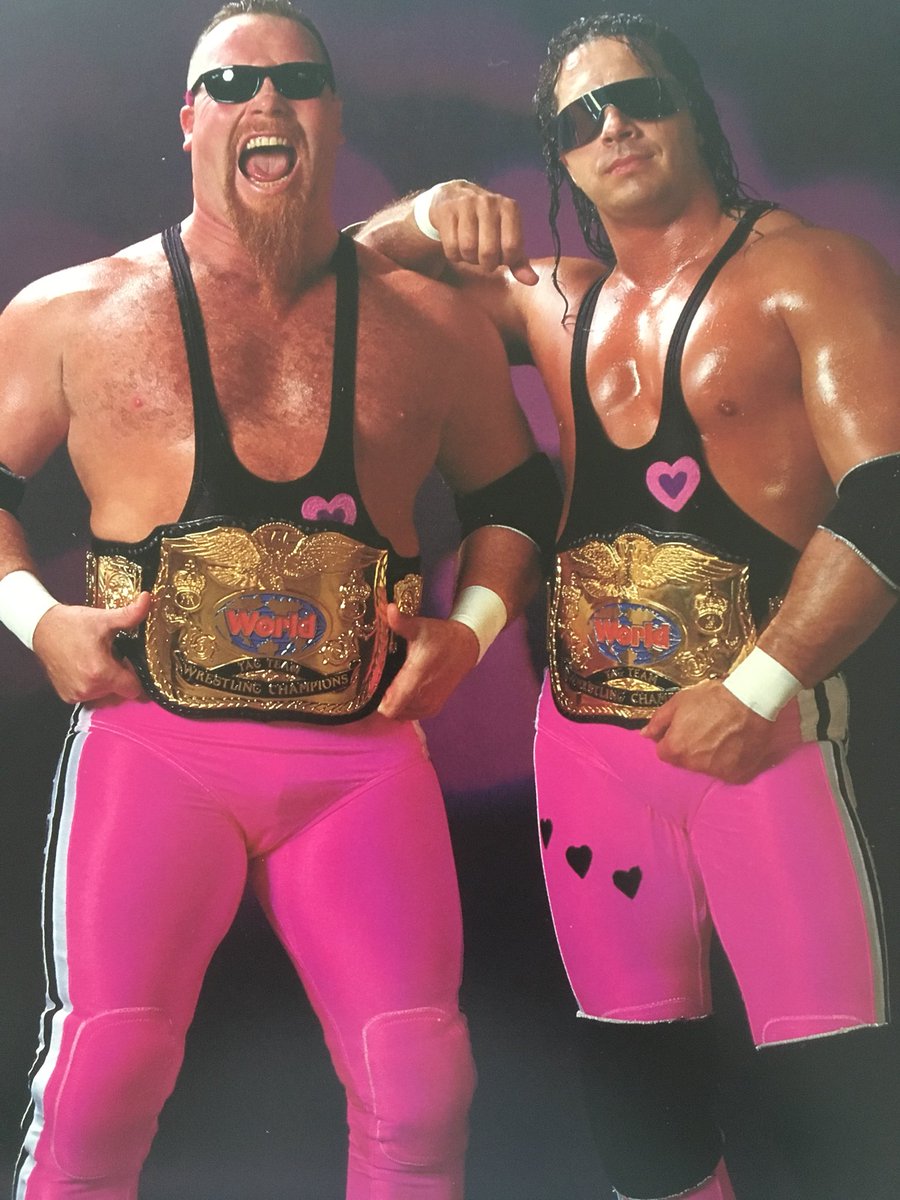 Bret began wearing sunglasses to hide his nervousness while giving promos. They would become Bret's signature. They began wearing pink on their plain black ring attires because the costume designer had no other materials available. McMahon was so taken aback by their look that he demanded it to be their signature colors. But most impressive was their ring style. Most tag teams featured two identical brawlers.
Hart was much smaller than their competition. He had to wear down their opponents with technical wrestling. It earned him the moniker "The Excellence of Execution" from Gorilla Monsoon. Then he would tag out to Neidhart. While Neidhart was also smaller than most opponents, he was still a powerful brawler. Opponents would often be easy pickings for him after Bret softened them up.
They also became known for their teamwork through their double-team moves. The "Hart Attack" saw Neidhart lift an opponent until Bret caught them with a jumping clothesline, creating a more powerful spinebuster.
The Hart Foundation competed in a battle royal at WrestleMania 2 that also featured NFL football players. They survived to the final three before being eliminated by eventual winner Andre, the Giant. This marked the first of twelve consecutive WrestleMania appearances for Bret. Additionally, Bret was the first person to enter a Royal Rumble match, while they both became the first team to work together to eliminate someone.
Their biggest rivals were fellow Stampede stars, The British Bulldogs (Dynamite Kid and another brother-in-law British Bulldog). They would win the WWF World Tag Team Championship twice, once against the Bulldogs and once against Demolition.
Bret's rising popularity meant that he often worked singles matches while still in a tag team with Neidhart. The group went their separate ways properly in 1991. Realizing that his jumping clothesline move was less impressive without Neidhart, he chose to adopt a new finisher. He chose to use a submission hold in recognition of his father. He had seen Japanese wrestlers use a move known as a scorpion death lock. Konnan taught Bret how to perform the move.
The first time Bret attempted it in a televised match, he did it incorrectly. This variation would become known as the "Sharpshooter." It would become a trademark move for almost every Canadian wrestler since in homage to Bret. Bret would use the finisher to defeat Mr. Perfect for his first Intercontinental Championship.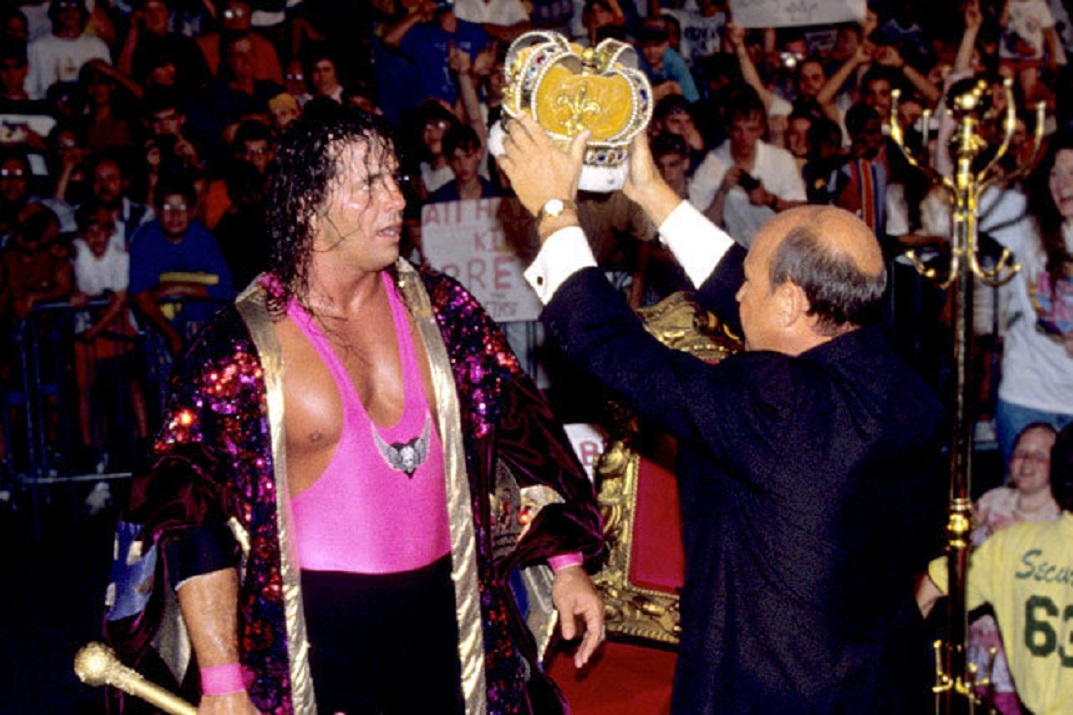 Bret also quickly won the King of the Ring a short time later. Bret then scored his first singles win at a WrestleMania when he regained the title from Roddy Piper at the 1992 event. Later in 1992, the WWF decided to expand in Canada. They were also implicated in a steroid scandal that was linked to Hulk Hogan. The WWF chose to run with Bret as the face of the company to improve their image.
While Bret admitted years later that he was using steroids, too, his physique didn't make it obvious. He was a fighting champion who defended the title frequently. He also implored McMahon to let him work with shorter talents to help elevate them. He lost momentum at WrestleMania IX. He lost the title to Yokozuna in the advertised main event. Hogan had persuaded McMahon that he was a bigger draw and should leave the pay-per-view with the title.
The show ended with Yokozuna challenging Hogan and Hogan, accepting the match with Bret's blessing. Two minutes later, Hogan was champion. Hogan had allegedly agreed to drop the title to Bret before he left the company, but he instead chose to put over Yokozuna.
The next year showed McMahon trying to back two horses. He did not know how to push the company forward without a larger-than-life powerhouse with a muscular physique as the top star. He tried to fit Lex Luger into the role that Hogan had carried for so many years. However, Bret was now the biggest fan favorite in the company. McMahon tried to push both as his top stars while trying to veer fans towards Luger.
While Luger stayed a consistent threat to Yokozuna and the WWF Championship, Bret was focused more on mid-card achievements, including a second King of the Ring win. The 1994 Rumble ended in a draw when both men eliminated each other as the final participants. While McMahon still wanted fans to embrace Luger, crowd reactions and merchandise sales made it clear that they favored Bret.
"What was going through my head? Number one; that we could pull it off. Number two; that I could go over the top rope backward while holding on to him and that I didn't crack my skull open in the process. My arms are wrapped around him. It's not the most comfortable feeling. I was concerned for my safety."
– Lex Luger on the finish to the 1994 Royal Rumble.
In late 1993, more members of the Hart family were brought into storylines. Finally, Bret had enough of Jerry Lawler insulting his parents. Bret teamed with his brothers Keith, Bruce, and Owen to battle Lawler's team at Survivor Series. Owen had been on the roster for a while as the masked superhero Blue Blazer. Now wrestling under his real name, he was the only Hart to be eliminated in the Survivor Series match.
This built into a storyline where Owen became resentful of Bret's success. The siblings would face off in the opening match at WrestleMania X. Fans were shocked to see Owen pick up a surprise win. They were even more surprised that Bret overcame the loss to beat Yokozuna for the WWF Championship in the main event. Each time Bret was champion, he primarily defended the title against up-and-coming talent in order to elevate them.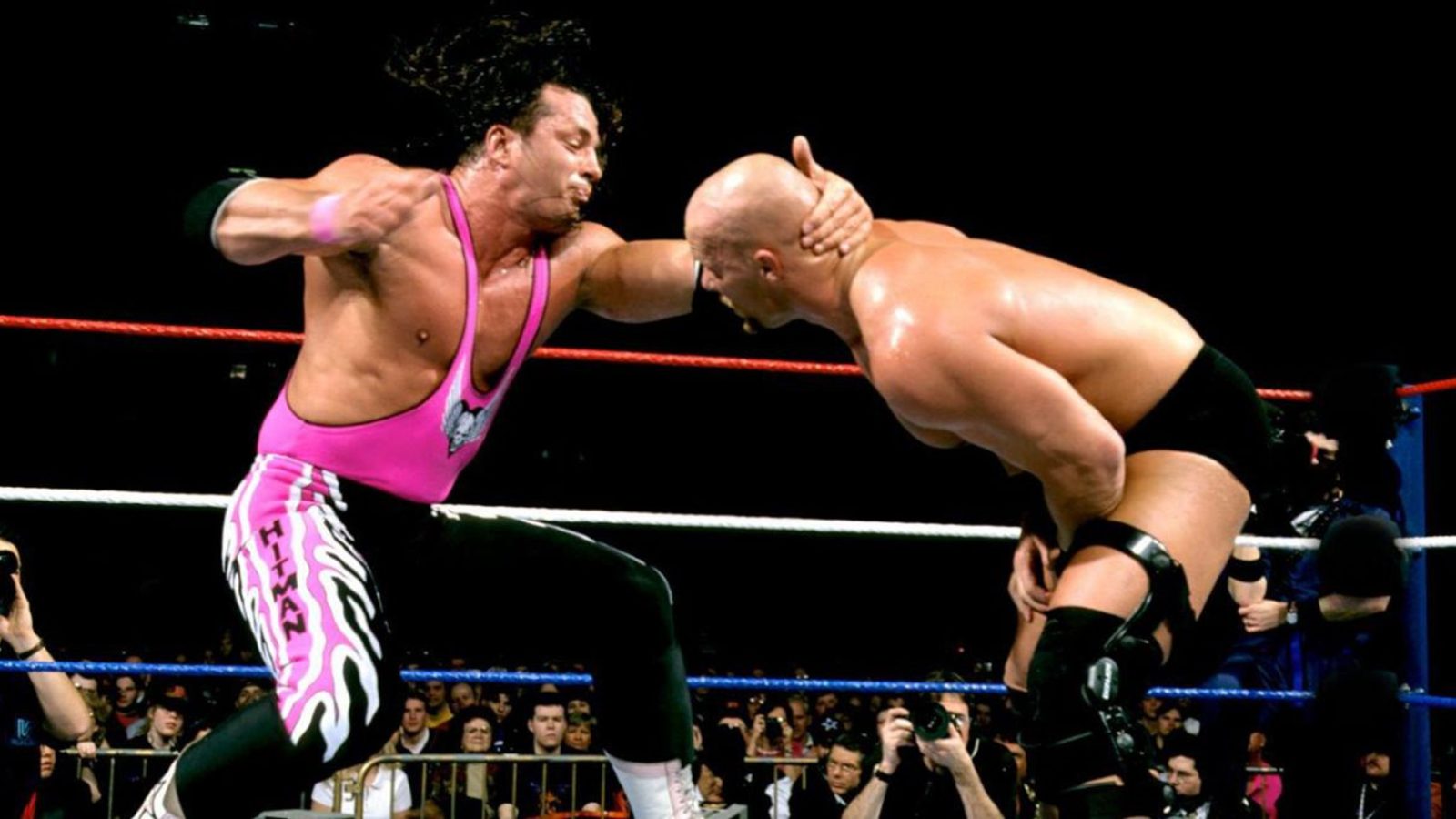 In 1996, Bret saw the tide was turning among fans. They were no longer interested in the traditional "Good Guys vs. Bad Guys" format. They preferred their baby faces to behave more like heels. He also knew McMahon saw potential in "Stone Cold" Steve Austin. He offered to help Austin get over. The duo had a long-running feud where Austin was the classic bad guy against the obvious hero Bret.
Bret typically won, but each victory became harder for him to get. Bret's desperation to permanently vanquish his foe led him down a darker path. The pair engaged in a Submissions Only match at WrestleMania 13 that became the most violent in Bret's career. It became famous for the "double-turn" as Bret became a heel during the contest, while Austin became a babyface.
However, Austin didn't actually change. He was still as arrogant and vindictive as before. What changed is how fans perceived it. Now they saw these negative traits as authenticity and even necessary. Bret had now become a desperate cheat who sunk to despicable levels to beat guys like Austin.
"I loved working with Bret. I've got a lot of respect for Bret as a person and everything he did as a pro wrestler. Hell, I remember one time we were working a show somewhere, and Bret was in the main event. He got a flat tire on his Lincoln Towncar, and I changed his tire while he was in the ring working. Every day you work with Bret, you could learn something.
We had 100% trust in each other and 100% respect for each other. He's a badass guy, and every night was a good night with Hart. That's the damn truth. I wish him all the best. I love that guy. I got so much respect for him. He truly is one of the best ever – an absolute artist in the ring. I hold him in very high regard, and he's a very dear friend."
– Steve Austin on working with Bret Hart.
For his final few months in WWF, Bret led a new version of the Hart Foundation. In addition to Neidhart, he aligned with Owen and Bulldog. They also had a fifth member, Brian Pillman, who had trained with the Harts. The group played anti-American heels, who continued to be cheered outside of the U.S.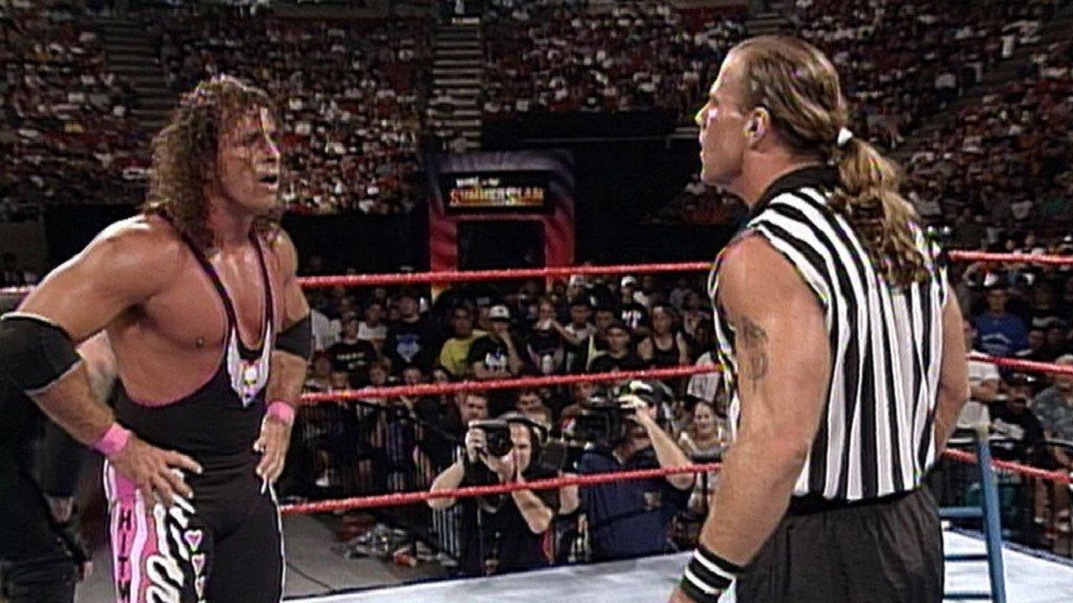 In 1997, a real-life rivalry reached its climax. One of the things that held Bret back was his lack of size. He knew he needed to change the industry mindset that size was more important than ability. That is why when Bret rose up, he sought to elevate other shorter talents. In particular, he aided Shawn Michaels.
The Hart Foundation dropped the tag titles to Michaels and Marty Jannetty in a match that had to be overruled due to the top rope breaking. When McMahon asked Bret for a match idea for a home video release, Bret suggested defending the Intercontinental title against Shawn in their first-ever ladder match. When Lawler was no longer available for the Survivor Series match at Survivor Series, he recommended having Shawn replace him.
He came up with the idea of defending the WWF Championship in a 60-minute Iron Match. It was designed to elevate him and Michaels, as he believed Michaels was the only person with the stamina to pull it off.
What Bret did not understand was that Michaels didn't like him. He saw Bret as an old guy who was in his way. He took every opportunity Bret offered him because it was an opportunity to get past him. Bret didn't get the hint when Michaels pressured McMahon into letting him do the first televised ladder match with his friend Razor Ramon. But he did get the hint just as WrestleMania XII was about to go off the air.
As referee Earl Hebner handed Michaels the title, Bret overheard Michaels saying, "Get him the f**k outta my ring." It was in that moment Bret realized Shawn didn't respect him. One of World Championship Wrestling's main strategies was to lure away the WWF's top stars with high-money contracts. Bret was loyal to McMahon and consistently refused their offers. Bret thought it would be a good idea to meet with WCW one time to put them off for good.
He demanded the same contract that Hogan had "plus $1", knowing full well that they would either refuse or Hogan would complain about it. When they asked for something else, Bret demanded $3 million a year. McMahon somehow learned about the meeting and locked Bret into a unique 14-year deal.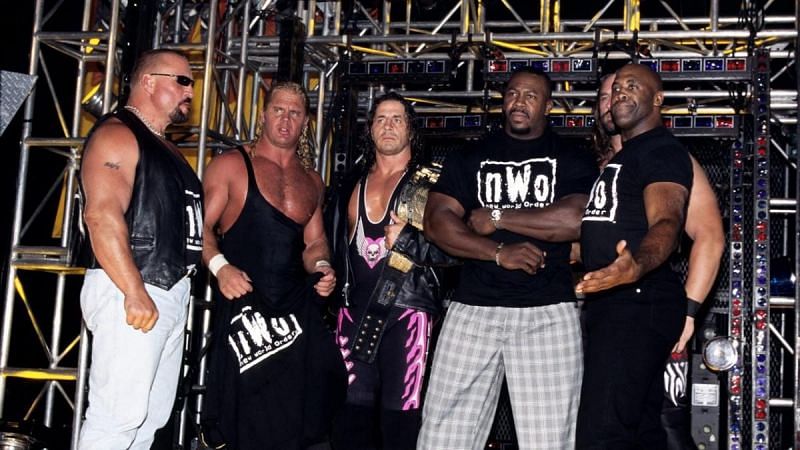 But then WCW actually agreed to Bret's terms. Soon after this, Michaels made an unprofessional comment on the air. He implied that Hart was having an affair with Sunny. The comment caused genuine arguments between Bret and his then-wife. When Bret tried to address the comment with Michaels, the encounter turned physical. Michaels threatened to quit the company.
It was at this point that McMahon wanted to cancel the 14-year deal he made with Bret. He claimed that WCW had offered Bret far more than he could offer him, and he should take it. McMahon even helped Bret negotiate an even better deal ($2.5 million per year with a lighter schedule). Bret initially agreed to drop the WWF Championship to Michaels at Survivor Series.
Bret told Michaels that he was willing to do the job despite all that happened. For unknown reasons, Michaels told him that he would not have done the same for Bret. Bret then told McMahon that he was unwilling to lose the title clean to Michaels in Montreal. Instead, he agreed to drop it to anybody else or drop it to Michaels in another venue. In a conversation that was accidentally recorded, McMahon agreed to Bret's terms.
However, during the live event, McMahon suddenly stopped the match and declared Michaels the winner and new champion. An irate Bret then tore up the set and started promoting WCW. Owen, Neidhart, and Bulldog immediately demanded their releases, but only the latter two were granted. Rick Rude, who was not under contract, quietly walked out.
According to Mick "Mankind" Foley, he and Undertaker also asked for their releases, but McMahon convinced them to stay. McMahon and the WWF then used various Raw segments to character assassinate Bret.
Bret's arrival in WCW was announced immediately, although he could not compete until January. In his first appearance, he stepped in for the referee in the main event of Slammiversary. After a few months, Bret was repackaged as a whiny heel. He frequently used injuries as an excuse for not working matches and used weapons to finish the ones he did work.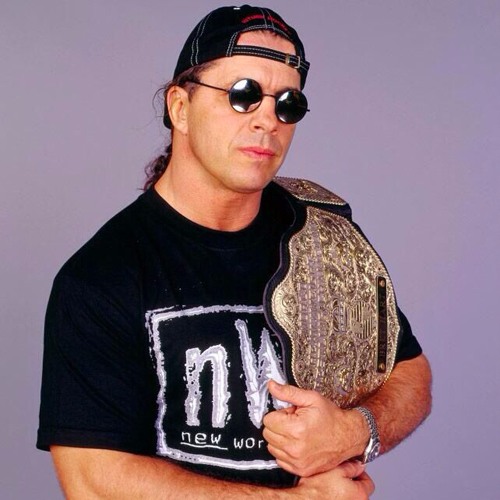 Bret had numerous title reigns, but they were all brief. One of the worst saw him drop the title when the Outsiders literally gave his belt back to Sid Vicious. Bret understandably hated his time in WCW. He only acknowledges two highlights. One time, he wore a metal plate under his hockey shirt to counter Goldberg's spear. The other time was when he worked a tribute match to his brother.
Owen tragically died in a freak accident at a WWF pay-per-view. The Hart family would sue the WWF and the company that provided the equipment for the fatal stunt. When WCW booked a show in the same arena, Bret chose to do a tribute match with Chris Benoit. For the rest of his time, he hated the terrible booking. He would perform technically excellent matches, just for them to end suddenly in outside interference or disqualification.
"A young Bret Hart was as good as they got. In the WWF, I never wrestled Bret because in the time I was there, he was in a tag team with [Jim] Neidhart, exclusively a tag team and no singles. To me, Bret was a wrestler's wrestler. He came by that naturally because of his father. I have nothing but admiration for the whole Hart family."
– Harley Race on Bret and Stu Hart.
Bret won the WCW World Heavyweight Championship in 2000. During this reign, he won the WCW World Tag Team Championship with Goldberg. He became one of the few people to win the triple-crowns in both WWF and WCW. His life was changed in a title defense against Goldberg at Starrcade. Goldberg delivered a stiff kick to Bret's head.
Unaware of his injuries, Bret continued to work and suffered more impacts to the head. He was diagnosed with post-concussion syndrome and was forced to retire from in-ring competition.
For the rest of his time in WCW, he mainly cut promos and did run-ins. He finally left the company in October. After that point, he made non-wrestling appearances in various indy promotions. He was made an onscreen commissioner in World Wrestling All-Stars until a stroke briefly left him wheelchair-bound. Hart would continue moving around different promotions around the world, often doing autograph signings wherever he went.
Bret made peace with McMahon and the WWE in 2004. This initially manifested itself as him allowing his image to be used in new merchandise and working on a new DVD project about his career. He was inducted into the WWE Hall of Fame but chose not to make any other TV appearances for WWE. The exception was pre-taped comments for an episode of Raw in 2007.
TNA Wrestling brought in Hulk Hogan as a business partner. At his insistence, episodes of TNA Impact were to be broadcast live at the same time as WWE Raw. His return had been advertised for three months. The WWE chose to counteract by having Bret Hart appear on Raw for the first time since 1997. Ratings showed that the WWE won this battle easily.
During the episode, Michaels and Bret made peace over what had happened years earlier. So did Bret and McMahon, but this one was scripted. McMahon kicked Bret in the crotch, setting up a feud going into WrestleMania 26. The two faced off at the event. McMahon seemed to have hired other members of the Hart family to battle Bret on his behalf.
Instead, they all attacked McMahon. This allowed Bret to win the match with the minimum of physical exertion. Bret would feature in other matches throughout the year, all of them featuring an angle that protected Bret from taking bumps. He was briefly made the Raw General Manager, but health issues made the role difficult for him. Hart would win the WWE United States Championship, making him a grand slam winner in the process.
In 2010, Bret inducted his own father into WWE's Hall of Fame. This was the first time a wrestler was inducted after one of his children had been (Curt Hennig was also inducted before his father, Larry Hennig). He returned again in 2019 to accept a second induction for himself. He was inducted as part of the Hart Foundation tag team with Jim Neidhart. The moment was tarnished when a trespasser stormed the ring and tackled Bret.
The attacker was later deemed mentally unfit to be tried. Bret made a surprise appearance at the first All Elite Wrestling pay-per-view to introduce the AEW World Heavyweight Championship belt. Fans noticed that Bret accidentally fell off the stage after the segment.
Bret has conducted multiple interviews over the past twenty years. His tendency to be critical of both past and present stars has earned him a reputation for seeming bitter. There have been times when Bret would retract some of his criticisms, but others he stands firmly by. In spite of things he has said, it is a little-known fact that he now enjoys close friendships with many of his real-life rivals, including Shawn Michaels.
In 2016, he shocked the world with a testicular cancer diagnosis. Later that year, he proudly declared that he had beaten cancer after being given the all-clear. Bret continues to raise awareness about the condition.
Bret has a number of other passions he has indulged in during his career. He wrote a weekly column for the Calgary Sun for over a decade. He has also made cameo appearances in movies, television shows and starred in pantomimes. Bret has contributed to multiple wrestling-based books and documentaries. He also filmed material for several video games. He has also famously founded the Calgary Hitmen, a junior ice hockey team that plays in the Western Hockey League.
Bret has been inducted into several wrestling halls of fame. One of his least publicized honors was receiving a traditional niitsitapi name. He was dubbed 'Courageous Chief' by Siksika Elder Miiksika'am. The ceremony was in recognition of the work his family (beginning with his father) had done in contributing towards building cultural relationships.
Throughout his singles career, Bret described himself as "The best there is, the best there was, and the best there ever will be." He originally used the line after hearing it in the movie, The Natural. After being forced to retire, he now maintains the statement is true. He believes he is the best because he only missed one scheduled appearance, and this was because of issues that were out of his hands.
He has never refused to job to anyone, apart from the Montreal screw-job incident. And he also proudly carries the distinction of having wrestled for twenty-two years without injuring a single opponent.
It can be hard to believe that Bret has been retired for as long as he was active. His legacy as one of the greatest lives on. Not just through his nephews and niece, that continue to make an impact in the industry. But through the others who were inspired to get into the ring because of him. And through the fans and co-workers who continue to associate him with excellence.