Big Japan Pro Wrestling's (BJWs) bi-annual round-robin tournament, the Ikkitousen Strong Climb, will come to a head-on Sunday, April 26.
The tournament can be viewed as the equivalent to New Japan Pro Wrestling's G1 Climax or All Japan Pro Wrestling's Champion Carnival, as the winner of Strong Climb is granted a BJW World Strong Heavyweight Championship match.
The Strong Climb, however, does not boast the same linage as the G1 Climax and Champion Carnival. The tournament was only introduced in 2012, with three winners in history; Yoshihito Sasaki, Shuji Ishikawa, and Hideki Suzuki.
This year's tournament was heavily impacted by the ongoing COVID-19 global pandemic. Due to a wave of event cancellations, a large portion of Strong Climb block matches were ruled a draw. As such, there is no way of knowing if these four semi-finalists were the original plan.
Perhaps, though, that only adds to the intrigue of the upcoming finals. Prior predictions are almost made invalid due to the unprecedented circumstances.
The show starts at 7 pm JST, 11 am BST, 6 am ET on April 26.
The full card is:
Strong Climb semi-final: Daichi Hashimoto vs. Daisuke Sekimoto
Strong Climb semi-final: Quiet Storm vs. Jake Lee
Kazuki Hashimoto and Masaki Morihiro vs. Kota Sekifuta and Kosuke Sato
Barbed Wire Board Deathmatch: Ryuji Ito and Abdullah Kobayashi vs. Yuki Ishikawa and Drew Parker
Yasufumi Nakanoue and Takuho Kato vs. Yuya Aoki and Hideyoshi Kamitami
Isami Kodaka and Takuya Nomura vs. Yuji Okabayashi and Akira Hyodo
Strong Climb final: Hashimoto/Sekimoto vs. Storm/Lee
This article will specifically focus on the Strong Climb semi-finals.
BJWs Ikkitousen Strong Climb Semi-Final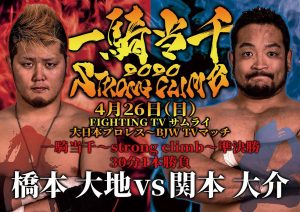 Booking a champion in any round-robin tournament is always tricky. As is a tradition in most Japanese wrestling companies, pinning a champion almost always results in a future title opportunity. It just so happens Daichi Hashimoto currently holds the BJW World Strong Heavyweight Championship.
The champion advancing to the tournament final is not unheard of, however, with multiple examples in recent history. Most notably, Kota Ibushi defeated reigning IWGP Heavyweight Champion Kazuchika Okada to win last year's G1 Climax in New Japan. Furthermore, Hashimoto advanced to the Strong Climb tournament final as champion in 2018.
The 2018 final sets an interesting precedent, as not only did Hashimoto advance the final as champion, but he also put the World Strong Heavyweight Championship on the line. Hashimoto lost the final, and subsequently his championship, to Hideki Suzuki.
Adding to the intrigue of this match is that it recently occurred at Big Japan's 25th-anniversary show on March 16. Hashimoto successfully defended the World Strong Heavyweight Championship against Sekimoto in a 23-minute bout.
In fact, Sekimoto has never defeated Hashimoto in the pair's three singles bouts in Big Japan. Hashimoto was also victorious in Strong Climb 2016 block competition and the Strong Climb 2018 semi-finals.
Losing to Hashimoto twice in such close proximity and bringing his overall record to 0-4 could seriously damage Sekimoto's credibility as a future contender going forward.
Hashimoto could advance to defend his championship in the final, similar to 2018, but it seems unlike such a major title change would occur on a fan with no live fans in attendance.
Predicted winner: Daisuke Sekimoto
BJWs Ikkitousen Strong Climb
Quiet Storm vs. Jake Lee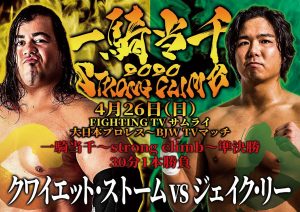 Jake Lee winning this matchup could be considered a slam-dunk pick, but there is one possible deterrent for Lee advancing.
Prior to cancellations, the winner of Strong Climb was expected to challenge for the World Strong Heavyweight Championship at Endless Survivor on May 5.
Also, scheduled for May 5? All Japan's Champion Carnival final.
As alluded to in the beginning of this article, it is difficult to take prior predictions into consideration. In spite of that, it does seem incredibly unlikely Lee would forgo the Champion Carnival final, regardless of whether he was set to win the tournament or not, to work a Big Japan show.
Conventional wisdom takes priority here, and it seems incredibly unlikely one of All Japan's top young stars would take the loss here.
Additionally, it would seem there were other plans in place for Quiet Storm as he was scheduled to challenge for BJW Tag Team Championships on March 27.
Predicted winner: Jake Lee
Originally written by Oliver Taylor