On Saturday, December 26th at Korakuen Hall, new Goddess of Stardom Tag Team Champions were crowned in Bea Priestley & Konami. Despite coming to the ring with the fans' admiration, champions Utami Hayashishita and Saya Kamitani didn't prevail. This battle between champions and challengers was remarkable. In a match that went a little under twenty minutes, it was clear that the challengers were out for blood.
________________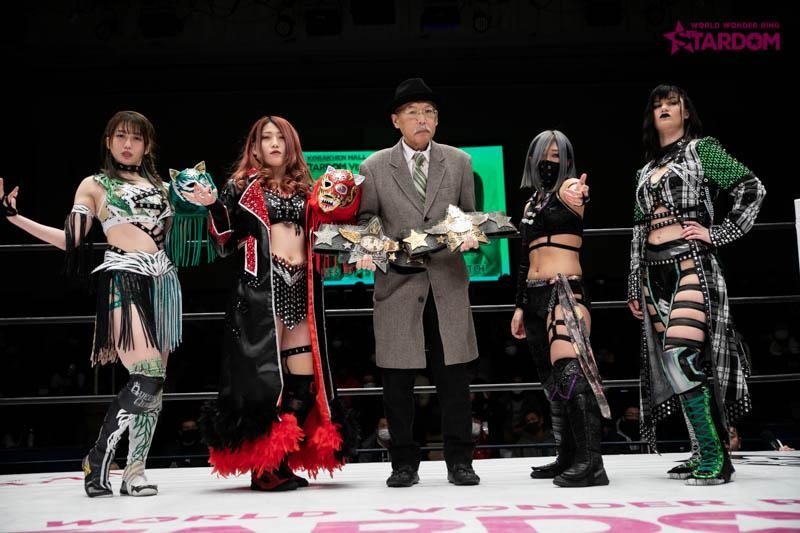 Konami and Hayashishita began the match, locking up early in the match. After a momentary jocking of position, the champion and challenger make tags to their respective partners. With both Priestley and Kamitani in the ring, it would be interesting to see how these two would square off with one another. Kamitani gains an early advantage, but both Priestley and Konami quickly halt that. Hayashishita attempted to make a save, but she is attacked at ringside. The challengers continue to work on Kamitani. Priestley continues to work on the arm and shoulder of one-half of the champions. The left arm and shoulder of Kamitani is a focal point for Priestley early in the match.
Konami is then tagged back into the match, and she continues where Priestley left off. Another tag into Priestley and they are clearly cutting the ring in half from the champions. At this point, Hayashishita is helpless to watch as the challengers are systematically taking her partner's shoulder and arm apart. Konami is tagged in, and Kamitani attempts to make a comeback and then does! She makes the hot tag to Hayashishita, who is forced to fight off both Priestley and Konami.
The Challengers Are Relentless In Their Pursuit of The Titles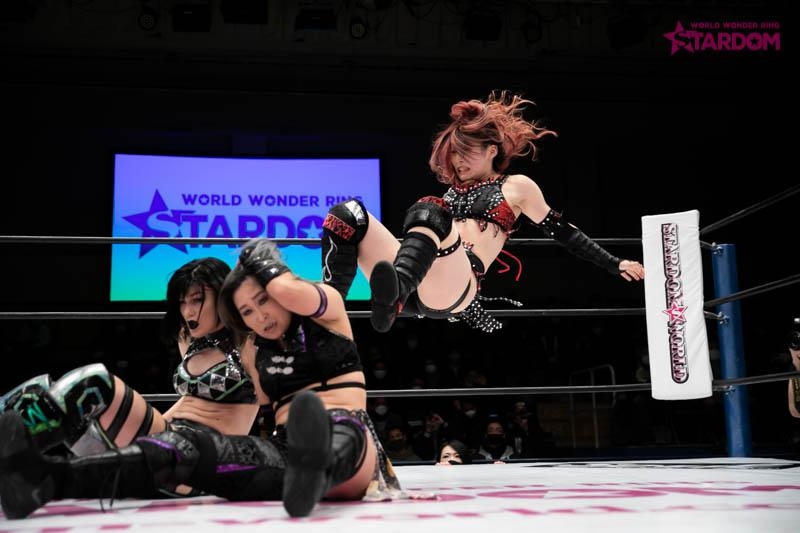 Hayashishita plants them both in the corner and hits them with an elbow, charging into the turnbuckle. The Red Queen hits a double dropkick on the seated Priestley and Konami. Hayashishita then makes a pinfall attempt on Konami but only for a count of two. Both Konami and Hayashishita exchange chin locks/sleeper hold attempts on one another. Konami then tags in Priestley who hits a back elbow on the Red Queen. This was while she is whipped into the corner turnbuckle. The advantage is momentary as Hayashishita hits a shoulder tackle on Priestley. Priestley clutches Hayashishita attempting a cradle-like suplex. But the champion holds her off. The two women exchange stiff back elbows from one another off the ropes. Priestley finally does hit her cradle suplex. She would have had the three count if  Kamitani didn't break up the pinning attempt.
All four women are now in the ring at the same time. Once Kamitani and Konami clear out of the ring it is just Priestley and Hayashishita. The Red Queen hits a belly to back suplex on Priestley. But the challenger gets back up! Hayashishita then hits a clothesline on the charging Priestley. Both women are down in the middle of the ring.  They eventually make the tag to their respective corners. Both Konami and Kamitani come at each other looking to wipe the other one out. Kamitani then hits a missile dropkick off the middle rope on Konami. However, this appears to have set her up for an onslaught by both Priestley and Konami. A shining wizard by Konami on Kamitani knocks her out of the ring!
Bea Priestley & Konami win Goddess of Stardom Tag Titles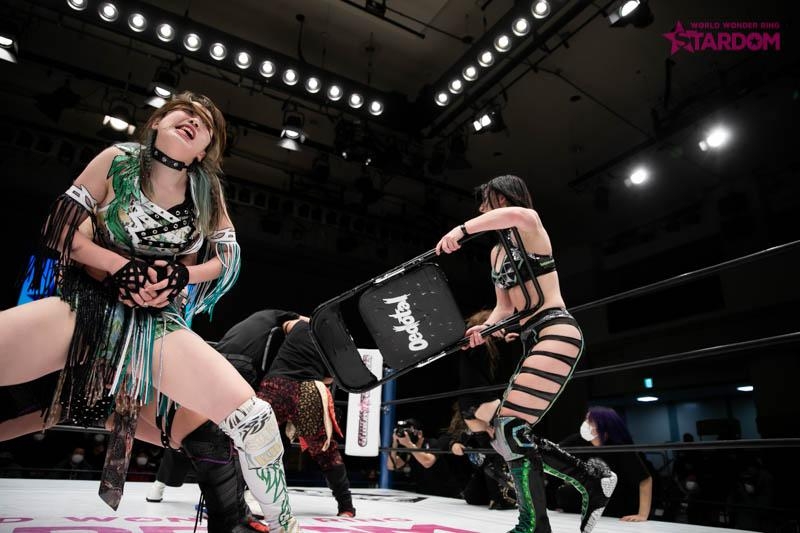 As the match reaches its closing moments, a chair shot that the referee failed to see combined with a shining wizard and cross arm breaker by Konami on Kamitani and the result are new Goddess of Stardom Tag Team Champions.
*****
Be sure to stay tuned to the Pro Wrestling Post for this and additional stories from the wrestling world. Readers can rely on Pro Wrestling Post to be their daily source for all things inside the squared circle. As a result, readers can expect daily news, history, and so much more. Please visit Stardom's official website here for upcoming news and notes.