In celebration of her 5Star Grand Prix victory not too long ago, figure it be best if she gets the spotlight for the Joshi scene. If you're familiar with Utami and with everything she's done before and during her wrestling career, you know what she's all about. And if you're not familiar with her or new to the Joshi scene, you've come to the right place. This is Utami Hayashishita.

Utami is twenty-two years old and has been wrestling over a little over two years now. Her debut was on August 12th, 2018 when she went up against Jungle Kyona in a fifteen-minute draw. Utami did have some hype going into her Stardom debut since she was a star of a reality show with her family that was called "Tsuukai! Big Daddy", which ran from 2006-2013. Once they found out the reality star was training to become a wrestler, the fans were excited to see what she would bring to the table. She graduated from Stardom's wrestling school on July 5th, 2018. It would lead to her having the match with Jungle.
In 2018, she won the Tokyo Sports Awards award for Best Newcomer.
Utami Hayashishita
After the match, a star was born as she has impressed the audience and wrestlers involved with Stardom. Stardom President, Rossy Ogawa was so impressed with her that he would add her to that year's 5Star Grand Prix. She was the final entrant into the tournament. She did take part in the Red Stars Block. Utami even went all the way to the finals before losing to Mayu Iwatani. With this loss, her experiment was considered a success and she would be now known as the Super Rookie. She would go on to win the Goddesses of Stardom Tag League a couple of months later. After the Grand Prix when she partnered up with the leader of Queen's Quest, Momo Watanabe.
This would eventually lead her into winning the Goddesses of Stardom Championships with her on November 23rd, 2018. It was the first title she has won. Her championship win was after only debuting in three months. That doesn't stop her there as she would win her first singles title when she defeated Starlight Kid to win the Future of Stardom Championship. Her win took place on January 3rd, 2019. Utami would soon strike gold in the same month as she would defeat Viper to take both her EVE International and SWA Undisputed World Women's Championship. After this Utami would have a new nickname for six months, 'Utami four belts'.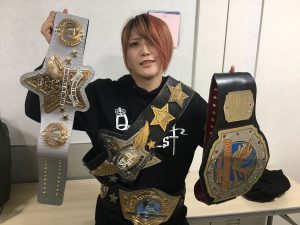 The Calm After The Storm
Like most wrestlers, there's always a cooldown moment as Utami would slowly lose some of her championships. But she would win the Artists of Stardom Championship with AZM and Momo Watanabe before 2019 would be over. On January 14th, 2020, she would make her way over to TAKA Michinoku's promotion, JTO. While there she would defend her Future of Stardom Championship against Maika. Both Maika and Utami had been calling each other out over the summer of 2019. It made Utami the winner of that match. On February 16th, 2020 after retaining the title against Saya Kamitani, she would officially announce that she would give up the title. In doing so, she has proven she was the best rookie Stardom had to offer and nobody would defeat her for it. Utami then decides to give it up and aim for the top titles.
Goddesses of Stardom Championship
Before this year's Grand Prix, she would win the Goddesses of Stardom Championship for the second time. But with a new partner this time as she teamed up with Saya Kamitani. Utami was in the Blue Stars Block as she would win it this time around after failing to make it to the finals last year. But this time, she would win the whole tournament for the first time. Utami really is a unique individual who wanted something and she aimed for it successfully in a short time's notice with only two years under her belt. She has a future opportunity for the World of Stardom Championship.
If you're new to her and wish to check out her work, be sure to subscribe to Stardom's streaming service to find her matches there, and if you need some convincing, here are some matches of her before you do sign up. This was a look at the career of Utami Hayashishita.