If the name ASUKA sounds familiar, the belief is that we are discussing former WWE SmackDown, Women's Tag Team, and NXT Women's Champion. However, unless they've followed the Japanese scene outside of New Japan, you have likely not heard about the other ASUKA also known as Veny. So let's talk about her career and just about her in general.
ASUKA is a Freelancer who was born on October 27th, 1998. She mostly wrestled for Pro Wrestling WAVE and was trained by the same person that inspired her to become a wrestler with she was a child, Ayako Hamada, who you may know from IMPACT back in the day as Hamada. ASUKA hasn't been wrestling long; she's only been in the ring for three years, but during this time, she was able to make an impact for herself with her combination of high-flying, Judo, Kendo, and just regular wrestling.
Since following her career in 2017, fans could see this athletic woman who would love like a young Jushin Liger, and one wouldn't know this at the time. Still, ASUKA is a transgender woman (MtF), and it was terrific when fans heard about that since many transgender wrestlers aren't often followed.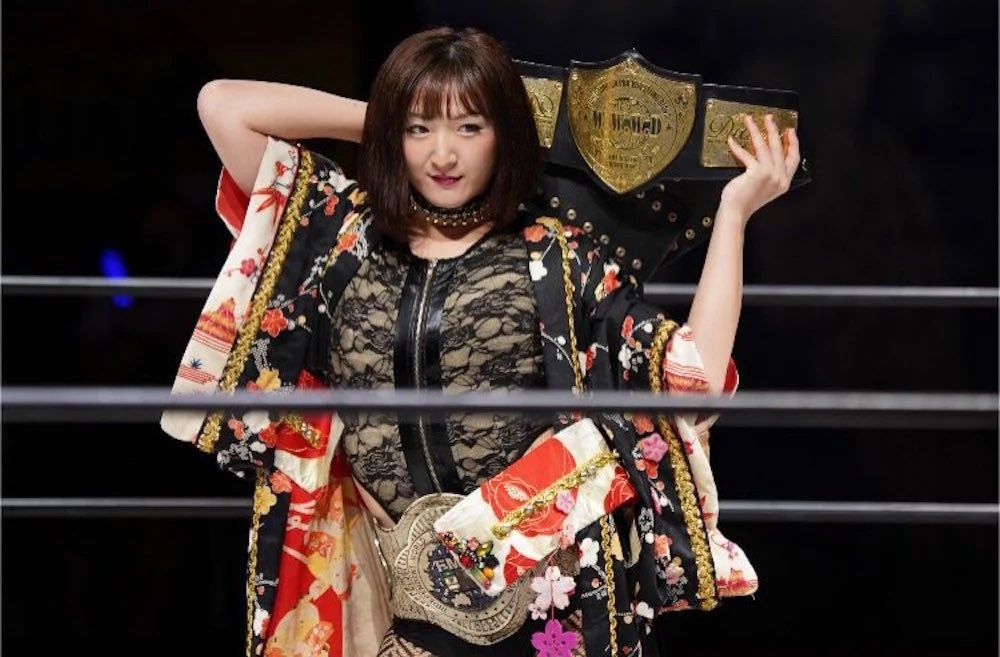 ASUKA

It didn't bother this fan since we respect people for who they are, and she wanted to make a name for herself in the ring and for her community, which I can admire greatly. Her first big break came when WAVE would have her main event, their 10th Anniversary Show against Yumi Okha, and the company was well aware of how some people felt about transgender, but they still willing to go forward because they had faith in her and wanted to make history.
ASUKA would win in her first main event, and a star was in the making as people were following behind her. During then and currently, she would change her gimmick and attire a bit as she developed more of a personality when she joined VooDoo-Murders, and she formed a tag team at one point with Hana Kimura; they would be called FloÜrish.
A year later, after her history-making moment, she would make history again as on August 19th, 2018, at Aniversario WAVE 2018, she would defeat Takumi Iroha to win the Regina Di WAVE Championship, which is the company's biggest title, and she became the first transgender person to win this title. She would hold the title for 118 days and had only two successful defenses before dropping it on December 15th, 2018. ASUKA had her final match at WAVE on December 29th, and that was when she would officially be a Freelancer as she wrestles for DDT, YMZ Pro Wrestling, and SEAdLINNNG.
An Identity Revealed
In 2017, there was an interview on Twitter where she would talk about her identity and a few things, such as where she was inspired to become a wrestler, coming out as gay to her father when she was a male, feeling pressured with particular sports activities. We don't want to give away too much stuff as it is an interesting read if you wish to know more about it here.
She has been able to make such a big impact in the three years she started. She represents the transgender community well for her country of Japan, and it's still great to see more people like her entering the wrestling world despite how people feel about them. She's someone you want to keep an eye on as she has a lot to offer and can deliver big matches when she can. ASUKA / Veny continues to fight for equality in all that she does. Her battle has yet to be over.