Welcome to another edition of AEW After Dark for 6/30/20  this week here at Pro Wrestling Post. This week we take a look at all the action from the 30th of June edition of AEW Dark. As usual, the show is hosted by Taz and Excalibur on commentary, but this week, we start with a confrontation between Brandon Cutler and Peter Avalon. You'll remember a couple of weeks ago there was some tension between the two as they failed to win as a tag team. Both men find out they have a tag match tonight and find out that their opponents are the Young Bucks. Peter Avalon plugs Young Bucks book that's due to come out this November. Singles action will get the action underway tonight.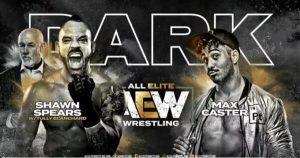 Max Caster vs. Shawn Spears 
Max Caster arrives, making his second appearance in an AEW ring this week after losing to Jurassic Express in last week's main event. Referee Audrey Hepburn checks the glove Shawn has on to make sure it's not loaded or concealing any weapon. The match makes a slow start with Caster getting the better of the early exchange until Shawn manages to get a trip to swing the momentum back in his favor. From here, it's all Spears before Shawn hits a C4 driver to win by pinfall in a quick opening contest.
Winner: Shawn Spears
After the match, Tully passed a steel lump to Spears to load the glove. Spears wasting no time went back to the ring and hit Caster.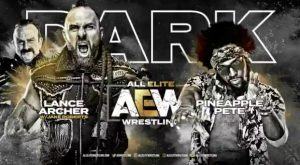 AEW After Dark for 6/30/20
Lance Archer vs. Pineapple Pete
Archer attacks Pineapple Pete while he's on his way to the ring before catching Jake inadvertently. Archer tosses Pete into the ring before entering himself for the match to begin. Pete has enough smarts to get Archer outside where Lance and Joey Janela have a confrontation at ringside. Pineapple Pete attempts to dive on Archer; Lance catches Pete in mid-air to hit the chokeslam. Pete hits a flurry of blows after being on the receiving end for much of the proceedings. Pete's punches do not affect Lance, who just socks Pete with a big right hand. Pete miraculously escapes the Blackout before getting cocky and making a mistake allowing Lance to hit the Blackbird. Archer hits the Claw on Pete and gets the win by pinfall.
Winner: Lance Archer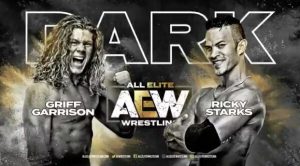 AEW After Dark for 6/30/20
Griff Garrison vs. Ricky Starks
Griff Garrison takes on AEWs newest acquisition in Ricky Starks, who had an impressive debut against Cody for the TNT title. This match is an excellent showcase for what Starks can do. He shows his athleticism and technical ability. Starks hits a flying spear to win by pinfall.
Winner: Ricky Starks
Ricky Starks makes his way to the commentary table to fist bump Taz.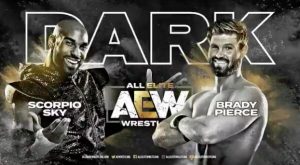 AEW After Dark for 6/30/20
Scorpio Sky vs. Brady Pierce
Sky representing SCU in the singles division is rocking a new tune on his way to the ring. A lock-up between the two men gets us started before Pierce throws Sky back into the corner. Sky retaliates with some chain wrestling taking Pierce down to the mat. Pierce survives an onslaught in the early part before hitting a big boot on Sky. Brady misses a splash in the corner, allowing Sky to capitalize with a springboard cutter to win by pinfall.
Winner: Scorpio Sky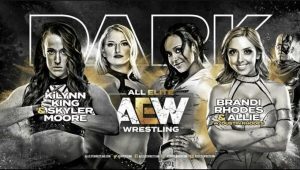 AEW After Dark for 6/30/20
Kilynn King/Skyler Moore vs. Brandi Rhodes/Allie
Brandi and Allie have had their problems in recent weeks, and that continues this week with Brandi taking offense to the introduction as the Nightmare Sisters. Kilynn and Brandi start with Brandi getting the better of the opening exchange leading to Allie tagging herself in to take the glory. Brandi would tag herself back in addition to the argument between Allie and Brandi Kilynn got her self together and attacked Brandi. Skyler and King would take turns putting the boots to Brandi in the corner. Brandi would duck under a clothesline before hitting a stunner. Allie would get tagged in and hit a cross Rhodes on Skyler before allowing Brandi to make the pinfall.
Winners: Brandi Rhodes/Allie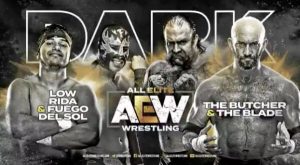 AEW After Dark for 6/30/20
Low Rida/Fuego Del Sol vs. Butcher and the Blade
Butcher and The Blade come in ahead of their eight-man tag match at Fyter Fest in what can be described as a tune-up match. The Blade starts with the joint manipulation targeting Fuego's shoulder. Butcher tags himself in, and the two brutes start hitting Fuego's shoulder before lawn darting Fuego across the ring. They intercept Low Rida before The Blade hits a series of vicious chops and drives him down straight onto his back. Butcher tags in and Low Rida escapes making the tag to Fuego. Fuego runs into Butcher and winds up trapped in a cloverleaf submission despite Low Rida's best efforts to break the hold Fuego taps.
Winners: The Butcher and The Blade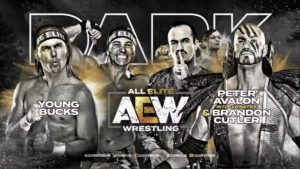 AEW After Dark for 6/30/20
Peter Avalon and Brandon Cutler vs. The Young Bucks
After their confrontation at the start of the evening, the Bucks take on Avalon and Cutler in Dark's main event. Matt and Cutler start off before Matt passes Cutler over to Nick to maintain the wrist lock. Cutler would get in a position to make the tag, but Avalon refuses the tag. The Bucks would hit a wheelbarrow cutter on Cutler before Avalon will accept the tag. Avalon runs into an arm drag before the Bucks continue having their way in the match. Avalon and Cutler can't quite decide who should be the one to hit a suplex while they're standing arguing in the middle of the ring, allowing Matt to tag in his partner.
Leiva bates would provide enough of a distraction with her books to allow Avalon to attempt to gain control; unfortunately for Peter, he'd attempt an atomic drop where Nick could tag Matt while he was unaware. Matt would spear Avalon from out of nowhere, taking him off his stride. Avalon would duck a superkick party before tagging in Cutler, who ran through the Bucks. Avalon and Cutler have a moment where they sync up as a unit before arguing, following a blind tag. They would duck an attack from the Bucks despite this, and it wouldn't be until Matt catches them in northern light suplex that the Bucks would get control. BTE trigger would be enough for Young Bucks to walk away with a win in a surprisingly competitive match.
Winners Young Bucks