The career of Adam Copeland has read like a book. From his initial time in the WWF to his growth in the WWE, his allegiance with Christian (Cage), and his countless feuds and titles won, it is impossible to capture all he's achieved in one post.
After scratching the surface of what he's done early in his career, it became imperative to explore what came next. His next allegiance was along a second-generation talent and former world champion as well.
Adam Copeland (Edge) and Randy Orton – Rated RKO
It's amazing what mutual hate can do. In 2006, Edge's Hatred for DX became the common bond to team up with Randy Orton. Both DX, Shawn Michaels, and Triple H would constantly cost Edge his opportunity to regain the title.
Edge reasoned with Orton, reminding the Legend Killer that it was Triple H who orchestrated his beating by Evolution the day after he won the World Heavyweight title. Orton hated Triple H, and that was enough to form Rated RKO.
They even went so far as to dress up like DX, mocking them. Orton would take a lap like HBK, then fall over from exhaustion. Edge nailed his Triple H impersonation with a big honker—however, no one put out practical jokes about Degeneration X.
In a very memorable promo, DX humiliated Rated RKO. Just like Edge's past tag team alliances, Rated RKO became WWE Raw stage team champions, defeating Ric Flair and Rowdy Roddy Piper. Edge was now an 11-time Tag team champion.
At New Year's, Revolution Rated RKO defended the titles against DX. Shortly after that, the storyline ended because Triple H suffered another quad injury. With HHH out on injury and no tag titles to defend, Rated RKO imploded.
Ultimate Opportunist
Edge convinced Mr. Kennedy to put up the Money In the Bank contract. He attacked Kennedy before the match, injuring his shoulder. An injured Kennedy was easy prey. Edge defeated him and walked away with the contract.
Fans started calling Edge the Ultimate Opportunist. The Undertaker was the World Heavyweight Champion on Smackdown. After defending the championship against Batista, Undertaker was attacked by Mark Henry.
Edge, a Raw Superstar, surprised everyone and cashed in on a beaten-down deadman. Edge became the World Heavyweight Champion and a part of Smackdown. After several title defenses against Batista and Kane, the Rated R Superstar suffered another injury and was forced to relinquish the belt.
Edge vs. The Undertaker
On November 18, 2007, Edge returned to Survivor Series. Once again, he ruined the Undertaker's World Heavyweight Title run. During a match with Batista, the Rated R Superstar helped The Animal defeat The Phenom.
Never before had someone angered the Undertaker more than Edge. He was officially a dead man walking. It was revealed Edge was involved in a relationship with Smackdown GM Vickie Guerrero.
Vickie immediately gave Edge a World Heavyweight Championship match at Armageddon against Batista and The Undertaker.  During the match, two Edge look-alikes surfaced. They were both dressed as Edge, complete with long hair.
Essentially, Batista and the Undertaker were in a handicap match. Edge won the match, becoming the new World Heavyweight Champion.  He called his associates Edge Heads, aka Zach Ryder and Curt Hawkins.
Through Vickie, Edge also hired Chavo Guerrero to watch his back. The group was called La Familia, but this was all about Edge.
Master Manipulator
Edge was on top of Smackdown. He defended the title against all challengers with help from La Familia in most cases. To keep Vickie Guerrero in his back pocket, Edge proposed to the "love of his life". He was the master manipulator.
The World Heavyweight Title was his life's only love at that time. Edge was in heaven. However, by angering the Undertaker, he opened the gates of hell. At WrestleMania XXIV, Edge was defeated by The Undertaker with Hell's Gate submission.
The Phenom was the new World Heavyweight Champion. Edge convinced Vickie to ban the Hells Gate submission. Since Undertaker refused to stop using it she stripped him of the title.
Edge and Undertaker's feud became so heated that Edge challenged The Deadman to a TLC Match at One Night Stand on June 1, 2008. To make matters worse, a stipulation was added that if the Undertaker lost, he would be banished from WWE.
Edge ended up defeating The Undertaker, winning the World Heavyweight Championship back. As was agreed upon, The Undertaker was banished from the WWE. Edge's manipulation of Vickie Guerrero was paying off.
He was the World Heavyweight Champion, and his greatest threat was gone forever. He appeared on RAW to rub it in the Monday Night roster's face. Batista had enough. He attacked the champion, leveling him with the Batista Bomb.
Just as Edge had done in the past, a new Money In the Bank winner was waiting. CM Punk ran to the ring with his briefcase as Edge was out cold. Punk cashed in the contract and pinned Edge, becoming the new World Heavyweight Champion. That title now became a part of Raw. Edge lost everything.
Welcome to Hell
The next night on Smackdown, The Rated R Superstar was livid. He canceled his wedding with Vickie Guerrero. Edge's true colors were beginning to show. Without the title, Vickie was useless to Edge.
The next week, Edge re-proposed to Vicki after she saved him from a beatdown by the Big Show. The wedding was back on. His mind game with Vicki Guerrero continued. However, Edge was about to deal with the original cerebral assassin, Triple H.
Triple H took it upon himself to spoil Edge's wedding by producing a video of Edge cheating on Vicki. The couple made up. However, Vicki soon revealed that in her anger she rehired the Undertaker.
Not only that, but Edge would face the Undertaker in the Hell in a Cell Match at Summerslam. Edge began to unravel. He attacked La Familia. Edge indeed was all by himself against The Demon of Death Valley.
At Summerslam, Edge paid for his sins when The Undertaker chokeslammed him literally to hell off the top of a ladder.
Eventually, Vickie forgave Edge. He returned at Survivor Series on November 23, 2008, in a triple threat match for the WWE title. Jeff Hardy was supposed to face Vladimir Kozlov and WWE Champion Triple H.
However, Edge replaced Hardy and walked away with the title. A month later, Hardy got his rematch and defeated Edge.  At No Way Out on February 15, 2009, Edge defended the WWE title inside the Elimination Chamber but was eliminated early on, therefore losing the WWE title.
During the World Heavyweight Title Match, also contested in The Elimination Chamber, Edge took Kofi Kingston's spot and won the championship, taking it back to Smackdown. He held that title for about a month, until WrestleMania 25, where he was defeated by John Cena in a triple threat that also included the Big Show.
A month later, he again regained the championship, defeating Cena at Backlash in a Last Man Standing Match. However, Cena was always one step ahead of Edge and defeated the Rated R Superstar, ending their rivalry.  Edge tried to regain the WWE Championship but was unsuccessful.
Teaming with Chris Jericho
Edge teamed up with fellow Canadian Chris Jericho. Together, the duo won the Unified WWE Tag Team Championship. This made Edge a 12-time tag team champion. He was a tag team ring general.
Unfortunately, again, an injury plagued Edge. He tore his Achilles tendon and would be gone for up to a year. In his absence, Jericho teamed with The Big Show, defending the titles. While Edge was sitting at home, Y2J mocked Edge.
He said Edge was weak and that he was the stronger superstar. A year went by, Edge returned to action at the 2010 Royal Rumble, winning the Rumble match. This was the first time The Rated R superstar won the Royal Rumble.
Even more impressive, he eliminated John Cena to win. At the same time, Chris Jericho once again won the World Heavyweight Title. Edge challenged Jericho but could not take the belt from Le Champion.
Drafted to RAW again
Shortly after that, Edge was drafted to RAW. He immediately focused his attention on Randy Orton. He also wanted to reform Rated RKO with now fan-favorite Randy Orton. Orton refused and started a series of matches with Edge.
A year later, Edge was drafted back to Smackdown. Edge wasted no time reestablishing himself as Smackdown's main event player. He helped Team Smackdown defeat Team Raw at the Bragging Rights Pay Per View.
A month later, on October 29. Edge became the number-one contender for the World Heavyweight Championship. At the time, Kane was the champion. Edge did put out Kane's fire by winning the title in a TLC match. This win made Edge a 10-time World Champion.
The Rated R Superstar went on to face Dolph Ziggler. In a turn of events, Vikki Guerrero edges his ex-wife, fires him, and gives the World Heavyweight title to Dolph Ziggler, her new love interest.
When the official GM of Smackdown, Theodore Long, returned, he rehired Edge and immediately made a match between the Rated R Superstar and Ziggler. Edge defeated Ziggler and won the World Heavyweight Championship back.
Edge went on to retain the World Heavyweight Title against del Rio at WrestleMania XXVII.
Edge Retires Due to Injury
Edge seemed to be on top of the world, but in mere days, his world would come crashing down. On April 11, 2011, he spoke about the "realities of pro wrestling." He mentioned he had previous neck injuries, and his doctors warned him about competing.
Edge was suffering from cervical spinal stenosis and would not be cleared. On April 15, 2011, He relinquished the World Heavyweight Championship and announced his retirement. The vacant World Heavyweight Championship was on the line at Extreme Rules.
On a night that is one of the best feel-good moments in history, Christian became the World Heavy Weight Champion, defeating Del Rio in a TLC Match. Edge was in his best friend's corner to celebrate.
On March 31, 2012, Edge was inducted into the WWE Hall of Fame by none other than Christian. Edge made random appearances on WWE television. Including a show with Christian on the WWE Network
The Return to WWE
After months of MIA, Edge made a one-night-only appearance at Summerslam 2019. This made everyone wonder if The rated R superstar was returning. All questions were answered at the Royal Rumble 2020 when Edge entered the Royal Rumble Match.
In one of the loudest crowd reactions in a long time, Edge eliminated three superstars, including former RKO teammate Randy Orton. Unfortunately, Edge did not win the Rumble, but that didn't matter. The fact that Adam Copeland came back from a career-ending injury was all that mattered.
Royal Rumble 2021
Randy Orton was not happy being eliminated by his former partner. The Apex Predator wanted to be the first to welcome Edge back to the WWE in his way. On the Raw after the rumble, Orton attacked Edge.
This led to a last-man-standing match at WrestleMania 36, in which Edge got the victory. At Backlash, Edge fought Orton again. Edge tore a tricep during the match and was put on the shelf for eight months. Edge finally returned on January 29, 2021, at The Royal Rumble.
To everyone's surprise, Edge won the Royal Rumble in the most inspiring moment in Adam Copeland's career. Not only did he win the match, Edge drew the number 1 entry and outlasted 30 other superstars.
This was the Edge everyone was waiting for. The Rated R superstar was back.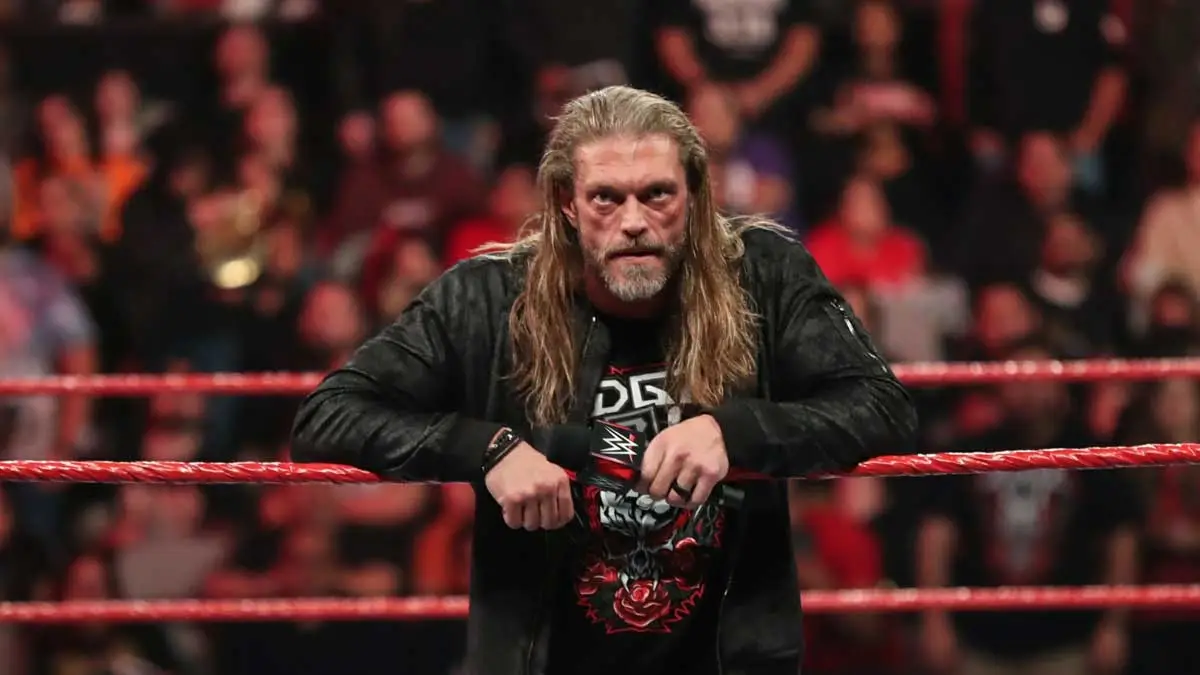 Edge vs Roman Reigns
By winning the rumble, Edge was now guaranteed a Title shot at WrestleMania. Edge decided to challenge the WWE Heavyweight Champion Roman Reigns. At the Elimination Chamber, Edge made his intentions clear by spearing Reigns.
Not only did Edge attack the champion, but he also took out Reigns Challenger Daniel Bryan. Due to that attack, the Championship match at WrestleMania was now a Triple Threat. The three had an amazing match.
Edge was as ruthless as ever even at one point choking out Reigns with a lead pipe. Unfortunately, Edge did not win the championship due to interference from Jay Uso. After putting his all into that match and still coming up empty, Edge took two months off, contemplating why he even returned in the first place.
Return of the Brood Attitude
On the June 25th Episode of Smackdown, Edge returned attacking Reigns and the Usos. At Money In the Bank, Edge faced WWE Champion Roman Reigns but once again lost due to interference.
This time, it was Seth Rollins who ruined Edge's match. After that loss, Edge's mental state began to deteriorate. We were seeing the side of Edge we had not seen in quite some time. The look in his eyes was starting to change.
Edge was becoming bloodthirsty, literally. At Summerslam, Edge walked to the ring to the Brood theme music. For an attitude-era fan, this was an iconic moment. Edge's newly found attitude propelled him to a win over Rollins.
Edge and Rollins traded victories through most of the fall of 2021. After a match, Rollins attacked Edge once again, hospitalizing him. When Edge returned, he challenged Rollins to a match at Crown Jewel, ending their rivalry.
Judgment Day
On Raw Edge was confronted by The Miz. Miz challenged Edge to a match at the next show DAY 1. Edge defeated The Miz with some help from his wife, Beth Phoenix. This led to a mixed tag match with Edge and Beth vs Miz and his wife, Maryse.
At The Royal Rumble, Edge and Beth scored a victory. On February 21, 2022, Raw Edge issued an open challenge for WrestleMania 38. The Phenomenal AJ Styles accepted. Edge felt the need to revisit his Ultimate Opportunist side and attacked AJ.
Edge began to walk to the ring to new entrance music called "the other side". At WrestleMania 38 Edge defeated Styles with Damian Priest's help. Edge and Priest formed an Alliance called The Judgment Day.
At Backlash AJ Styles wanted another opportunity against Edge but lost due to interference from Rhea Ripley. The Judgment Day was growing. Aj Styles knew he had to reach out for some help against this new faction.
He recruited Liv Morgan and Finn Balor to watch his back. At Hell in a Cell, The Judgment Day defeated the trio. The next night Finn Balor turned his back on Styles and joined Judgment Day.
In a surprising turn of events, Balor, Priest, and Ripley turned on Edge. They attacked him and used Edge's signature con-chair-to on the Hall of Famer.
Edge vs. Finn Balor
At Summerslam, Edge returned to help Rey Mysterio and his son Dominick against the Judgment Day. At the first-ever clash at the castle, Edge teamed up with Rey to challenge the Judgment Day.
Unfortunately, Dominick turned on his father and Edge to join the group. Wanting revenge on Finn Balor, Edge challenged the new leader of Judgment Day to an "I Quit " match at Extreme Rules on October 8, 2022.
Due to Judgment Day's help, Edge lost.  After the match, Rhea Ripley attacked Beth Phoenix, and they also gave her a con-chair-to. Judgment Day was here to annihilate the WWE. Edge again returned at the Royal Rumble, eliminating both Finn and Priest.
Edge and Phoenix once again teamed up, defeating Balor and Ripley.
Thank You Edge!
This led the Edge vs Balor in the Hell in a Cell at WrestleMania 39. Edge defeated his Judgment Day rival. Now, he could finally move on. After Mania, he was drafted to Smackdown.
On August 18, 2023, Edge celebrated 25 years with WWE. He has done it all and won it all. Edge wrestled his final WWE Match against Sheamus in Toronto, Canada, his hometown. His WWE contract was set to expire.
Was Edge officially done with wrestling? But did that mean Adam Copeland was also finished wrestling?
The world knew Edge was the ultimate opportunist, but as they would soon find out, Adam Copeland is an Elitist. In September 2023, Adam Copeland joined All Elite Wrestling.
Adam Copeland is all Elite
AEW was fast rising in popularity. Contrary to popular belief, neither WWE nor Adam Copeland have bad feelings towards one another. Paul Levesque, aka H WWE Head of Talent Relations, wished Adam luck and said the "timing was just right."
Several of Adam Copelands' contemporaries have already made AEW their home. Matt and Jeff Hardy, Chris Jericho, and Copeland's best friend and rival Christian Cage were already making waves in AEW.
It was a natural decision that Adam Copeland would want to end his career with his friends. On October 1st, 2023, at WrestleDream 2023, The Rated R superstar Adam Copeland saved Sting and Darby Allin from an attack by Luchasarus, Nick Wayne, and, ironically enough, Christian Cage.
On October 10, 2023, Adam Copeland had his first match against Christian bodyguard Luchasarus. From the moment Christian Cage saw Edge, you knew that we were in for another chapter from these best friends, better rivals duo.
At Full Gear, another chapter will be written between Adam Copeland and Christian Cage. Buckle your seat belts and hang on tight.