This is the fourth and final part of a four-part series on the history of Empire State Wrestling.
As we continue to look at the history of Empire State Wrestling, the year is 2014. As 2014 began, so did a new era for Empire State Wrestling (ESW). Following up upon the first-ever Ilio DiPaolo Cup match at the previous year's WrestleBash event, ESW events began to transition more toward a style of wrestling that was utilized by many of the major stars on the independent scene and less emphasizing of the heavy character/story-based product that ESW traditionally exhibited.
"It wasn't so much I wanted to change (the style) as much as I felt it had to be charged," said ESW promoter Brett Mednik. "Wrestling, in general, is always changing and we weren't a heavily stacked promotion with gimmicks the way a promotion like Chikara is that I believe could have survived or at least stayed relevant enough for fans from other states and countries even to know or even care we existed the way we currently do today."
ESW began booking high-profile independent wrestling stars on a regular basis during this year. Many of these wrestlers would climb to further heights with the mainstream major promotions. This booking strategy was coupled with including the occasional wrestling legend as well as a steady supply of locally-based talent that remained the cornerstone of the promotion.
The Super Indie Era
The first big-name independent talent to be featured in 2014 in ESW was Kevin Steen (now known as Kevin Owens in World Wrestling Entertainment (WWE)) at its March show "Reckoning Day". He took part in a triple threat match with ex-WWE star Colin Delaney and Pepper Parks that saw Delaney pick up the win.
After that, the notable names continued to consistently flow into ESW. Tyson Dux (who later on competed in the WWE Cruiserweight Classic), Ring of Honor (ROH) star Colt Cabana and current NXT champion Adam Cole each made one-off appearances.
Meanwhile, other well-known independent wrestlers made multiple appearances in ESW's ring. Former Impact Wrestling star Sonjay Dutt worked a program with Kevin Bennett. Chris Hero (now known as Kassius Ohno in NXT) wrestled a series of matches. Current WWE star Tony Nese, Evolve star AR Fox, indie wrestling mainstays Joe Ryan and Ethan Page made their ESW debuts. Johnny Gargano returned and wrestled several times over the next two years before heading to NXT along with his wife Candice LaRae. A former WWE star even held ESW gold in 2014 when The Hurricane and Johnny Adams reigned as ESW Tag Team Championships.
Among the locally-based wrestlers, Chris Cooper held the ESW Heavyweight Championship throughout most of the year before dropping the belt at "WrestleBash" in November to Bill Collier. Along with The Hurricane and Adams, The Flatliners (Asylum and Burns) also served as ESW Tag Team Championships that year. Bennett held the Interstate title throughout the length of 2014.
Among events of note, for the first time in several years, ESW returned to the Frontier Fire Hall in Niagara Falls N.Y. for "Overdrive" in October. This event was a test run as Frontier would eventually go on to host ESW's larger events. 
In October, ESW debuted in a new market by running in the Southern Tier region of Western New York at Good Times in Olean. Going forward, ESW continued to make sporadic stops in this area as the promotion looked to widen its fan base within the state. The main event saw ex-WWE star Al Snow and Big Cat Lemmer defeat the team of Rob Cook and Triple X.
At this year's WrestleBash, due to a massive snowstorm that hit the area, the event was almost called off. However, the Lockport area did not get the brunt of the weather event and thus the event was held as planned. Will Calrissian won the second DiPaolo Cup match over Delaney, Gargano, Ethan Page, Brandon Thurston and Asylum (also known as IMPACT Wrestling's Stone Rockwell). The main event was four corners of carnage match between ex-WWE star Rhyno and ex-Impact Wrestling star Abyss. However, the match went to a no-contest after interference from the Rochester Wrecking Crew (Hellcat and Rob Sweet).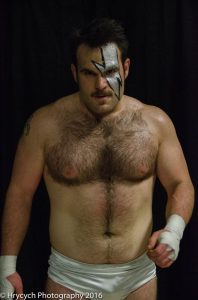 As we continue on our history of Empire State Wrestling, the event lineups for 2015 mirrored the cards of 2014 in terms of style. They continued to feature a handful of independent stars while the bulk of the roster remained established local talent. The bigger events continued to see influxes of big-name talent, too.
Among the notable names that made one-off appearances in 2015 for ESW were current WWE star Cedric Alexander, WWE Hall of Famer Jim Duggan and legendary WWE tag team Demolition. Also, current ROH Heavyweight Champion Matt Taven, future WWE Champion Jinder Mahal, present National Wrestling Alliance (NWA) National Champion James Storm and Extreme Championship Wrestling (ECW) legend Tommy Dreamer all graced ESW's ring.
Ex-Impact Wrestling star Dick Justice came in and began a long-term feud with Thurston and his newly christened faction "The Patron Saints of Professional Wrestling." Ex-WWE star Rich Swann teamed with AR Fox to beat the Monster Mafia (Ethan Page and Josh Alexander, now current Impact Wrestling Tag Team Champions The North) and returned to face Aaron Draven in singles action. Hero returned and beat current ROH star, PJ Black. In a precursor to their eventual blood feud in NXT, Gargano beat Tomasso Ciampa at an event. Impact Wrestling star Cody Deaner made his return at the end of the year, as well.
The Hate Brigade (Bobby Sapphire and Roscoe Black) reigned as the tag champs before dropping the belts to Jonny Puma and Frankie Feathers. 
"Winning my first title in ESW meant the world to me," Feathers said. "And it was even sweeter that I won the tag team titles with the legend that is Jonny 'Freakin'' Puma. I learned so much teaming with him and I couldn't have asked for a better teammate and mentor."
RJ City won the Interstate title from Bennett. After faking a knee injury during a bout with Gargano, Calrissian cashed in the DiPaolo Cup in the middle of a match between Collier and Hero to regain the ESW Heavyweight Championship. However, Collier won the third DiPaolo Cup match, outlasting Parks, Cooper, Bennett, Justice, and Thurston.
ESW kicked off 2016 in a similar fashion as the previous years in this era. However, about halfway in between the year, there was a significant change in the promotion's management.
The first half of the year continued to see several notable independent wrestling stars and legends on the events. Current WWE star Curt Hawkins, ex-WWE stars Scotty 2 Hotty, Billy Gunn, X-Pac, The Honky Tonk Man, Hornswoggle and Elijah Burke all made appearances. Deaner was embroiled in a feud with Collier over the DiPaolo Cup. Notable Ontario indie wrestlers such as Dux, Page, Space Monkey and Kobe Durst were on shows. ROH talent was also utilized in Michael Elgin and Dalton Castle during these months.
Calrissian continued to reign as a heavyweight title during the first half of the year. Puma and Feathers dropped the tag team belts to the Rochester Wrecking Crew. Coconut Jones won the Interstate Championship from City.
Up until June of 2016, ESW experienced its longest stretch of booking continuity during its existence. This streak broke after Puma stepped down as the booker and Mednik assumed that role. Mednik's vision of ESW's future differed from Puma's. Mednik wished to continue focusing more on the in-ring product with an eventual end goal of elevating ESW into one of the more prominent independent wrestling promotions in the U.S. while Puma was content with the product being story-based and being primarily a local attraction.
This schism would lead ESW into the era it currently exists in today, which not only stresses a wrestling product more based on work rate, but also one with a much bigger emphasis on creating events with more professional production and more consumable to a wider audience than ever before.
The Modern Era
The first event held completely under Mednik's watch was on August 20, 2016, at the St. Johnsburg Fire Hall for "Overdrive". Much of the card looked similar to prior events. However, some adjustments were starting to be implemented.
With Puma stepping away from ESW, retired wrestler Jimmy Olsen returned to the promotion and assumed the commissioner role as well as assisting backstage. In the creative department, Mednik held final say on decisions but Parks and Thurston both provided input.
There were also two major departures from the roster around the same time. In October, Calrissian lost a title versus career match against Bill Collier and retired from wrestling. Also in the fall, Cooper quietly faded away from the promotion.
Among the notable special guests that came to ESW in late 2016 were ex-WWE stars Raven, Adam Rose, and Hardcore Holly, Heidi Lovelace (now known as Ruby Riot in WWE) and current ROH star Maria Manic.
The year ended with no title changes occurring. By the time the final bell rang at November's Wrestlebash, Collier, all three titleholders continued to hold their belts. The fourth Ilio DiPaolo match saw R.J. City beat Ricky Reyes, Cheech, Bennett, Thurston, and Parks.
A match of note from that event was a special students bout in which Marek and Xavier Jones versus Kevin Blackwood and Wes Adams. The four were considered at the time to be the top students at Grapplers Anonymous (GA) training facility in Lackawanna, N.Y. and were thus included on ESW's biggest event of the year. This officially marked the start of the flow of talent that originated at GA and begin to flow into ESW's roster over the next several years.
As 2017 began, there was a noticeable amount of new momentum behind ESW. At its first event of the year in January, the draw was significantly higher for typical St. Johnsburg shows. This rise in attendance proved to not be a one-time spike, but long-lasting and remain at this level over time.
The events continued to be peppered with notable national talent. Current WWE star EC3 and present NXT star Damian Priest (then known as Punishment Martinez) were on shows. Ex-WWE stars MVP, Brian Christopher, and Super Crazy were at events. ROH star Silas Young, ex-Impact Wrestling stars DJZ (now Joaquin Wilde on NXT) and Davey Richards were also booked.
Top independent stars that saw multiple bookings were Space Monkey, Rickey Shane Page, and J.T. Dunn. Ethan Page returned and feuded with Frankie Feathers.
Oliver Street Express (Randy Philbrick and Andrew Cravatta) beat Rochester Wrecking Crew for the tag team titles. Anthony Gaines won the Interstate Championship which concluded nearly a year-long feud.
RJ City cashed in the DiPaolo Cup to beat Collier for the Heavyweight title. He dropped the belt in similar fashion at the end of the year to Kevin Bennett. Bennett won 2018's DiPaolo Cup match, outlasting Collier, ex-WWE star Matt Sydal, Blackwood, Sean Carr, and Gregory Iron. He used the cup in the middle of the very next match between City and Pepper Parks to win the title.
"It was a moment I envisioned over and over," Bennett said. "The emotion that ran through my body as the referee counted three was exactly as I imagined. All of my years of dedication and consistency made my dream come true. My eyes automatically filled with tears. All of my family witnessed my big moment. The sound of the crowd was as big as I dreamed. Winning the ESW Heavyweight Championship was one of the best moments of my professional wrestling career."
With the surge in attendance over the last year, ESW's focus for 2018 was on expanding upon the product's visibility from not just being a local wrestling promotion, but increasing its name value nationally. Thus, Mednik invested heavily in ESW's production equipment and overall ring decor as well as secure partnerships with various live streaming services to air ESW events.
Over time, ESW opened up a channel on Twitch and landed spots on the following streaming networks:
*Powerslam.TV
*Highspots Wrestling Network
*Demand PROGRESS
*CZW Studios
*Smash On Demand
*Bar Wrestling
*Independent Wrestling On Demand
*Title Match Wrestling Network
ESW began running in another new town in 2018. It debuted in Albion, N.Y. (located in between Niagara Falls and Rochester) and returned the following year. With former WWE star Gangrel being the main attraction.
Other Ex-WWE talent that graced that year included Stevie Richards and Simon Grimm. Also, ROH's Mark Haskins and Brody King, former Impact Wrestling stars Petey Williams, Joey Ryan and Kongo Kong and Japanese star Kikutaro made appearances.
The Butcher & The Blade (Every Time I Die guitarist Andy Williams and Pepper Parks) came into being at the start of 2018. Henceforth, the duo made several appearances together in ESW. Private Party debuted at the end of 2018 and returned the next year. Longtime indie wrestler Jimmy Jacobs wrestled a pair of matches, including a no disqualification match versus Gaines for the Interstate title.
Gaines can also be credited with creating the biggest moment of the year, and possibly in ESW's existence. During a match against Ace Romero of Major League Wrestling (MLW), Gaines got hit with Romero's pounce and was suddenly launched across the top rope and into the entranceway. A clip of "The Pounce" went viral, incurring millions of views as it was picked up by many mainstream media outlets.
In the title picture, a newly turned heel Parks beat Bennett for the heavyweight belt. Game Over (James Sayga and Vince Valor) won the tag team titles. Gaines held the ESW Interstate Championship for the bulk of the year but forfeited the belt due to injury in the fall. Feathers would win the belt at the end of the year in a match versus Delaney.
Moving forward with our history of Empire State Wrestling, the 2018 Ilio DiPaolo Cup saw Thurston beat Daniel Garcia, Blackwood, ROH's Rhett Titus, Carr, and ex-WWE star Kenny Dykstra. The ending sequence of the match is considered to be one of the most memorable in-ring performances during this era of ESW.
2018 also saw the rise of the "Buffalo Brothers" group. A contingent of Buffalo-based wrestlers who wrestled in ESW began to travel extensively and work on prominent independent wrestling shows across the Northeast U.S. and Canada. Consisting of a core of Bennett, Garcia, Puf, and Blackwood, the Buffalo Brothers started gaining national acclaim for their in-ring work and ambition.
But 2019 started off in an unfortunate way for this traveling crew. The four young wrestlers were involved in an automobile accident while traveling home from a booking in Montreal, Quebec, Canada. Bennett and Puf escaped with relatively minor injuries. However, Blackwood and Garcia's injuries were more serious and both wrestlers missed several months of action while in recovery.
Thus, ESW's first show of the year, "A Night at the St. Johnsburg" saw the local wrestling community mobilize to help raise funds for the Buffalo Brothers. The atmosphere was very emotional and the audience roared when Thurston used the DiPaolo Cup to earn his shot against Parks for the ESW Heavyweight Championship and pull out the win.
This show also featured the first women's match in the main event in ESW history. Current All-Elite Wrestling (AEW) star Allie defeated Ex-WWE star Victoria in the bout.
ESW also continued to pursue methods of increasing its exposure. In February, ESW debuted in Fairport, N.Y., a suburb of Rochester. A few months later, the promotion secured a spot at WrestleCon in New York City during Wrestlemania weekend. Also in the Spring, ESW started airing weekly programming on locally-based WBXZ Throwback TV.
The influx of nationally recognizable talent continued in 2019. Gangrel and Trent Barretta returned and WWE Hall of Famer Bushwacker Luke debuted. International wrestling icon Ultimo Dragon made an appearance. AEW stars the Lucha Bros, Maxwell Jacob Friedman and Evil Uno were utilized. Impact Wrestling's Zachary Wentz and Beyond Wrestling's Anthony Greene and Josh Briggs were booked. Leon St. Giovanni from ROH and MLW's Brian Pillman Jr. also had matches in ESW's ring.
Thurston defended the belt successfully throughout the first half of the year, all while Garcia watched from the crowd. In his return match, Garcia won the title from his mentor in another highly emotional match.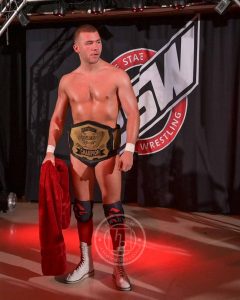 ESW witnessed the return of its "old guard" in 2019. Under the auspices of new ESW Commissioner The Caesar, Calrissian, Cooper, Puma and Kevin Grace returned to the ring and immediately began a blood feud with ESW's younger talent such as Sayga, Valor, and Gaines. Calrissian and Cooper even tasted gold again when they beat Game Over for the tag titles sooner after their return.
What lies ahead?
Looking into the near future, ESW's biggest event occurs in November when it makes its return to the Kenan Center in Lockport, N.Y. Although it is still too early to tell what matches will be taking place, there are already some hints as to who may be competing in the next Ilio DiPaolo Cup match.
As of this time, there will be two DiPaolo Cup qualifier matches at ESW's September event "Overdrive". AR Fox will face Beyond Wrestling's "Blue Thunder" Jay Freddie. Ethan Page will square off against Puf in the second bout. More qualifier matches will be announced soon.
On a more long-term scale, ESW's roster looks to be heavily stocked to continuing delivering stellar shows on a regular basis. All the Buffalo Brothers are healthy again and back competing. Established stars like Thurston and Collier are at the top of their game. The legacy wrestlers from ESW's past that returned are as crisp as ever in the ring. 
Mednik also sees the passing on of wisdom from veteran wrestlers to the youngsters and wrestlers getting more out-of-the-area bookings as a vital component to ESW sustaining its success.
"As long as Brandon Thurston and Pepper Parks are involved with the training the next wave of wrestlers out of Buffalo I see the future being great and Buffalo becoming even more well known," Mednik said. "So many of our younger talent is becoming older now and gaining experience on the road that they're bringing that back here to ESW. That's lifting the overall quality of the events as well as pushing others to do well and working harder themselves to keep up with them."
Taking all these factors into consideration, plus continuing to include top independent talent from the U.S. and Canada and the occasional wrestling legend, ESW's empire looks to continue to rise as the decade nears its close and another one begins. This concludes the final part of our brief history of Empire State Wrestling.

A Brief History of Greektown Wrestling
A Brief History of Empire State Wrestling Part III
A Brief History of Empire State Wrestling Part II
A Brief History of Empire State Wrestling Part I
A Brief History of ATTACK! Pro Wrestling
A Brief History of Pro-Wrestling: EVE
A Brief History of Lucha Underground
A Brief History of RIPTIDE Wrestling
A Brief History of Revolution Pro Wrestling
A Brief History of South East Professional Wrestling
A Brief History of Southern Pro Wrestling New Zealand 
A Brief History of Bar Wrestling