This is the first of a three-part series on "A Brief History of Empire State Wrestling part 1. Since 2002, Empire State Wrestling (ESW) began carving out a niche of its own in the Western New York independent wrestling scene. Over the last several years, it blossomed into the premier wrestling promotion in the region and also started garnering international attention.
However, ESW's ascension is one that did not occur overnight and with its story being born about 17 years ago. The promotion also went through several phases that helped shape ESW into its current being.
These phases can be broken down into six different eras: the "Original Era" from August 2002 to July 2004. The "Erway Era" from August 2004 to February 2006. The "NWA Era" from April 2006 to December 2008. The "NEW Era" from January 2009 to August 2009. The "Rebirth Era" from September 2009 to June 2016. And the "Super Indy Era" from August 2016 to present-day.
The Original Era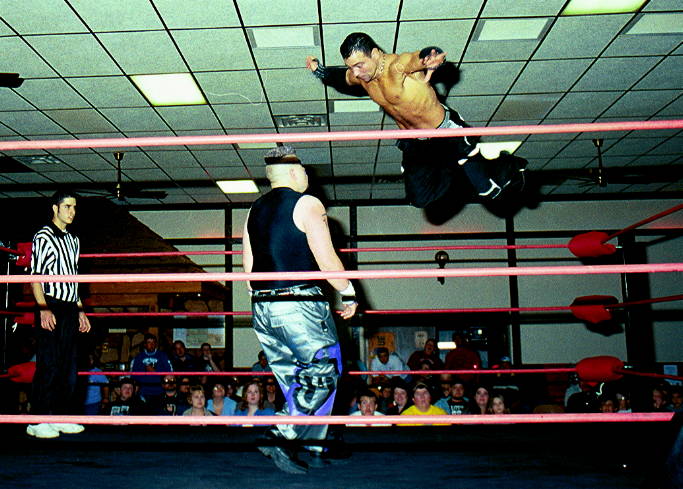 Empire State Wrestling held its first show on August 4, 2002 in the Elks Lodge at the Niagara Factory Outlet Mall in Niagara Falls, N.Y. Formed by Jonny Puma, Danny Magic and The Davidsons, the inaugural show was filled with wrestlers from the Niagara County area that were trained by Richie Derwald with Project Future Wrestling such as themselves. The main event featured Steve Davidson capturing the ESW Heavyweight Championship over Puma after Steve's brother Scott vacated the title at the start of the show.
ESW's second show was on November 2, 2002 and was the first to be held at the St. Johnsburg Fire Hall in North Tonawanda, N.Y. St. Johnsburg became ESW's primary venue to current day.
Empire State Wrestling Part 1
Along with running regularly at St. Johnsburg in 2003, ESW also held shows at venues in Niagara Falls, Tonawanda and Sanborn, N.Y. At their third event held on January 11, Puma defeated Steve Davidson to become the new ESW Heavyweight Champion. Puma went on to wrestle most of the main event spots throughout the year, facing the likes of "Crazy" Cris Cavana, Lance Steel and a long-standing feud with "Mastiff" Will Calrissian.
At "Hardcore Halloween", Mastiff captured the title from Puma after nearly a 5-month program. Mastiff held the title the first half of 2004 facing numerous opponents, most notably Cody Steele (TNA Impact Wrestling star Cody Deaner).
"Wrestling Will was always amazing. He was, at the time, the no nonsense technical Mastiff and I was the flamboyant rule breaker. We went all out in every type of match and were the main feud for the first few years of ESW," Puma said. "The build up was incredible. When he finally won the title from me, St. Johnsburg erupted."
Other titles were introduced during this timeframe, including the Interstate Championship, Tag Team Championship and the Hardcore Championship. Tommy Calibur became the first Interstate Champion by winning the belt in a four-man tournament. He dropped it to longtime ESW mainstay Chris Cooper. Cade Cassidy and Shade were the first duo to become Tag Team Champions with the belts passing through several hands throughout this era. The short lived Hardcore Championship's first title-holder was Magic. Among other noteworthy names to hold this belt were Mastiff and Marc Mandrake. Mandrake was managed by future ESW Commissioner and Pro Wrestling Illustrated senior writer Dan Murphy.
The Erway Era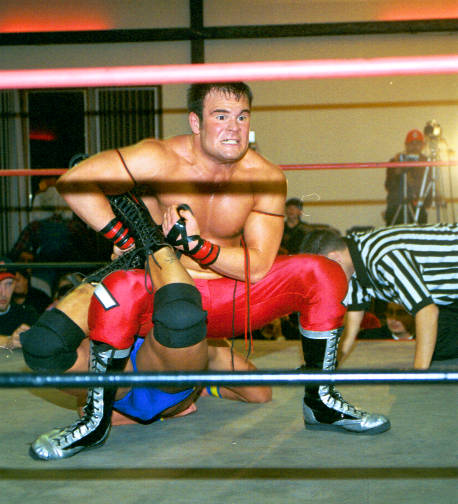 In August 2004, Ray Erway began to invest in ESW and purchased the promotion in January 2005. With the additional funding coming through, an influx of outside talent started coming through ESW. Mostly from Ontario, Canada, as well as a local training program that fostered new local talent.
At "WrestleBash" in August 2004, several Canadian indie stars were included on the card. Along with the returning Cody Steele, Ontario-based J.T. Playa and Shawn Spears (future World Wrestling Entertainment star Tye Dillinger) were booked as well as Rochester, N.Y.'s Eric Everlast. Also at this event, Mastiff dropped the Heavyweight Championship back to Puma.
Puma feuded with J-Man (also known as Jamin Olivencia) to close out 2004. During his second title reign, Puma retained the championship against Mastiff & Damien Alexander in a triple threat match. He retired Shade in a casket match and lost to Kevin Grace by disqualification. He yielded the belt to Alexander in April 2005.
Prior to his retirement, Shade held the Interstate Championship and unified the belt with the Hardcore Championship after beating Ice in December 2004. This deactivated the Hardcore title in ESW, while the other championships remain active to present-day.
In 2005, the out-of-town talent continued to flow into ESW. Canadian wrestlers Joey Knight and Robin Knightwing of the All-Knighters. 2 Legit (which included future NXT referee Darryl Sharma). Andrew Davis, Jennifer Blake, Jake O'Reilly. Future New Japan Pro Wrestling star Michael Elgin. Future Impact Wrestling star Crazy STEVE. Notorious T.I.D. Sinn (future WWE star Kizarny). Adrian Xtremo and Kris Chambers, they all graced the ESW ring. Rochester-based wrestlers that made their debuts included Ron Falco, Gabriel Saint. Kid Justice, The Olsen Twins (which included future WWE star Colin Delaney) and Charisma.
Empire State Wrestling Part 1
Several wrestlers that worked out through ESW's training program also made their wrestling debuts during this time. These included future multi-time ESW Heavyweight Champion Brandon Thurston, eventual ESW owner and promoter Brett Mednik, Benjamin Smythe, A.C. O'Reilly and The Kovac Brothers.
The program initially started in the summer of 2003 with simply setting up ESW's ring in the driveway of one of ESW's original roster members, J.P. Hawke. After a while it moved to the Eldredge Bicycle Club in Tonawanda, N.Y. where ESW occasionally ran events. When Erway purchased the promotion, a separate training facility was opened and the All-Knighters (consisting at this time of Grace, Knight, Knightwing and future WWE Hall of Famer Beth Phoenix) became the main trainers.
"(The All-Knighters) gave us our foundation," Thurston said. "They really introduced us to the match formula."
Other milestones achieved in 2005 by ESW included its first women's match. In May, Canadian wrestler Aurora beat the New York City-based Miss Deville. ESW also debuted in the City of Buffalo proper, when it held "Explosion de Lucha Libre" at the Holy Cross Center.
Back in the heavyweight title picture, Alexander beat Cooper in May 2005 and then surprisingly turned heel in his win over Mastiff in July 2005. Alexander scored victories over Crazy Steve and A.C. O'Reilly before dropping the belt back to Mastiff in November.
Mastiff's second heavyweight title reign began by beating Cooper in December. He retained the belt in February 2006 at "Revolution" in a triple threat match versus Alexander and Cooper.
Revolution turned out to be ESW's last event as a brand for about three years. After this show, Erway quietly stepped away from ESW. Amid uncertainty, the core group of the ESW roster rallied together to keep the heart of ESW going under different names while collaborating with other wrestling promotions.
The second installment of "A Brief History of Empire State Wrestling" will cover the NWA and NEW eras.