2019 has been a renaissance of sorts for the art of professional wrestling, especially in AEW. Creating storylines in the world of wrestling usually reserved for a game of EWR or TEW, a billionaire's son who is a wrestling fanatic met a group of wrestlers who could match his passion. Just about eighteen years after Nitro left the air for the final time on March 26th, 2001, WWE had a clear number two heading to TNT once more.
With this dream story and all the momentum in the world, 2019 was a defining year for the company for more reasons than just the inception itself.
Selling out pay per views consistently, signing up big names, and putting on incredible matches showed that this was not just a revival of WCW. This was something brand new, refreshing, and revitalizing for wrestling fans who have felt alienated or deterred by the direction of the "big guys" over in Connecticut. This wasn't just independent wrestling on a grand stage, it wasn't a WCW 2.0, a rebranded TNA, and most importantly of all, it certainly wasn't just NXT's younger brother. This was something that the minds of The Elite and Tony Khan had handcrafted to be the direct answer to the hardcore fanbase, setting their mark on the marks if you will.
It is hard to argue with the results to this point. Winning over NXT in viewership for a large majority of the weeks they competed, AEW is also capturing the key demographics even in defeat. Aside from signing up former WWE talents like Jericho and Moxley, this may have been the biggest eye-opener for WWE that AEW was legitimate competition. From undesirable to undeniable as Cody would say, 2019 was a showcase of things to come.
Fittingly, the January 1st, 2020 show marks their 13th episode starting both an end and a new beginning for the 12 months and 12 episodes of Dynamite that proceeded it. Records will be wiped clean and things will start revving up toward the Revolution pay per view at the end of February. So there is no better time to reflect on the journey of 2019 and deciding upon the 20 best matches of the year before 2020 begins.
This will be a four-part series as I have separated the top 20 to reflect AEW's clear focus on tag-team wrestling by giving that its own an individual top 10.
So instead one will focus on the singles competition, and finding the top 10 matches in an action-packed year of All Elite Wrestling. The other will take the same concept and apply it to the top 10 matches in the stacked tag division.
But first, in this introductory to the series, we will take a look at the matches that almost made the cut in the singles division. This will be in no particular order, but it is a representation of just how good the top 20 was.
Any of these matches are well worth taking the time to watch for the first time if you haven't already. Or (in my case as I did for countless hours writing this) even going back and exploring again as this crazy year winds down and the AEW fans (myself included) eagerly await the new year of programming. Things can only get bigger and better from here, and with how good these matches are there is a lot to look forward to in 2020.
Honorable Mentions (Singles Division):
Kris Statlander vs. Bea Priestley (AEW Dark 12/17/19)
Easily one of the best showcases of women's wrestling thus far in AEW (maybe only matched/surpassed by Riho and Hikaru Shida at All Out), if they intend on turning this weakness into a strength, this is a good place to look. Beautiful, stiff striking mixed with great chemistry and cohesion lead to a very entertaining exhibit of talents for both women involved. And this match stuck out as a necessary point of emphasis for 2020 for various reasons.
Number one is the obvious star potential of Statlander. Quickly pronouncing herself as a fan favorite, AEW quickly realized what they had signing her to a contract and immediately pushing her into the title picture over the likes of the more established Priestley and Britt Baker. The Galaxy's Favorite Alien will have a huge impact on how this division is perceived in the future as a result, and treating her rise properly is paramount.
Number two is the acceptance of the failure of the women's division to this point.
Random tag matches, lack of feuds and storylines, and general inability to create stars have all plagued the women's side in stark contrast to what is being achieved in the men's division. This can't remain consistent in the new year and is something that is further cemented by the fact that this match, as good as it was, aired on YouTube and not Dynamite.
Number three is the impact this match had on said division. Whilst it did establish Statlander well, Bea Priestley and Britt Baker have both had to be sacrificed in the process. This can't continue but in this case, it can be forgiven due to the need to build Kris and the records resetting in 2020.
All of these impacts built from a brilliant free match on YouTube. Now 2020 needs to bring this women's brilliance to Dynamite and keep the momentum of the Alien without alienating the rest of the division.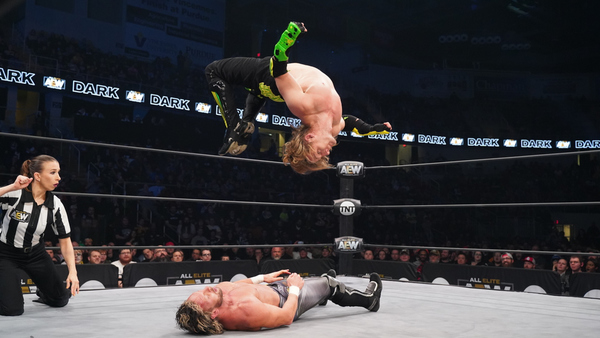 Kenny Omega vs. Jack Evans (AEW Dark 11/30/19)
Jack Evans has been one of the least utilized talents of AEW to this point. Seemingly locked into his role as part of the tag division as opposed to featured in it, this marked a refreshing breath of fresh air and allowed Evans to prove his worth solo.
This marked a step in the familiar trend for Omega, who put on a multitude of brilliant contests that have helped establish both Dark as important and entertaining as well as doing the same for the talent he faces. Bringing a big match feel to both the lesser emphasized show and lesser emphasized names has helped AEW in a very creative and unique way given his combination of stardom and in-ring abilities.
This match serves as one example of many and allowed Evans to play to his strengths as well.
Selling every backbreaker, suplex, and strike masterfully, Jack looks great and makes Omega look great getting his ass kicked. Combine that with springboard 450 splashes, springboard moonsaults, flipping leg kicks, and more amazing showcases of Jack's endless offense of kicks and flips.
This lead to Kenny repeatedly trying to essentially kill Evans, taking a tepe kick to the corner that looked like Omega hit him with a shotgun blast, teasing a german suplex into the crowd and a buckle bomb that sold the idea of Omega trying to destroy the man's spine.
This all leads to a clash of styles on paper turning into a fluid blending of two very different wrestlers finding chemistry and putting on a unique and entertaining display. Omega comes out on top, and Jack Evans ends up coming out as a brilliant heel underdog with a never say die attitude. Everybody won here, despite what the wins and losses will say for a few more days of 2019.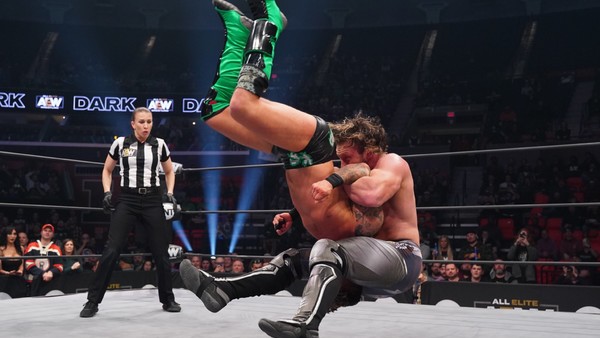 Kenny Omega vs. Kip Sabian (AEW Dark 12/10/19)
Following up on the same principle and concept of the Evans versus Omega bout, this delivered essentially the same exact idea but was elevated even further by the excellent manager work of Penelope Ford and the even better job of presenting Sabian as a legitimate threat.
At the time of reviewing this match initially for the AEW (AFTER) Dark review, it felt like Omega was rolling and every time his name was mentioned on Dark, you knew it would be a good week. And this was perhaps Kenny's best job of putting over the talent he was facing in that series of great bouts.
Allowing Sabian to deliver exceptional offense built the tension and drama as Omega was forced to fight from behind in almost equal measure to the perceived underdog.
This made the kick-outs from the same moves and spots (Tiger Driver '98, V-Triggers, etc.) of the Evans match feel that much more important each time Sabian got his arm up. And speaking of that consistency, the ending came at the use of the One-Winged Angel, which is being protected and used as the most unbeatable move in wrestling. Bread crumbs all laid out across Dynamite, Dark and the pay per views have only strengthened that perception. And that is amongst the many other values that make Omega one of the biggest building blocks of AEW in 2020 and beyond.
'Not Today' said @JANELABABY. #AEWALLOUT – Available on @brlive https://t.co/YmpiGjL7Z0 #AEW #AllEliteWrestling pic.twitter.com/dT6KW7ckXQ

— All Elite Wrestling (@AEWrestling) September 1, 2019
Jimmy Havoc vs. Darby Allin vs. Joey Janela (Cracker Barrel Clash, All Out)
In terms of building talent up, this match was unique in that it managed to build all three men up without having to involve a big name to do so. Darby Allin, Joey Janela, and Jimmy Havoc all were in their element and utilizing the opportunity to its fullest.
Thumbtacks were on skateboards, in Havoc's mouth, and Janela's back.
Tables were broken, the apron was used for moves more than the center of the ring, and an actual Cracker Barrel…barrel was cracked underneath a missed Coffin Drop onto the steel steps by Allin. This match is overbooking hardcore action done in the best possible way, and wouldn't be the last time AEW perfected this artform of bringing hardcore back to the mainstream.
The only reason this didn't crack the top 10 is simply due to the three men being involved as opposed to two. With so many other great contests, this deserved a place amongst them but not above them in this context. But if you haven't seen this one yet and you're a fan of weaponry, these three men did some of the best work of the year in scratching that itch. ECW fans rejoice, this isn't WWECW mainstream hardcore. This is something very much in line with the old definition of extreme, and it won't be the last on this list to stake that very claim.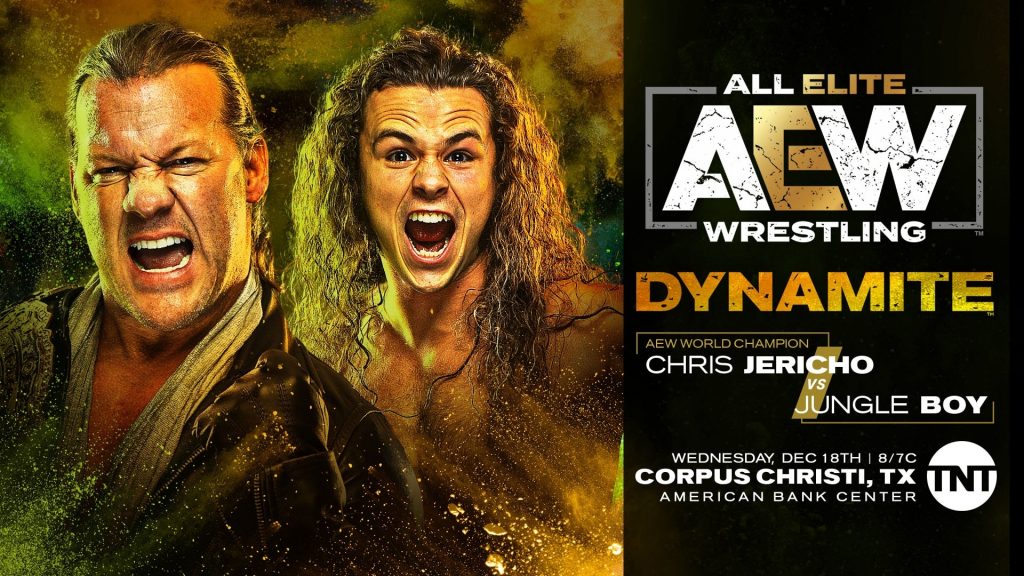 Jungle Boy vs. Chris Jericho (10 Minute Challenge, Dynamite 12/18/19)
Capping off the final broadcast of the year for Dynamite, this very easily could've been a better main event and lasting image to end 2019 than the Dark Order debacle we received. But despite that bit of criticism, there wasn't much to criticize about the match itself.
Jungle Boy managed to come out as the biggest star of the entire night, all thanks to Le Champion's picture-perfect portrayal of the penultimate heel. Letting his arrogance take the best of him, this became a much more evenly matched contest after Jericho decided to milk the clock after nearly winning in the first couple of minutes.
As the clock raged on, the fierceness of Jungle Boy's fighting spirit had to conflict against the many obstacles the heel and his stablemates threw at the young babyface. With the help of his pals Luchasaurus and Marko Stunt, Jungle Boy started to piece together a chance at victory. Hitting a host of offense including Jericho's lionsault, the momentum and crowd was behind him one hundred and ten percent.
Despite all of that, Chris was able to lock in the Liontamer with just over a minute remaining sealing what seemed like a well-fought win.
But the heart was still in Jungle Boy as the clock ticked to zero and the agony was sold to the crowd making him look like a hero despite being unable to claim a victory. This infuriated Jericho, causing him to add five more minutes to the match further proving his arrogance. This would only fuel the young challenger though who got two near falls out of some roll-ups that got the crowd buzzing. Because of that, Jericho quickly realized his lapse in judgment and made his way out of the ring to save himself to fight another day with his ego intact.
This brilliant storytelling was well done. However, the placement on the card was the only downfall that left it off the top 10 list. The story was so expertly told and so masterfully done that it deserved to be placed in the main event, despite not having the title on the line. This perfectly summed up all of the ideals of combining young future superstars with already established names to build great television now as a consequence of building to the future instead of taking precedence over it.
And that is the one calling card that AEW is already doing better than the WWE (amongst others in my humble opinion) and will look to hang their hat upon for 2020. And ending the year with that image is the only thing that could've made this that much more of a masterpiece.
---
Until Next Time…
That is all for now, as the honorable mentions are now done on the singles side of things. The tag division is up next and will be focused on just as heavily as AEW has done. I have been happy to be along this journey since AEW has started, and it has been a wonderful ride to get to the end of 2019. Now, we can look to 2020 with optimism and freedom of choice; something we didn't all have as wrestling fans when 2019 began.
What were your favorite 20 matches of AEW's rookie season? Make sure to reach out to me on Twitter, or drop a comment below to let your opinion be heard! And of course, make sure to check out the final three parts coming right here on Pro Wrestling Post. But, as always, until next time…
Goodbye, and goodnight!