Chris Jericho Y2J Debuts On Monday Night RAW. In 1999 WWF was at all-time popularity. Stars from all over were making their way to Monday Night Raw.
Television ratings were through the roof. The attitude era was in full swing. Icons like Stone Cold Steve Austin, and The Rock were drawing record crowds.
On this day in wrestling history, another star made his debut. Chris Jericho was a standout in World Championship Wrestlings Cruiserweight Division.
He just got off a successful heel run in the company collecting the WCW Cruiserweight Title in the process. He even challenged Goldberg. However, The Lionheart was destined for bigger and better things.
______________________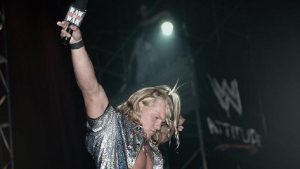 Y2J Debuts On Monday Night RAW
Countdown to A Superstar
On August 9th, 1999, at Rosemont Horizon in Chicago, IL, Monday Night Raw was enjoying a sellout crowd. For weeks a clock called "Countdown to the Millennium" would appear randomly on the Titan Tron.
Rumors circulated just what this was about. In Chicago, these rumors were about to be put to rest. The Rock entered the ring challenging The Big Show; however, he got more than he expected.
As The Great One was about to bellow out his catchphrase, he was interrupted by the countdown clock. The Rock was visibly angry. No one has ever cut him off during a promo…ever.
Then, all the lights in the arena went out. Electricity was in the air, and it wasn't just coming from the most electrifying man in entertainment. All of a sudden, fans heard that now familiar "Break the Walls down " theme music. Chris Jericho had arrived, and WWE will never be the same again, Junior.
Welcome to RAW is Jericho
Jericho wasted no time introducing himself to Chicago.
"Welcome to RAW is Jericho. I am the new millennium for the World Wrestling Federation. For those of you that don't know me, I am Chris Jericho, your new hero, your party host, and most importantly, the most charismatic showman to enter your homes via a television screen."
The crowd was on their feet, cheering Y2J. However, those cheers turned to boos as Jericho called Monday Night Raw a "boring snoozefest." He even added that he was there to save the WWF. Jericho went on and on, totally ignoring The Rock.
The Brahma Bull did not like being interrupted, but he hated being ignored even more. He grabbed the mic and told Y2J to "Know your role and shut your mouth."
He then told the Ayatollah of Rock n Rolla that you didn't even introduce yourself to The Rock. As Jericho was about to speak, the rock interrupted him with the iconic "It doesn't matter what your name is." Welcome to the WWE, Chris Jericho.
Chris Jericho Y2J Debuts On Monday Night RAW –
Y2J looks back at his debut
In an interview with WWE.com, Jericho reflected on that night. He said his goal was always to come to the WWE. Jericho could tell that in WCW, there was no room for advancement.  He wanted to escape. WWE was the place to be.
Y2J also talked about the origin of the "Countdown to the Millennium clock. According to Jericho, he was in line at the post office and saw a clock that was counting down to the millennia.
In 1999 everyone was scared that Y2K would bring disaster to the world as we know it. Fortunately, that did not happen; however, Y2J did change the wrestling world forever. One might think a debut like that would cause a lot of heat in the locker room.
According to Jericho, it did. He said that he came into the WWE by himself, with no friends. He had a big target on his back. His debut definitely rubbed a lot of people the wrong way.
Y2J Debuts On Monday Night RAW –
Hall of Fame Future
As we all know, Chris Jericho became very successful in the WWE. He was the first WWE Undisputed Champion to defeat The Rock and Stone Cold Steve Austin in the same night. He was a multi-time World Heavyweight Champion, WCW Champion, and a 9-time Intercontinental Champion.
A tag team champion with Big Show, The Rock, Edge, and Christian. WCW cruiserweight champion.
He is credited with inventing the Money In The Bank Ladder Match. Jericho is the frontman of his own rock group Fozzy. He has hosted television shows and has his own podcast called "Rock is Jericho" on Sirrus XM.
Currently, he is one of the forces behind AEW. He has also held the AEW Championship calling himself "Le Champion." Jericho has done it all, but it arguably started that hot August night in Chicago.