It's Friday Night Smackdown and night one of the WWE Draft, and we have a bumper card tonight. Following Kevin Owens, recent issues with The Fiend, they finally battle it out. Big E and Sheamus battle in a falls count anywhere match, renewing their rivalry, destroying two-car windshields. Bayley defends the Women's title against Sasha Banks and what a storied past these two have. Let's unpack all of this and more on the SmackDown preview. We present the WWE Friday Night SmackDown Preview for 10/09/20.
_____________________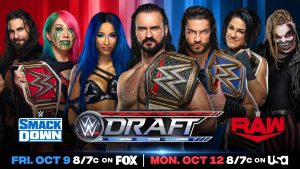 The Draft
We've seen WWE do drafts for years now, and the format can be different sometimes. We all remember the shenanigans when John Cena was drafted from Raw to SmackDown, and back in 2010, well, thanks to the new rules, we shouldn't see a repeat of that. The new format is more reminiscent of the original draft. With picks being made by Raw and Smackdown executives, over 60 WWE wrestlers are eligible to be drafted to either show. We will see more than 20 drafts made on SmackDown tonight; the rules surrounding tag teams mean that a team can count as one pick unless one brand specifically only wants one member of that team. Raw will receive three choices for every two picks that SmackDown gets due to each show's length. It's always interesting to see who'll end up where in the draft.
The draft also gives WWE a chance to freshen things up in both brands' main event scene. Undrafted wrestlers will have the opportunity to sign with either brand as a free agent. This year WWE has introduced pools to the draft. To see the pools for both nights, you can click here.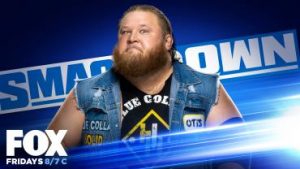 Otis in Court?
Otis will have to defend his Money in the Bank briefcase in a court of law, after assaulting The Miz two weeks ago. Miz and John Morrison served Otis papers suing for the Money in The Bank contract. Otis has gone on record to say he will represent himself in this case. Is Otis capable of outwitting Miz and Morrison? We're still waiting to see who the judge tasked with keeping law and order in the court will be. Mr. McMahon had a brief spell as a judge back in 2006 when Eric Bischoff was on trial; perhaps a particular judge of a wrestlers court may undertake this case.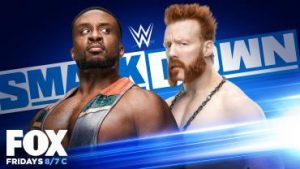 WWE SmackDown Preview for 10/09/20
Falls Count Anywhere
Big E vs Sheamus

Sheamus and Big E have had their troubles recently, with Sheamus resenting Big E's claim of being a locker room leader. Exchanging backstage attacks leading to broken windshields on two occasions. Big E missed his opportunity in the number one contender four-way because of the attack by Sheamus. Furious, Big E would get his own back attacking Sheamus; Larry, the security guard, would get the brunt of it after getting between the two. It looks like this is the blow-off between the pair after some encounters on SmackDown and a match at Payback.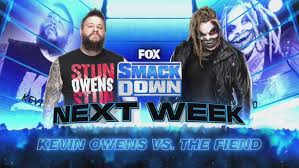 Kevin Owens vs The Fiend
The Fiend has set his eyes on Kevin Owens in recent weeks with him applying the Mandible Claw to Owens last week and the confrontation between Owens and Wyatt on Monday. KO is going to battle The Fiend on SmackDown, but how will it affect him? The Fiend has changed everyone who has fought him since arriving on the scene last year. From Seth Rollins to Braun Strowman to even Alexa Bliss, all of them have been changed by The Fiend. Is Kevin Owens also going to be changed by The Fiend?
Owens came to SmackDown last week to speak to his friend Alexa Bliss to try to get through to her, but she set The Fiend on KO. Owens was in no mood for Bray Wyatt's Fiend's song on Raw. It's not a question of Owens defeating The Fiend but how he's going to come out the other side of this encounter.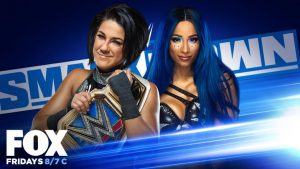 WWE Friday Night SmackDown Preview for 10/09/20
Women's Title Match
Bayley (c) vs Sasha Banks

Bayley's actions towards Sasha have been reprehensible, going as far as to injure the neck of The Boss. The duo who enjoyed a Summer as the two woman power trip has now short-circuited, and Banks looks to take the one thing Bayley holds dear, the Women's championship that Bayley has held for almost a year at this point. Sasha attacked Bayley at Clash of The Champions and removed her neck brace last Friday, revealing she is fit to challenge Bayley. We can't help but wonder what conclusion this match will have. It's possible this won't be the only time these two will lock up this month. There is every possibility of a new champion by the end of the night. It's going to be an exciting chapter in this ever-growing story.