Back to WCW 1999, we go on the newest WCW RetroView. Today we're looking back at WCW Uncensored 1999. 
Headline the annual extreme WCW event is Hollywood Hulk Hogan vs Ric Flair in a Barbed Wire Steel Cage First Blood Match. 
Tony Schiavone immediately begins selling how big the main event is as the show begins. He calls it the most unbelievable, most dangerous, mind-boggling pay-per-view of the year. 
WCW breaks out an overabundance of pyro for this show. Schiavone is joined by Mike Tenay and Bobby "The Brain" Heenan.  Not only is the title up for grabs in the main event, but Flair's career is on the line as well. 
We get our first Mean Gene appearance. He mentions that all the matches tonight are un-sanctioned by WCW. Okerlund plugs the WCW hotline before taking us to the ring. 
WCW Uncensored 1999
WCW Cruiserweight Championship Match
Billy Kidman © vs. Mikey Whipwreck
This is Mikey Whipwreck's WCW debut as he enters with no music as a smattering of cheers and a few boos welcome him. Kidman, the champion for four months heading into this match, enters next to a pretty good ovation. 
A lot of potential at this stage of Kidman's career. These two immediately hit off, quickly trading holds and maneuvers in the early going. 
Whipwreck's spinning head scissors gets a strong ovation from the crowd. Kidman responds with a beautiful standing dropkick before the match spills to the outside. 
A cross-body from the top turnbuckle gets Kidman a close two count. More outside fighting leads to Whipwreck getting the advantage. 
This really is a strong showing for Whipwreck, as he continuously finds ways to counter and keep Kidman off-balanced for a good portion of this match.
Kidman's first attempt to climb to the top for his shooting star press fails miserably when Kidman shoves him off the turnbuckle. 
Not to be outdone, Whipwreck's double axe handle attempt from the top turnbuckle to the outside fails when he crashes into the guardrail.
This trip to the outside gets an eruption from the crowd. Talk about close to 15 minutes of just solid wrestling to start this show. Kidman continues his reign after finally finishing Whipwreck off with the shooting star press. 
Winner – Billy Kidman
WCW Uncensored 1999
Harlem Street Fight
Stevie Ray vs. Vincent
It's considered by many as the greatest rivalry within the nWo…
Stevie Ray and Vincent, with no rules, here we go.
This match is for the leadership role of the nWo black and white, by word of Hollywood Hogan. It doesn't take long for this to spill to the outside, where the two throw each other around the ring. 
Stevie Ray hits a great standing sidekick before sending Vincent flying into the crowd. The audience erupts as the fight makes its way up the stands. 
They end up in an area of empty folded-up chairs to brawl for a few minutes. Eventually, they get back to the ring for some regular brawling shenanigans before Horace Hogan, you heard that right, Horace Hogan comes out. 
He slides the slap jack into the ring before making his own claim to be the leader of the nWo Black and White. Stevie Ray uses the slap jack on Vincent before hitting his variation of the pedigree for the win. 
Winner – Stevie Ray
The WCW.com crew are joined by Chris Jericho for a brief interview about his upcoming Dog Collar Match with Perry Saturn. 
WCW Uncensored 1999
Kevin Nash vs. Rey Mysterio Jr.
Nash enters first, with Lex Luger and Elizabeth accompanying him. Luger in any nWo shirt still just looks weird. Maskless Rey Mysterio Jr. comes out second – his original WCW music was way better and pretty iconic. 
Mysterio charges at Nash to begin the match but is met with a big boot, eliciting a loud cheer from the crowd. Then Nash begins to toss Mysterio around the ring. A quick flurry of moves from Mysterio is cut off after Nash slings him into the guardrail. 
This turns into a typical Kevin Nash match complete with all his favorite moves. Of course, even though Nash has the huge size advantage, he still gets an assist from Lex Luger before hitting a jackknife powerbomb on Mysterio for the win. 
Man, the nWo was so stale at his point in WCW. 
Winner – Kevin Nash
We get a video package previewing the triple threat Falls Count Anywhere Match between Raven, Bam Bam Bigelow, and Hak (The Sandman). 
ECW storylines playing out on WCW television…
WCW Uncensored 1999
Handicap Match
Jerry Flynn vs. Ernest Miller and Sonny Onoo
The kickboxer Jerry Flynn oozes charisma when he comes out, sarcasm fully intended. What a pair Sonny Onoo and Ernest Miller are as they make their over-the-top entrance. 
Flynn begins the match fast and furious, but his attempt to attack Onoo is cut short by the recovered Ernest Miller. 
This whole match is the anticipation of Flynn getting his hands on Onoo. Miller and Flynn work well together with similar martial arts backgrounds. Onoo, of course, is great, riling up the crowd any chance he can. 
In the end, Flynn gets the win after he pins Onoo in kind of an abrupt ending. 
Got to wonder if this was a botch because there is no replay. 
Winner – Jerry Flynn
The tag title match preview clip is next. 
WCW Uncensored 1999
Falls Count Anywhere Match
Raven vs. Bam Bam Bigelow vs. Hak
Time for some WCW Hardcore wrestling…
These three immediately start the craziness. 
Chastity brings out a laundry cart full of what the late, great Dusty Rhodes would describe as "plunder." The trio of extreme begin using a plethora of weapons. Trash cans, ironing boards, trash cans, a mailbox, and a good old-fashioned kendo stick. 
Three dudes just beating the hell out of each, and even an ECW chant erupts from the crowd. After nearly 15 minutes of hardcore battle, Hak gets the win after Chastity turns on Raven. 
Winner – Hak
Up next is the Lumberjack Match for the WCW Tag Team Championships between Barry Windham and Curt Hennig versus Chris Benoit and Dean Malenko.
The latter two became new tag team champions.
WCW Uncensored 1999
Dog Collar Match
Perry Saturn vs. Chris Jericho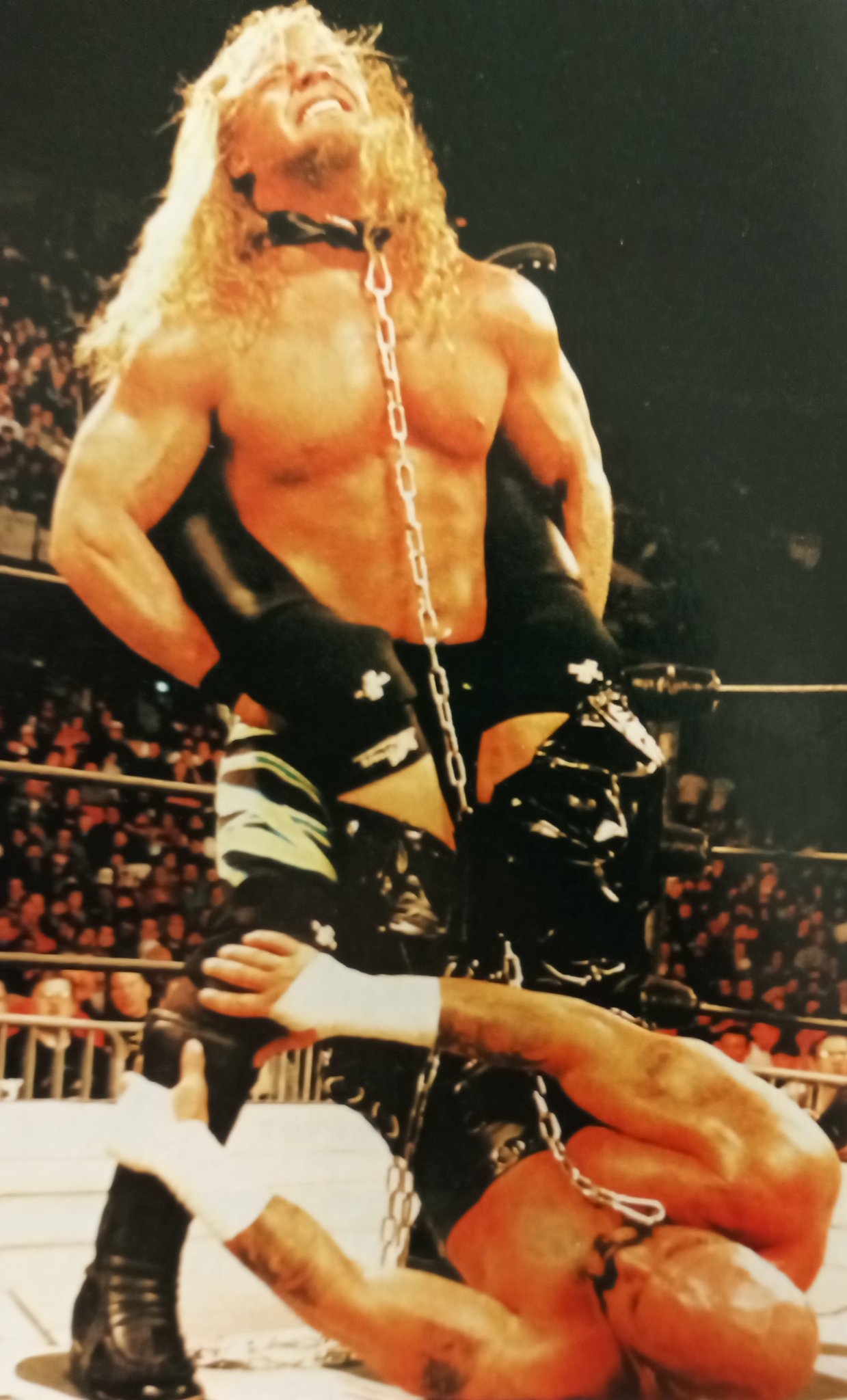 Ralphus by his side, Chris Jericho is as cocky as ever at this point in WCW. Saturn, at this point, is deep in his dark leather-clad phase. Tenay describes it as gothic looking. 
Jericho tries to make Ralphus wear the dog collar, but the bumbling security guard declines, causing Jericho to banish him from the ringside. 
After Jericho stalls to put the chain on his neck, we start with a bevy of suplex from Saturn before he forcibly connects Jericho's collar to the chain. 
Saturn begins beating Jericho with the chain before choking his hated rival. Outside the ring, Saturn whips Jericho around into the steel guard rail. 
These two find various clever ways to utilize the steel chain they are hooked together with. Midway through, Jericho breaks out his cocky pin, one foot on the chest with a muscle flex. 
Schiavone points out they see it every match, and it never works, which he is proven right when Saturn kicks out at two. 
A clever moment when Jericho starts to try and lock in the lion tamer, Saturn somehow manages to get the chain wrapped tight around Jericho's neck. So when Jericho gets Saturn turned fully into the Lion Tamer, Saturn's grip on the chain chokes Jericho, forcing him to release the hold. 
Two guys are out to prove a point about how good they are in this one. Saturn gets the win with a pair of Death Valley Drivers. Solid match here. 
Winner – Perry Saturn
A brief discussion with Mickey Whipwreck on the WCW.com crew is next. Whipwreck trying his best to fit into WCW. 
WCW Uncensored 1999
WCW Television Championship Match
Scott Steiner © vs. Booker T
Steiner and Buff Bagwell make their way out first. I still think if you put the attitude and swagger of Big Poppa Pump in the late 80's early 90s, Scott Steiner and you'd have the greatest pro wrestler ever. 
Booker T enters to a raucous ovation; his momentum in 1999 was growing with every show at this point. Steiner stalls to begin the match while a fired-up Booker T awaits in the ring. 
Lots of jaw-jacking between Steiner and the fans at ringside before he and Booker T finally lock up. Booker T's speed is unmatched at this point in his career; great stuff here, and the crowd is fully behind him. 
You can really see why the two former tag champs became the bigger stars of their teams in this match. 
As per the norm during this time, Bagwell gets involved, and the nWo plays up the numbers advantage. Booker T plays up the hero in peril perfectly, and his comeback elicits a thunderous applause from the crowd. 
Finally, after dispatching Bagwell, Booker T becomes the new Television Champion after Bagwell's chair shot accidentally hits Steiner. 
Winner – Booker T
WCW Uncensored 1999
WCW World Heavyweight Championship
Barbed Wire Cage First Blood Match
Hollywood Hulk Hogan © vs. Ric Flair
Michael Buffer rings in the main event, and he does a bang-up job explaining the stakes of this big-time main event. The crowd erupts for Flair's entrance as the announcers play up how this could be Flair's last match ever. 
Flair enters in a sparkling red and gold robe, always stylin and profilin. As President of WCW, Flair tells the ref to stop the match at his own discretion, not to end on some tiny scratch. 
Hogan enters next to the Wolfpack theme, talk about awkward. I mean, he comes out wearing red, white, and black. Yet another sign the nWo ship had sailed months ago. 
After the cage lowers, the main event begins. A smattering of Hogan chants rings through the crowd for some reason. Early on, it's your usual Hogan-Flair stuff. Hogan tosses Flair around, wears him down with some chokes, and holds. 
Flair fights back occasionally with some chops. An early Figure Four put on by Hogan is a nice surprise to this encounter. For some reason, in a match of this extreme stipulation, there is a rope break when Flair gets to the bottom rope.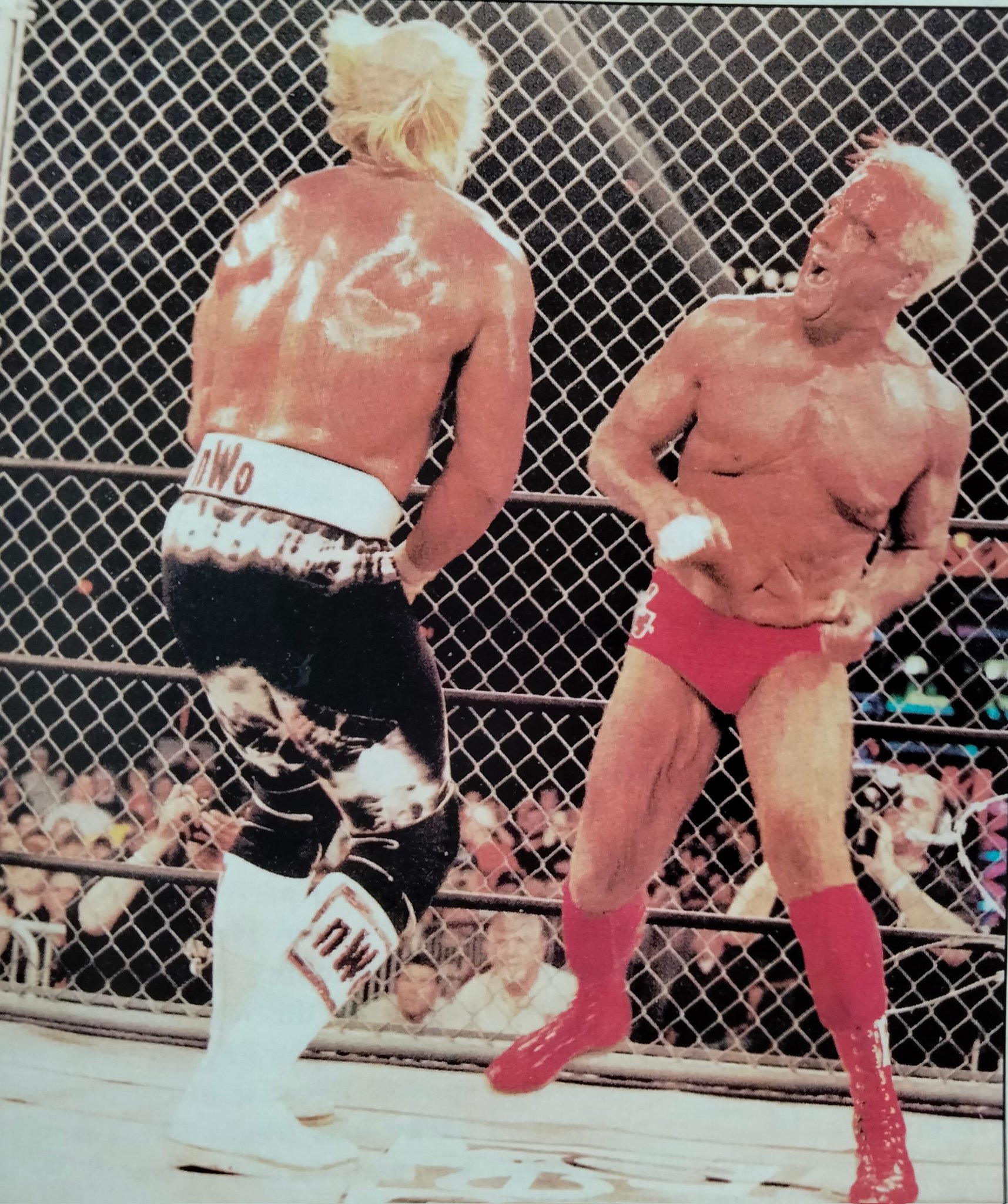 Flair is the first to have his head rammed into the steel cage, and of course, he starts bleeding like only Flair can bleed. And, of course, in WCW 1999, this didn't bring an end to the match. 
The pep talk by Flair to referee Charles Robinson paid off. Hogan brings down some barbed wire from the top of the cage and uses it on Flair before utilizing his weight belt. 
Flair is a crimson mess, and the announcer keeps contemplating about the match being over. Hogan hits his patented leg drop, but the referee refuses to count. WCW shenanigans have truly begun. 
Hogan gets bloodied by some brass knuckles and, of course, the cage. Then David Flair and Torrie Wilson make their way out, and the WCW shenanigans have picked up. 
Both men are now bleeding profusely, and the match still goes on. Flair tells Torrie Wilson she needs to ride Space Mountain, which receives some laughs from the audience. 
This is where the shenanigans grow even more. Flair hits a few chops on Hogan, who begins to hulk up like he's the good guy. Hogan hits the leg drop again, and Charles Robinson refuses to count again. 
More shenanigans time as Arn Anderson sprints to the ring and attacks David Flair. Torrie Wilson, seeing her man in trouble, jumps on Anderson's back but is quickly shrugged off. 
Anderson slides a tire iron into the cage to Flair, and he nails Hogan with it. The thirteen-time World Champion becomes the fourteen-time World Champion with a Figure Four as Charles Robinson makes a fast three count. The crowd goes along with it. Man, 1999 WCW was a strange place. 
Winner – AND NEW WCW World Champion, Ric Flair
Schiavone and company send us off as the Four Horsemen theme reverberates through the arena. 
---
Not a bad show, despite the nWo shenanigans. Jericho versus Saturn was a solid match, but Kidman versus Whipwreck was the true gem of WCW Uncensored 1999. 
Next time I continue my trek through 1999 WCW with Spring Stampede.