In a press release sent out earlier today, Vickie Guerrero discusses an array of different topics on AEW's Unrestricted Podcast. To read the highlights of the podcast please see below.
Excuse me! The Queen of Mean, Vickie Guerrero, is no nun in real life, though she's playing one on BTE! She shares stories about filming those segments with Nyla Rose, what it's like to perform with Nyla, and how long it took her to recover from that gummy bear challenge! Vickie also tells tales about meeting Tony Khan for the first time, having her own theme music on DYNAMITE, and being part of an elite stable of managers at AEW.
Plus, Vickie explains what it was like to perform a Cougar Splash off the top rope, who she'd love to recruit for her very own stable, what she does to keep her voice in shape, her favorite Eddie Guerrero match, and why her late husband always cheated at board games.
Vickie Guerrero on becoming a Manager once again now in AEW:
"I'm a part of this group that I have to kind of pinch myself because not only are they the best at what they do and they're so great, and I love watching all of them, but to be able to be backstage and get to know them as friends, it's just been such an honor."
Vickie Guerrero on All Elite Wrestling's Creative Process
"Tony Khan's like, you know, 'Be Vickie Guerrero and do how you want' …. Such a breath of fresh air in so many ways!"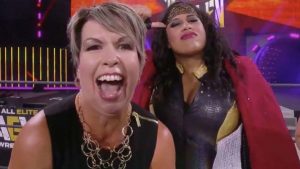 Vickie Guerrero on working with Nyla Rose
"She's very intelligent and creative, and she has a director's mind, like when we film our content backstage, she says, 'Hey step in here, say this at this point,' and I'm like, 'Wow! Who the hell are you? This is pretty cool!'"
To hear the podcast in its entirety click here.
*****
Be sure to stay tuned to the Pro Wrestling Post for this and additional stories from the wrestling world. Readers can rely on Pro Wrestling Post to be their daily source for all things inside the squared circle. As a result, readers can expect daily news, history, and so much more. Please visit All Elite Wrestling's official website here for news and information on the promotion and upcoming events.