.PROGRESS Wrestling Chapter 43: Tropic Thunderbastard. 29th January 2017. The Electric Ballroom, Camden, UK.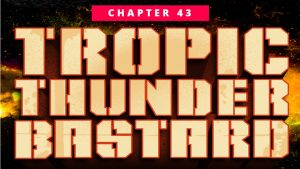 PROGRESS resume normal service at Chapter 43 following a clash with WWE's United Kingdom Championship tournament at their previous show. This is Tropic Thunderbastard. Welcome to the PROGRESS Prerogative, this is the weekly column that looks back at each show, in turn, to see whether it still holds up. This edition sees the return of the Thunderbastard match for the first time since Chapter 27.
If you're unaware, the Thunderbastard match sees its eight participants enter at two-minute intervals a la the Royal Rumble. The unique twist is that eliminations can only occur via pinfall or submission. The victor earns a shot at the PROGRESS title at a later date. We also have the PROGRESS debuts of Kings of the North and Jurn Simmons to look forward to. As well as Jimmy Havoc taking his title shot against champion Pete Dunne. Tyler Bate is not on the card. WWE urgently needed him to be sat in the crowd at Royal Rumble. This was all to wave at the camera for five seconds.
Before the show begins proper, Sebastian makes his way from the backstage area shouting for the ring crew to gather around. Dressing Pastor William Eaver in a white crew polo, he says that Bill is now in charge of the team therefore, Sebastian is in charge of them all. He has vowed to cause chaos during the show as JJG hasn't seen fit to book him…
Tropic Thunderbastard
London Riots vs King Of The North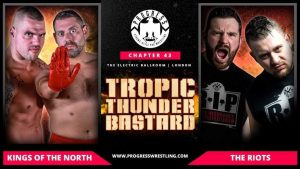 You might have thought that a meeting between the London Riots and Kings of the North would be nothing more than a knock down, drag out. For the latter portion of this uncharacteristically lengthy opener you'd be quite right. The opening straight sees a lot of banter between the two teams mainly centred around Bonesaw's trademark red right hand/glove. Rob Lynch retrieves a glove of his own and slaps the Irishman across the face, challenging him to a duel.
That segues into Damian Corvin challenging James Davis with his cricket bat with a ton of swings and misses. Things soon settle down into the sort of rugged action you would expect from the four, and they knock seven shades out of each other. There's a slightly rough sequence where it's all too apparent that Corvin is complying with Lynch's belly to belly suplexes, but otherwise this is solid action. Surprisingly, given their recent string of losses, it's the Riots who claim victory with the pop up spear.
Laura Di Matteo vs Chakara – Natural Progression Series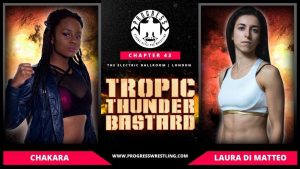 NPS 4 continues as Chakara makes her main Chapter debut opposite a returning Laura Di Matteo. They have a very fluid, strong style match which is particularly impressive due to how new Chakara was to the business at the time. Of course Di Matteo is no slouch, and she more than holds her side of the match as she takes the fight to the Golden Goddess. The finish sees the Italian kick out of a hammerlock DDT that would Andrade envious. Whilst sat arguing with referee Chris Roberts, Di Matteo locks in a seated arm breaker for the near-instant tap out. Good stuff.
Before the next match, Jim Smallman makes note that Paul Robinson is injured and so will not be able to compete in the Thunderbastard. As Pastor William Eaver is in the building – in his ring crew shirt – he is being inserted into the match in Robbo's place.
Tropic Thunderbastard
'Bodyguy' Roy Johnson vs Jurn Simmons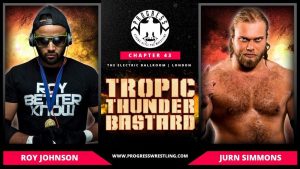 The lengthy run time of matches resumes as Jurn Simmons takes a good five minutes to make his entrance to fight Roy Johnson. Grinding his hips like Rick Rude, playing air guitar, just generally dicking about – this is a lengthy endeavour. It's very likely that this sort of thing is Marmite, but let me tell you I can eat Marmite straight from the spoon. The match itself is surprisingly solid as Simmons seems to bring out the best in the inexperienced Big Wavy. Nevertheless, it is the massive Dutchman who walks away with the win following a titanic piledriver. Cue epic exit sequence.
Tropic Thunderbastard
Ringkampf vs South Pacific Power Trip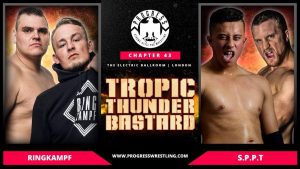 Ringkampf continue to work their way into the collective hearts of the PROGRESS faithful during a real battle against SPPT. Early in the match Walter shows off his renowned striking ability as he chops away at both Travis Banks and TK Cooper. Axel Dieter Jr's technical acumen is in full force too as he wrestles Cooper onto the mat and performs some stunning reversals. It's Banks who claims most of the offense for his team when their time comes and he's on fire as he tears through the Europeans.
Dahlia Black gets in on the action too as she tries to interfere on her team's behalf, tasting a big boot courtesy of Walter for her trouble. Black is unafraid of taking a beating from anyone – what an absolute trooper. It looks as though Ringkampf have the win several times before the actual finish, most notably from a lovely top rope uppercut/powerbomb combo to Banks. Despite taking a bit of a hiding at times, it's the Power Trip who get the win as TK holds Dieter's legs preventing a kick out from the outside. SPPT claim the pinfall win then in a rather good contest.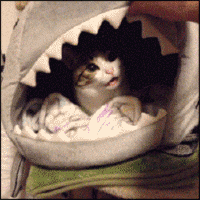 Tropic Thunderbastard
Jack Sexsmith vs. Trent Seven vs. Marty Scurll vs. Mark Andrews vs. Dave Mastiff vs. Zack Gibson vs. Nathan Cruz vs. Sebastian – Thunderbastard Match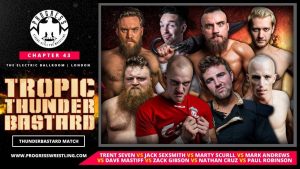 And so we come to the latest edition of the Thunderbastard match. Starting the contest are Mark Andrews and the winner of the last Thunderbastard matchup, Marty Scurll. The Villain spends the majority of this opening portion walking backward. This was in the ring, on the apron, out into the crowd. He was teeing up for his wing-flapping pose. It's funny stuff, but they soon get down to brass tacks and lock up properly. Next out is Trent Seven, who saunters down the aisle as slowly as he possibly can. He's met by a Scurll running elbow on the apron; then, all three wrestlers exchange dives with Andrews winding up on top at the end of the sequence.
Jack Sexsmith is revealed as entrant number four to a massive pop from the Ultras, and he dives straight into the fray. Jack takes out Seven and Scurll as Andrews takes a powder outside, wittily causing his two foes to hit one another with big moves. Pastor William Eaver makes his entrance next, still wearing a ring crew shirt and slacks. As he removes his shirt, Sebastian's music hits, and he pushes his way past Eaver and gazumps his place in the match. Seven, Scurll, and Mandrews all show their displeasure for the Chelsea lad by leaving the ring together and head for the bar.
That's a novel twist.
As Seb gloats on the second rope, Sexsmith rolls him up from behind to eliminate the cocky little douche near instantly. He doesn't take the loss well and beats Sexsmith down until the excellent Pastor runs down to make the save. Seb gives Bill a theatrical slap, but Bill retaliates with a stiff right hand. Ruh-roh. While all this is happening, Zack Gibson makes his way to the ring as entrant number six. After being attacked mid-promo by Andrews, Gibson spends his first few minutes in the match on the defensive as everyone lays into him. Fortunately for him, teammate Nathan Cruz is the penultimate entrant, and he dashes to the rescue.
Here comes Mastiff!
That just leaves Dave Mastiff as the final entrant, and he immediately stands off against his fellow Origin members before entering into an uneasy alliance to take out Mandrews, Scurll, and Seven. Gibbo and Cruz give Mastiff the double thumbs-up, which is reciprocated by the big man momentarily before he turns it into a thumbs down. The crowd roar as big Dave clotheslines the Origin to the mat cementing his split from the group. Shortly after, Trent Seven rolls up Marty Scurll and uses a handful of tights to get the pin on the former PROGRESS champion. The Origin work over Mastiff in the ring, keeping him on the ground and working over his knee.
They overwhelm him after a few minutes, and Cruz gets the pin following a version of the ticket to mayhem. In rapid order, Mandrews knocks those two to the outside then hits Trent Seven with a stundog millionaire, brainbuster, and standing shooting star for the pin. That prompts Jack Sexsmith to re-enter the mix, although he neglects to sell the effects of Sebastian's beat down. He hits some trademark spots before clearing the ring and making Nathan Cruz tap out to the cross-face cocko. Another former PROGRESS champion bites the dust. He tries the same on Zack Gibson, but can't quite score the tapout this time around.
Liverpool's Number One!
Gibson rallies near-instantly and pins Sexsmith following a twisting brainbuster. It's down to Mandrews and Zack Gibson to be crowned this year's Thunderbastard. They have a vast stretch of all-out action before the finish sequence. The diminutive Welshman hits a stun dog followed by a top rope shooting star to become the number one contender to the PROGRESS title. What a match it was too.
Tropic Thunderbastard
Jimmy Havoc vs. Pete Dunne (c) – PROGRESS Title Match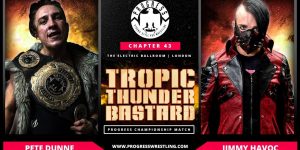 In a genius move, Jimmy Havoc kicks off his shot at Pete Dunne by knocking out Trent Seven with the title belt. Pete and Jimmy are so smooth together; the opening exchanges are poetry in motion as they run the ropes and reverse each other's moves consistently. The champ comes out on top of that sequence, and they spill to the outside. The Bruiserweight holds the advantage as he batters Havoc, launching him around eight rows back into the crowd. Jimmy can rally, though, and smashes Pete with a big forearm that causes the champ to wipe out a cameraman.
The match has a pleasing sense of chaos so far, and it remains at that level pretty much always. Pete draws first blood by biting Havoc's hand until the claret starts to flow, which is simultaneously remarkable and repulsive. Throughout the match, Pete takes excellent delight in taunting the crowd about his WWE status, rubbing his fingers together to mime 'money' and hitting a pedigree for a near fall. Unfortunately, things don't reach a satisfactory conclusion as Trent Seven jumps in and causes a disqualification.
Smile Havoc Smile!
A post-match beatdown on Havoc doesn't have a happy ending for the British Strong Style boys, however… Making their collective return to the company, Flash Morgan Webster and Mark Haskins storm the ring and fight off Dunne and Seven. A new trio has been formed to fight the might of BSS, and lo the card ended on a high note.
And so ends another Chapter in PROGRESS's history. We'll be back next time with our review of Chapter 44, and hopefully, you'll be back too. Until then, stay safe, be kind to one another, and enjoy wrestling.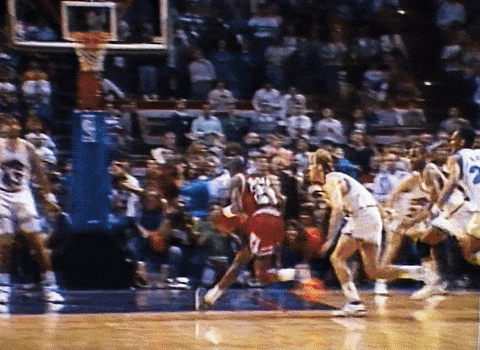 Each episode can be watched on the PROGRESS on Demand service. PROGRESS Wrestling is also available on Powerslam TV.